Cottle County Unclaimed Estates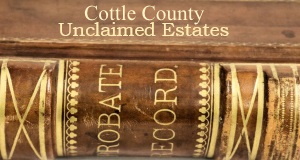 These deceased residents of Cottle County Texas left a total $8,163
in Unclaimed Money for their heirs. Please Share or Tag your Family and
Friends from Paducah, Delwin and surrounding communities to let them know. There is a direct link in the article to the Texas comptroller's page where you can make a claim.
| | | |
| --- | --- | --- |
| Estate of Rocky W Smith | $5,000 | Paducah |
| Estate of Linda Jeffers B | $1,275 | Paducah |
| Will Dennis Estate | $1,043 | Paducah |
| Estate of Rocky Smith | $500 | Paducah |
| Estate of Lila Russell | $222 | Paducah |
| Estate of Fred Stinson | $93 | Paducah |
| Estate of Betty L Martin | $30 | Paducah |
This is a partial list showing only Cottle County unclaimed estates. To dig deeper - See more sorted by city or Browse our list County by County