Official Misconduct
Convicted Wayne County Clerk Arrested Again
October 8 2012 -
Updated Oct 31 2012 News for Public Officials
Melissa Turpin 2009 Arrest Photo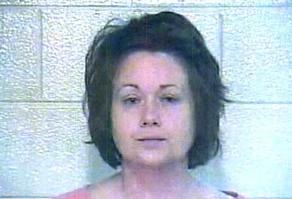 Melissa Turpin 2012 Arrest Photo
Former Wayne County Clerk Melissa Turpin was given a break in 2009 when she served only 60 days jail time of a ten-year sentence for stealing $140,000. Last month she was arrested again on felony charges alleging she forged the signature of Pulaski County Clerk Ralph Troxtell earlier this year.

Three years ago Turpin, 36, was the County Clerk of Wayne County Kentucky where she was charged with having stolen nearly $140,000 from the county over two years. She pleaded guilty to two charges of theft by unlawful taking and two charges of abuse of public trust. The plea deal called for only sixty days in jail and, 120 days house arrest followed by ten years probation for the four felonies. In addition, she was ordered to repay $75,000 to the insurance company that had underwritten her work as an elected official.

Last month, investigators from Kentucky Attorney General Conway's Department of Criminal Investigations (DCI) arrested Jennifer "Melissa" Turpin, now 39, on charges she forged the signature of Pulaski County Clerk Ralph Troxtell.

According to investigators, Turpin used the forged signature on a title for a 2006 Toyota Highlander sold on Craig's List to a Maryland resident. At the time of her arrest, Turpin was employed as office manager and title clerk for Somerset Auto Auction in Somerset, Ky.

A spokesperson from Conway's office said the investigation began in mid-July, after his office received a complaint regarding the alleged forgery. During the course of the investigation, Troxtell confirmed that he did not sign the title, according to the spokesperson.

After her arrest, Turpin was transported to the Pulaski County Detention center where she was released the same day on $5,000 bond.

Turpin is also on probation in Franklin Circuit Court for filing false tax returns and failure to pay tax.

Update: 10-31-12 — The second degree forgery charge against Turpin was dismissed during a preliminary hearing in Pulaski District Court on October 17 and the case was waived to the grand jury, according to The Wayne County Outlook
For more on this please see:
Wayne County Clerk Steals $140,000 - Gets 60 Days Jail