Look Who's Talking about Texas History
Davick Services recommends the Facebook Group "West Texas History & Memories" for history, famous people, old photos, stories, unclaimed estates and genealogy of the Western Half of Texas . . . Check it out and join the conversation
Christmas in Texas
Texas history is filled with stories and pictures of Christmas past. This is Christmas the way our ancestors experienced it. Browse this page for some of the best and worst of Christmases in Texas

All books listed here are available at Amazon. Just tap the book cover to read more, look inside and order if you want.

This site contains affiliate links to products. As an Amazon Associate we earn from qualifying purchases.

To read more and look inside an individual book just tap an image below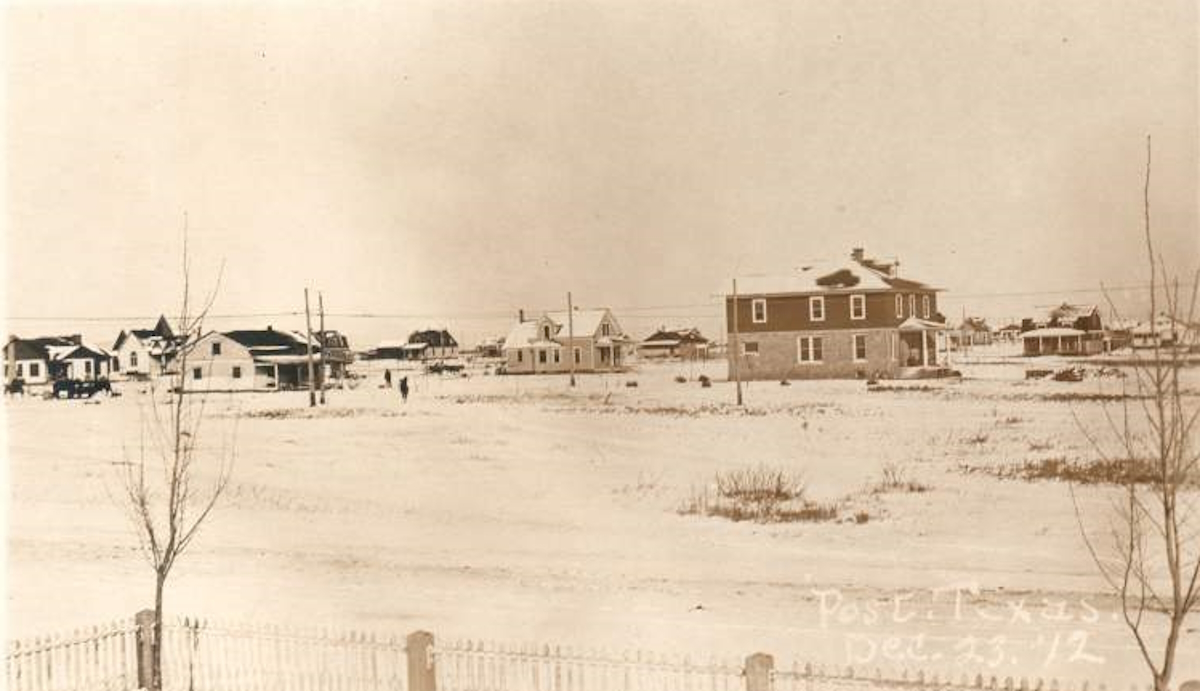 Snowy Day in Post Texas
On December 23, 1912 Post Texas had a bit of snow that was captured by an unknown photographer.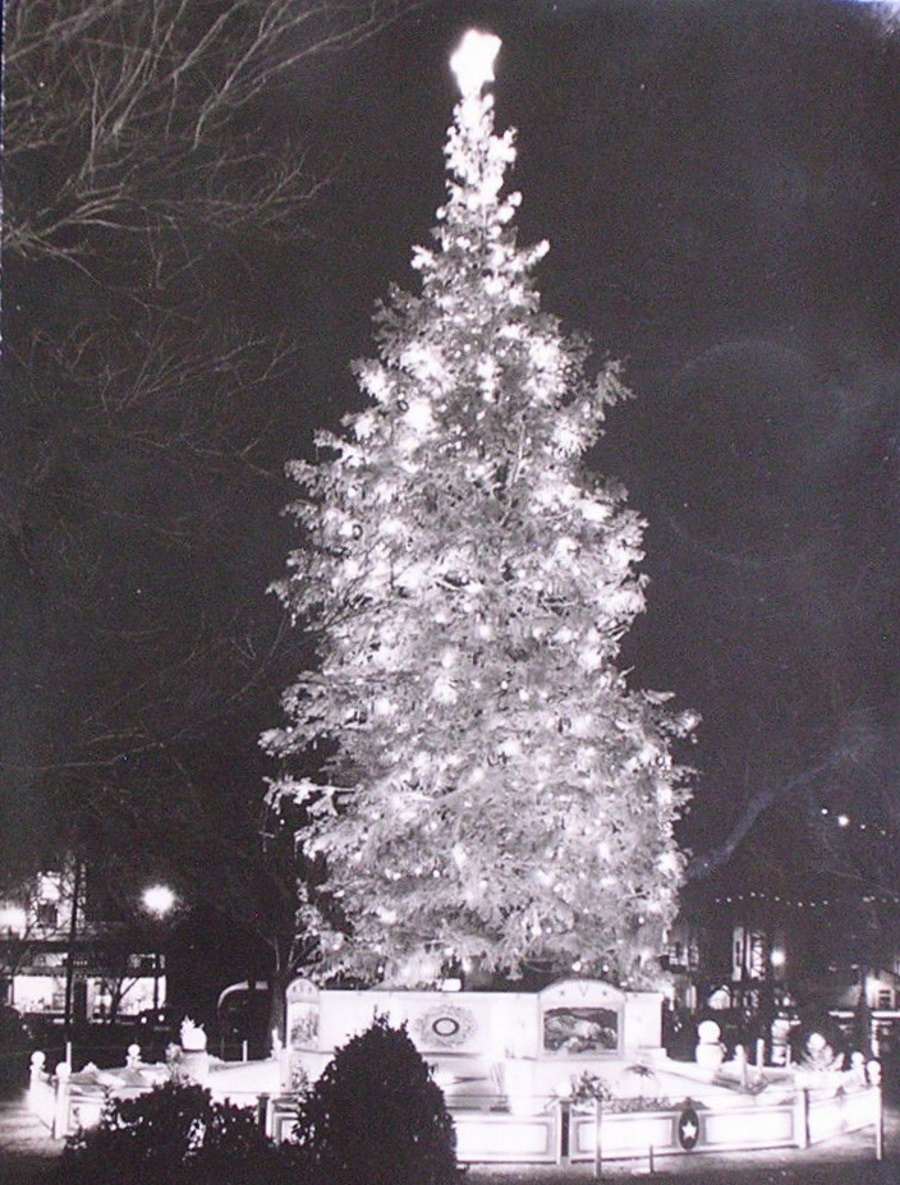 Huge lighted Christmas tree in El Paso town square 1945
From Post Card by H. Blumenthal
A Texas Legacy Christmas
This Christian, historical romance by best-selling author, DiAnn Mills is set in the early 1900s. In this fourth and last book of the Texas Legacy series, Zack Kahler heads back to Texas with two homeless eight-year-old twins in tow. But soon Zack finds his hands full as he tries to run a newspaper, recover from a lost love, and keep his unruly charges out of trouble. Boardinghouse worker and life-long outcast Chloe Weaver has had her fair share of hurt and rejection. When Zack and the twins show up on her doorstep, more than one wounded heart is stirred with love. Can the love of Christmas present a miracle to heal these Texan hearts? . . . Read more Look inside
The Homeless Christmas Tree
A crooked little tree that stands alone at the top of a windswept Texas hill becomes a tribute to the homeless and less fortunate people of the world ... Year after year, colored balls and garland adorn the tree at Christmastime, but one year, the woman does not come. Will there be a Christmas for homeless? This story is based on actual events about a funny-looking mimosa tree that sits above a busy freeway in Fort Worth, Texas. A formerly homeless woman decorated the tree, year after year, so that the homeless would have a Christmas tree . . . read more
Authentic Texas: People of the Big Bend
"The history of Presidio, Texas, and Ojinaga, Mexico, are intertwined. Spanish explorers came to the area they named La Junta de las Cruces in the 1500s and celebrated the first Christmas in Texas around 1683 ..." Read more Look inside
Christmas at the Ranch
by Elmer Kelton
"We four Kelton boys were rich. It was not because we had money, for we didn't. Money was always a short commodity in the 1930s and early 1940s. We were rich because we got to do for free what many people would have been glad to pay good money for, to live on a ranch (Crane County Texas) with horses and cattle and cowboys." Read more Look inside
Christmas in the Lone Star State: A Texas Novel of the West
"Texas Ranger Bill Sayles rode scout for Sam Houston when he was no more than fifteen. These days the lawman's on the wrong side of three score years, and the glory days of the Rangers are on the wane. But Sayles still hits what he aims at and is not a man to cross. Ten days before Christmas in the harsh winter of 1876, Sayles arrives at the state prison in Huntsville to escort prisoner Jake Eddings on a furlough to his hometown, where his ten-year-old son is being laid to rest..." Read more Look inside
Texas Christmas Tales
"No Christmas is complete without enjoying captivating stories by talented authors extolling the dreams, joys, and, occasionally, the comedic pitfalls of the season. ''Texas Christmas Tales'' brilliantly illuminates them all with a special Lone Star touch. These Texas holiday tales by O. Henry, John Henry Faulk, A.C. Greene, Mike Blackman, O. Henry and Frank Perkins will elicit tears or chuckles and sometimes both at once..." Read more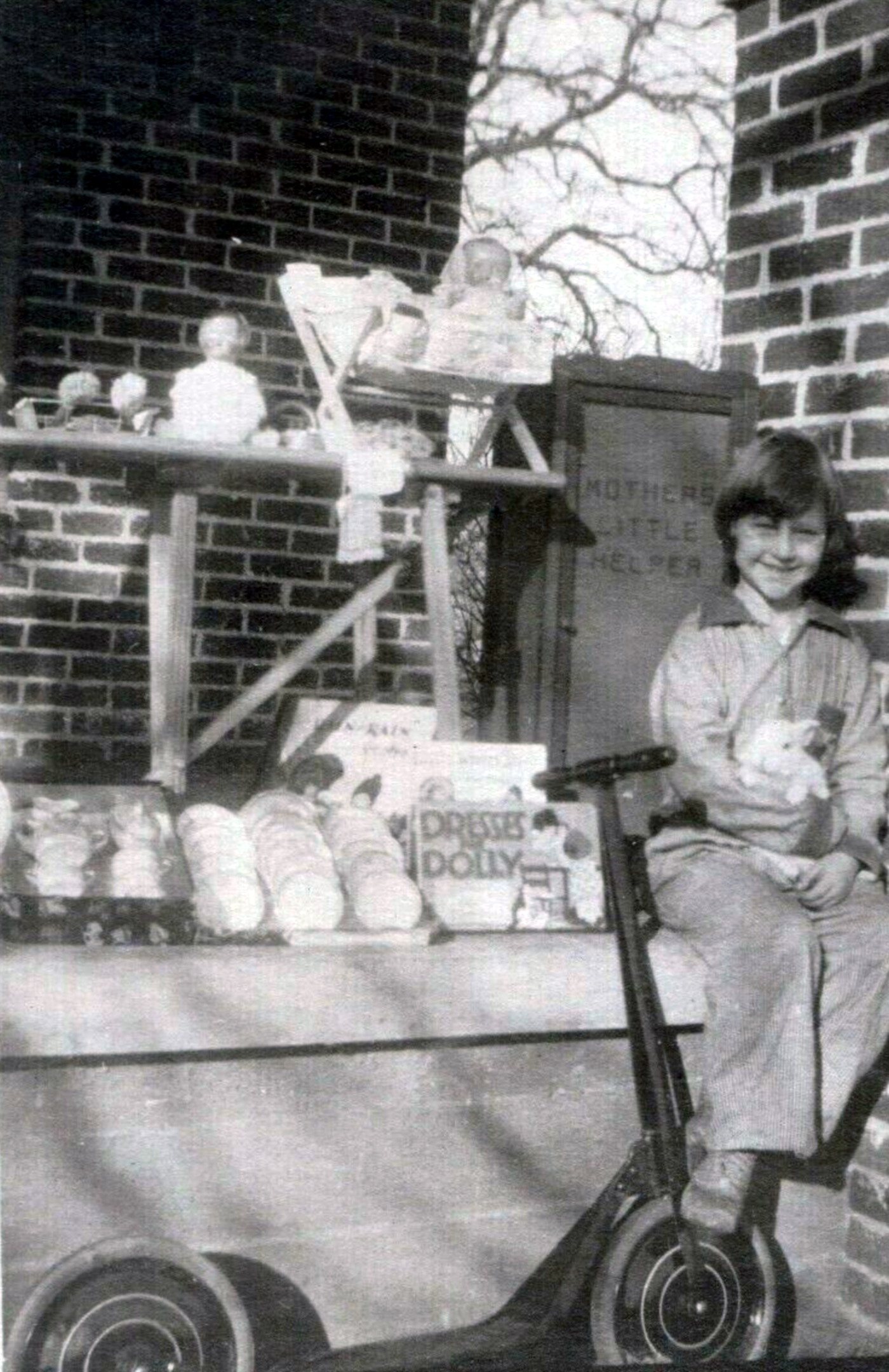 Christmas With a Little Girl in Arlington 1930s
Sometime in the 1930s 5-Year-Old Mary Elsie Thannisch posed for this Christmas Photo at a sidewalk Christmas store at 308 N. Oak in Arlington, Texas . . . tap to view full size
The Cypress and Other Writings of a German Pioneer in Texas
"When Hermann Seele arrived in New Braunfels in 1845, the raw colony was plagued by poverty, disease, lack of food, and hostile Indians. This personal record of the Germans in Texas shows their evolution from struggling colonists to prosperous citizens. From his viewpoint of a hardworking yet imaginative pioneer, Seele presents first a history of German immigration and settlement in Texas during the nineteenth century. Next, his autobiographical writings range from a "sentimental recollection" of his first Christmas Eve in Texas to his first day ..." Read more Look inside
Merry Christmas from the Family
Here is a swaggering, South Texas Christmas where you: Carve the turkey, turn the ball game on, Mix margaritas when the eggnog's gone, Send somebody to the Stop 'N Go, We need some celery and a can of fake snow! Based on the song written by Robert Earl Keen and made popular by the Dixie Chicks, Merry Christmas From the Family is a humorous look at the holiday season through the lenses of white trash glasses . . . Read more
The Christmas Cross
by Max Lucado
A story about finding your way home for the holidays, told in the context of one man's journey in a small Texas town. Unique interactive elements inside this book-including envelopes with pullout letters and surprises-makes this a one-of-a-kind Christmas treasure . . . Read more Look inside
Christmas in Texas
by Elizabeth Silverthorne
Christmas in Texas shows how Texans have celebrated Christmas over four centuries, during good times and bad. The Texas holiday season is steeped in the rich legacy of the different ethnic groups represented here. The music, the food, the decorations, the secular fun and frolic have been imported to Texas by land and by sea, often as the nostalgic efforts of homesick immigrants to recreate memories of past Christmases in their homelands . . . Read more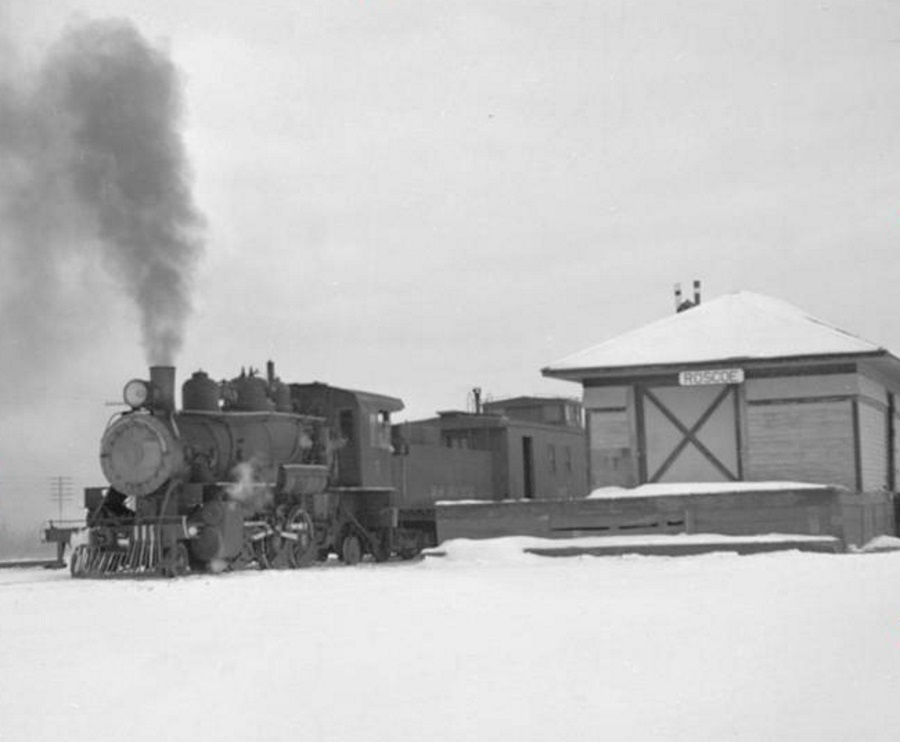 Steam Locomotive in Roscoe Texas Depot in 1950
White Christmas in Roscoe Texas in 1950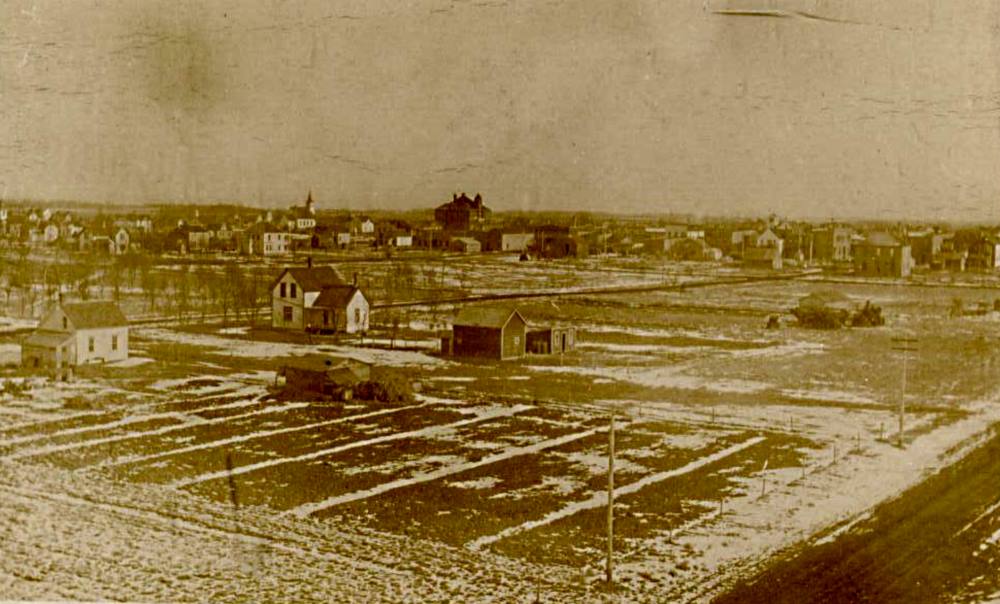 Aerial View of Westbrook Texas on December 29 1915
On December 29 1915 a photographer climbed into an early plane and captured this amazing aerial photograph of Westbrook Texas covered in a light dusting of snow.
The Amish Christmas Matchmaker and Amish Christmas Secrets
With her wedding business thriving, Annie Kauffmann could never leave her beloved Amish community. So when handsome Amish cowboy Levi Lapp tries to convince her father to move the family to Texas, she must put a stop to it. If Annie finds Levi a wife, he might forget his dream of moving…but can she keep from falling for him herself? . . . Read more Look inside
The Cowboy Who Saved Christmas
The Lone Star State doesn't have to be lonely...Legendary author Jodi Thomas headlines a new holiday-themed Western historical romance collection featuring three Texas-set stories of romance and adventure. The Civil War is over, Christmas is coming--and it's time for three rugged cowboys to hangup their spurs and settle down . . . Read more Look inside
A Texan's Christmas Baby
Former professional football player Chase Rebel has finally come home for good. But ranching life in his small Texan hometown is far from simple—especially when it comes to Chase's beautiful estranged wife, Jody. There's no escaping the mistakes and hurts of their past…or the feelings that still linger between them. But can Jody and an unexpected Christmas surprise show this Texan where he truly belongs? . . . Read more Look inside
Welcome to Christmas, Texas: A Christmas Network Novel
by Katie Graykowski
Christmas, Texas has as much magic as it has charm and only reveals itself to those who need it. The town was settled 1820 by the original Winter Texan, Santa Claus. He kissed the snowy North Pole goodbye and moved his whole operation to the sunny Texas Hill Country where there are never blizzard warnings and the only thing icy is his iced tea . . . Read more Look inside
A Texas Hill Country Christmas
"While most folks are busy preparing for Christmas, the tight knit Jensen clan can only hope they'll make it home. Luke Jensen is in San Antonio tracking down a dangerous outlaw. But when he finds the man leading a wholesome life—as a charity-working Hill Country pastor—Luke agrees to wait until after Christmas to bring him to justice. Meanwhile, Smoke and Sally Jensen head out from Fort Worth by stagecoach, only to be stranded by unrelenting rains..." Read more Look inside
The Christmas Book: 31 Family Devotions for December
Christmas! The best time of the year for family devotions. Author Gene Meacham invites us to establish a family tradition as we sit down together in the living room to share the amazing, miraculous events of our Saviors birth. "Dr. Meacham has served as director of missions for the Caprock Plains Baptist Area and as an adjunct instructor in missions for Wayland Baptist University and Logsdon Theological Seminary. He currently lives in Plainview, Texas, with his wife, Lavonne..." Read more Look inside
The Texas Panhandle Frontier
"On Christmas Day, 1874, twenty-year-old Joe S. McCombs led the first hide-hunting expedition out of Fort Griffin. Moving out the Mackenzie Trail, McCombs and his skinner, John Jacobs and Joe Poe, camped about six miles northeast of present Haskell... Read more Look inside
The Limbe House: An African Dream
by Gene Meacham from Plainview Texas
"The Montgomery family, David, Katherine, and their three daughters, Brittany, Alicia, and Megan, ages six, four, and two, arrive in Malawi as first-term missionaries with the keen anticipation of learning the language and beginning a fruitful ministrya long-awaited African dream. Instead, the unexplained absence of a work permit changes their lives dramatically. Just when they have found a wonderful home in the Limbe House, they are forced to leave two days before Christmas, with no expectation of returning. Traveling a thousand miles by car to Kenya, they settle temporarily in The Cave..." Read more Look inside
Lela and Joe
Lela Belle's Christian beliefs supported Prohibition. Joe Callaway's ambivalence toward faith shocks his family. But when Lela and Joe meet, their love is instantaneous.
"Mother and Daddy and I lived in Afton where Daddy worked in the office of a building contractor. About Ten days before Christmas, Mother and I went to ". . . Read more
Tumbleweed Christmas
by Ninie Hammon from Muleshoe Texas
It's Christmas in 1953 on the dusty High Plains of west Texas. It was lonely enough out there before eleven-year-old Bonnie McGrath lost her mother. Now she aches for her daddy's return from Korea to fill the emptiness that's been carved out of her heart ever since Mama's passing. But the father who left Muleshoe, Texas, three years before has come home as somebody else. After nineteen months in a North Korean prisoner-of-war camp, Beau McGrath has lost the ability to love . . . Read more Look inside
Silent Night Deadly Night McDade, Texas, 1883
The true story of the events that led up to the Christmas Eve lynching of three innocent men and the Christmas Day shootout in McDade in 1883.
The River Girl's Christmas
by Angela Castillo from Bastrop Texas
Clean Christian historical fiction. Christmas of 1892 promises to be exciting for Zillia Eckhart, especially after she finds out her best friend and sister-in-law, Soonie, is coming home ... Read more Look inside
Moving On / Never Leaving
"Their Daddy arrived two weeks later, and he and Mrs. Wilson found a house to rent on Concho Street in Coleman, Texas. The Casey's lived nineteen miles down the road and Abilene was forty-eight miles. It was an ideal situation. Mr. and Mrs. Wilson were charter members of the Trinity Methodist Church, so the children had a Sunday school to attend, and church was part and parcel of their social life. Gail had received a toy piano with several octaves for Christmas when she was three. She played it well, and since there was no dance in Coleman, she was allowed to take piano lessons..." Read more Look inside
Texas K-9 Unit Christmas: An Anthology
Emma Fairchild never expected to find trouble in sleepy Sagebrush, Texas. But when she's attacked and left for dead in her own diner, her childhood friend turned K-9 cop Lucas Harwood offers a chance at justice—and love ... Read more Look inside
Unsolved Mysteries of Texas: Stories of Legendary Outlaws, Buried Treasure, and Hauntings in the Lone Star State
"This saga begins during the Christmas holidays of 1961. Donald and Veva Uzzel of San Marcos, Texas were joined by Donald's mother, Bernice, and her husband, Charles Nickels, who arrived from Alaska. Together, the group decided to travel to Big Bend National Park and spend a few day relaxing in the relative warmth of the Chihuahuan Desert environment. The park is located at the southern tip of Brewster County..." Read more Look inside
Life in the Saddle
Englishman Frank Collinson went to Texas in 1872, when he was seventeen, to work on Will Noonan's ranch near Castroville. At the age of seventy-nine he began writing about the Old West he knew and loved. He had a flair for writing, a phenomenal memory, and a passion for truth that is evident in what he wrote and said. "I remember well one ride I made. I left the Colorado River country in Texas in March and rode my horse, Greyhound, belly deep in the Pacific near Los Angeles, and got back to Brownwood on Christmas Day. " . . . Read more Look inside
Gangster Tour of Texas
Found inside: " Alex Spears, cashier at the First National Bank in Cisco, Texas, was sitting at his desk visiting with local grocer Oscar Cliett and a friend Marion Olson, who had just come for the Christmas holidays from Harvard University. It was just before lunch on a Friday two days before Christmas in 1927 . . . " Read more
Fight of the Phoenix: Order of the Delta Dragon
by LTC Roy E. Peterson
"By 1972 the "Summer of Love" had turned to the winter of Haight. The hippies were all deflowered by now. Not long after Christmas with my wife, three year old daughter, and our parents and grandparents in McCamey and Ranger, Texas, we returned to . . . " Read more look inside
Texas Panhandle Tales
Found inside: "They were hunting buffalo on Christmas Day 1873 in a break along the North Palo Duro Creek in what would become Hansford County when a gentle snow grew into a dangerous blizzard. Realizing they faced a long winter, they built themselves a dugout with cottonwood timber and buffalo hides and settled in until the weather broke. Freezing precipitation did not constitute the only danger that winter. The Comanche and Kiowa still considered the High Plains of Texas their hunting ground, but the brothers Jim and Bob Cator managed to keep their scalps until . . . " Read more Look inside
Dancin' in Anson: A History of the Texas Cowboys' Christmas Ball
In the 1880s, there wasn't much in Anson, Texas, in the way of entertainment for the area's cowhands. But Star Hotel operator M. G. Rhodes changed that when he hosted a Grand Ball the weekend before Christmas. A restless traveling salesman, rancher, and poet from New York named William Lawrence Chittenden, a guest at the Star Hotel, was so impressed with the soiree that he . . . Read more Look inside
The Cowboy's Christmas Ball
A poignant story of a rancher's reward to his hardworking hands, and how the excuse of a chance to dance melts the winter blues and the hearts of Texans of all ages! Do-si-do back to 1895 Anson, Texas just as the winter storms "come a-whistlin'" and take a gander at the lively Cowboys' Christmas Ball . . . Read more
Charles Schreiner, General Merchandise: The Story of a Country Store
After the Civil War, Schreiner settled near Kerrville, the location of a shingle-makers' camp. Schreiner decided the area needed a good country store and on Christmas Eve, 1869, he opened for business in a cypress board building measuring thirty by sixty feet . . . read more or browse more J. Evetts Haley books
Acceptance of Mediocrity: A Collection of Anecdotes
"Christmas time in 1954, my parents received the news that my grandfather, George Pullmann, who was by then pastor of a congregation in Friona, Texas, had had a heart attack. I was quite surprised that my father makes no mention of this in ... " Read more Look inside
Lonely Graves: a Texas Murder Trilogy
Christmas Eve 1926: authorities in Farwell, Texas discover the worst case of family annihilation this country has ever recorded after unearthing the remains of eight children and their mother
An Adventurous Life
"While I was going to West Texas State in Canyon, Texas, two boys had gone hunting down in the canyon during Christmas break and been forced into a cave because of a blizzard. In their looking for wood, they found armor and weapons left" . . . Read more Look inside
UNOPENED PRESENTS: A West Texas Christmas
Through a school assignment, eleven year old Ivy Blackwood discovers the family secret! Her Mom is hiding a grandmother 500 miles away in the small, West Texas town of Crosbyton. This grandmother has promised piles of presents for Ivy. Her mom says her father has invited Ivy's family to come for the Christmas Holidays in Crosbyton . . . Read more Look inside
Love Found in Bandera, Texas
When Dale returns to Bandera, Texas for Christmas, all he expects is to spend time with his beloved dog Buck. However, running into Shanna, his high school sweetheart, reminds him of the time he has wasted and all he lost by running away on Christmas Eve nine years earlier . . . Read more
Texas Night Before Christmas
by James Rice
You may know the story, but you've never heard it like this before. Based on Clement C. Moore's poem, Texas Night Before Christmas is filled with images of the Lone Star State, whimsical illustrations, and playful text . . . Read more
The Twelve Days of Christmas in Texas
Welcome to the 12 days of Christmas in Texas! Ready to greet you are 9 leapin' lizards, 8 grazin' longhorns, 7 bass a-swimmin', 6 flags a-flyin'... and much more from the Lone Star State. José is so excited about his cousin Ashley's visit with him in Texas that he gives her one of these VERY unusual gifts on each of the twelve days of Christmas, and Ashley writes lively letters home to tell her mom and dad all about her trip. Lucky readers are in for a wild Christmas countdown! . . . read more
Home For Christmas: a Texas Story
When Connor finds River on the roof of the campus admin building, he doesn't know what to do. His friend is drunk, and shouting into a snowstorm, a bottle of vodka in his hand. The easy part is getting River down; the hard part is insisting River comes home with Connor for Christmas . . . Read more Look inside
Under the Texas Mistletoe
In this 3-in-1 novella collection, bestselling author Karen Witemeyer presents the new story "A Texas Christmas Carol," in which a town's wealthy, Scrooge-like bachelor finds his world invaded by a woman set on earning his donation for helping the local poor, and by the penetrating questions of three mysterious visitors . . . Read more Look inside
Home on the Ranch: Texas Holiday Dilemma
Callie McCabe-Grimes has one thing on her holiday wish list: to make this the best Christmas ever for her little boy. Without including Nash Echols, whose team of lumberjack cowboys is creating a racket at the Christmas tree farm ...A family-style Texas Christmas! . . . Read more Look inside
Santa Is Coming to Texas
It's Christmas Eve. Have you been good? Santa's packed up all the presents and is headed your way! With the help of a certain red-nosed reindeer, Santa flies over many landmarks in Texas! . . . Read more Look inside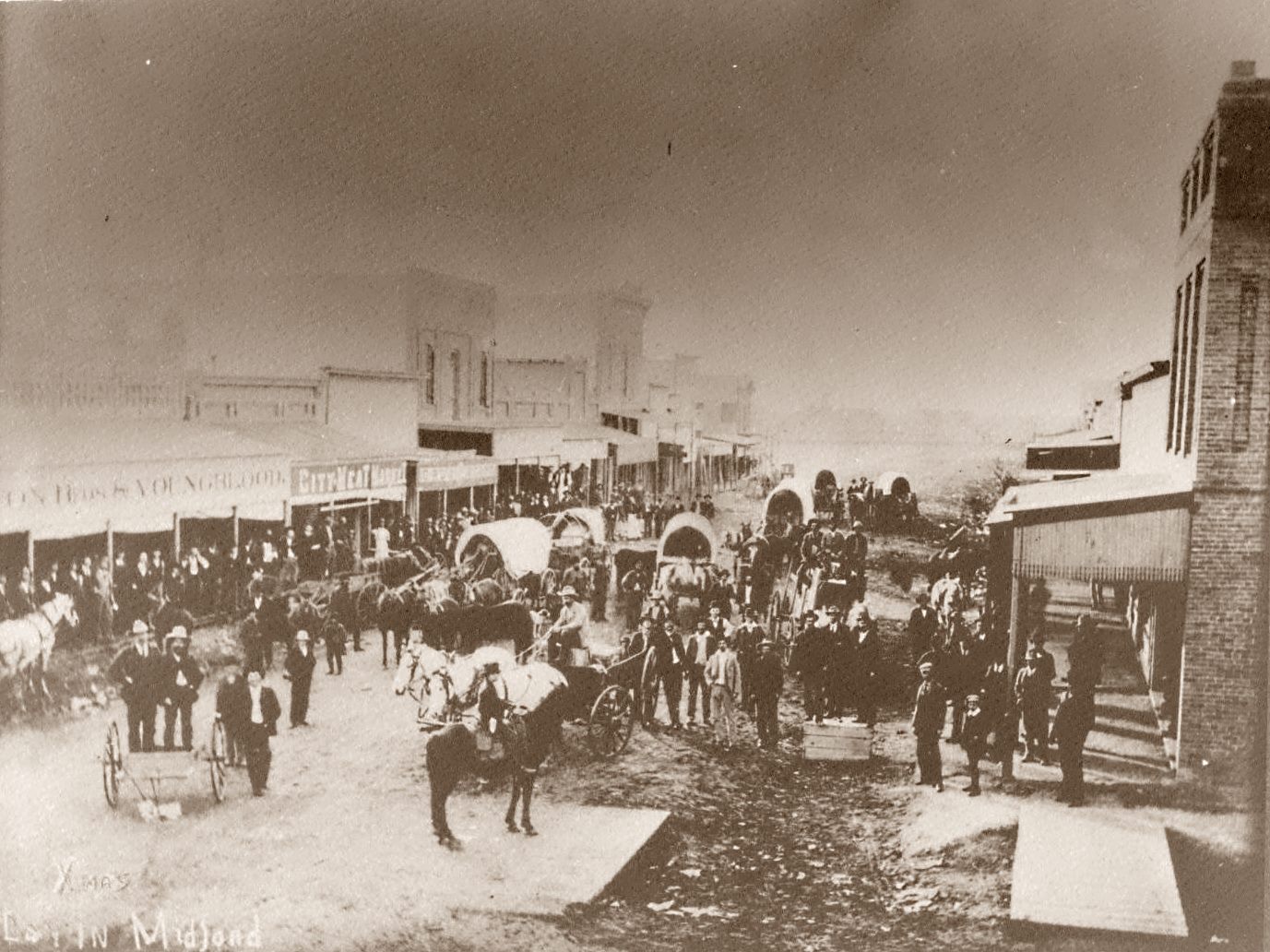 Midland Texas on Christmas Day in 1894
On Christmas Day in 1894 a large wagon train of new settlers arrived in Midland and was welcomed by hundreds of people.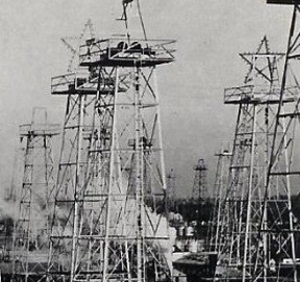 Kilgore Skyline with Oil Wells Adorned with Christmas Stars and Lights in 1939
What's your Favorite Book about a Texas County, Town, Person or Place? Here's our best reads list County by County