Campaign Websites
Recent surveys show that up to 80% of voters say they use the Internet to get information about candidates before casting their vote. Without a website, you'll miss this opportunity to win their votes. Even in small towns, the media and key influence-peddlers say that a website is a must for any real campaign. A professional website will show them you're serious about winning and and website reports will tell you how your campaign is resonating with the voters without expensive and time consuming polling.

It's hard to believe, but for less than $6 per month you could have a full-featured campaign website live on the Internet by this time tomorrow! And we're not talking about some basic one page "online brochure." We're talking about a real website with all the bells and whistles like email autoresponders, easy-to-use site builder including 450 templates, volunteer signup form, online surveys, photo gallery, multimedia streaming, flash and much more! The Omnis Network even includes over $100 in FREE site promotion credits from Microsoft, Google and Yahoo.
Best of all, you can try it free for 30 days! Create your campaign Website today.
Three Steps to Building a Winning Campaign Website for Under $25
No matter what kind of campaign you're running, a blog allows you to quickly and easily create a place on the web where voters can find you, learn about you, interact with you and contribute to your success. . . Learn more
Professional email newsletters are one of the most effective and cost effective ways to reach thousands of supporters. One company takes eMail Newsletters to a whole new level by incorporating the best tools the Internet has to offer for campaign communications into one easy-to-use and affordable platform called Multi-Channel Online Marketing.
If you are searching for simple email marketing software that provides a platform for your online marketing campaigns, we encourage you to use our friends at iContact. One easy platform allows you to use multiple channels such as email, RSS feeds, and blogs to distribute your message to thousands of people who want to hear your message. [ Learn More ].
To start your free trial of iContact Click here
---
Small campaigns that only print a few thousand pieces of mail or literature at a time have always had to pay a premium because of the high setup fees charged for jobs done on traditional off-set printing presses. That's no longer the case with digital off-set printing. Digital off-set presses are basically big color laser printers designed specifically to print high-quality pieces in small quantities. Be sure to shop around for a printer who has one. The cost savings will be significant.
Business and Post Cards - We have used VistaPrint for years in our own marketing campaigns. They specialize in full color cards of all types. You can choose from huge selection of templates and 70,000 royalty free images or design your own from scratch with your own photos. It only takes a few minutes and VistaPrint's online software makes it easy.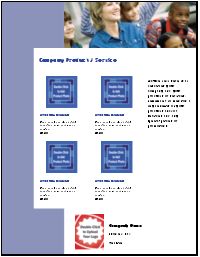 Campaign Brochures, Post Cards, and Campaign Cards
Door Hangers, Banners, and Bumper Stickers
If you don't find the campaign piece you want with VistaPrint, check out PSPrint for more printed campaign tools, online templates, and royalty free images. In addition to postcards and business cards they offer door hangers, vinyl banners, and bumper stickers at reasonable prices. . To find out more: . Click Here
On average, a traditional 3 page fax will take you about 280 seconds to print and send, web fax services can reduce that time down to 20 seconds. They can save you time, money and you'll be able to send or receive faxes anywhere you can send an email.
RapidFax is easy to use, just enter any information you desire into the body of an email, attach any required documents, enter the destination fax number, and send, it's that simple.
CallWave Fax to Email delivers faxes directly to your email - so you don't need a fax machine or a second phone line. Unlimited incoming faxes, $7.95 per month. Affordable No-Limit Fax and Phone Numbers for Your Campaign
Telecommunications veteran Ring Central has packaged internet fax, phone, email, and voicemail into a virtual PBX that will reach you anywhere for as little as $9.95 a month..
Need Help Writing Fundraising Letters?
Asking for donations can be as difficult as asking a father to give up his daughter's hand in marriage! Don't take a chance. A professionally written fundraising letter means money in the bank.
WriteExpress helps thousands of people just like you compose professional Fundraising Letters
quickly.
Their software provides you the choices you need to get the job done. It does this in two ways:
Find a letter that fits your needs--choose from 64 powerful fundraising letters that cover 13 common situations.

Let the software guide you step-by-step through the letter-writing process, suggesting sample sentences and phrases during each writing step. This approach helps you find fundraising words that are just right.
Internet fundraising:
Almost half of small online donors contacted the campaign first. They did not get a letter or phone call asking for money, but instead sought out their candidate, usually online, in order to show their support.

"The trend is clear. Online fundraising will be central to the future of campaign fundraising"

Online contributions will be critical for the future of political fundraising.

The Internet has made it easier and cheaper to ask people for money, often in a very engaging way.

Online giving clearly resonates with donors

E-mail and online advertising are fairly passive and serve donors who are looking to give.

If direct mail is akin to fundraisers chasing donors, then the Internet is akin to donors chasing fundraisers.
Campaign websites no longer need be expensive or difficult to set up. We found one that offers everything a small campaign will ever need including the ability to accept secure online credit card donations. . . . Build your own for under $25 in three easy steps
---