Buddy Holly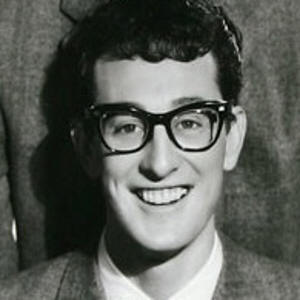 Buddy Holly was born as Charles Hardin Holley September 7, 1936 in Lubbock Texas. He was the fourth child of Lawrence Odell "L.O." Holley and Ella Pauline Drake. From early childhood, he was nicknamed "Buddy". In 1956 a contract with Decca Records misspelled Holley's last name as "Holly"; from then on, he was known as "Buddy Holly"
At Roscoe Wilson Elementary, he became friends with Bob Montgomery, and the two played together, practicing with songs by the Louvin Brothers and Johnnie & Jack. Holley played with other musicians he met at Lubbock High School, including Sonny Curtis and Jerry Allison. In 1952, Holley and Jack Neal participated as a duo billed as "Buddy and Jack" in a talent contest on a local television show.
Buddy was further encouraged after seeing Elvis Presley performing live in Lubbock, whose act was booked by Pappy Dave Stone of KDAV. In February, Holley opened for Presley at the Fair Park Coliseum, in April at the Cotton Club, and again in June at the Coliseum.
Shortly after Buddy first appeared on television in 1952, he formed his first musical group "Buddy and Bob' in 1953. After opening for Elvis Presley in 1955 Buddy decided he wanted a career in music. Holly and the Crickets performed "That'll Be the Day" and "Peggy Sue" on The Ed Sullivan Show on December 1, 1957.
In September of the the same year Buddy flew home to Lubbock where he learned his high school girlfriend Echo McGuire had left him for a fellow student. He also had a relationship with Lubbock fan June Clark. After Clark ended their relationship he subsequently met Maria Elena Santiago and asked her to marry him on their first date. Buddy died in a tragic plane crash in Clear Lake, Iowa February 3 1959.
Maria Elena watched the first reports of Holly's death on television. The following day, she claimed, she miscarried although there is no independent source for this. Holly's mother, who heard the news on the radio in Lubbock, Texas, collapsed. Because of Maria Elena's miscarriage, in the months following the accident, the authorities implemented a policy against announcing victims' names until after families are informed.[
Buddy Holly's funeral was held in Lubbock, Texas, at the Tabernacle Baptist Church. The service was performed by Ben D. Johnson, who had also officiated at Holly's wedding just six months earlier. Pallbearers were the original Crickets: Jerry Allison, Joe B. Mauldin and Niki Sullivan; music producer Bob Montgomery, and musicians Sonny Curtis and Phil Everly (of the Everley Brothers). Over a thousand mourners attended the service, but his widow did not. Maria Elena Holly has never visited the grave of her husband. She told the Avalanche-Journal, "In a way, I blame myself. I was not feeling well when he left. I was two weeks pregnant, and I wanted Buddy to stay with me, but he had scheduled that tour. It was the only time I wasn't with him. And I blame myself because I know that, if only I had gone along, Buddy never would have gotten into that airplane."