The Tax Appraisal District of Brown County is responsible for appraising all real and business personal property within Brown County including Brownwood, Bangs, Early, Blanket, Lake Brownwood and Thunderbird Bay, Texas
Brown CAD is appraises properties for Brown County, Bangs ISD, City of Bangs, Blanket ISD, City of Blanket, Brookesmith ISD, City of Brownwood, Brownwood ISD, City of Early, Early ISD, May ISD and Zephyr ISD.
Brown County Estates with Unclaimed Money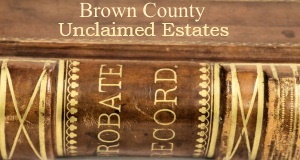 These Deceased Residents of Brown County Left a total $104,496 in Unclaimed Money for their heirs. Please share this with your family and friends from Early, Brownwood, Lake Brownwood, Bangs and Blanket to let them know they can claim their inheritance from the Texas Comptroller's Office. . . see the list
Title Abstracting and courthouse records research direct to you from 110 Rural Texas Counties since 1989.
Ph (806) 832-4349 Email
Brown County Appraisal District
Brown County News
Brown County TX Experts
Brown County Products
Brown County Unclaimed Estates
Books about Brown County Texas
What's your Favorite Book about a Texas County, Town, Person or Place? Here's our best reads list County by County






Texas Estates with $10,000 or more in Unclaimed Money
Estates with $10,000 to $761,590 in unclaimed money due beneficiaries and heirs. Average estate in this list has $31,242 in unclaimed money . . . View the List - Make a Claim
Brown County Appraisal Protests and Appeals
You may protest if you disagree with the appraisal district value or any of the appraisal district's actions concerning your property.

If you are dissatisfied with the Appraisal Review Board's findings, you have the right to appeal the ARB's decision. Depending on the facts and type of property, you may be able to appeal to the state district court in the county in which your property is located; to an independent arbitrator; or to the State Office of Administrative Hearings (SOAH). Learn more
Texas Unclaimed Property Finds (eBay)
Texas Property Auctions by County
Texas Estate Sales and Online Auctions