Brown County Unclaimed Estates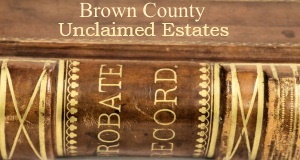 These deceased residents of Brownwood, Bangs, Early, Blanket and Lake Brownwood Texas left a total $104,496 in Unclaimed Money for their heirs.
NOTE: This report is provided free with the sincere hope the rightful heirs will claim their inheritance. It is not an offer for housing or credit. The word estate as used here, refers to assets left by deceased people to their heirs and is not a reference to real estate. There is a link at the bottom where you can search by individual deceased name and file a claim for unclaimed property with the Texas Comptroller.
| | |
| --- | --- |
| Know the Heirs? Let them know | |
| | | |
| --- | --- | --- |
| Doyle Wayne Mcleroy Estate | $39,950 | Early |
| Estate Of Dorothy Cozens | $8,346 | Brownwood |
| Simon Delce (Estate) | $6,136 | Brownwood |
| Hazel Stephens Estate | $5,376 | Brownwood |
| Estate Of Bruce Pollock | $4,302 | Brownwood |
| Estate Of Hazel Stephens | $4,289 | Brownwood |
| Estate Of Emory Barrett | $3,511 | Brownwood |
| Estate Of Vera Fisher The | $2,500 | Brownwood |
| Selma Mills Estate | $2,290 | Brownwood |
| Estate Of Camilla Kelley | $1,776 | Lake Brownwood |
| Estate Of Camilla Kelley | $1,776 | Lake Brownwood |
| Lonnie Middleton Estate | $1,353 | Brownwood |
| Estate Of William Lavern Ellis | $1,346 | Bangs |
| Jerry Brooks Estate | $1,151 | Brownwood |
| Estate Of Virgil Fletcher | $1,068 | Bangs |
| John Tackett Estate | $1,052 | Brownwood |
| Estate Of Aniceto Salazar | $1,019 | Brownwood |
| Spain Jerry Clyde Estate | $1,003 | Brownwood |
| Estate Of Edwin R Baker | $956 | Brownwood |
| Estate Of F Hamilton | $753 | Brownwood |
| Estate Of Billy Hull | $620 | Brownwood |
| Estate Of Tommy Joe Wright | $580 | Brownwood |
| Estate Of Nonnie G Smith | $569 | Brownwood |
| Estate G P Norris | $508 | Brownwood |
| Edwin Slaughter Estate | $503 | Brownwood |
| Estate Of Almarene Posey | $500 | Brownwood |
| Geraldine Murray Estate | $479 | Early |
| Estate Of Bicie Fisher | $403 | Brownwood |
| Mary Greer Estate | $380 | Brownwood |
| Dorothy Anderson Estate | $374 | Brownwood |
| Estate Of Joe Diaz | $365 | Blanket |
| Lillian L Wright Estate | $364 | Brownwood |
| Estate Of Diane Franklin | $304 | Brownwood |
| Dr Mary Lou Evans Estate | $288 | Brownwood |
| Estate Of Robert M Wilson | $286 | Brownwood |
| Alfred E Nabors Estate | $275 | Brownwood |
| Estate Of Simon Deke Jr | $272 | Brownwood |
| Estate Of Crumley, David | $266 | Brownwood |
| Estate Of Ola M Mcwilliams | $250 | Brownwood |
| Estate Of Florentino Romero | $237 | Brownwood |
| Sam Howard Estate | $236 | Brownwood |
| Estate Of Woods Richard P | $207 | Brownwood |
| Estate Of E Strickland | $202 | Brownwood |
| Estate Of Charles W Trigg | $197 | Brownwood |
| Estate Of Michelle G Dalton | $194 | Brownwood |
| Estate Of Craig Leidig | $187 | Bangs |
| John Harrington Estate | $183 | Brownwood |
| Estate Of Sabrina Price | $180 | Brownwood |
| Ignacio Deleon Estate | $169 | Brownwood |
| Herman Mae Wright Estate | $162 | Blanket |
| Betty Jo Walkin Estate | $161 | Brownwood |
| Estate Of Edwin Dunsworth | $140 | Brownwood |
| Estate Of Wanda M Williford | $140 | Brownwood |
| Estate Of Wynell Black | $139 | Early |
| Estate Of Colleen Patteson | $137 | Brownwood |
| Caldoni Pennie Estate | $136 | Brownwood |
| Estate Of Marvin Bagley | $132 | Brownwood |
| Estate Of Nora L Cooper | $127 | Brownwood |
| Estate Of Jean H Ware | $127 | Brownwood |
| Estate Of Robert Harris | $120 | Brownwood |