Brewster County Appraisal District (CAD)
Brewster Appraisal District
107 W. Avenue E #2
Alpine, Texas 79830
Phone: 432-837-2558
Fax: 432-837-3871
Web address: http://www.brewstercotad.org/
The Tax Appraisal District of Brewster County is responsible for appraising all real and business personal property within Brewster County including Alpine, Marthon, Study Butte, Terlingua, Altuda, Arick Village and Boquillas, Texas
Brewster CAD appraises for all the taxing entities in Brewster County. These include, Brewster County, Big Bend Regional Hospital District, The City of Alpine, Alpine ISD, Marathon ISD, San Vicente ISD, and Terlingua CSD.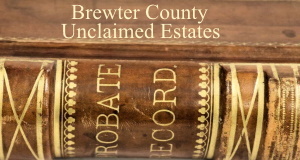 Brewster County Unclaimed Estates
These Deceased Residents of Brewster County left $17,580 in Unclaimed Money for their heirs. Know the Heirs? Please Share this with your Family and Friends from Alpine and Terlingua . . . Check the list
Brewster County Items for Sale Rare Artifacts, Memorabilia, Ancestry and History Records from Alpine, Marthon, Study Butte, Terlingua, Altuda, Arick Village and Boquillas, Texas.

Important: Tap or click the title (not the photo) for details on the items listed below. See More Brewster County Treasures
Brewster County Property Tax Exemptions
The Brewster County Appraisal Office in Alpine has information about property tax exemptions and discounts that could save you money. The Homestead exemption for example could reduce your property taxes by up to $1500 a year and it's available to almost all Brewster County homeowners who live in their home. If you are over 65, disabled, or a veteran, you may qualify for additional exemptions. Contact the Brewster County Appraisal Office in Alpine for more information.
Brewster County Appraisal District
Brewster County News
Brewster County TX Experts
Brewster County Products
Books about Brewster County
Brewster County Unclaimed
Title Abstracting and courthouse records research direct to you from 110 Rural Texas Counties since 1989.
Ph (806) 832-4349 Email
What's your Favorite Book about a Texas County, Town, Person or Place? Here's our best reads list County by County






Brewster County Appraisal Protests and Appeals
You may protest if you disagree with the appraisal district value or any of the appraisal district's actions concerning your property.

If you are dissatisfied with the Appraisal Review Board's findings, you have the right to appeal the ARB's decision. Depending on the facts and type of property, you may be able to appeal to the state district court in the county in which your property is located; to an independent arbitrator; or to the State Office of Administrative Hearings (SOAH). Learn more
Texas Unclaimed Property Auctions
Texas Property Auctions by County
Texas Estate Sales and Online Auctions