Look Who's Talking about Texas History
Davick Services recommends the Facebook Group "West Texas History & Memories" for history, famous people, old photos, stories, unclaimed estates and genealogy of the Western Half of Texas . . . Check it out and join the conversation
The Brent Lemons Collection

The Brent Lemons Collection is one of the most amazing collections of historical photos from West Texas I've ever seen. Most of the images are from original negatives all are huge and incredibly detailed. His family's pioneer history is just as amazing.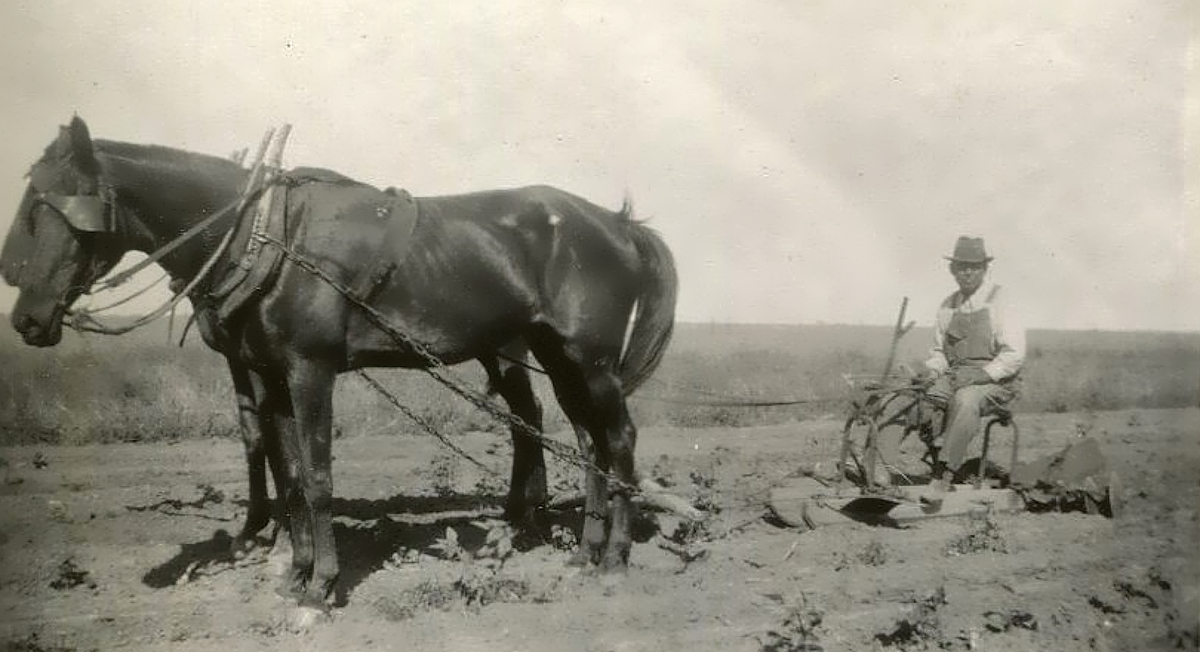 Joe Botelier plowing fields in 1905
In 1905 Joe Botelier was plowing a field with his two-horse team near Floydada Texas when someone captured this huge highly-detailed photo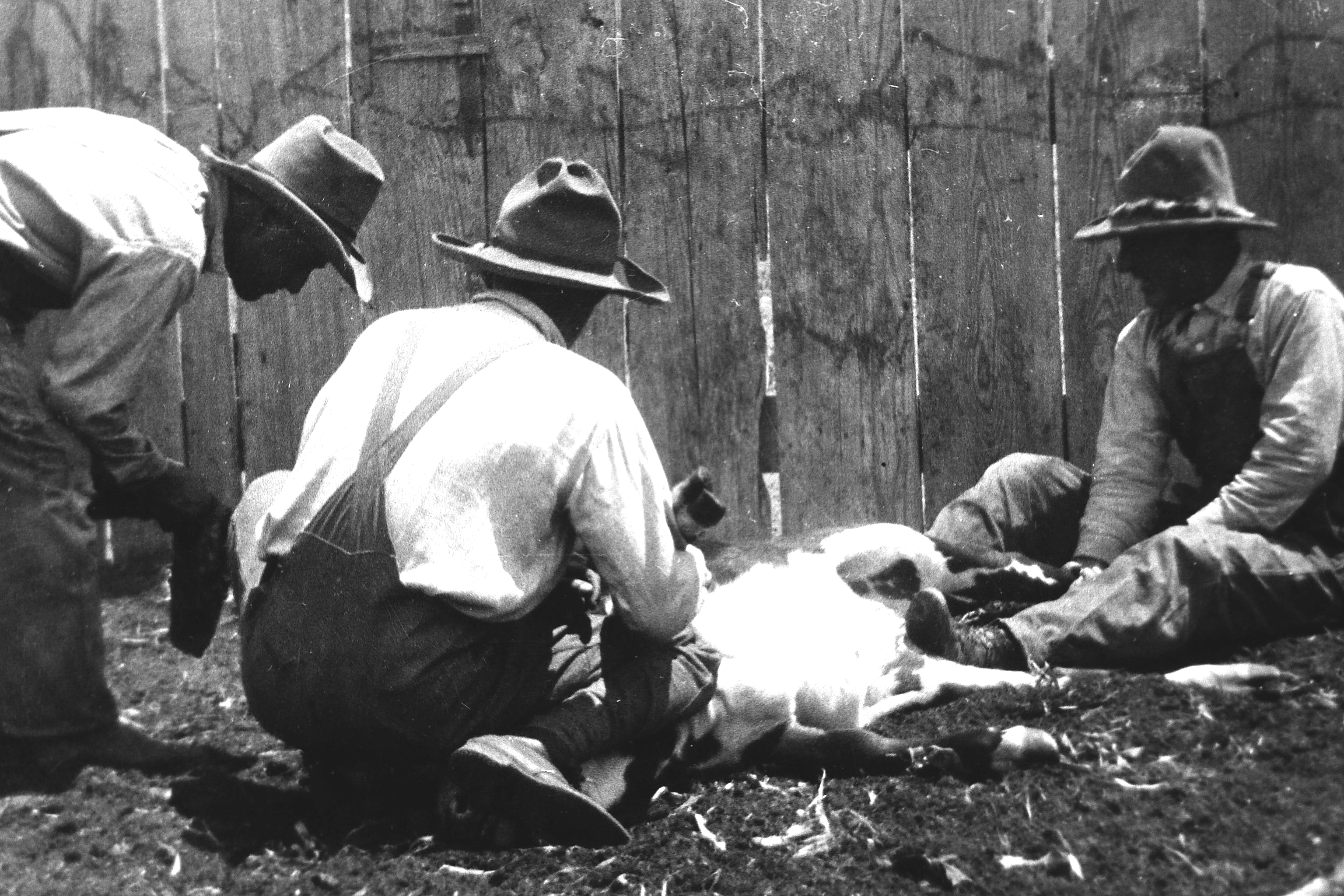 Cowboys Working Cattle in Hart TX 1917
In 1917 three members of the Hutcherson family were working cattle near Hart Texas when this huge amazingly-detailed photo was captured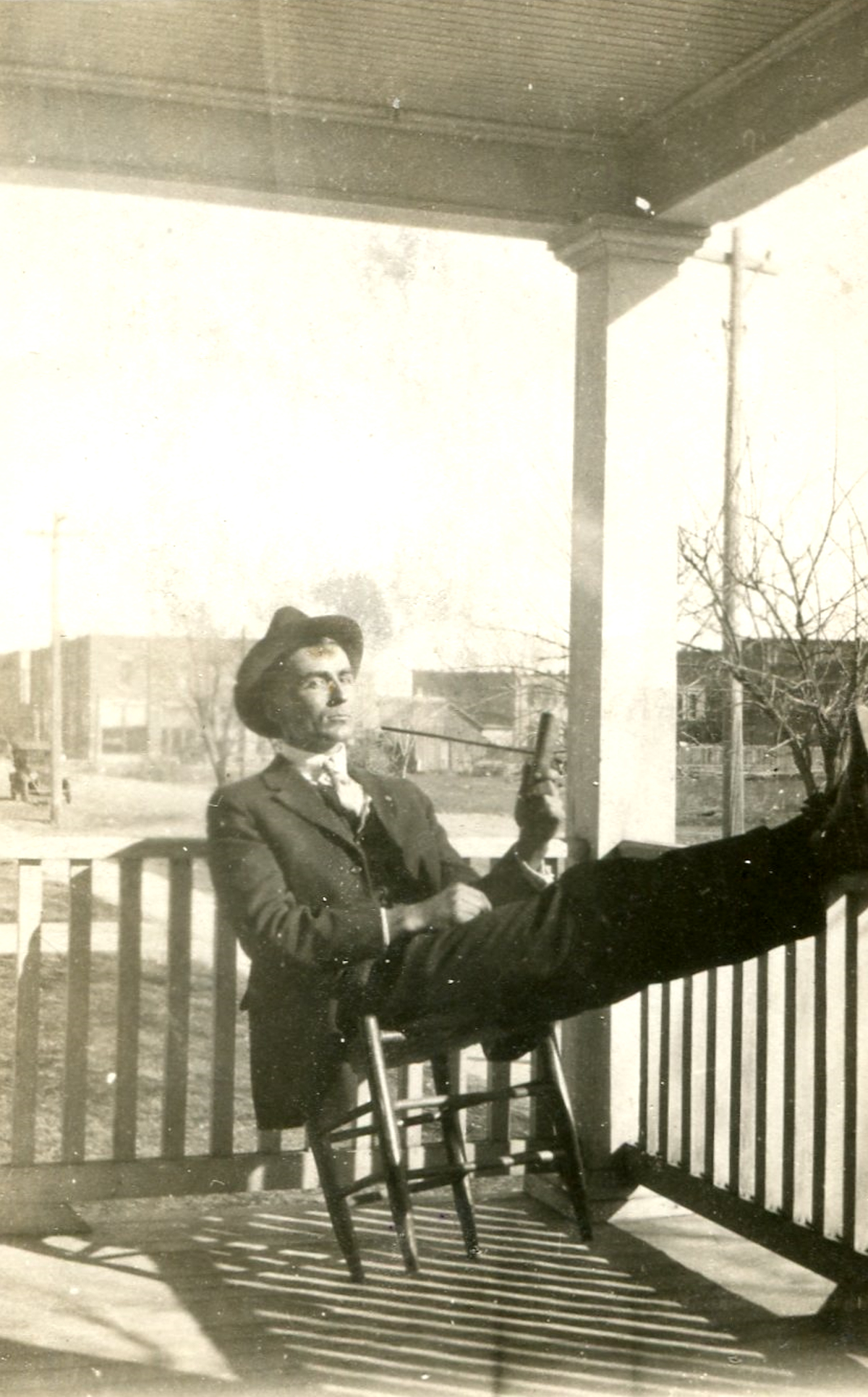 Edward Wykes on his porch in 1914
In 1914 Edward Wykes, age 20, relaxes on his porch in Oakalla Texas smoking a very long stemmed pipe.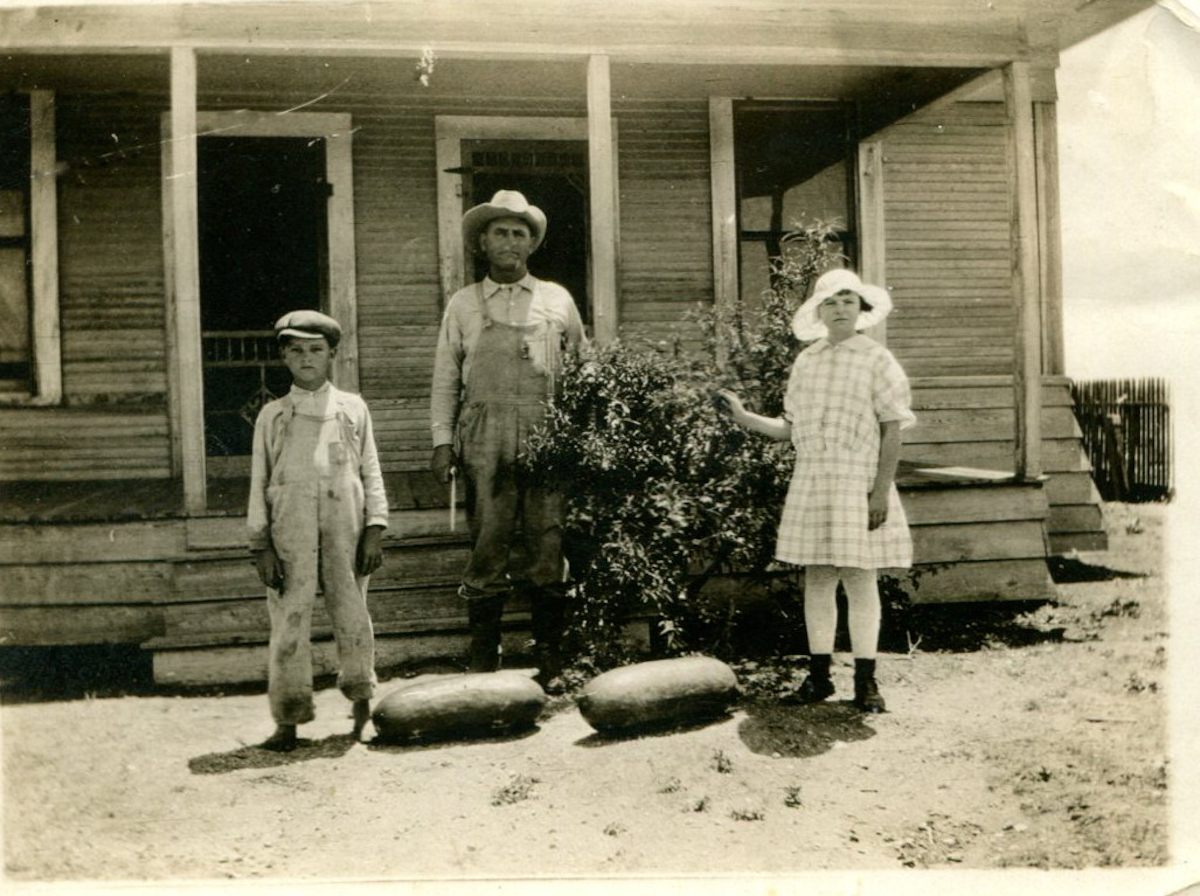 Watermelon Days in Scurry County
Life was hard in Scurry County Texas in 1912 but after a hard day's work on the farm, cutting a ripe watermelon was an occasion that called for a photo. Cutting two was a special treat. In this photo, Claude Hutcherson stands with knife in hand ready to open the delicious treat while his son Carl and daughter Ruby wait patiently.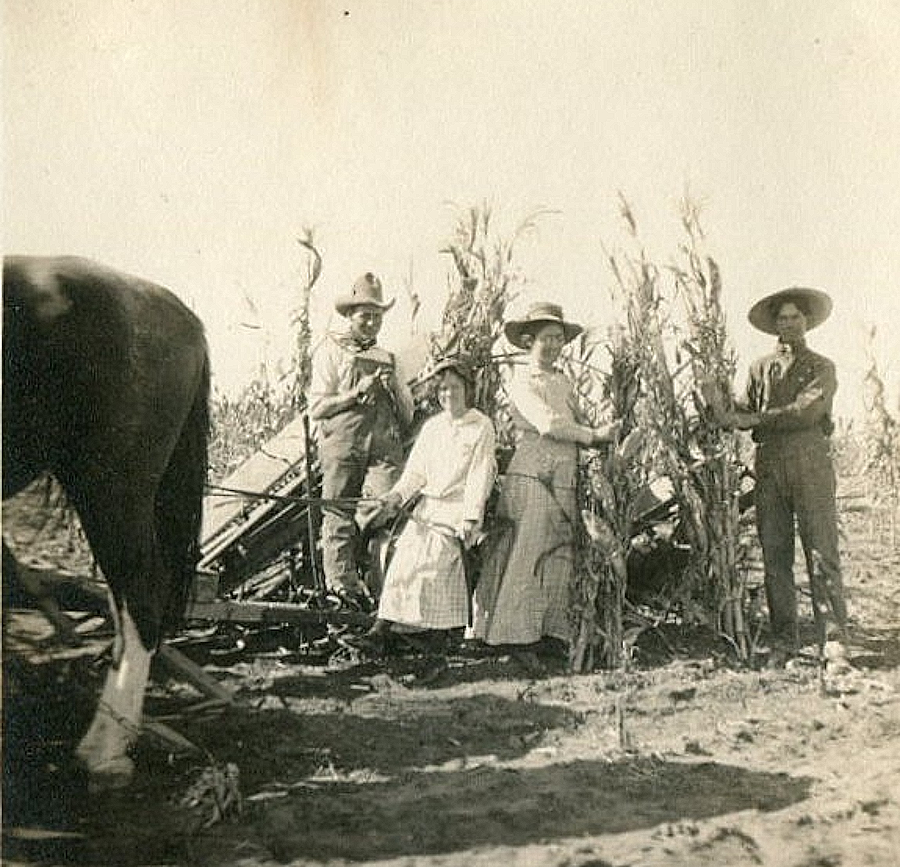 Corn Harvest in Hall County
In 1900 Lora and Irene Hutcherson sat on a horse-drawn harvesting machine to pose with two unknown men during the corn harvest in Hall County Texas. Lora is sitting on the machine holding the reins and Irene is standing holding a shock of corn.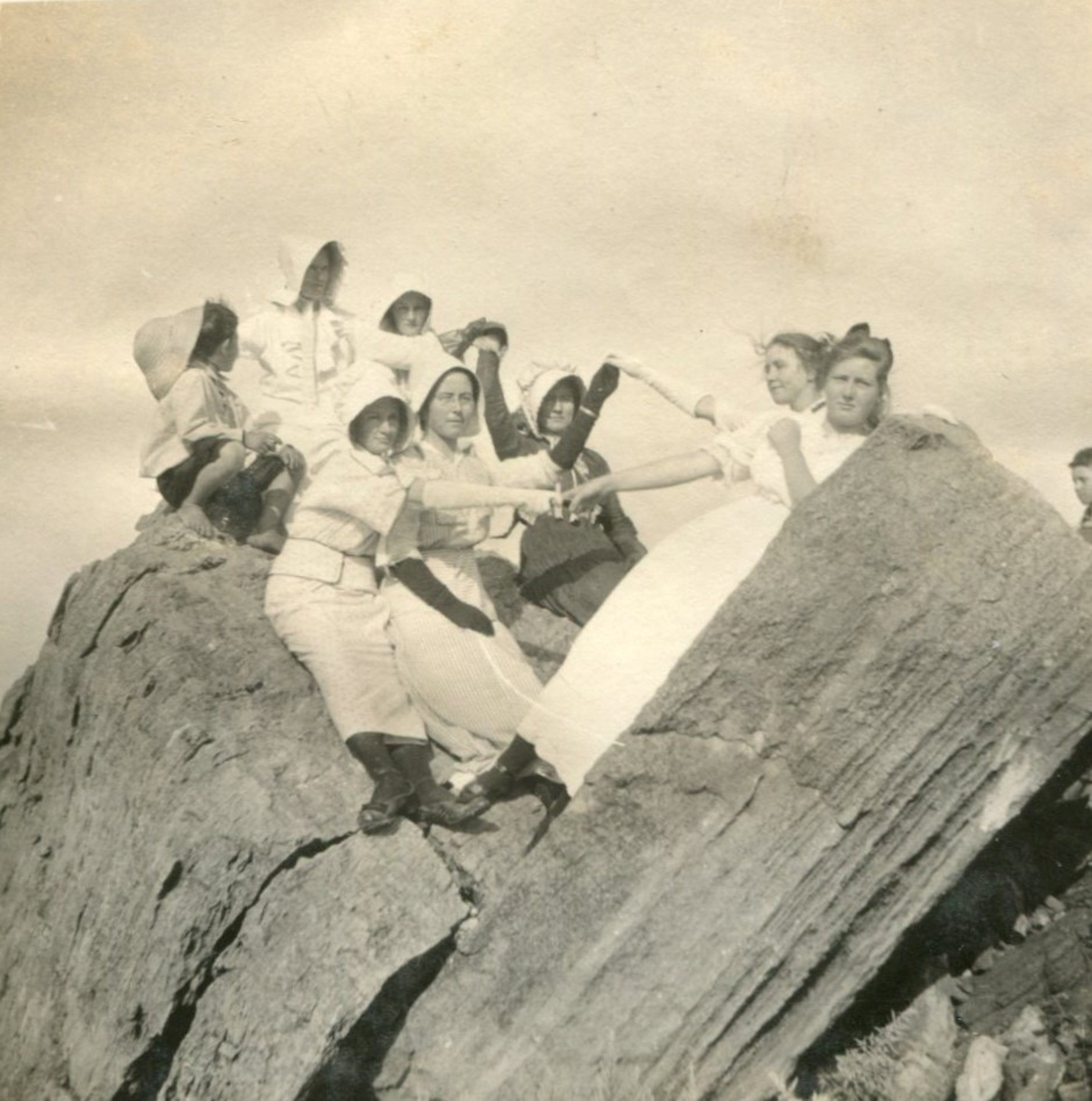 Daring Girls of Scurry County
In 1899 eight daring young women and a boy climbed to a precarious perch on a rock formation overlooking the caprock in Scurry County Texas to pose for this interesting photo.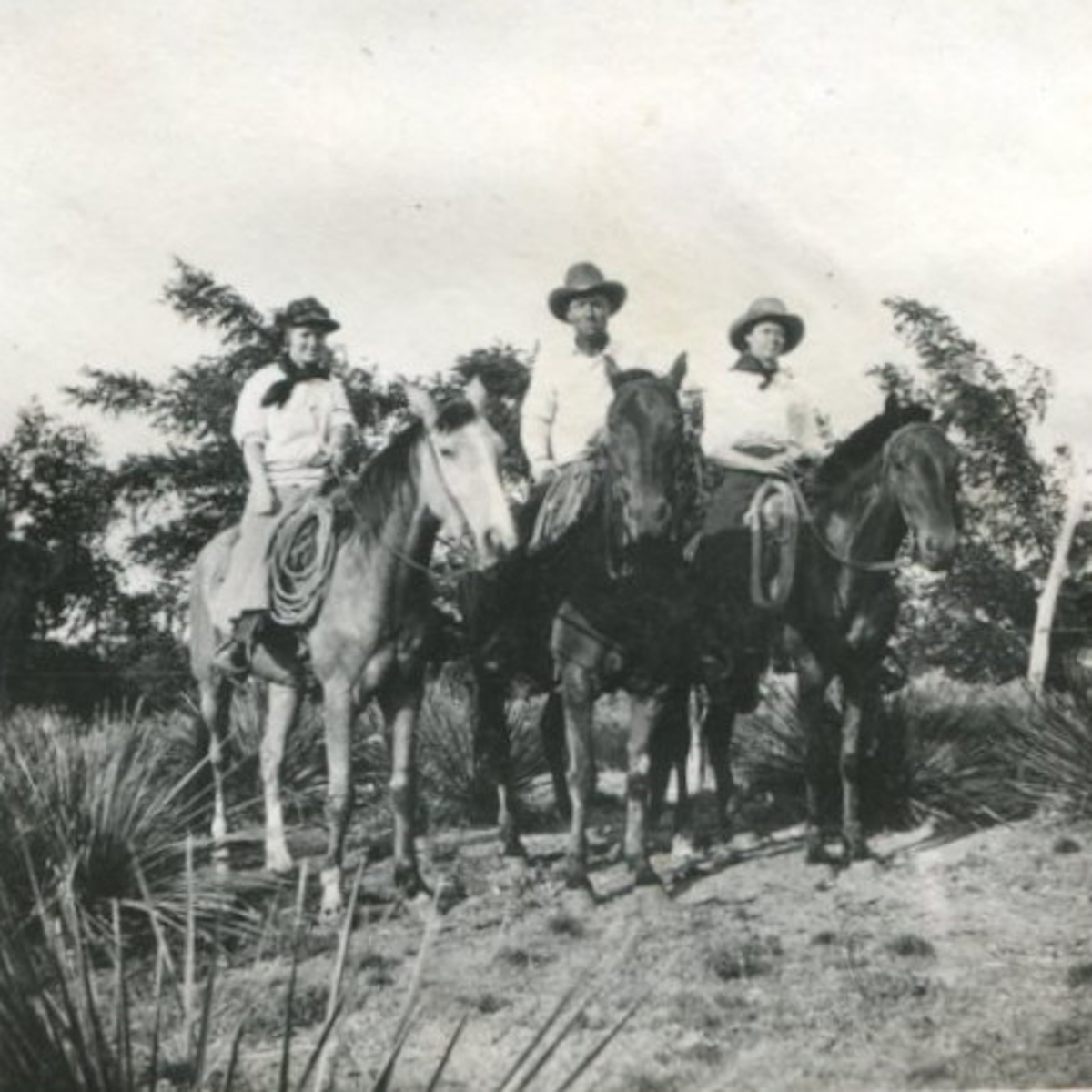 Hutcherson's of Hall County on Horseback
Sometime in the late 1800s siblings Demmie (died 15 years) Richard and Ellen Hutcherson posed for this photo on their ranch in Hall County Texas.The Hutcherson family were early pioneers of Hall County.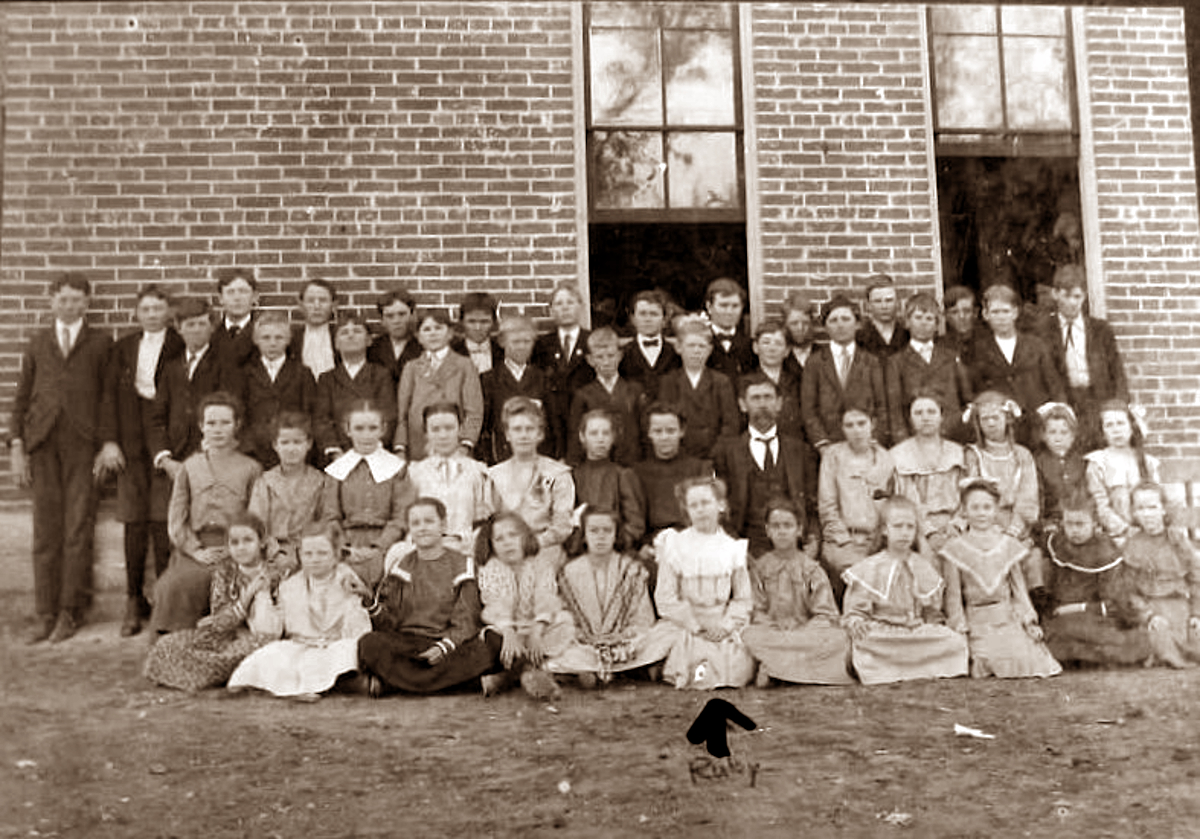 Liberty Hill School in 1902
In 1902 twenty four boys, and twenty three girls posed with their teacher at the Liberty Hill School in Williamson County Texas. 1902 twenty four boys, and twenty three girls posed with their teacher at the Liberty Hill School in Williamson County Texas.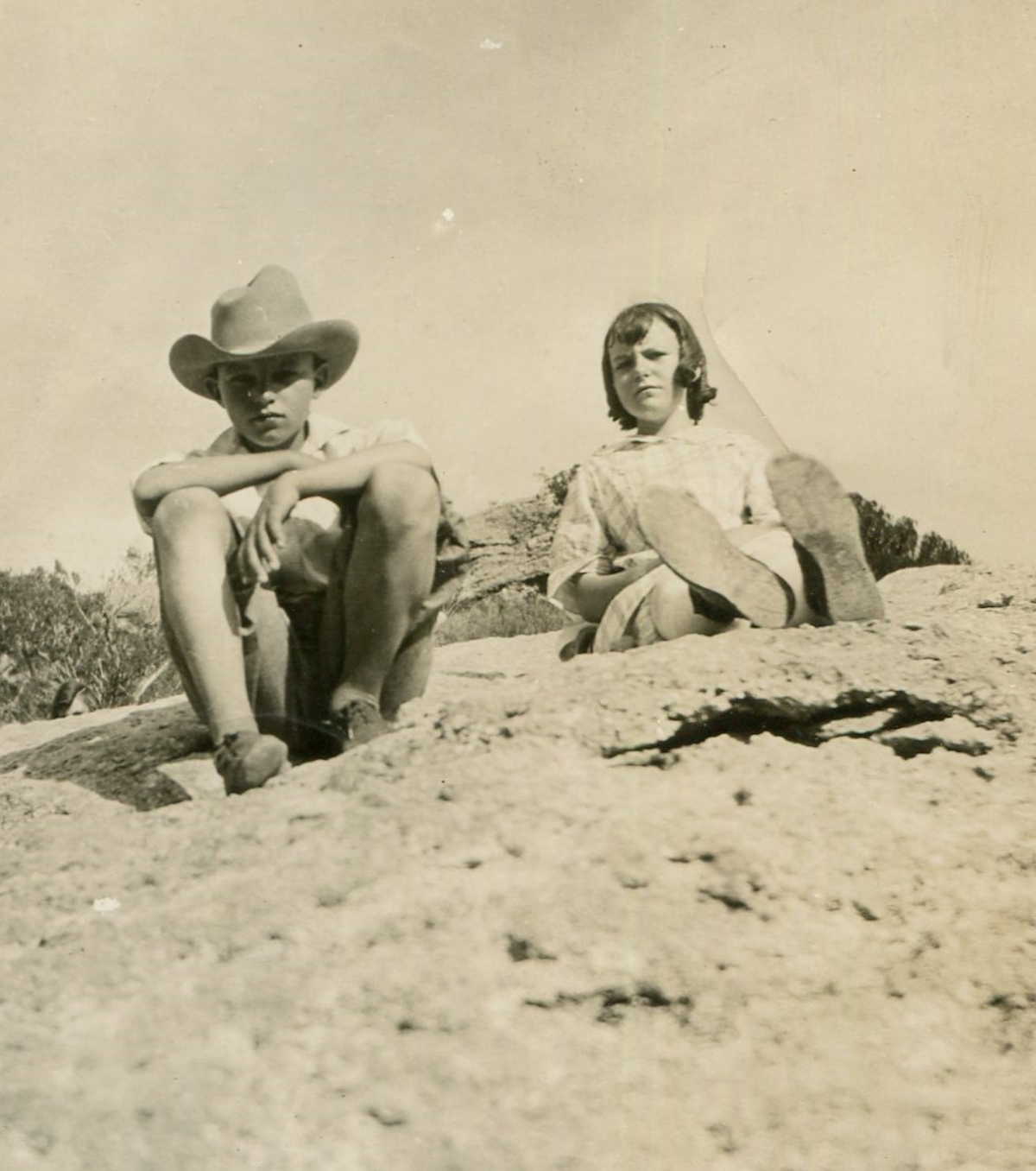 Claude & Ruby Hutcherson in 1913 Fluvanna Texas
Sometime in 1913 Claude Hutcherson and Ruby Hutcherson posed for this great old photo in Fluvanna, Scurry County, Texas.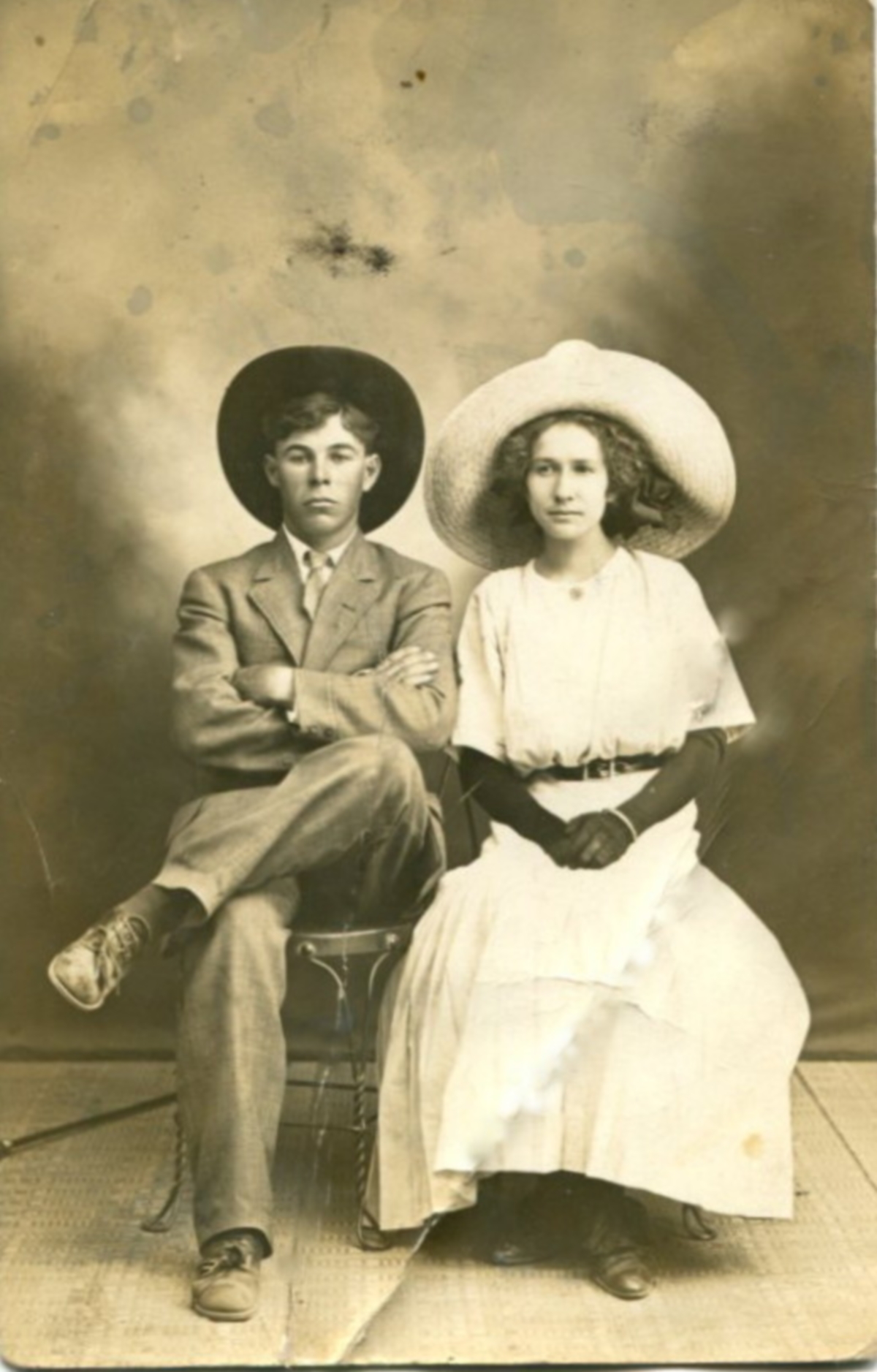 Reed and Mae Dean Harper 1916
In 1916 a reluctant Reed Harper posed with his sister, Mae Dean Harper, for this remarkable portrait in Floyd County Texas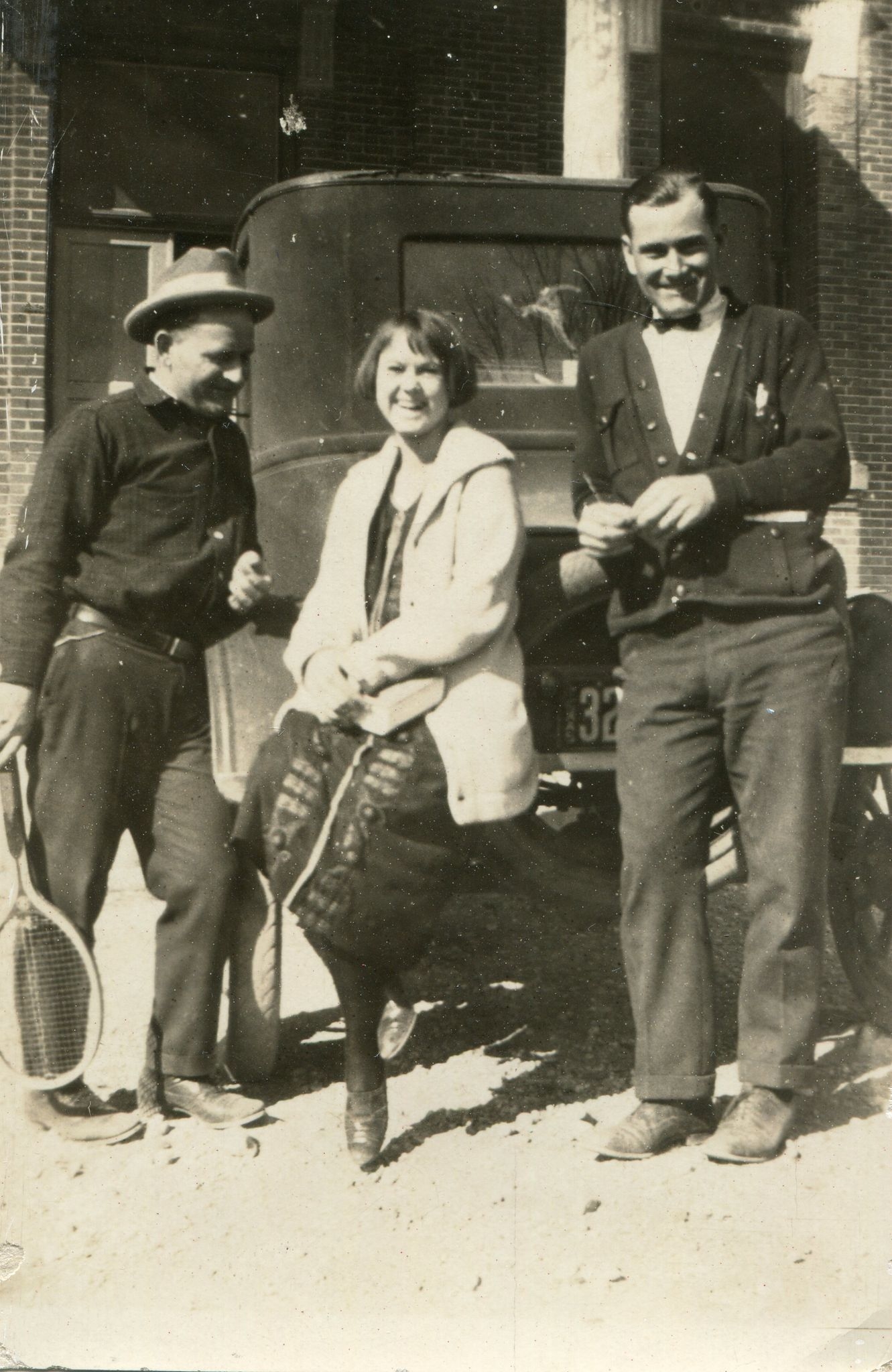 After a Tennis Game at Wayland College in 1922
In 1922 Virgil Lemons, Ruth Kiser and Van Foster posed after a tennis game at Wayland College in Plainview Texas. Tennis outfits were a little different in those days!
Working Cattle in Castro County in 1920
In 1920 brothers, Turner and Carl Hutcherson, were working cattle on a ranch in Castro County Texas. Turner is wearing chaps and Carl is to his right. Both men became ranchers, Carl in Castro County and Turner went to Arizona.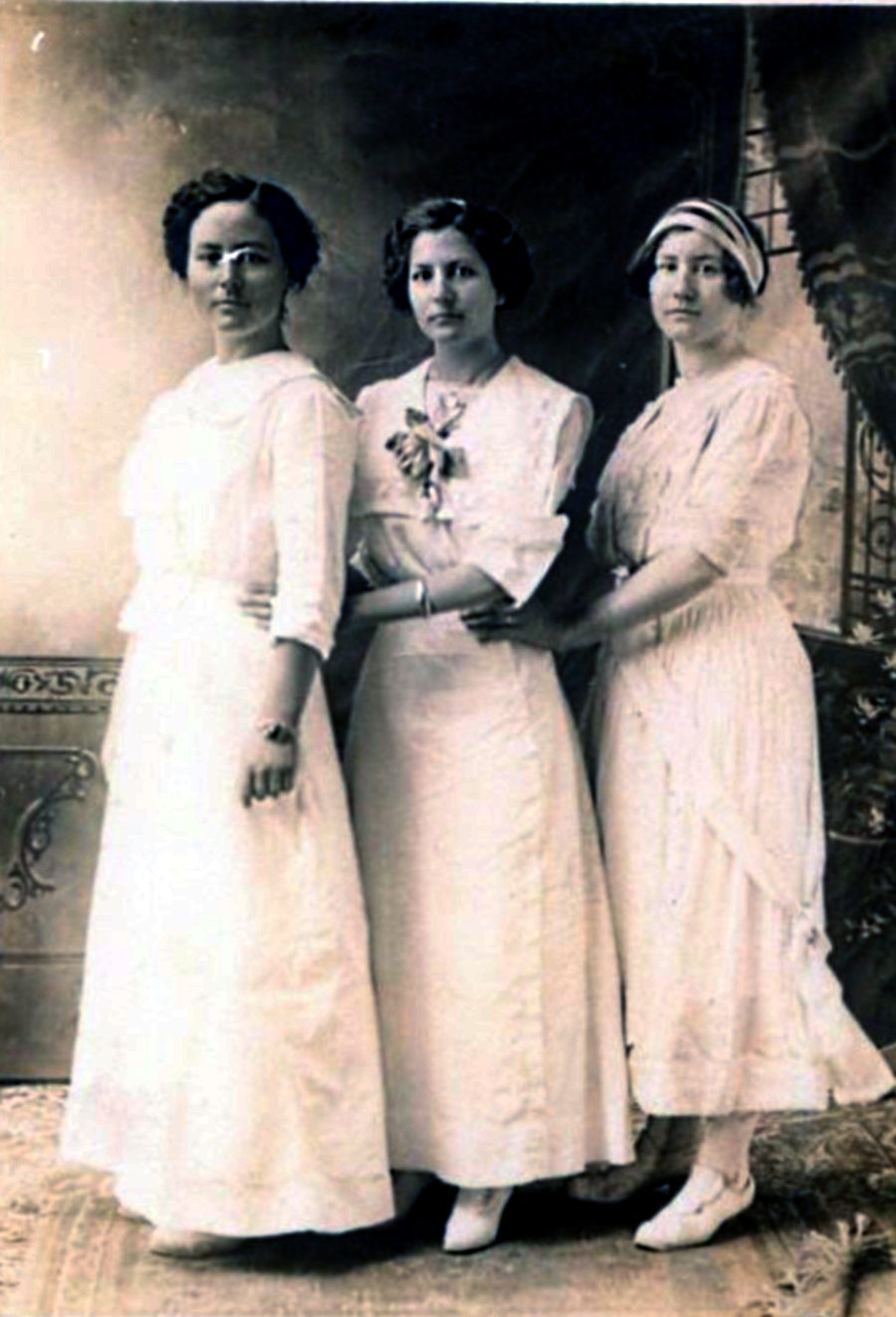 Hutcherson Sisters of Hall County Texas
In 1908 Three sisters posed for a graduation photograph L-R Irene Hutcherson, Ella Hollifield, Julia Hutcherson. Irene and Julia were sisters and Ella was Julia's sister because: Irene's and Julia's mother died shortly after Julia's birth. She asked her friend Missouri Hollifield to raise the baby as she had too many other children to for her husband to manage. She raised Julia and this was Julia's graduation day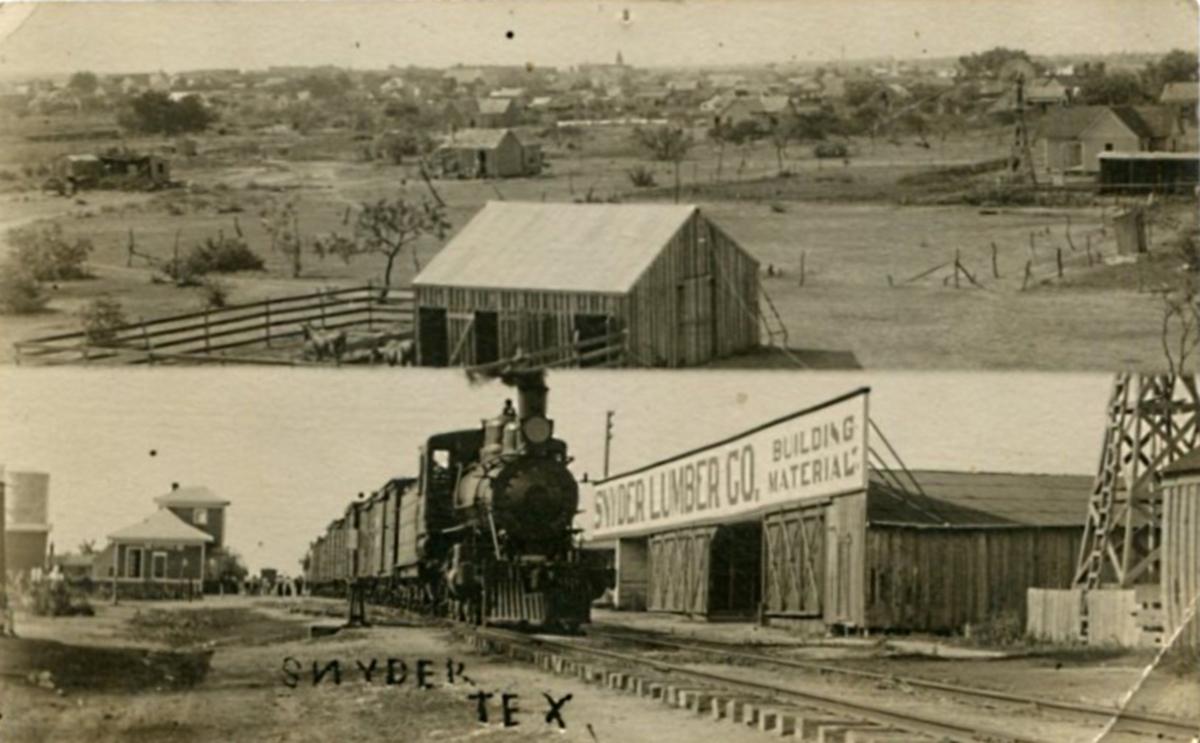 1911 Post Card of Snyder
This post card from 1911 provided two views of Snyder Texas, a steam locomotive beside the Snyder Lumber Co and a birds-eye view of the city.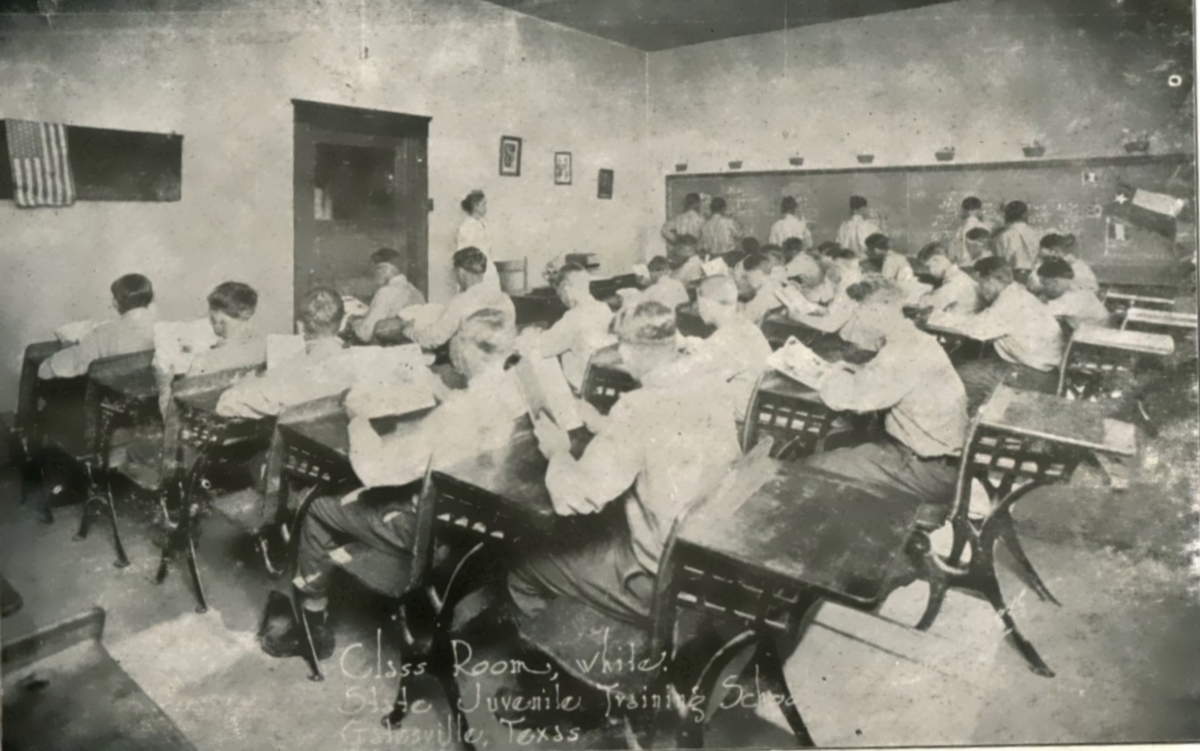 Gatesville Reform School Classroom
In this rare photo of the class room of the State Juvenile Training School in Gatesville Texas in 1931 twenty seven boys study at their desk while six work math problems on the chalk board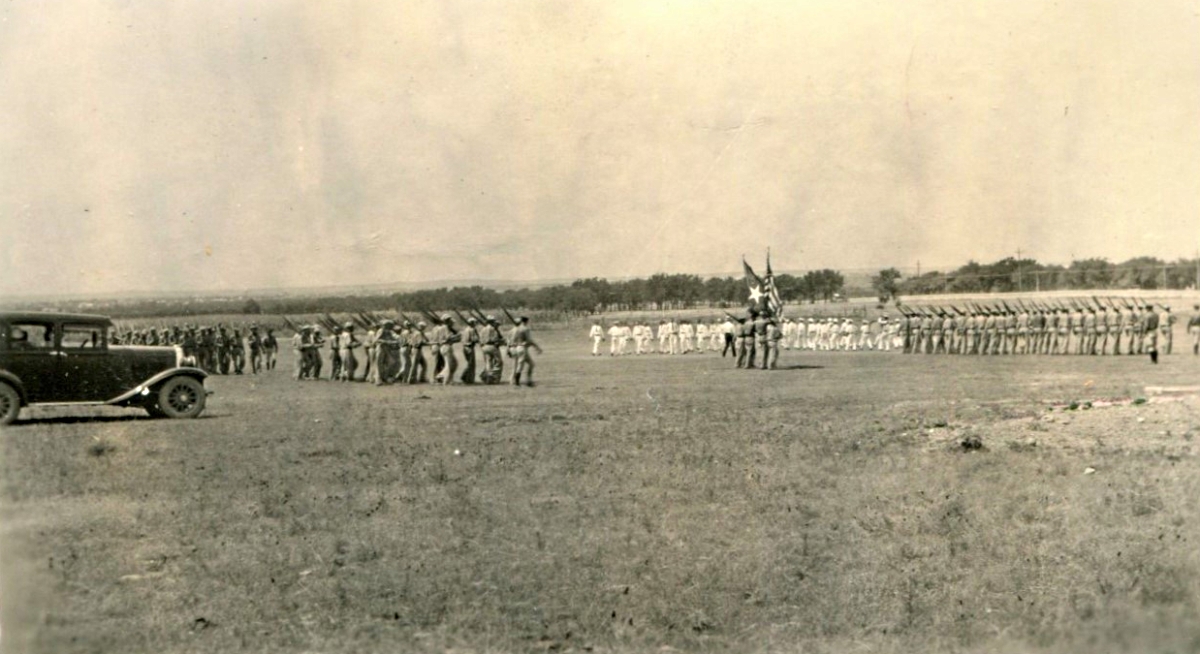 Gatesville School For Boys Drill
In 1936 the boys in the Gatesville Texas School for Boys (reform school) was marching in formation when this photograph was taken.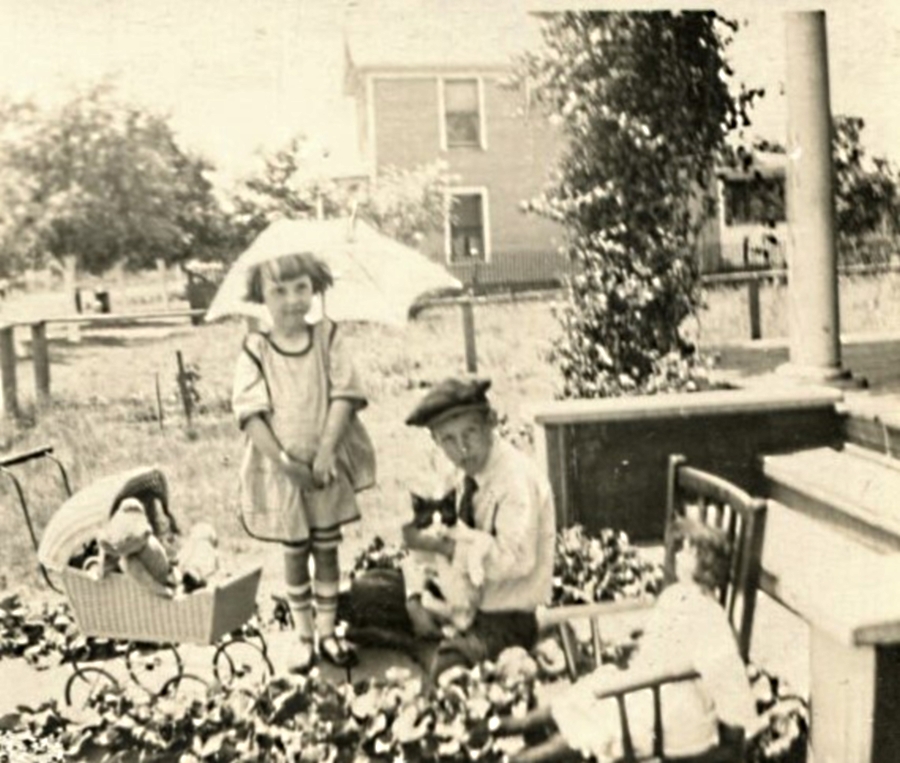 Margaret and Eddie Miller at Play
Sometime in the 1920s Margaret and Eddie Miller were playing in their yard with their cat in Plainview Texas when an unknown photographer captured this photo.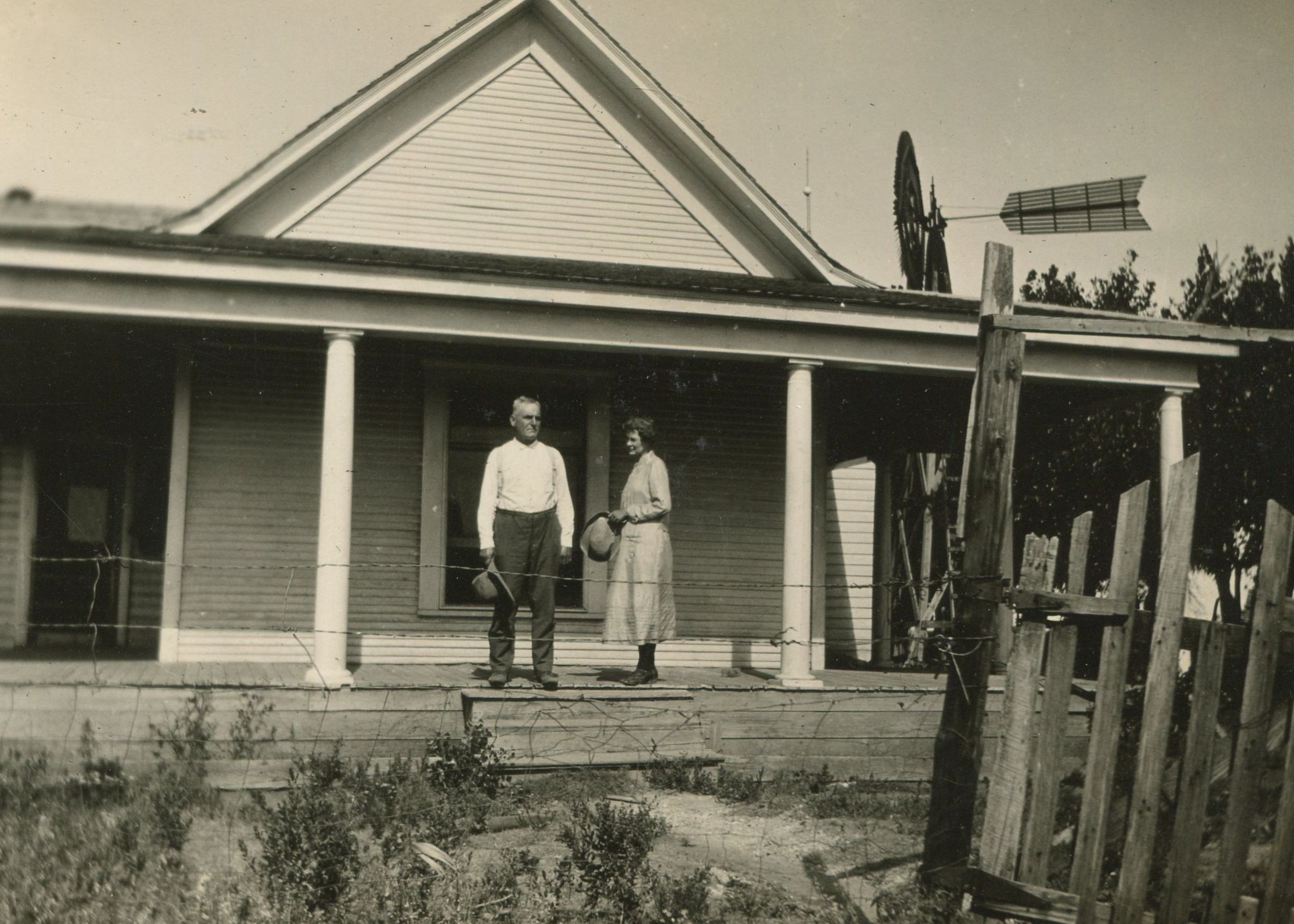 Carl and Pearl Hutcherson at Home in 1920
In 1920 Carl and Pearl Hutcherson stood on the porch of the new home they built southwest of Hart Texas.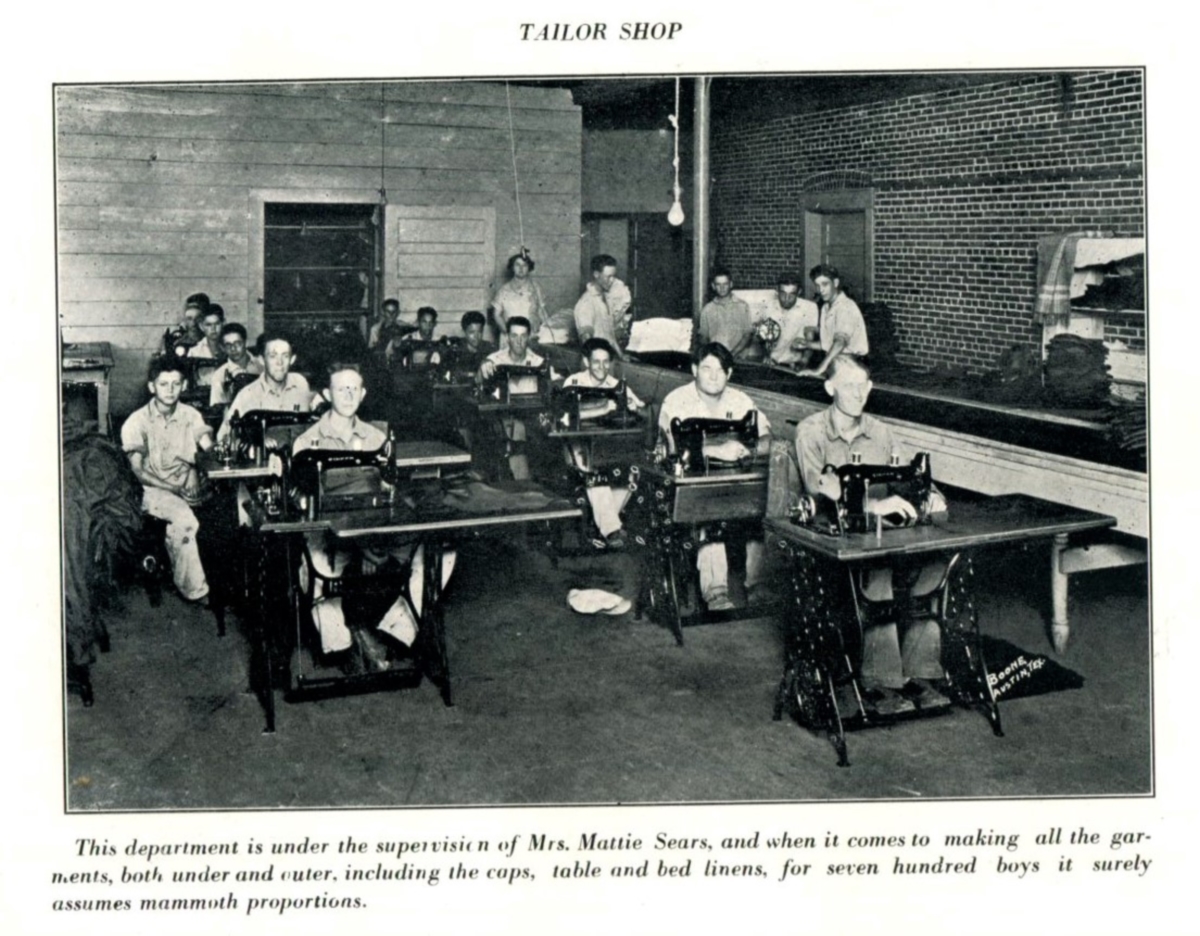 Tailor Shop at Gatesville School for Boys
In 1931 these boys from the Gatesville School for Boys were working hard and learning a trade in the Tailor Shop when this photo was captured for the school's pictorial yearbook.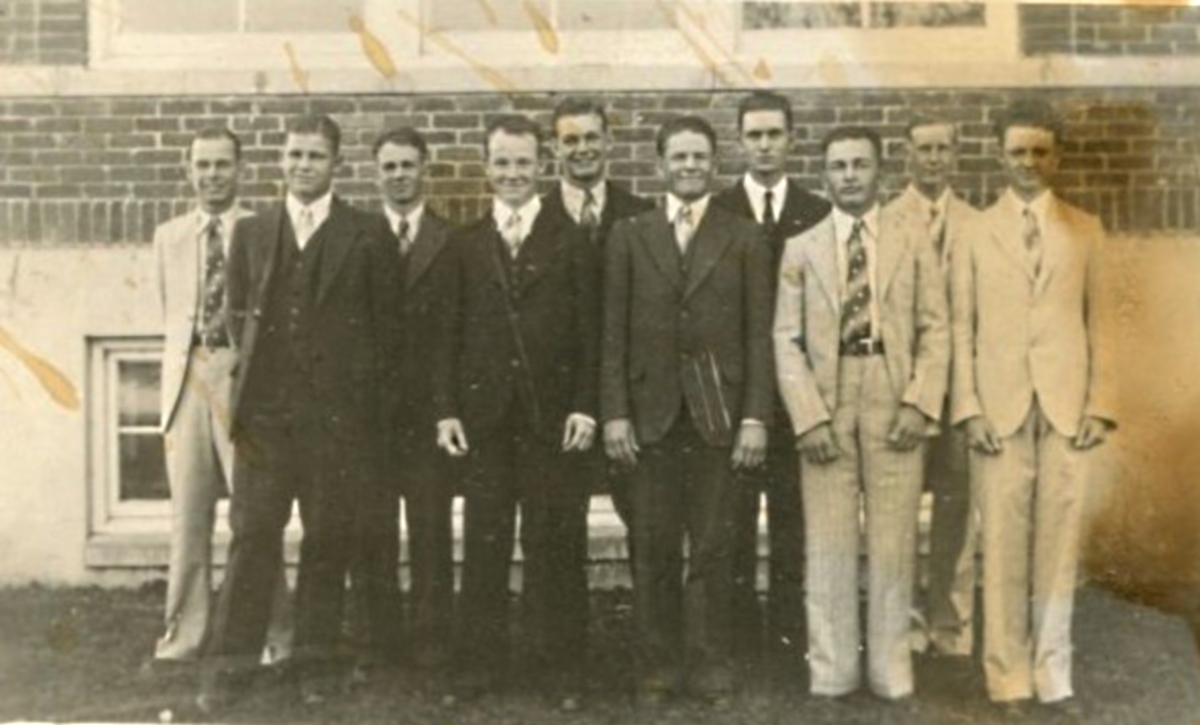 All Dressed Up for Chapel
These young men from the Gatesville School for Boys (reform school) were all dressed up in their finest suits to attend chapel in 1936. For many of them the suits were probably the only ones they had ever owned and probably made at the school's Tailor Shop.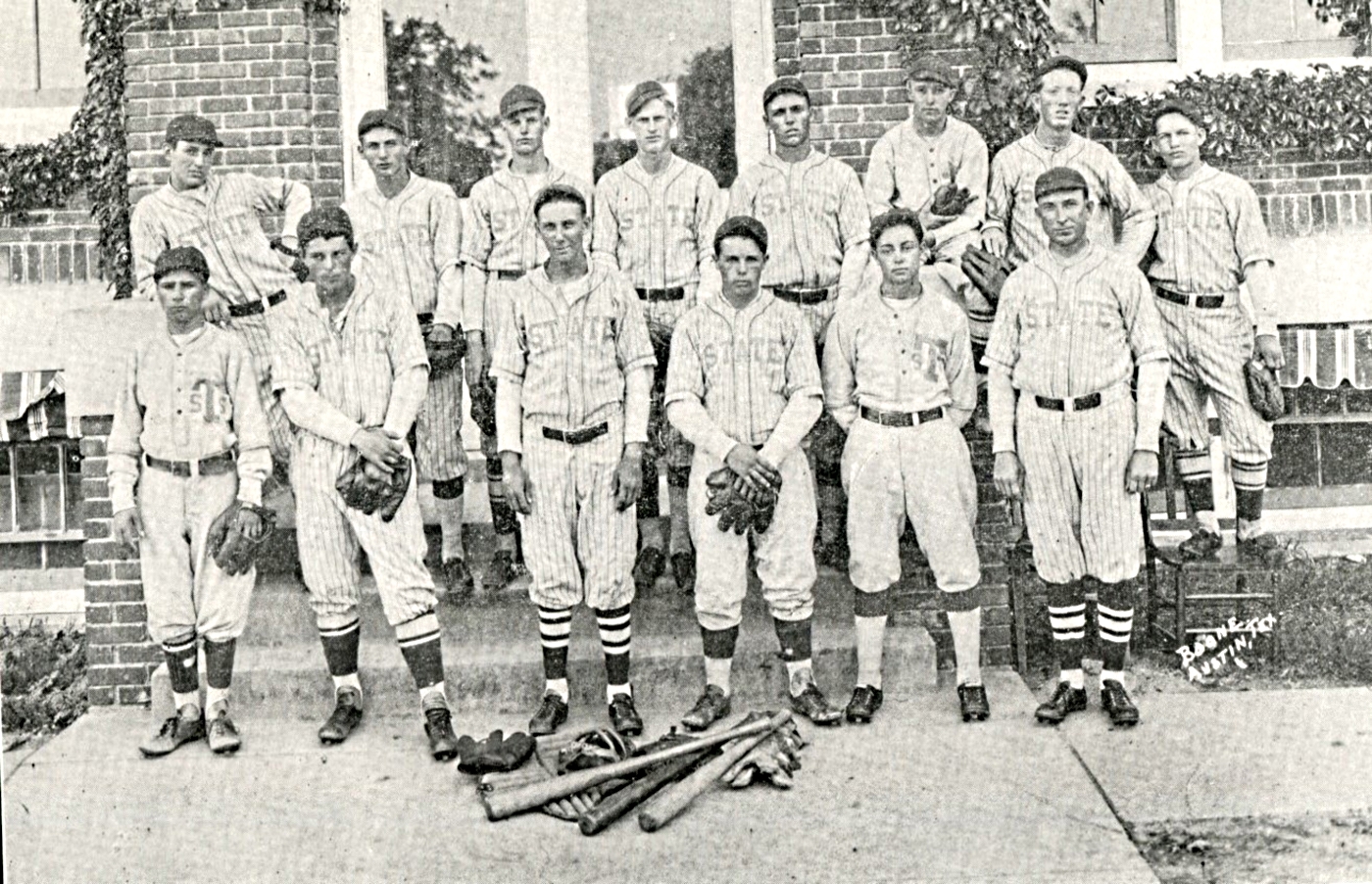 Gatesville School for Boys Baseball Team
In 1928, the Baseball Team of the Gatesville School for Boys posed for this huge highly-detailed photo of baseball teams in Texas.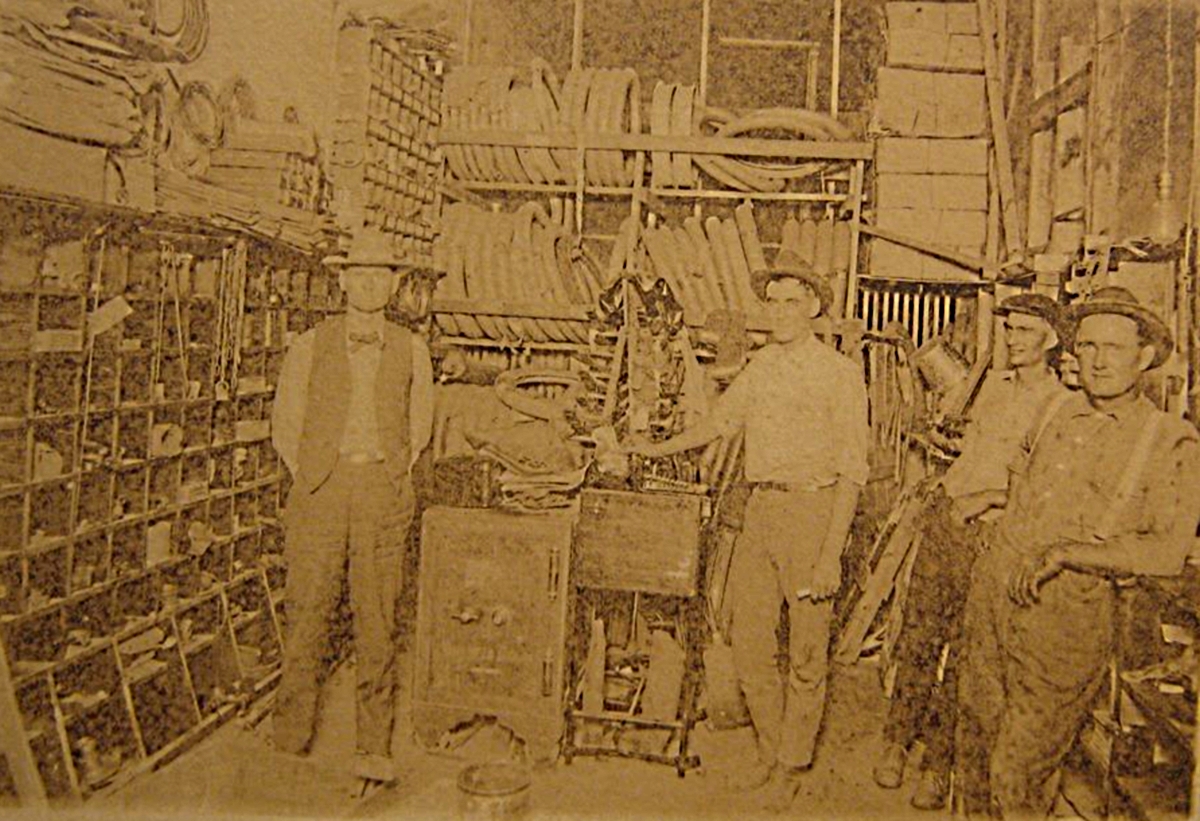 Edward & Leslie Wykes
Brothers Leslie (far left in vest) and Edward Wykes (second from left) owned the Chevrolet Dealership in Quanah Texas in 1920. Here they are pictured in their storage room with safe and two employees or managers.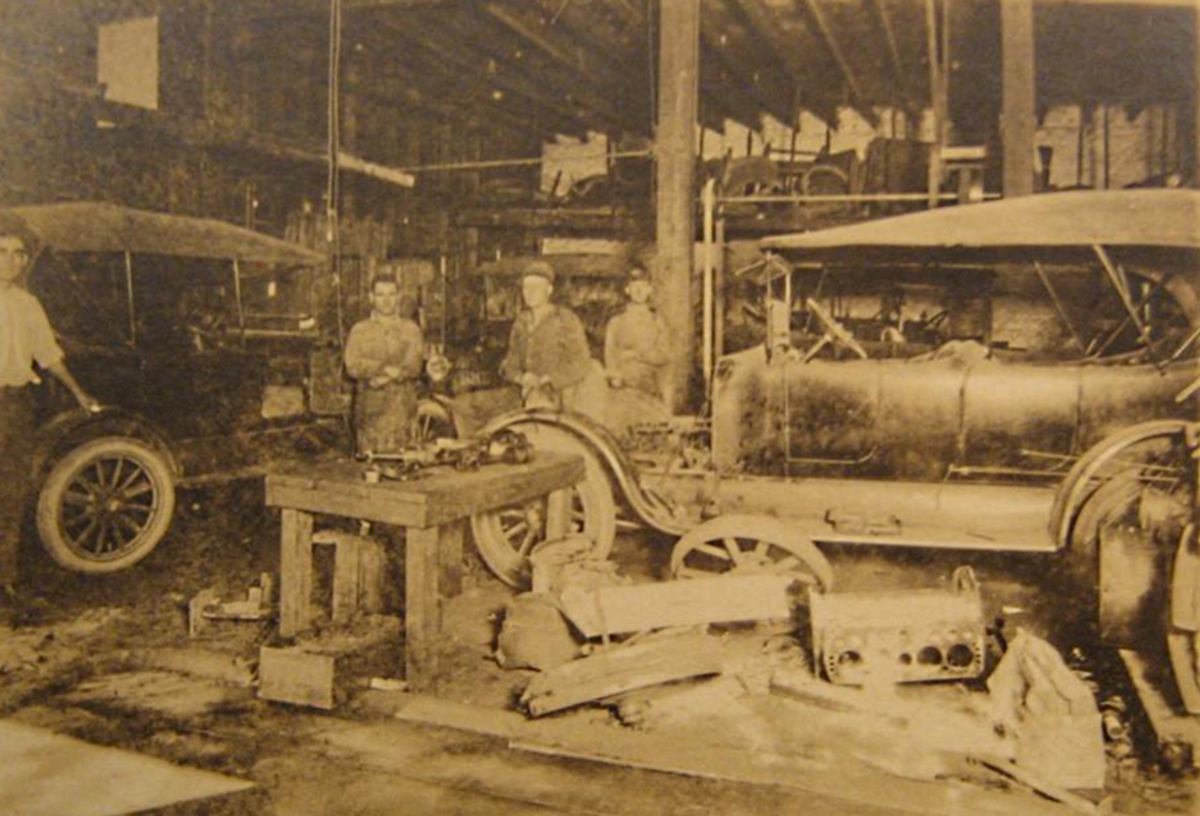 Chevrolet Dealership Mechanics in Quanah in 1920
In this rare image of the Chevrolet Dealership in Quanah Texas in 1920 mechanics are doing repairs including an engine overhaul. Co-owner of the dealership Edward Wykes is on the far left.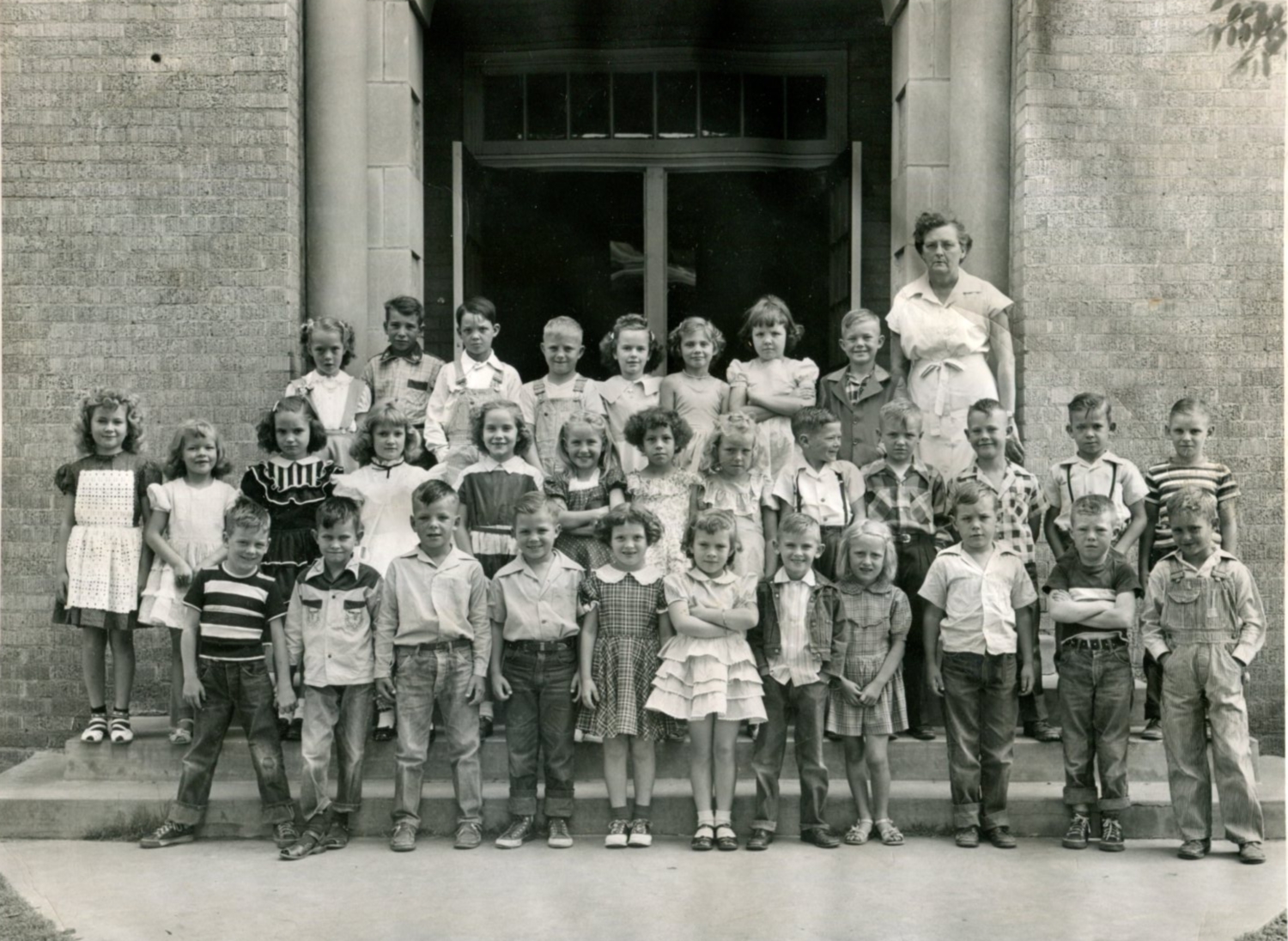 Quanah Texas 1st Grade 1948-1949
In 1949 thirty-two students and their teacher posed for their class photo at Travis Elementary in Quanah Texas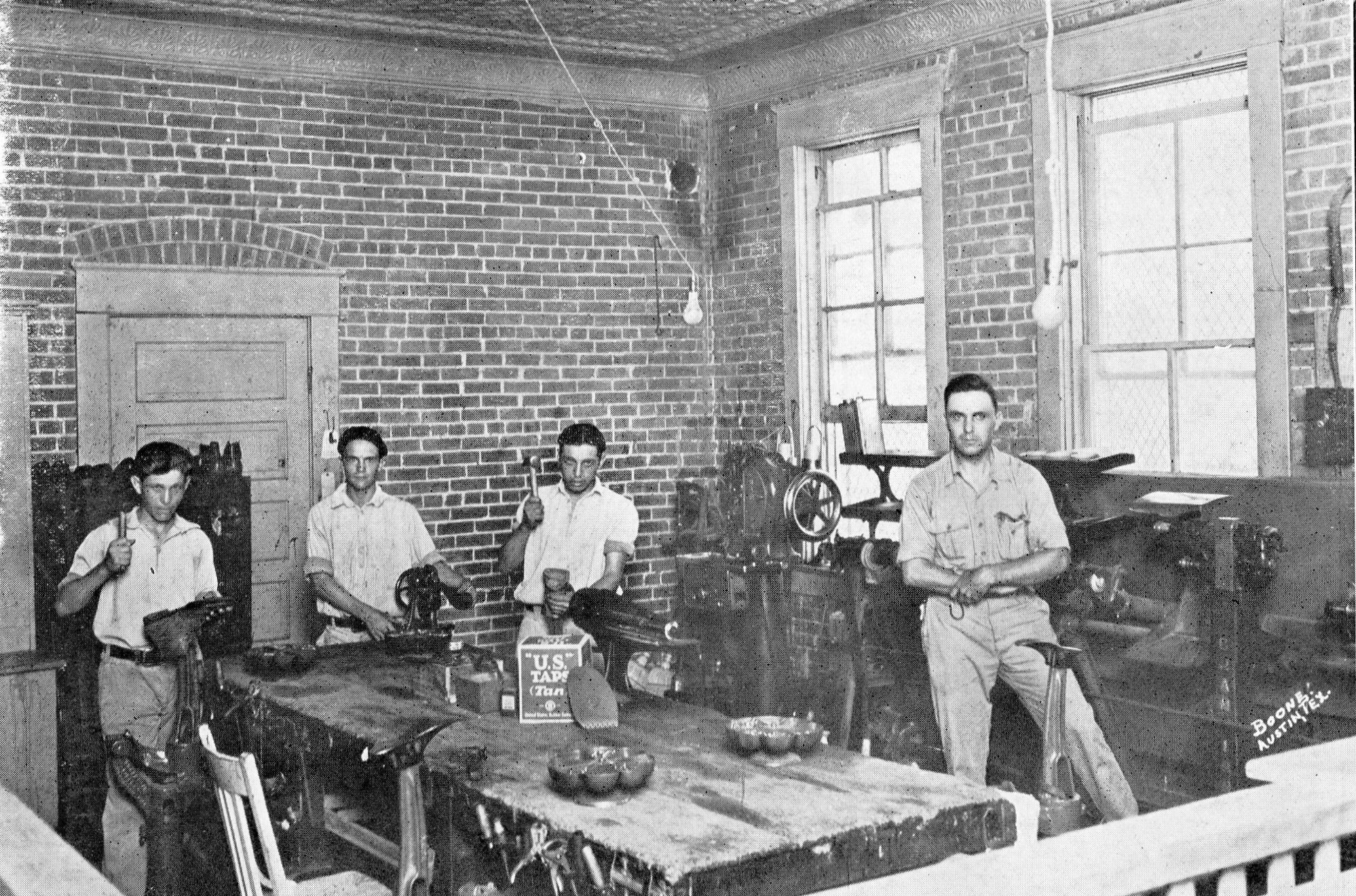 Shoe Shop in Gatesville Reformatory in 1931
1931 at the shoe-shop at the Gatesville School for Boys (reformatory) three boys and their instructor posed for this huge highly detailed photo of life in the reformatory in the 1930s.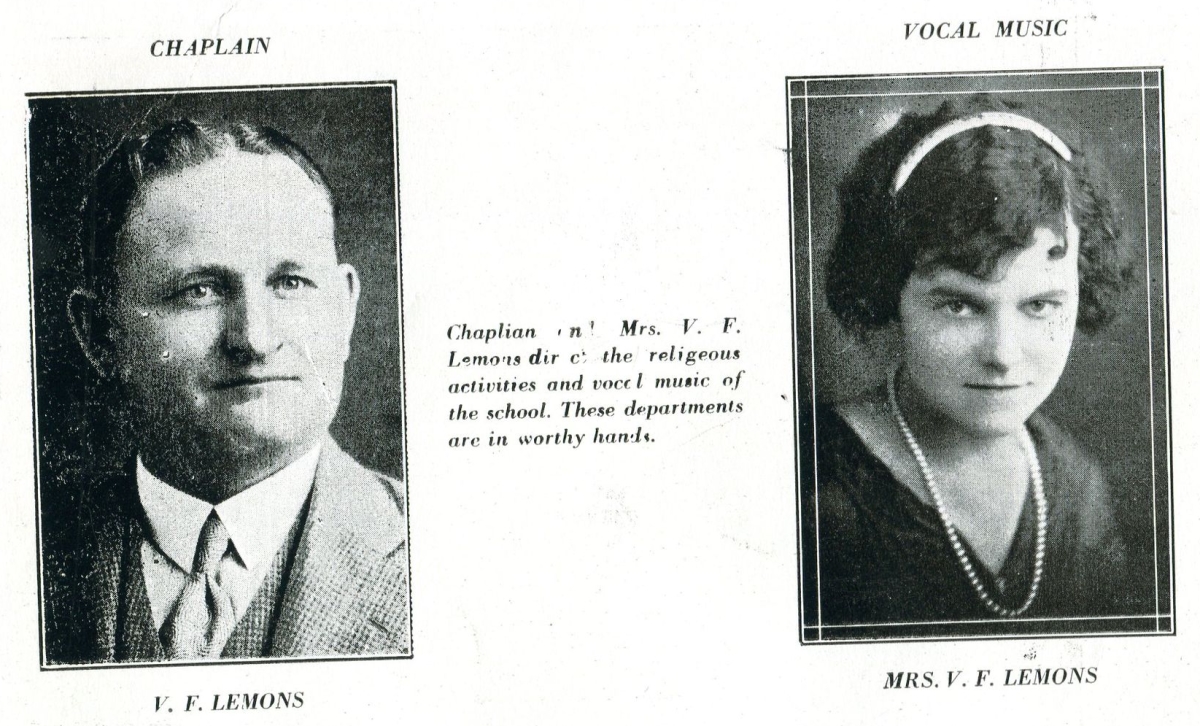 Mr. and Mrs. V. F. Lemons in Gainesville in 1930s
Virgil Lemons was the Chaplain at the Gainesville School for Boys and his wife Ruby was head of the music department at the school for eight years in Gainesville Texas in the early 1930s.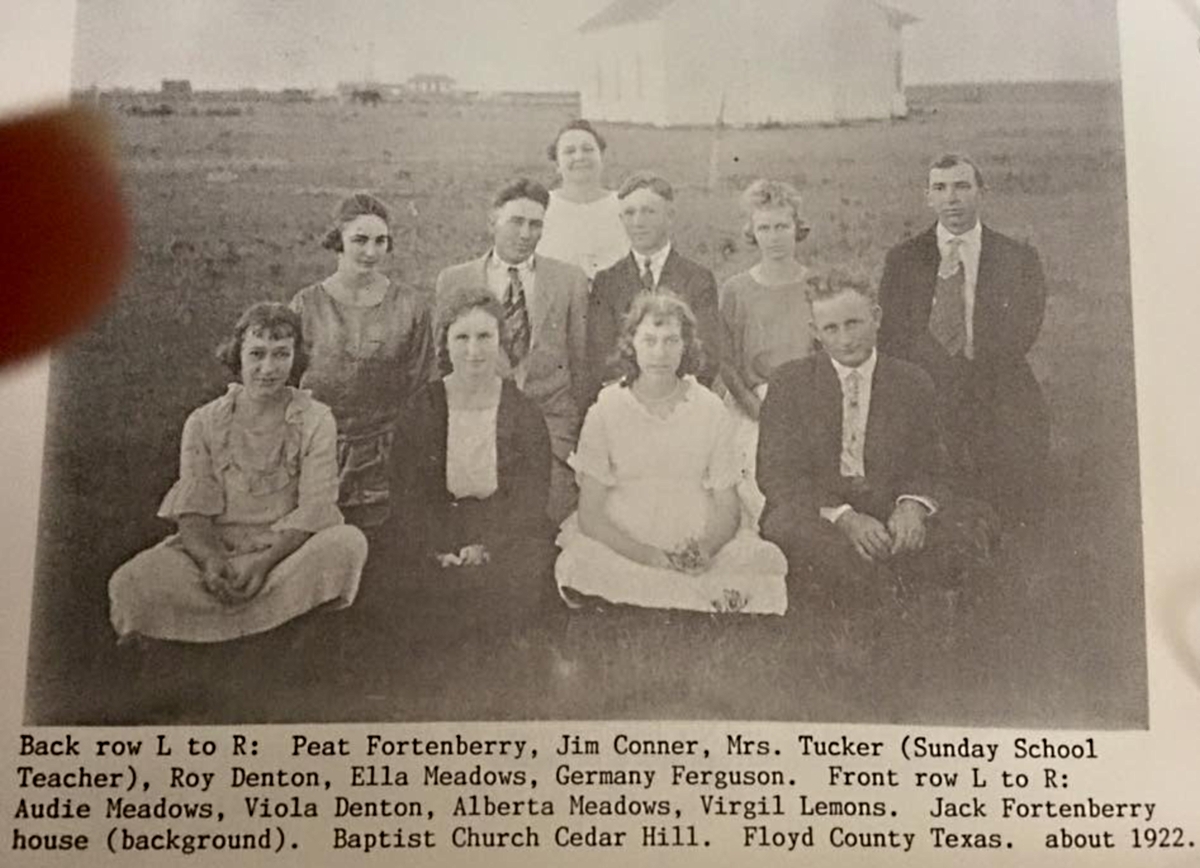 Early Settlers of Cedar Hill
In 1922 some of the early settlers of Cedar Hill in Floyd County Texas sat on the grass behind the Cedar Hill Baptist church for this photo. Their names are included below the photo.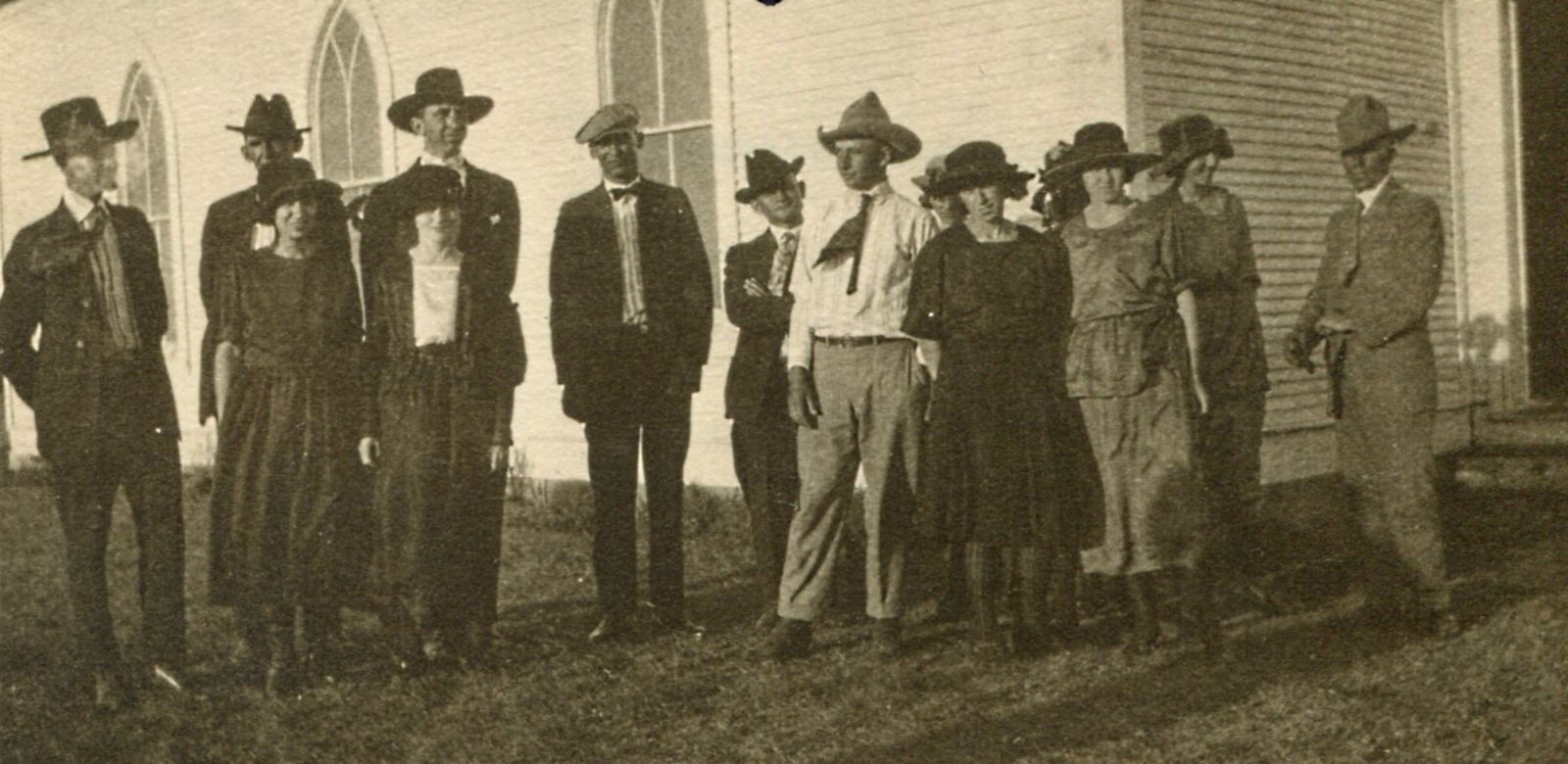 Cedar Hill Pioneers in 1922
Sometime around 1922 fourteen early pioneers of the Cedar Hill community in Floyd County Texas were gathered at the Baptist church when this huge photo was captured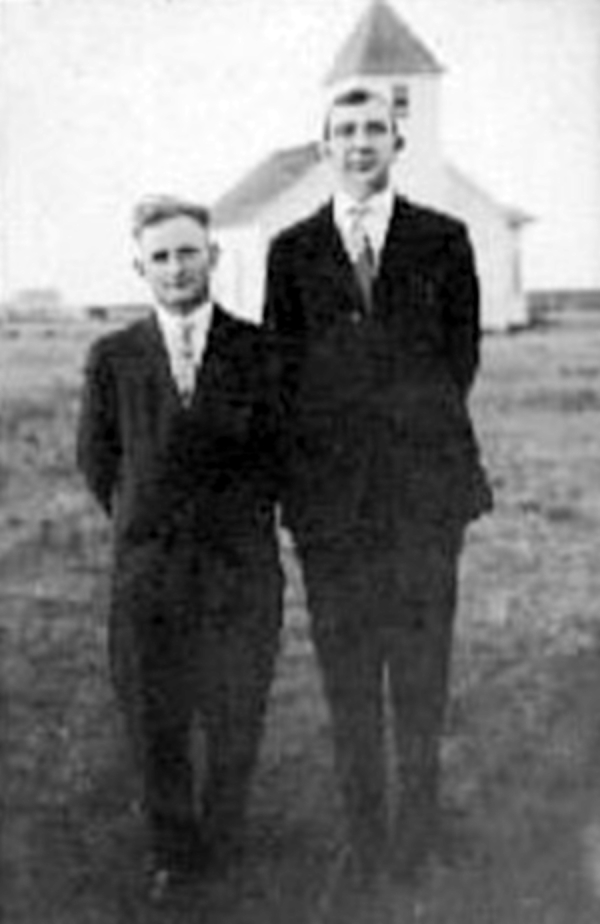 Virgil Lemons and Germany Ferguson in Cedar Hill in 1921
In 1921 Virgil Lemons and Germany Ferguson posed in front of the Cedar Hill Baptist Church in Floyd County Texas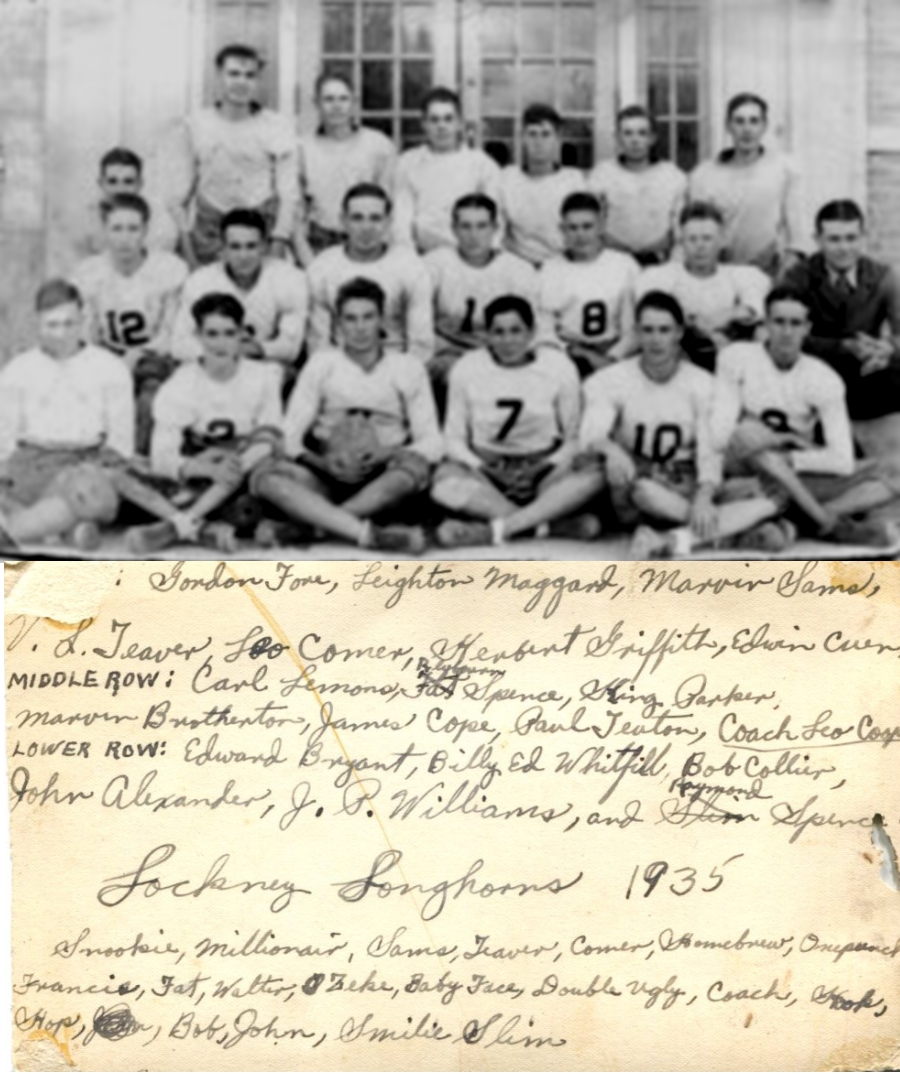 Lockney Longhorns in 1935
In 1935 the Lockney Longhorn football team posed for their team photo in Lockney Texas. The players names and even nicknames are attached to this rare find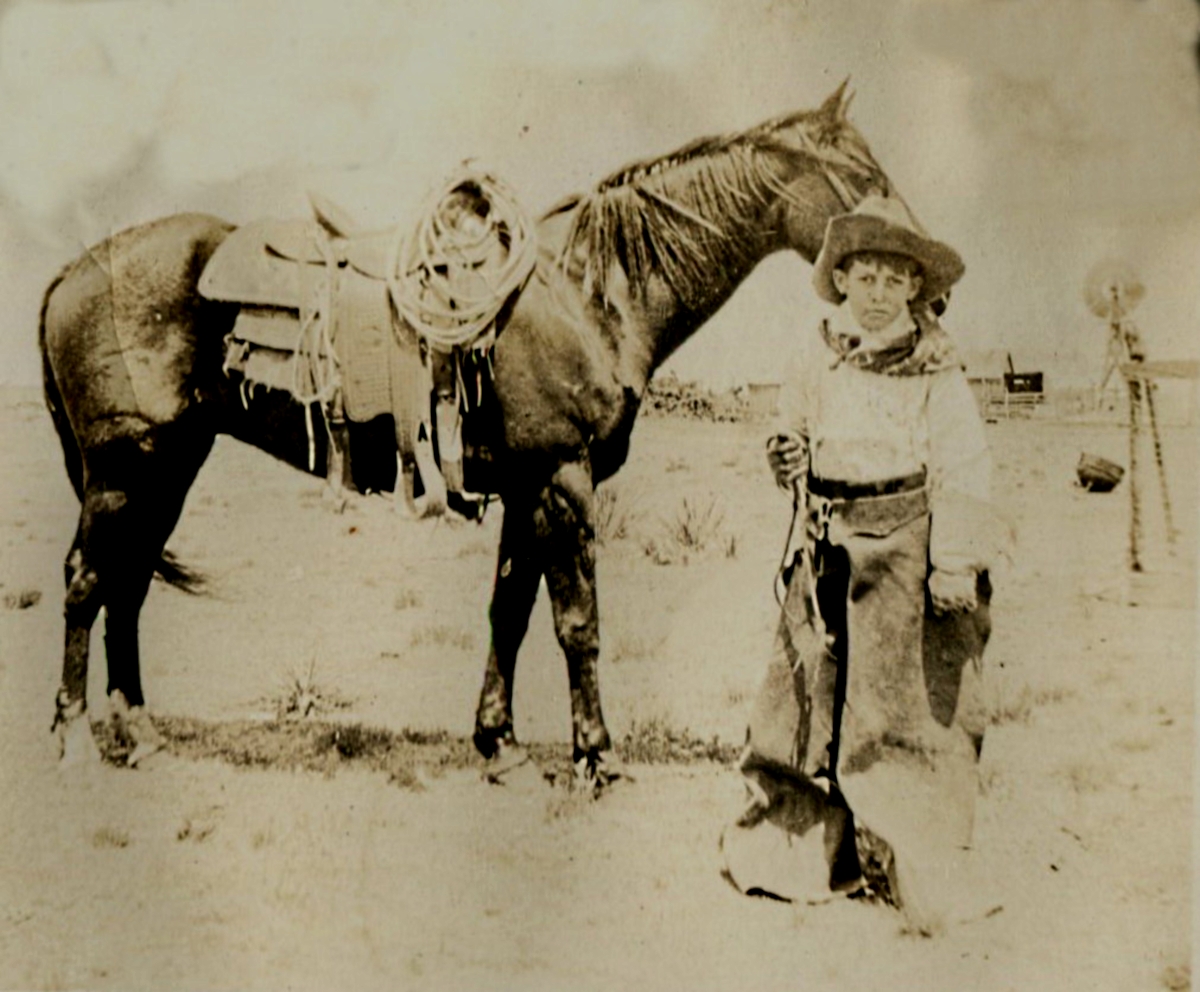 9-Year-Old Cowboy in Memphis Tx
Sometime around 1917 Edwin Hutcherson was a young cowboy in Hall County when he posed for this wonderful photo. Edwin grew up to attend college in Wichita Falls and Texas Tech, playing football for both. He was a longtime farmer and served as a leader in just about everything from Fire Dept to Hospital board in Hall county...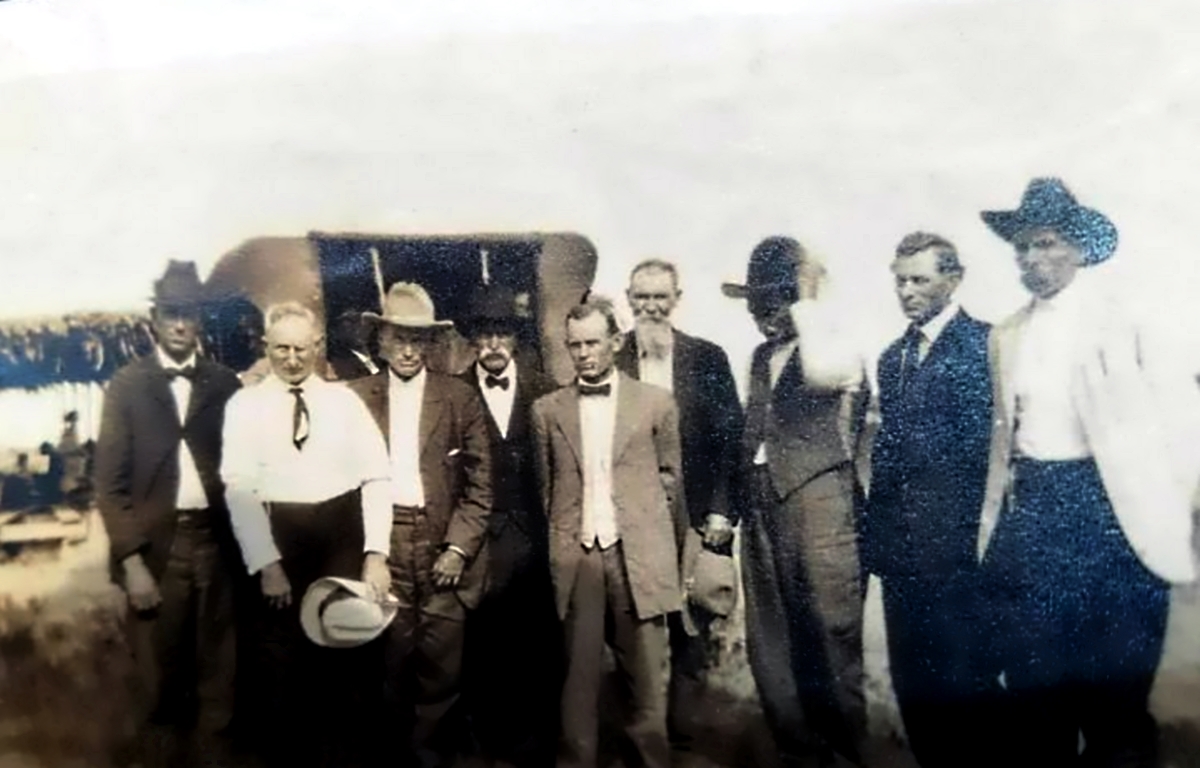 Primitive Baptist Preachers Gather in 1900
This scary bunch of guys is the first gathering of the Primitive Baptist formation in West Texas at my great Great Grandfather Miles Turner Hutcherson ranch in Hall County c1900. The gathering of these preachers from Tennessee, Georgia, Louisiana and elsewhere were the 'rock' of the Primitive Baptist in the South and so it began. The meeting drew over a hundred people to the brush arbor put up for this occasion.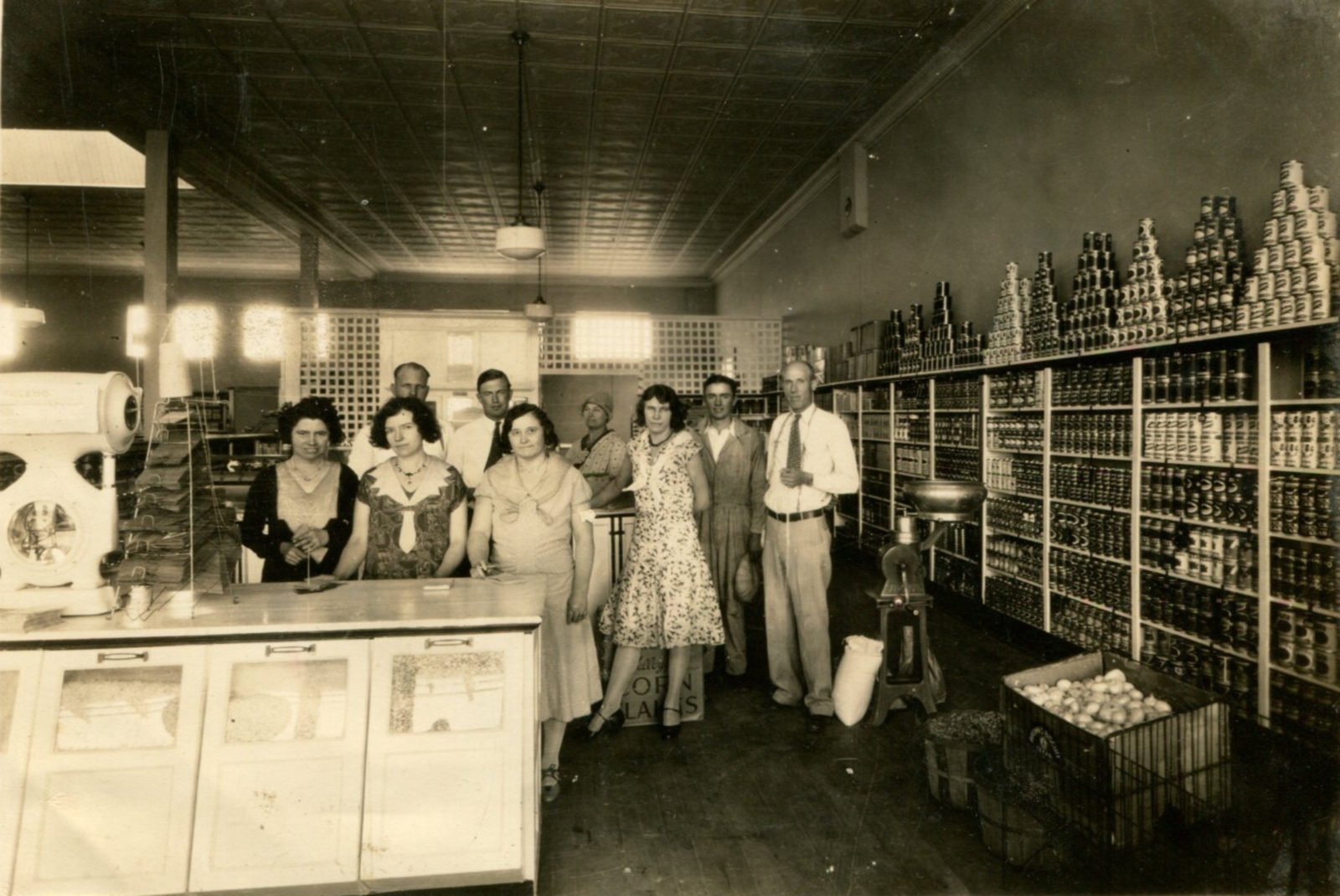 Grocery Store in Olton 1930s
Sometime in the 1930s Mae Harper (Bley) and C. E. Bley posed with staff and family in their grocery store in Olton Texas. Mae is pictured in middle at the counter and Clarence Bley on the far right.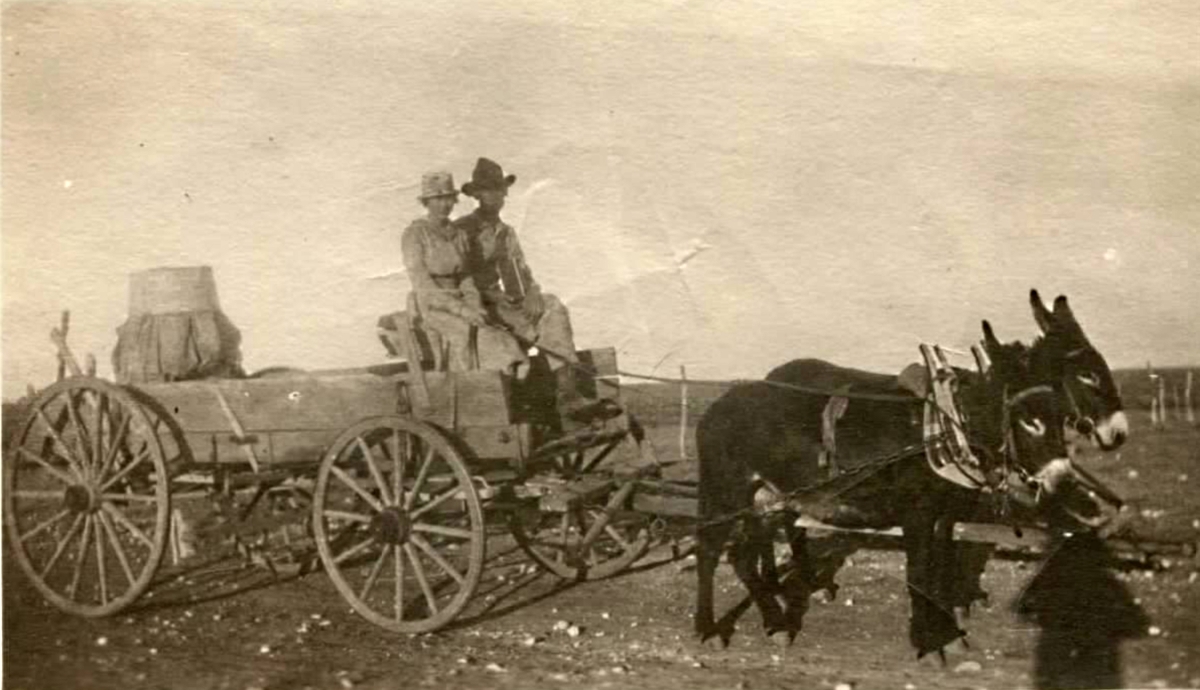 Leaving Liberty Hill Texas in 1913
In 1913 Ruby Forbes Wykes left Liberty Hill Texas for New Mexico at age 17 to homestead land and teach school. She did both and lived in a dugout for six years alone to homestead the ranch which is still in the family. In this photo she is shown with her brother Ed in a wagon carrying her cistern pulled by two donkeys as she prepares to begin her journey . . . Read more See full size.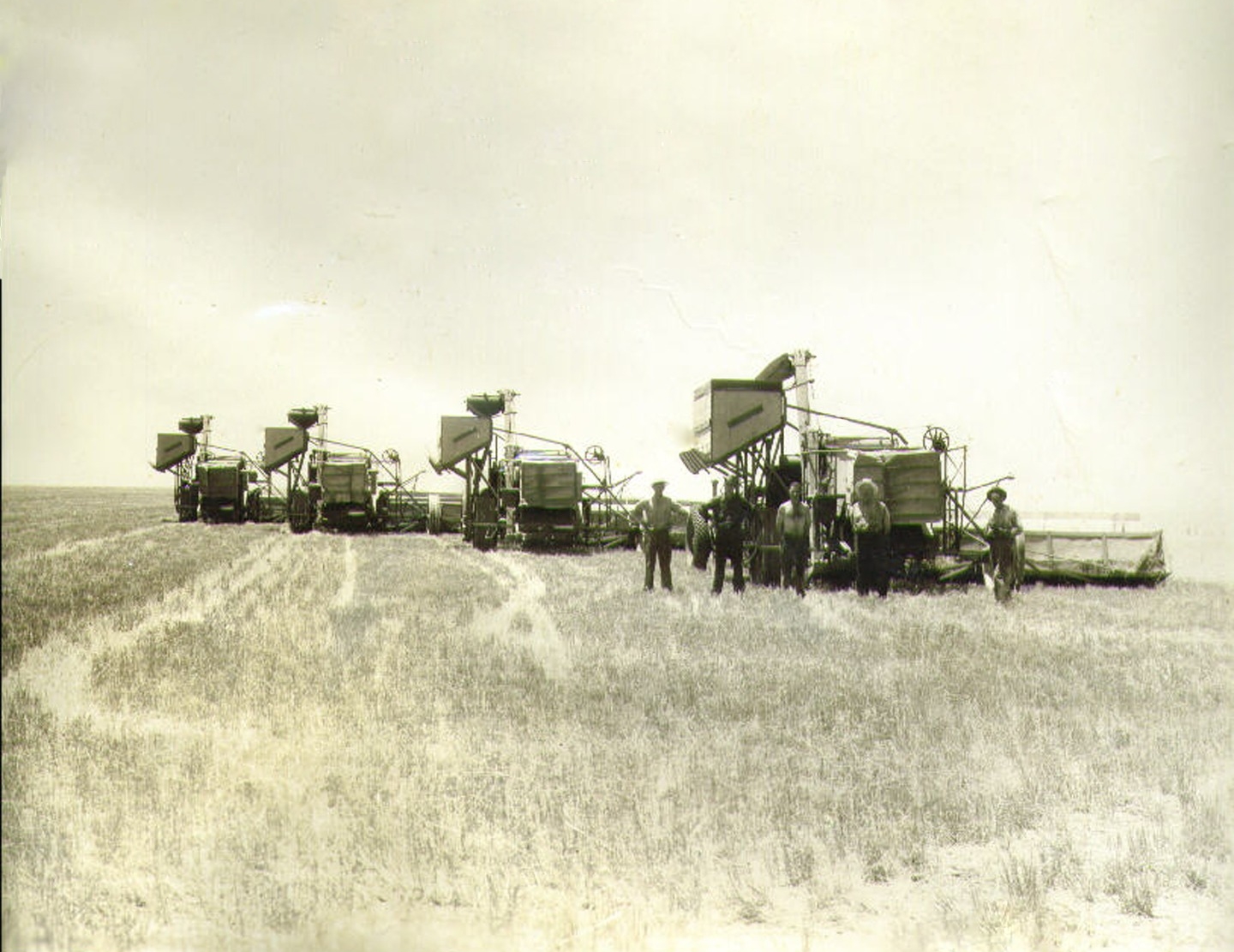 Wheat Harvest in Castro County in 1929
Sometime around 1929 four combines were harvesting wheat on the Hutcherson farm near Hart in Castro County Texas when the event was captured on film in this huge image. S.C Hutcherson and Claude Hutcherson and three other men who were helping with the harvest appear in the photo.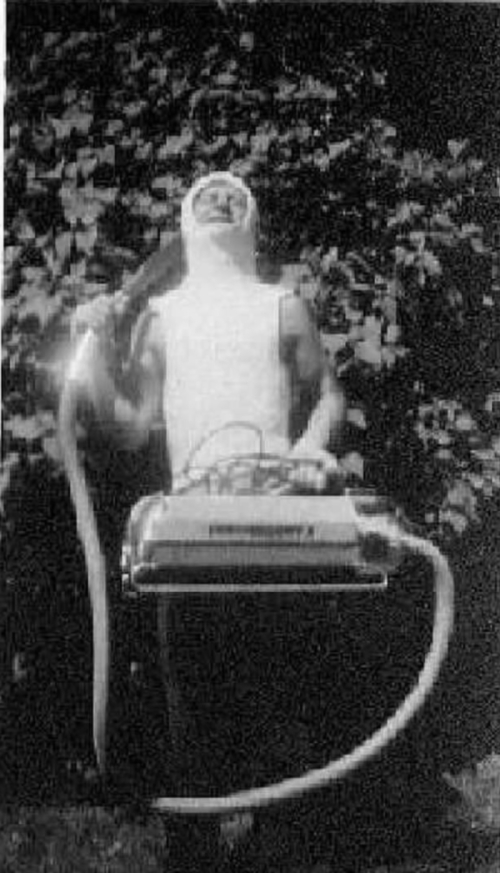 Vacuum Cools Man in Body Cast
In 1946 Warren Lemons dove into a shallow creek near Hart Texas and broke his neck. He was put in the body cast and the heat was 'killing' him! The only relief he could get was reversing the Electrolux vacuum and used it for months to keep himself cool. When the vacuum company learned of his clever use of their machine, they featured him in their magazine . . . read more and see full size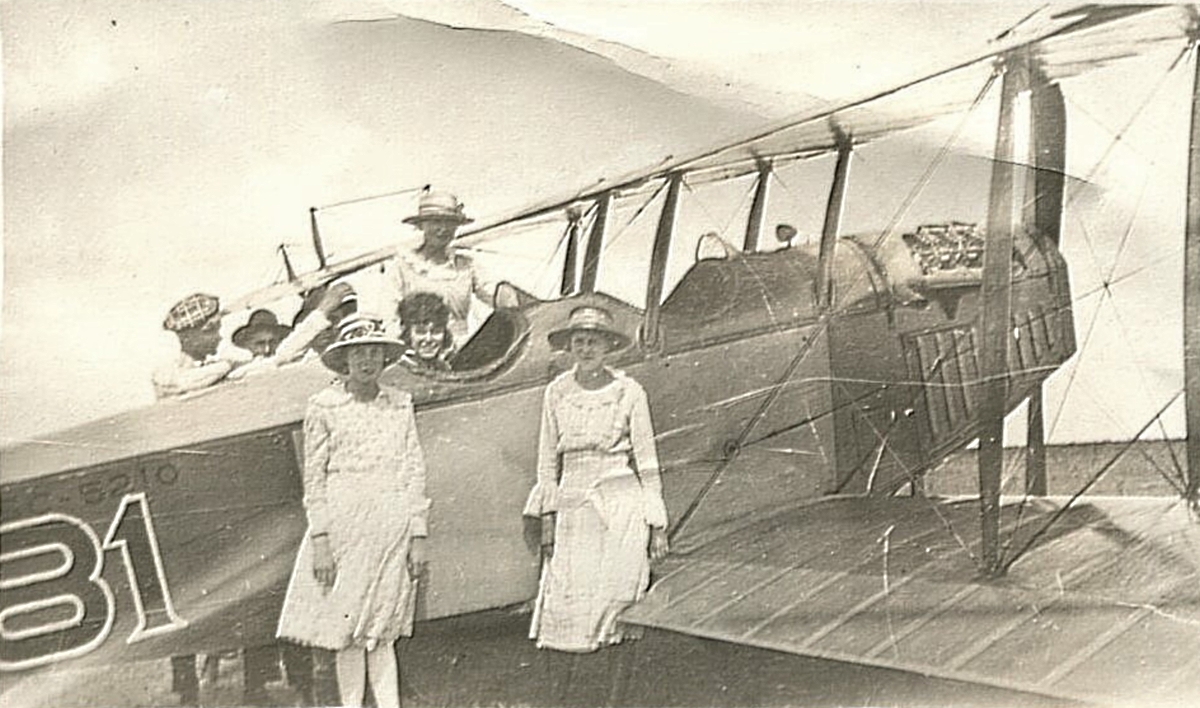 Barnstorming Floyd County
In 1916 a barnstormer landed on the Harper farm near the Lone Star community in Floyd County. In this photo, Ruby Jewell Harper, (standing tallest) with her Lockney friends for their first plane experience . . . read more and see full size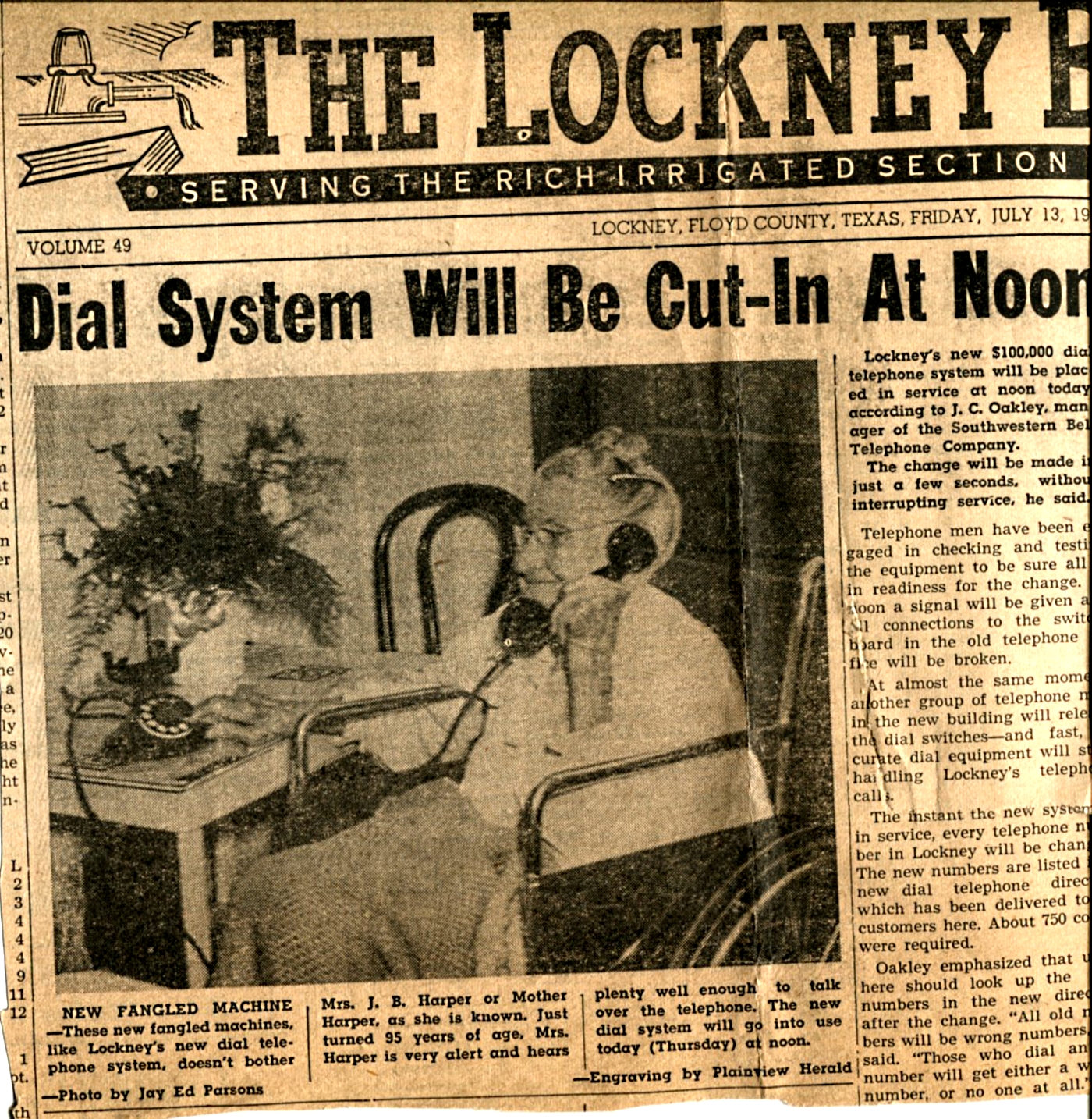 First Dial Phone in Lockney
On July 13, 1951 Lockney Texas got their first access to dial phone service. "These New fangled machines, like Lockney's new dial telephone system, doesn't bother Mrs. J. B. Harper or Mother Harper, as she is known. Just turned 95 years of age, ..."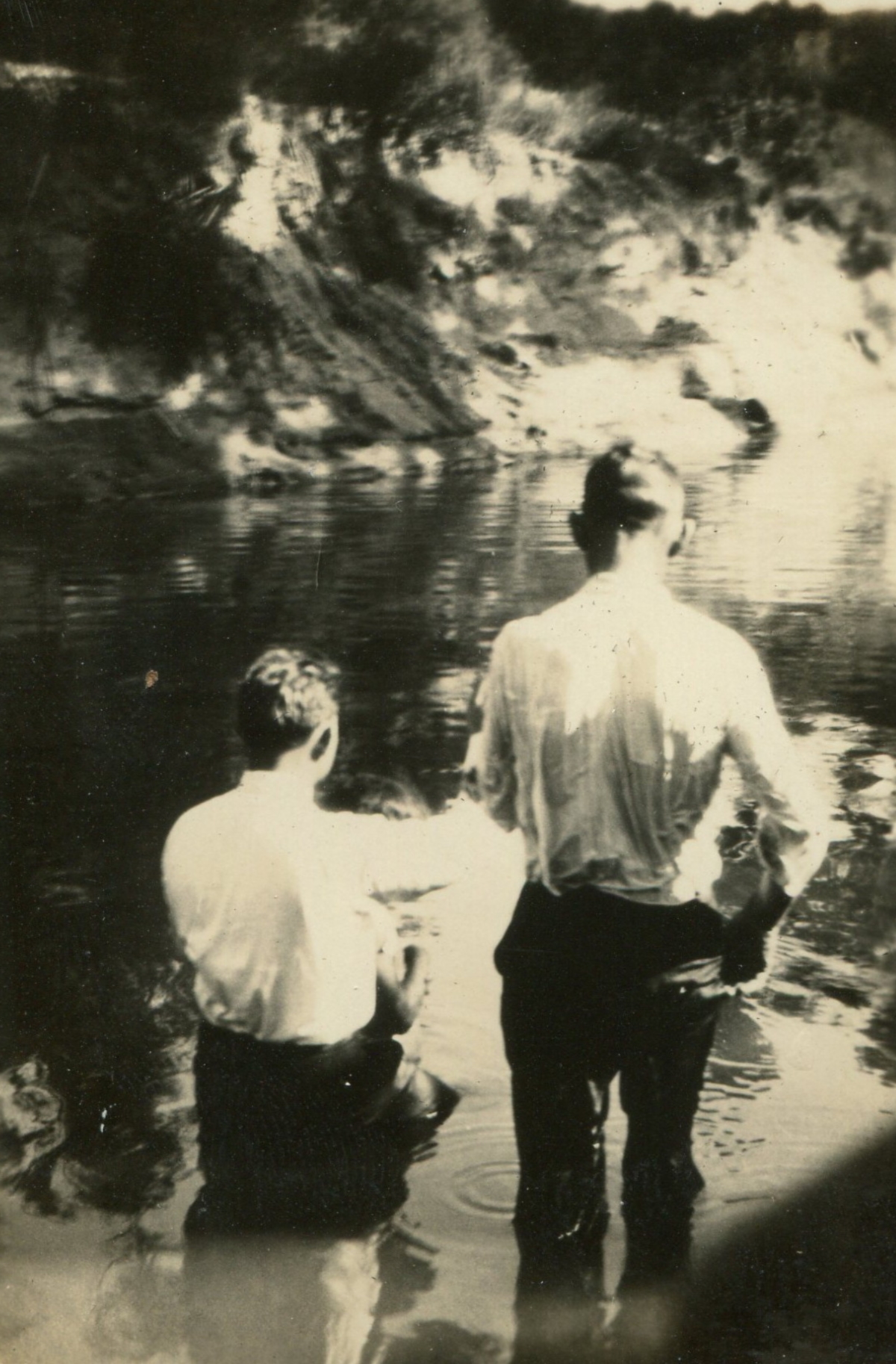 Baptism in Floyd County in 1921
In 1921 Virgil Lemons, the pastor of First Baptist Church in Lockney officiated at Baptism of Germany Ferguson somewhere in Floyd County. Germany stood 6'9 and Pastor Lemons was 5'5 so this is no optical illusion. Many thanks to Brent Lemons for providing this photo of his grandfather performing a baptism.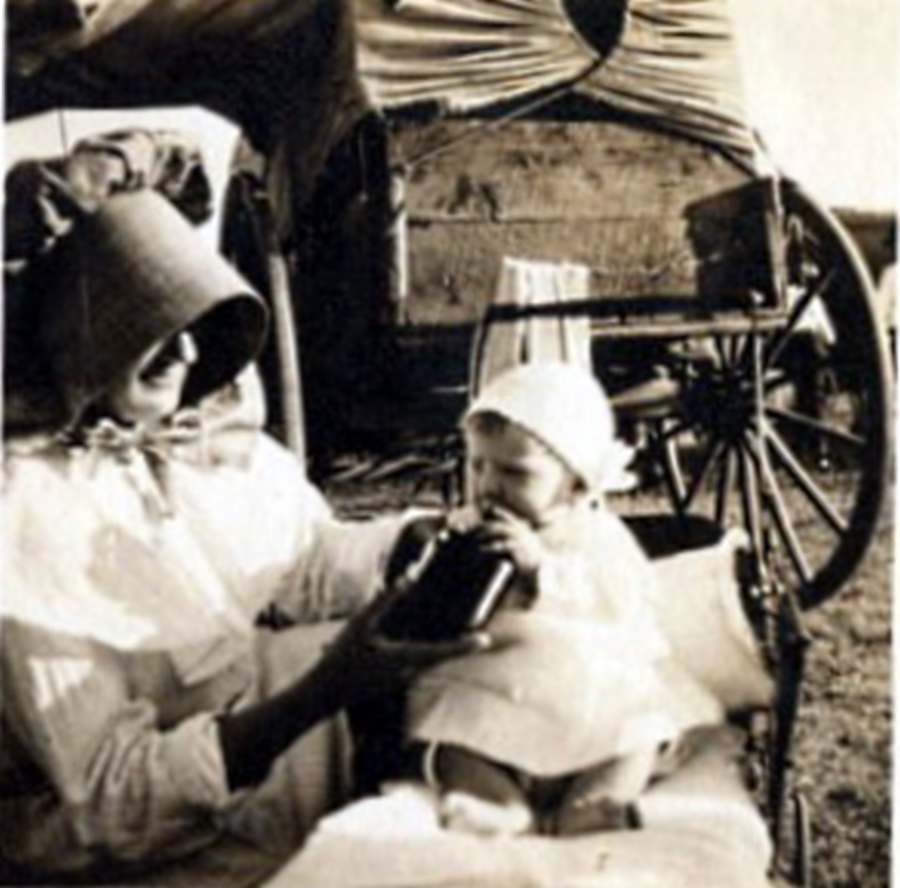 Bound for Texas in 1878
In 1878 the Hutcherson family were on their way to Texas when this wonderful photograph of Julia Ann Oliver Hutcherson holding Samuel Carl Hutcherson. They settled first in Wilbarger County where Julia started the Post office with her name (Julia) as the town. By 1881 the family had the bank, store and post office in Julia, Texas. Next they moved to Floyd County, then Scurry and Borden county near Fluvanna. They then traded two acres for every 'one' in Castro county where they still ranch and farm to this day.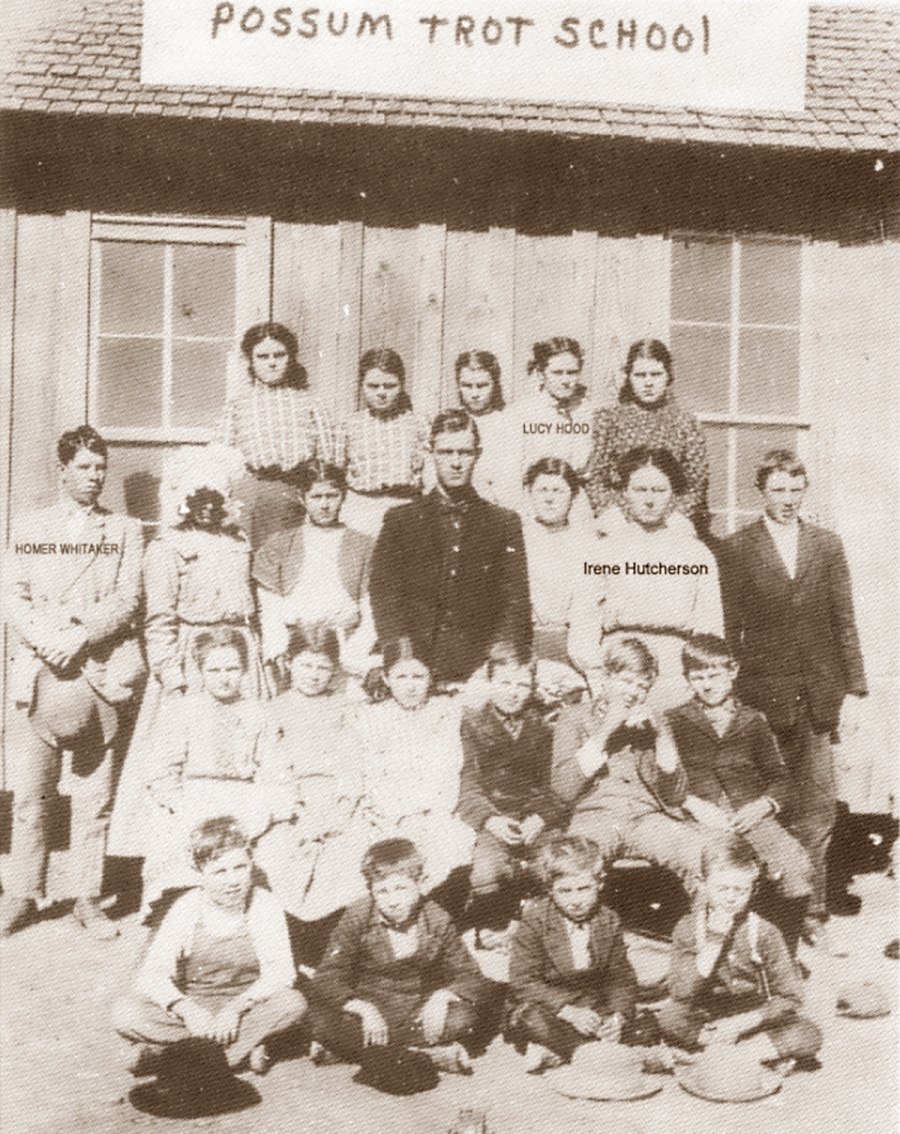 Possum Trot School in 1907
This 1907 photo of 21 students at the rural Possum Trot School which is believed to have been in either Borden or Scurry County Texas includes the names of three of the students identified by Irene Hutcherson. Photo from the Brent Lemons Collection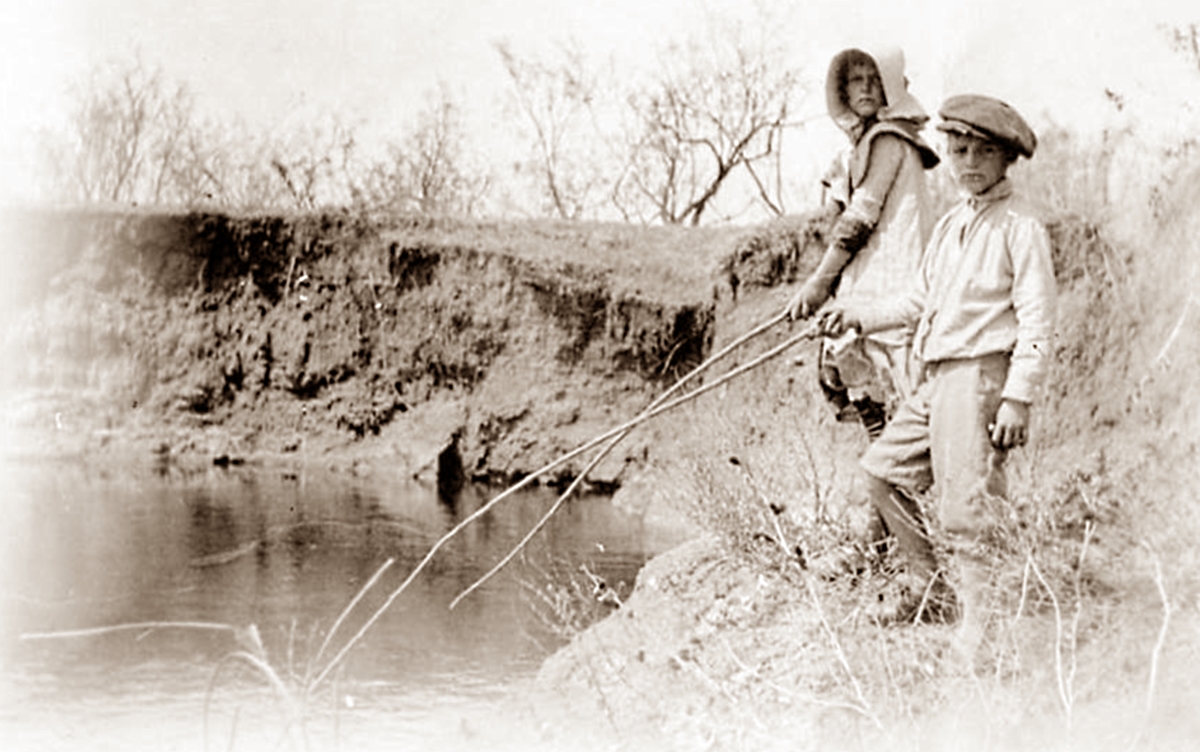 Fishing Bottomless Hole Near Fluvanna
In 1912 Ruby Hutcherson (Lemons) and Claude Hutcherson were fishing at a place they called Bottomless Hole near Fluvanna Texas in Scurry County when someone captured this beautiful image. Bent Lemons contributed this photo of his grandmother and Uncle Claude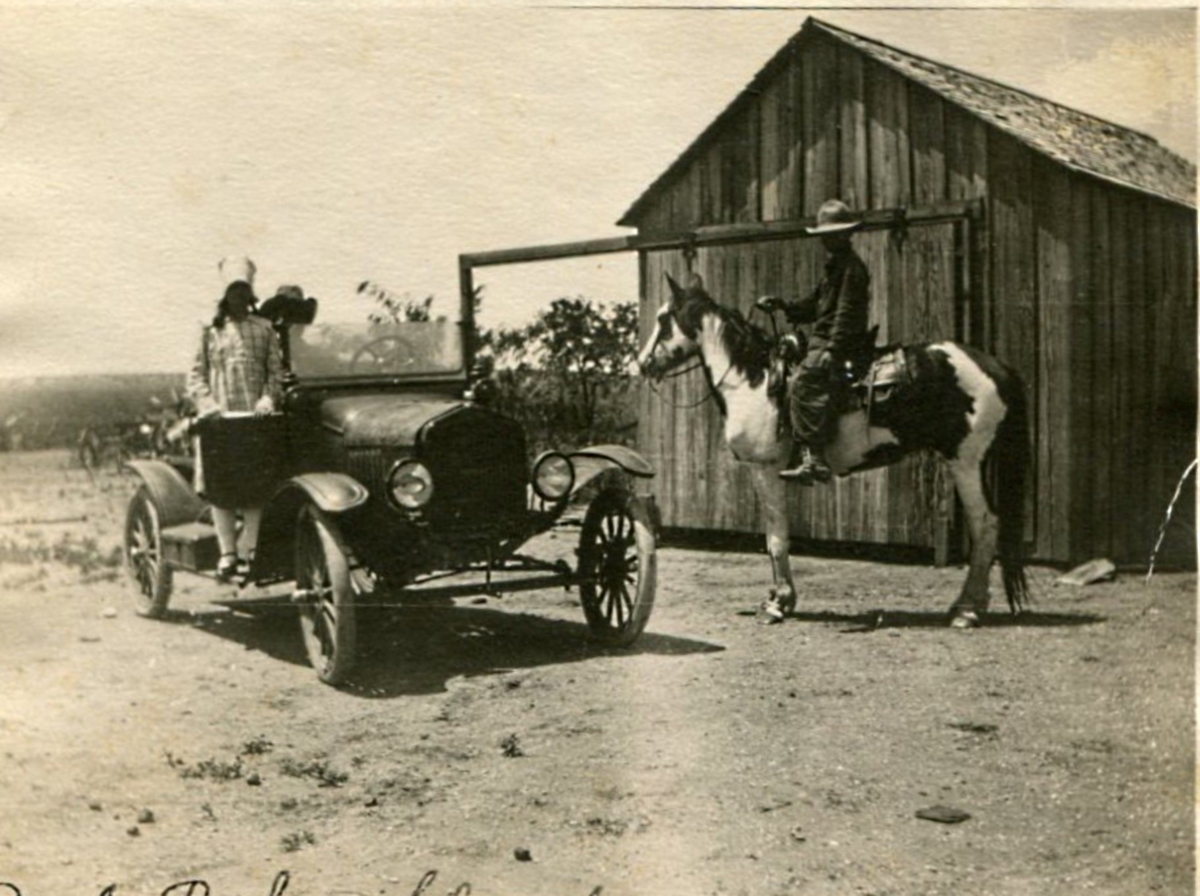 Fluvanna Texas in 1914
In 1914 Carl Hucherson (in the driver' seat), Ruby Hutcherson (standing on the running board and Claude Hutcherson on his horse posed for this very nice old image of early life in Scurry County Texas . . . photo courtesy of Brent Lemons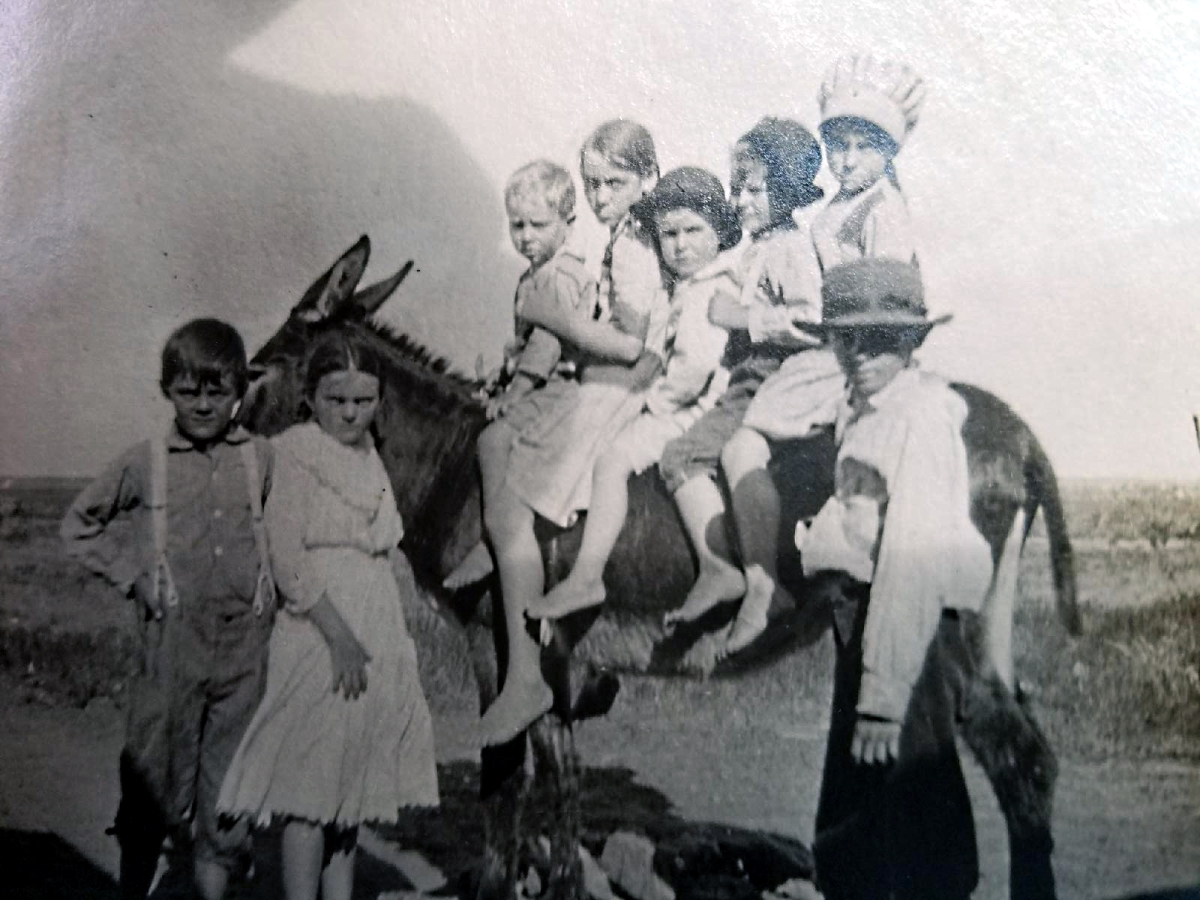 Five Children on Mule
In 1913 five children from the Hutcherson family climbed aboard their grandfather's patient mule in Fluvanna Texas while three more children wait for their turn.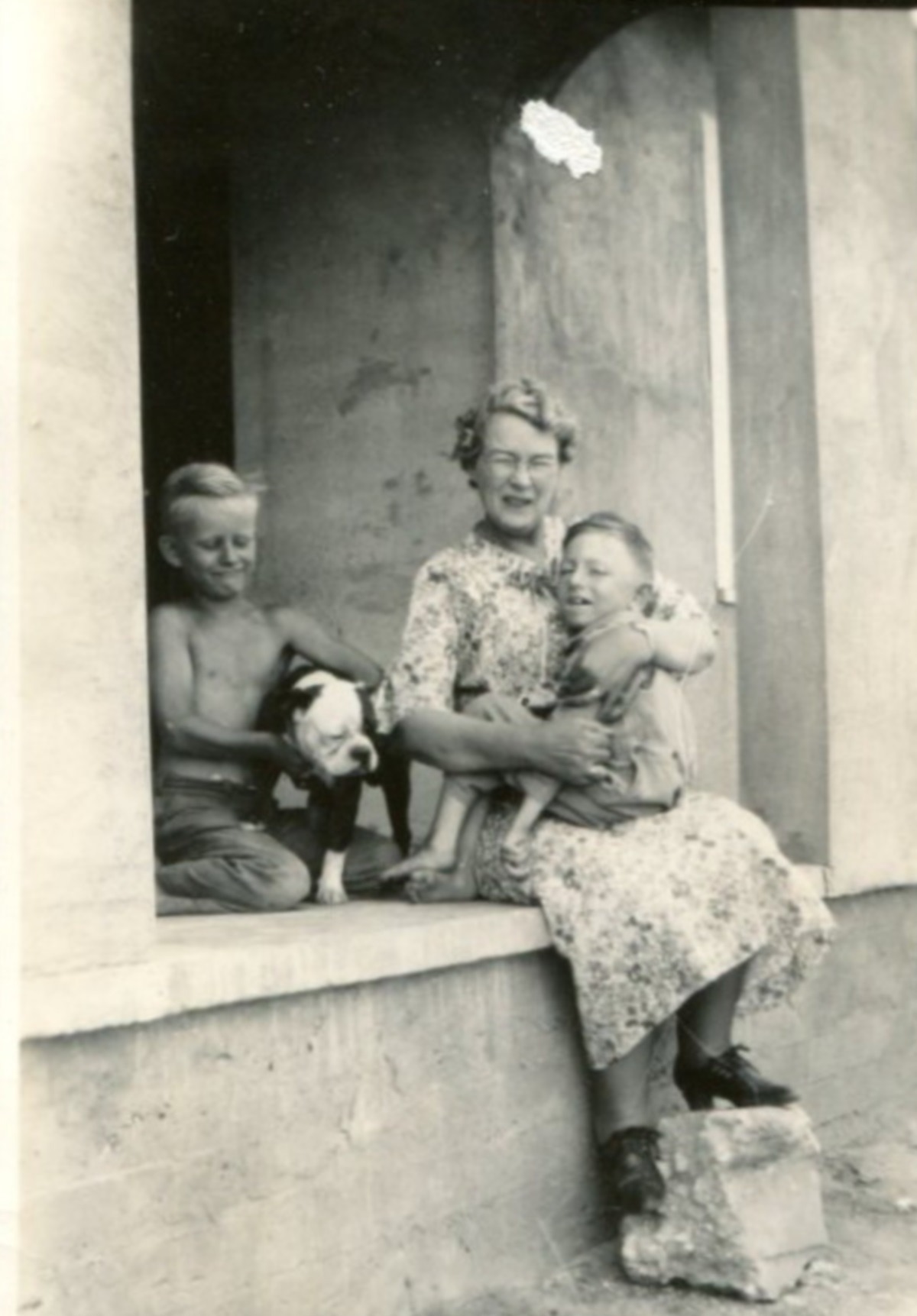 Pearl Hucherson with grandsons 1935
In 1935 Pearl Hutcherson posed with with two of her grandsons in Plainview Texas
Pearl graduated from Texas Tech in 1928. She began her married life in a dugout in Scurry County in 1900 and worked in her role as a rancher's wife.
. . . Photo courtesy Brent Lemons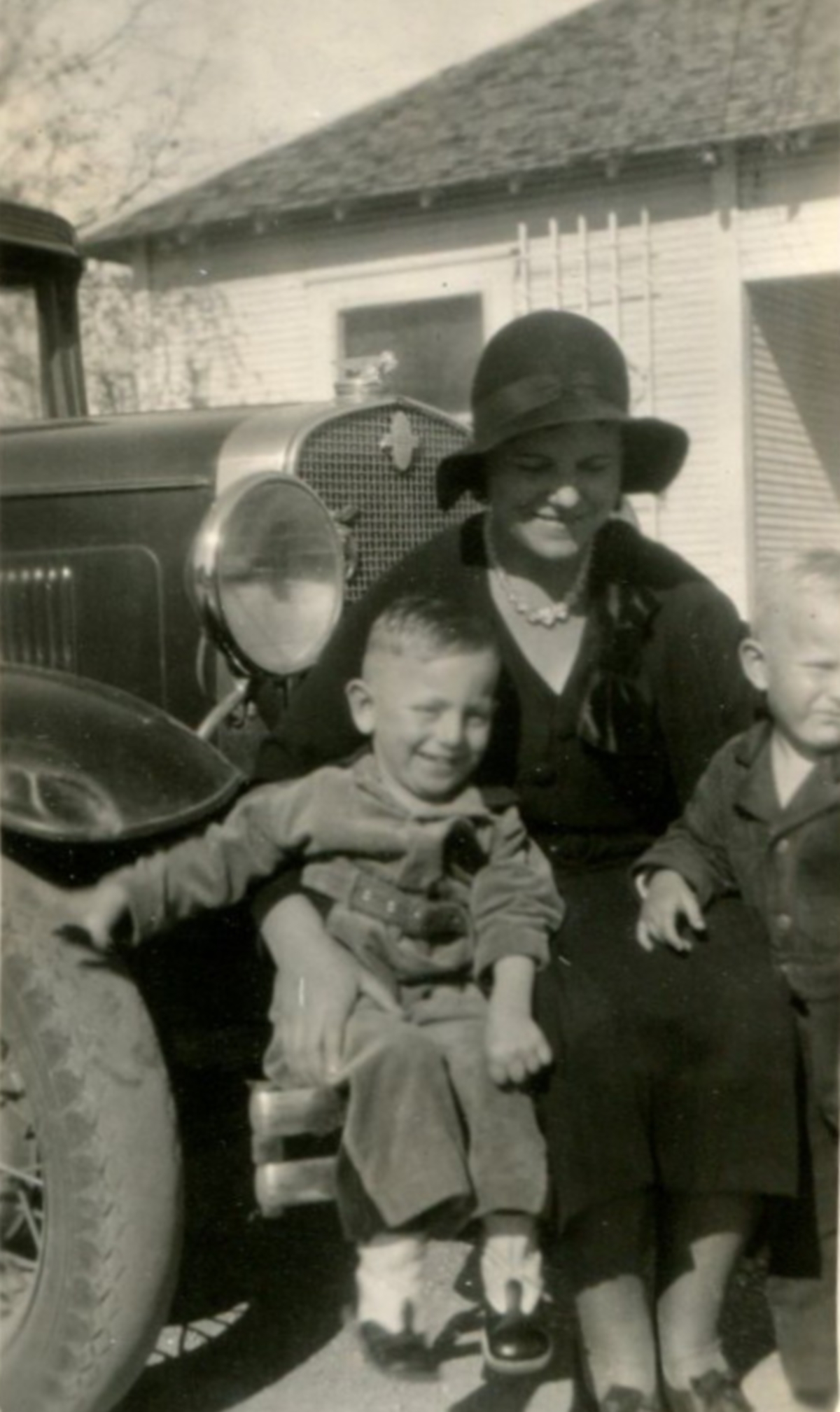 Ruby Hutcherson Lemons and Sons
In 1933 Ruby Hutcherson Lemons sat on the bumper of a car in Plainview with her sons, Carl (Sonny) and Warren. Ruby taught music at the Gatesville Reform School for Boys for 8 years. Her first son, pictured on left, was born with severe cerebral palsy. Carl Norman (Sonny) Lemons never spoke, walked or used his hands. She refused to institutionalize him and took care of him from 1929 until her death in 1973. He lived until the age of 64 after being told he wouldn't live six months.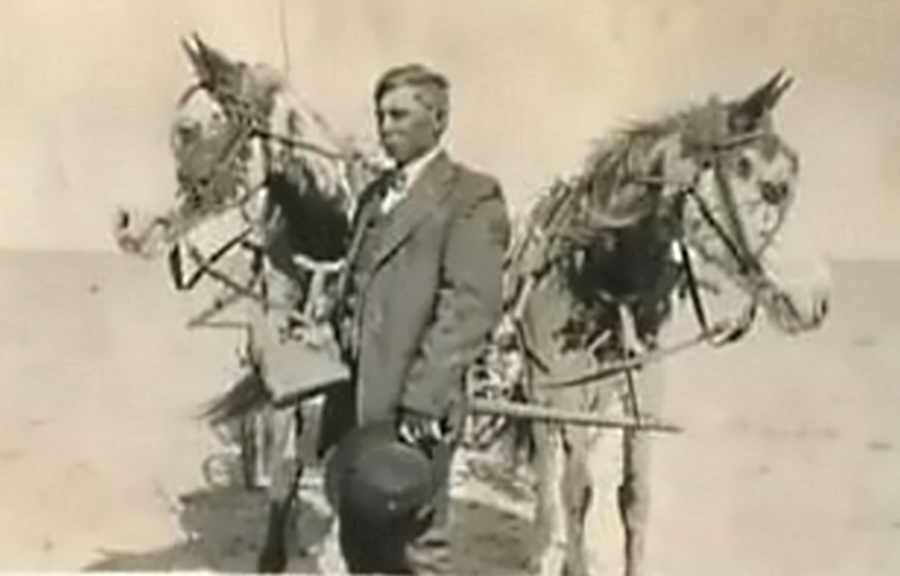 Circuit Riding Preacher of the Panhandle
Sometime in the 1870s a circuit riding preacher named Sinclair posed for this rare photo with his horse team that carried him on a 250 mile circle across the windswept Texas Panhandle and Eastern New Mexico preaching, providing baptisms, weddings and funerals for pioneers in the area. Mr. Sinclair died in 1900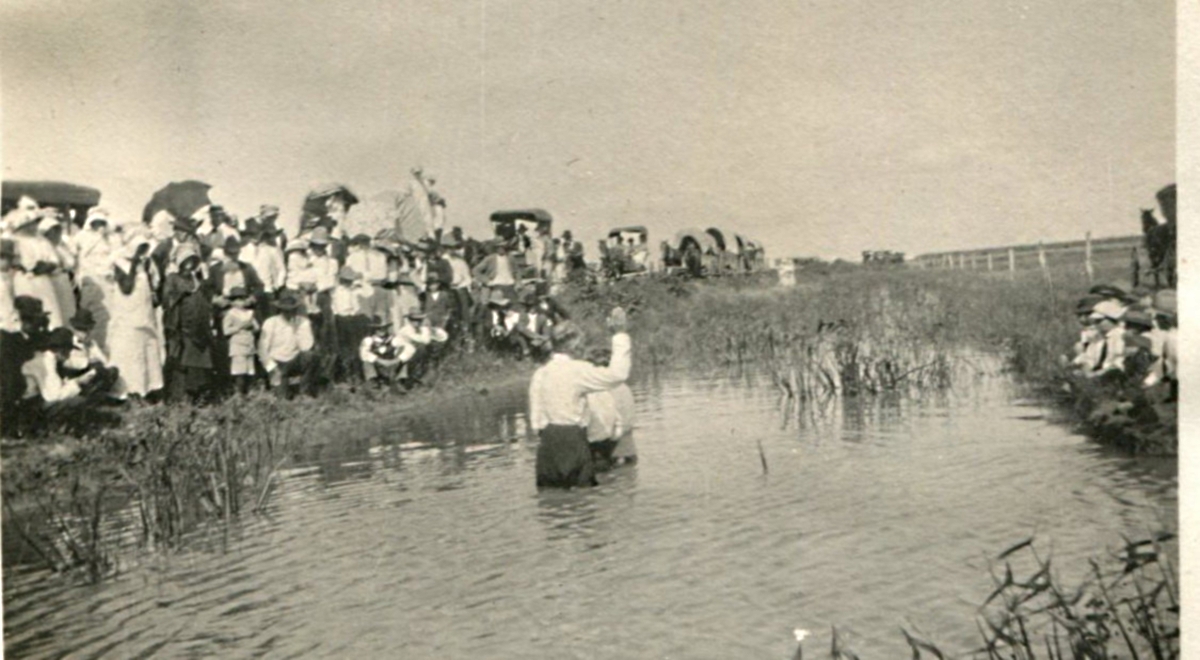 Baptism Near Plainview
In the late 1880s after a rain near Plainview Texas created a natural Baptism trough, wagons lined up and pioneers clamored to take advantage of the opportunity and witness the event ...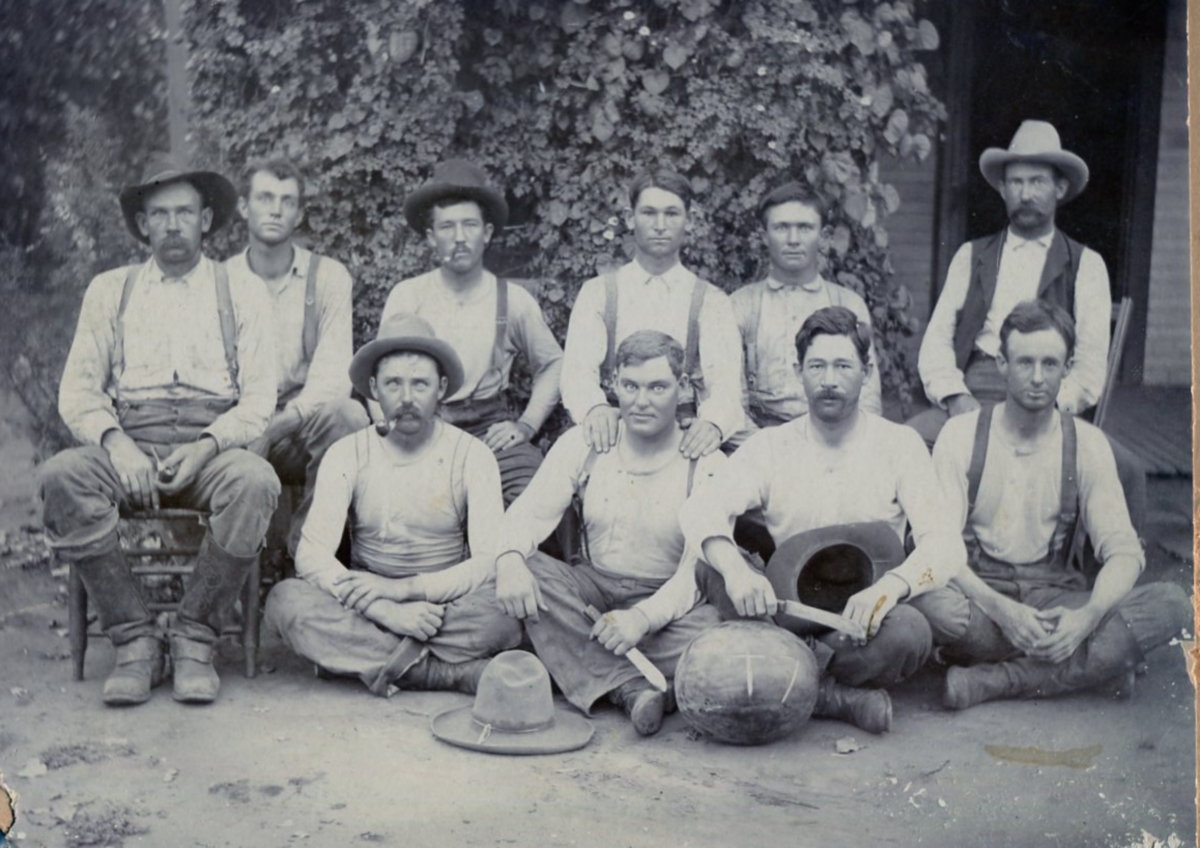 10 Cowboys Cut Watermelon
In 1910 ten cowboys were about to cut a watermelon when an unknown photographer convinced them to pose for this photo before cutting the melon. Brent Lemons' great uncle Frank J. Smith is in the top right of the photo.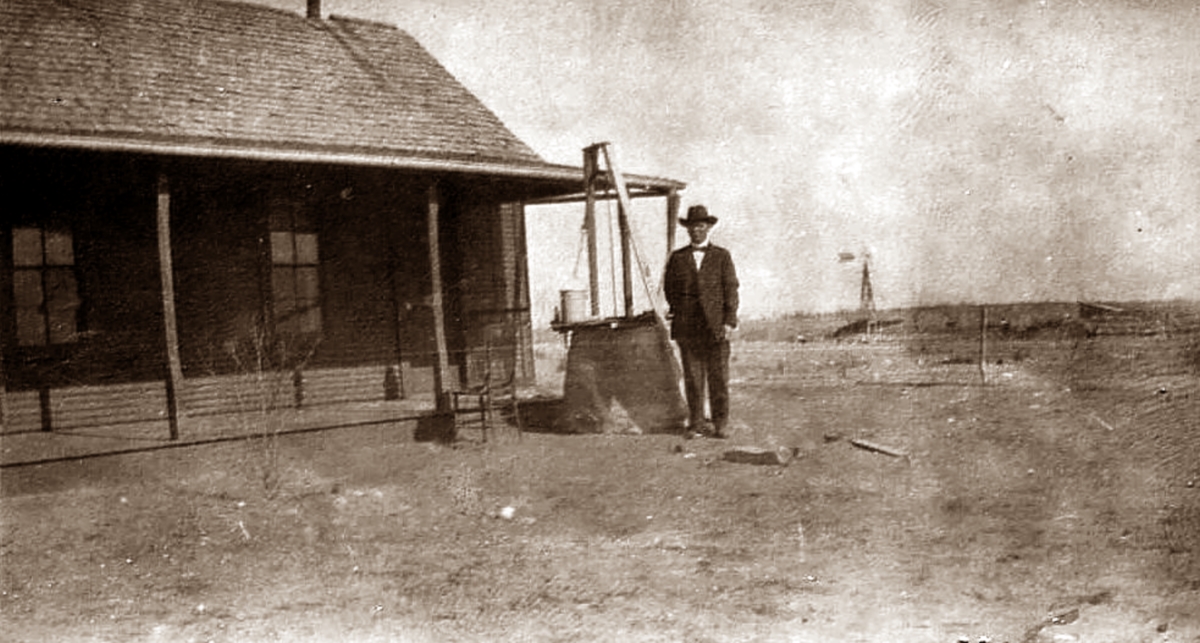 J.B. Harper in front of home
Sometime in the 1890s J.B. Harper posed for this photo standing beside the hand-dug well at his home in Hall County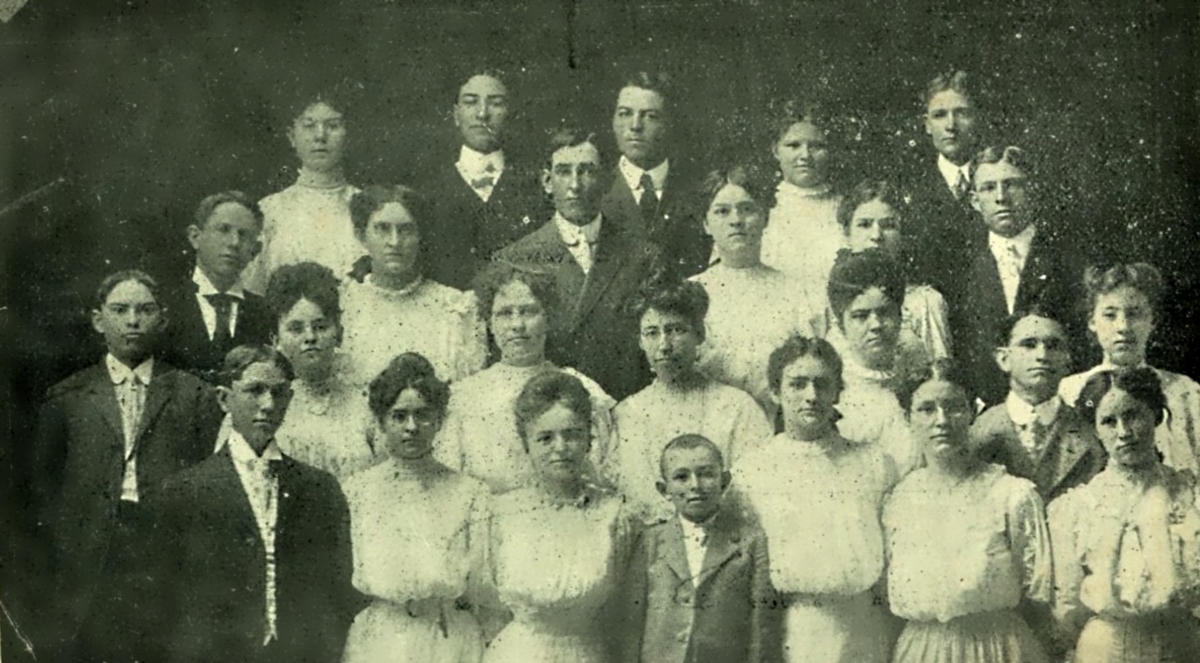 Hall County Chorus in 1899
There was a Hall County Chorus group in Hall County Texas in 1899. This photo shows 23 members of that group including Brent Lemons great uncle, George Harper who appears second from top right.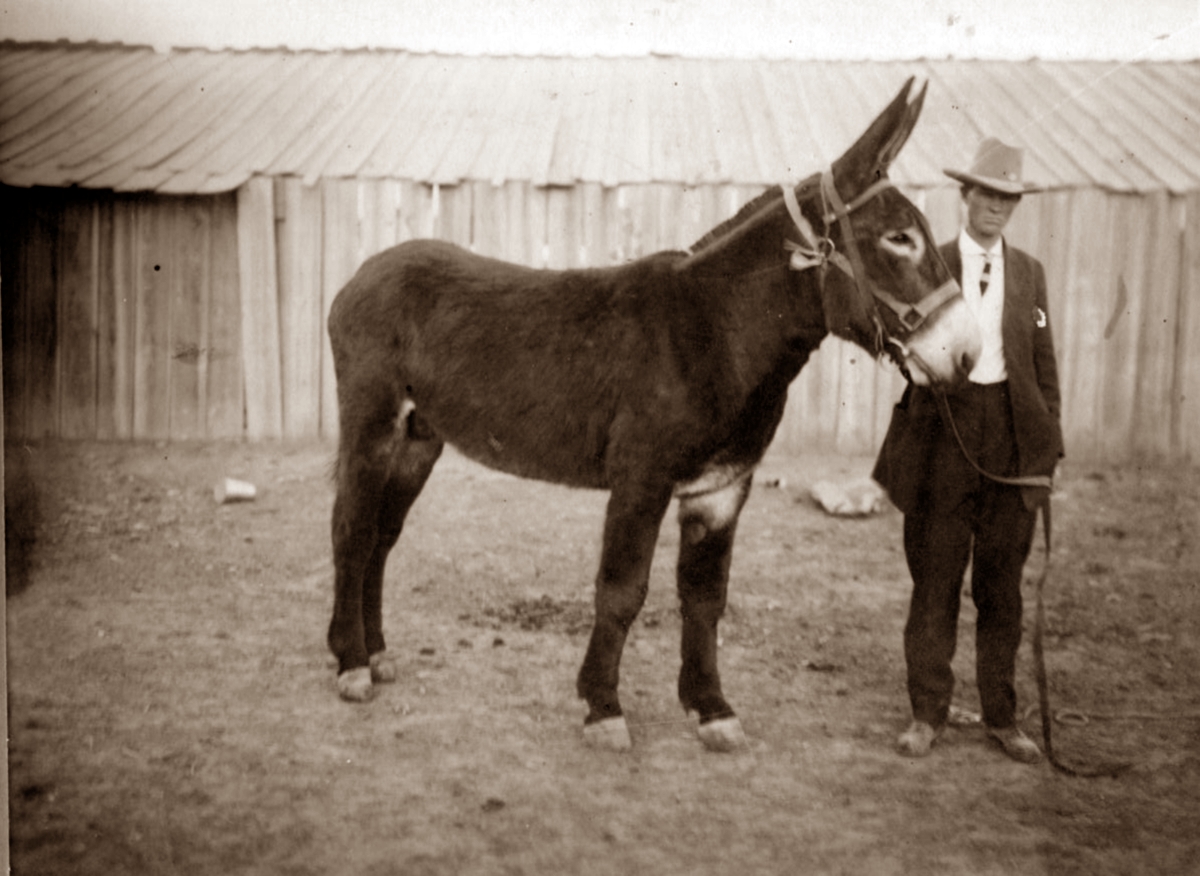 Jim Harper with his prize Jack
Sometime in the 1890s, Jim Harper proudly posed with his prize Jack for this wonderful old photo of early life in Hall County Texas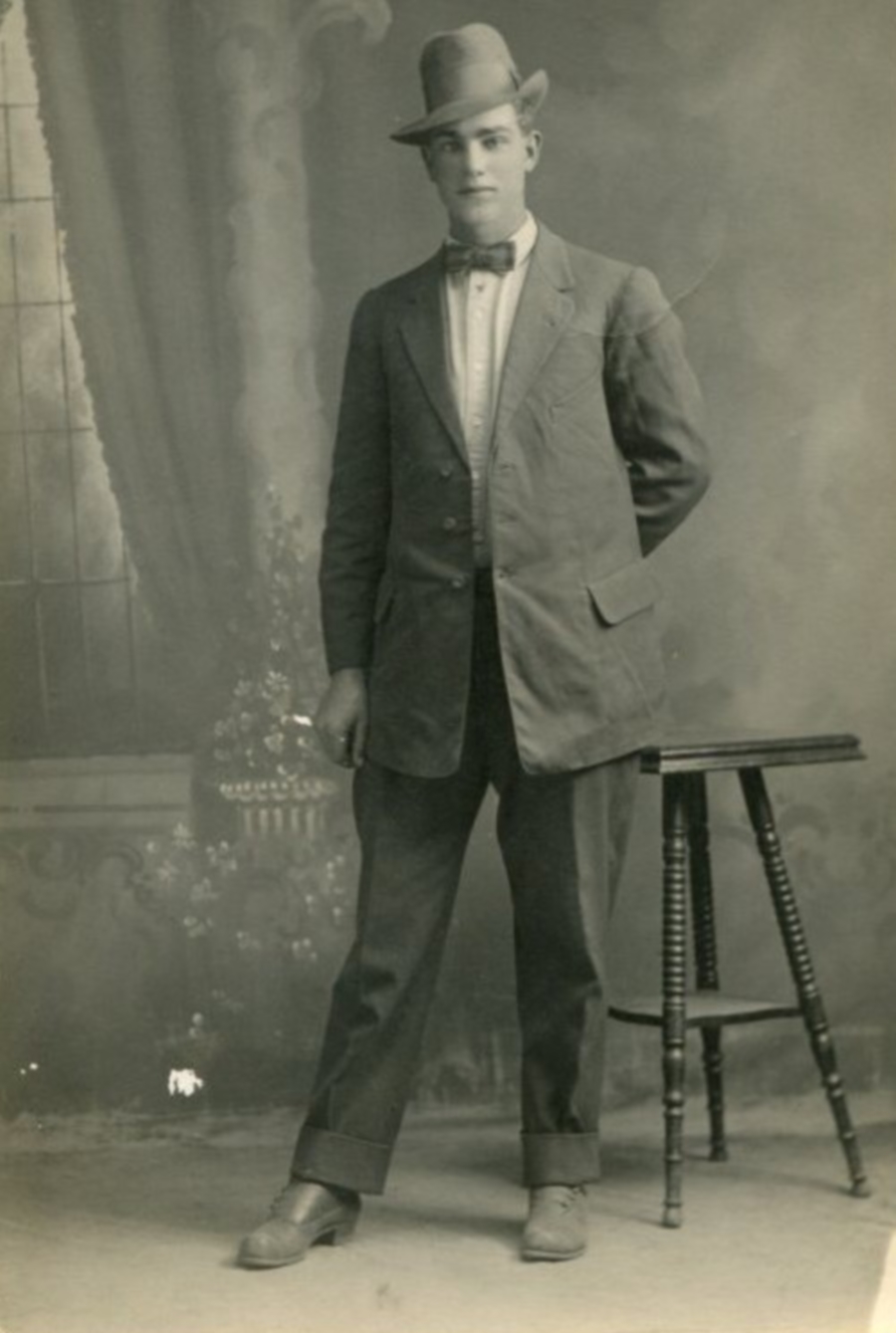 Billie Hutcherson in Lincolnshire England
In 1912 Billie Hutcherson was looking forward to joining his family in Hall County when he posed for this photo in Lincolnshire England shortly before boarding the Titanic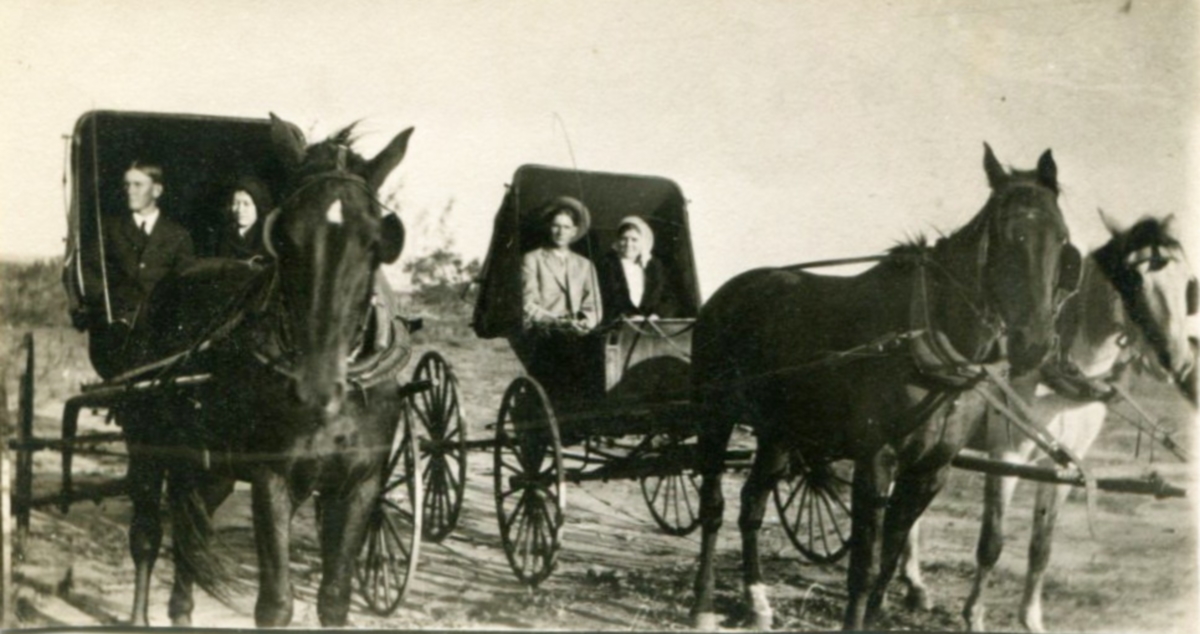 Jim and Reed Harper with their dates
Sometime in the 1890s Jim and Reed Harper were courting two women when they paused their buggies and posed for this wonderful old photo of life in Hall County Texas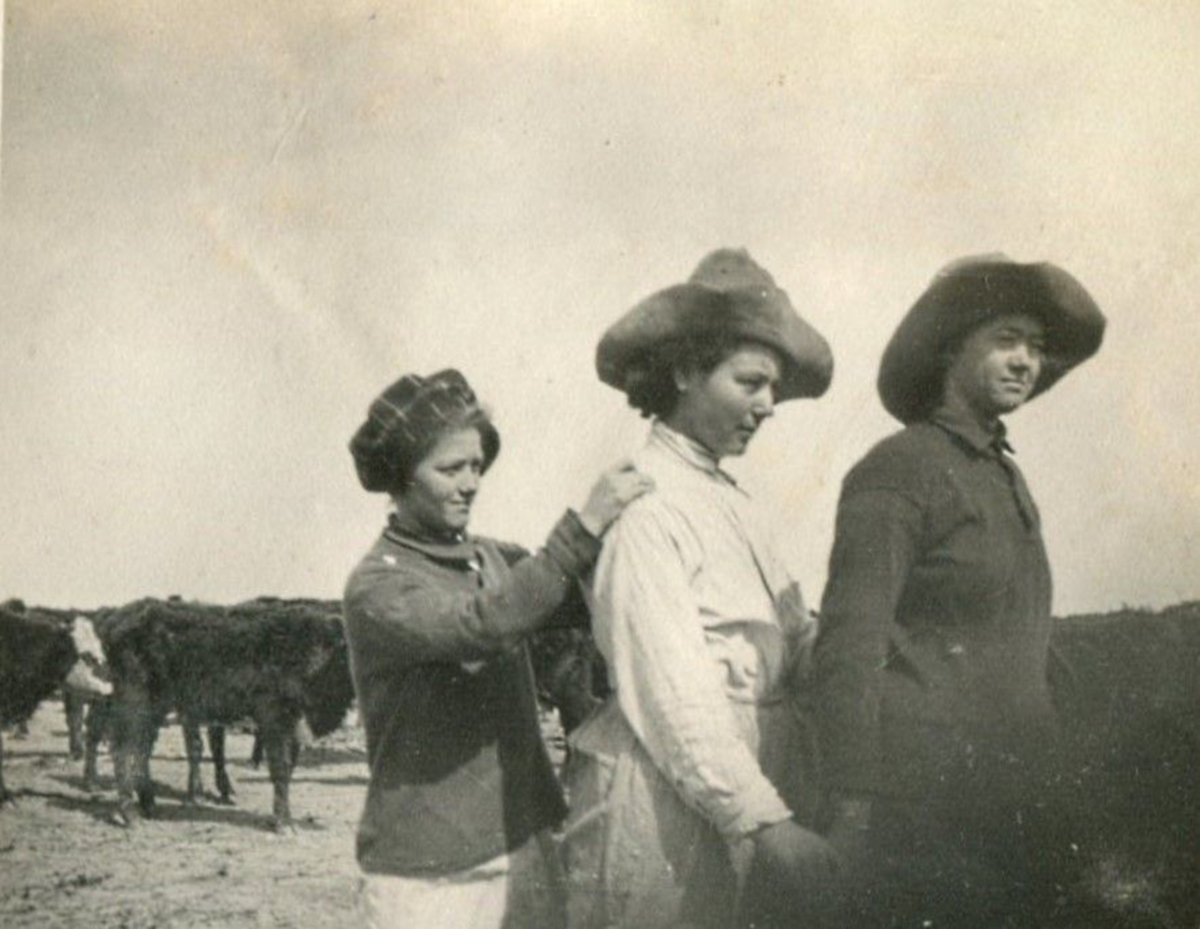 Demmie Hutcherson
Full of life and a grass burr on the Plains of Hall County ended her short life. Demmie Hutcherson was pulling a grass burr from her finger with her teeth when she inhaled the burr and it became infected... see full size and read more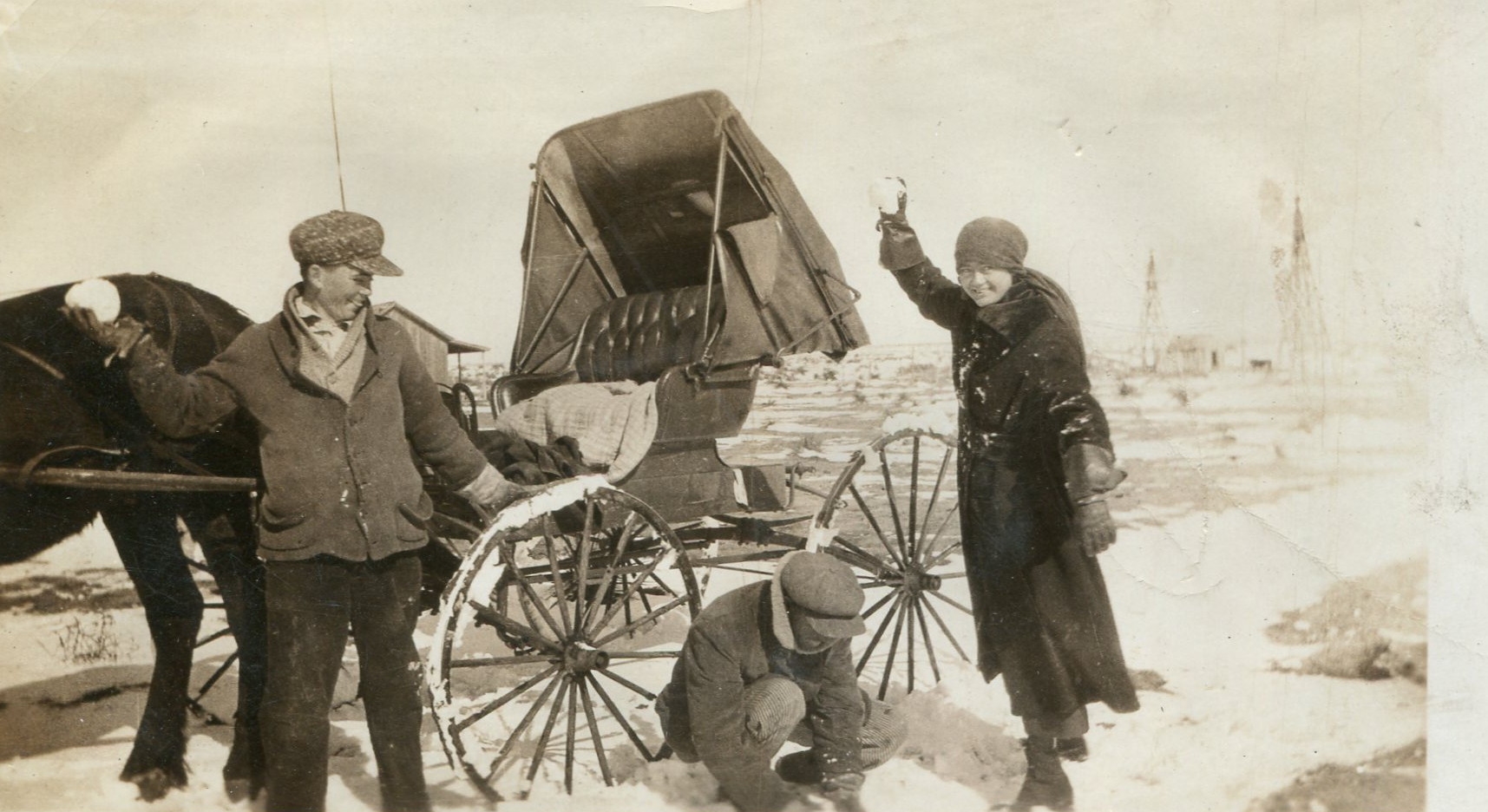 Fun in The Snow in Hall County 1895
Turner, Richard and Ellen Hutcherson (my great Aunt) in Hall County 1895 having fun in the snow. Things changed soon afterwards when their mother died and Ellen stood up in her mother's place to help with the eleven children... Read more See full size
Cowboys Set Out on 700 Mile Journey
In 1896 Carl Hutcherson (second from right) and the Crump brothers saddled up and set off on a 700 mile trip from Memphis Texas to Arizona to find work. Family records say they quickly returned. Photo courtesy Brent Lemons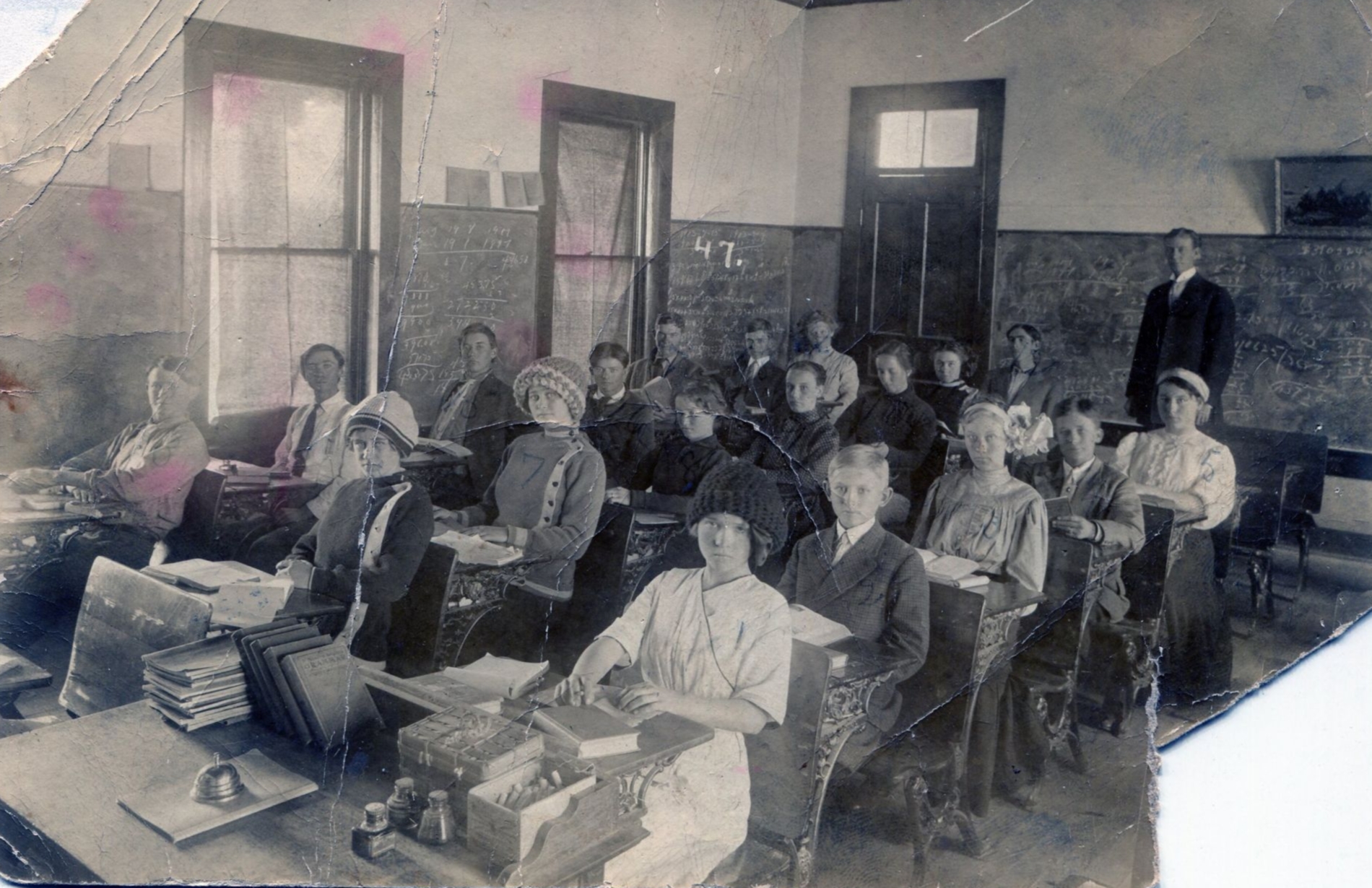 Salisbury School Hall County Texas in 1905
In 1905 twenty students at the Salisbury School in Hall County Texas posed with their teacher for this great old photo of a classroom in 1905. Julia Hutcherson is the girl pictured on the back row far right. Photo courtesy Brent Lemons. Salisbury was the first settlement in Hall County. By 1898 the townsite was abandoned. The rural school survived and prospered... read more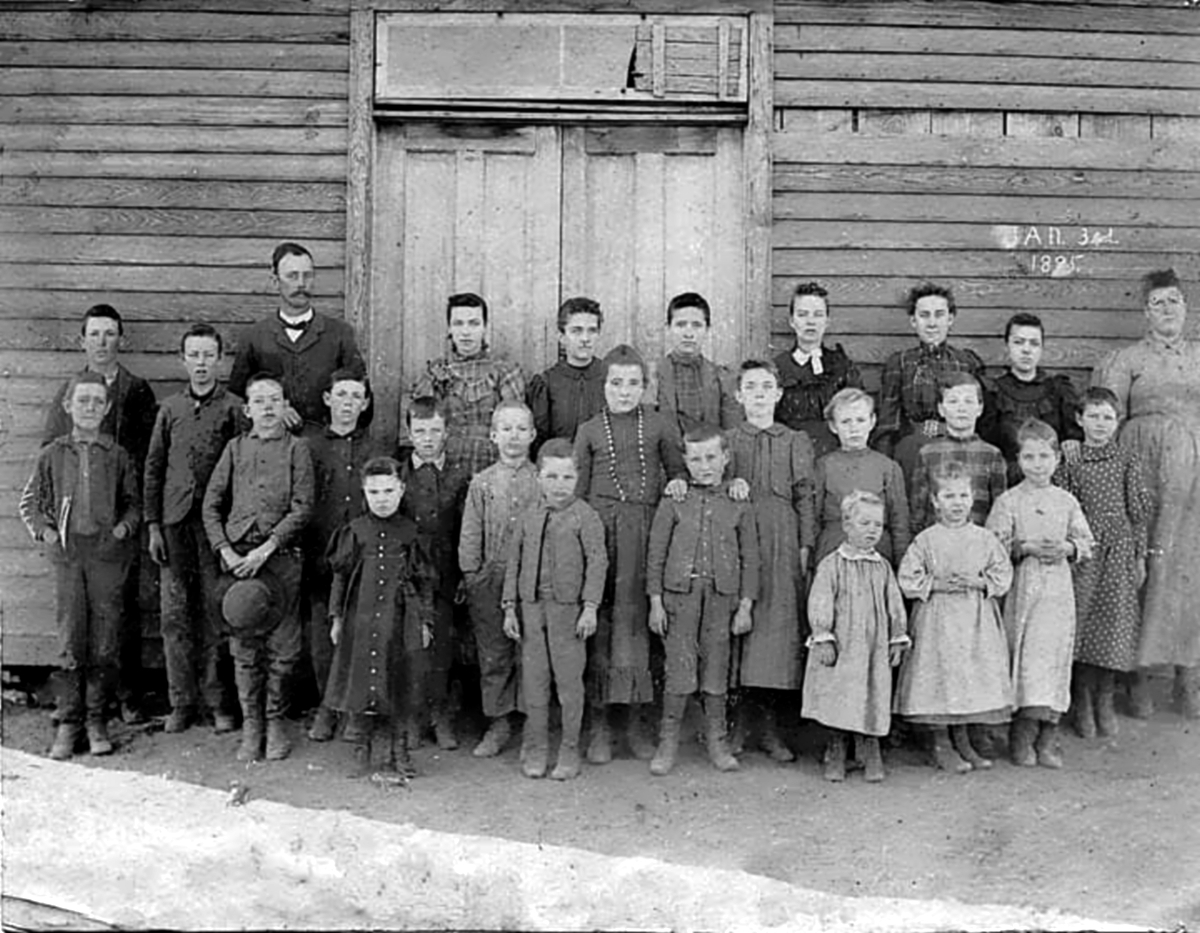 Hulver School in Hall County in 1895
On January 03, 1895 twenty four students and their teachers posed for this great old photo of the Hulver School in Hall County Texas. This photo contributed by Brent Lemons shows his great grandmother Pearl Harper and three of her siblings. Pearl is the tallest girl on the back row and the smallest boy on the front row in the dress is Homer Harper
What's your Favorite Book about a Texas County, Town, Person or Place? Here's our best reads list County by County