Look Who's Talking about Texas History
Davick Services recommends the Facebook Group "West Texas History & Memories" for history, famous people, old photos, stories, unclaimed estates and genealogy of the Western Half of Texas . . . Check it out and join the conversation
Books About Williamson County Texas People and Places
What's Your Favorite Book about a Williamson County Texas Person, Place or Event? Here are some of our favorites about Georgetown, Taylor, Round Rock, Coupland, Florence, Granger, Hutto, Jarrell, Leander, Liberty Hill, Thrall and Jarrell Texas

All books listed here are available at Amazon. Just tap the book cover to read more, look inside and order if you want.

This site contains affiliate links to products. As an Amazon Associate we earn from qualifying purchases.

To read more and look inside an individual book just tap an image below
Texas Women on the Cattle Trails
Found inside: "On August 24, 2000, in the growing and prosperous city of Round Rock, Texas an eight-foot-high sculpture called "The Pioneer Woman" was unveiled. Considerably larger than life, the statue depicted Harriett L. (Hattie) Cluck, a woman who lived in Williamson County for most of her life. Her inclusion in the work was not strictly a bow to recent impulses to include women in public monuments devoted to history. Hattie Cluck actually went up the Chisholm Trail . . . " Read more Look inside
Getting Life: An Innocent Man's 25-Year Journey from Prison to Peace: A Memoir
On August 13, 1986, just one day after his thirty-second birthday, Michael Morton went to work at his usual time. By the end of the day, his wife Christine had been savagely bludgeoned to death in the couple's bed—and the Williamson County Sherriff's office in Texas wasted no time in pinning her murder on Michael, despite an absolute lack of physical evidence. Michael was swiftly sentenced to life in prison for a crime he had not committed. He mourned his wife from a prison cell. He lost all contact with their son. Life, as he knew it, was over . . . Read more Look inside
The Texas Rangers: A Century of Frontier Defense
Found inside: "While these preparations were being made Sam Bass, Seaborn Barnes, Frank Jackson and Jim Murphy were in camp near the cemetery out beyond Old Round Rock. They had looked over the Round Rock bank twice and decided to rob it on Saturday, July 20 (1878). They came in on Friday afternoon in order to look over the situation a third time. On the way in, Jim Murphy managed to drop out in Old Round Rock, but the other three rode in and hitched their horses in an alley . . . " Read more Look inside
The Chisholm Trail: A History of the World's Greatest Cattle Trail
Found inside: "One of the skeptical was J. C. Juvenall of Williamson County. From Boggy Depot, on June 2, 1867, he wrote: " The only market that Texans can rely on at present for their stock is Baxter Springs, Kansas, unless there can be a route opened from Fort Gibson to the 6th principal meridian as designated by the circular from the Kansas Live Stock Company, thence north to some point on the Pacific Railroad . . . " Read more Look inside
Line of Fire: Heroism, Tragedy, and Canada's Police
Found inside: "No longer able to work as a cowboy, Marion "Peg-Leg" Brown turned to crime, using the alias Thomas Allen. He allegedly killed four men in Texas. In May 1898, he was convicted of burglary and jailed in Georgetown, Texas. Within a month of his incarceration, Brown escaped, taking a jail guard's gun and watch. Texas lawmen were soon hot on his trail. In a gunfight, Brown killed a marshal and wounded a deputy. He escaped a posse by jumping onto moving freight train with bullets whistling around him . . . " Read more Look inside
The Trail Drivers of Texas: Interesting Sketches of Early Cowboys
Found inside: J. B. Pumphrey of Taylor, Texas wrote," I was born at old Round Rock on the 10th of November, 1852. All of my life I have been engaged in the cow business, taking my first job in 1869 at $15 a month, for eighteen hours a day if necessary, with horses furnished. In February, 1872, I made my first trip on the long trail helping to gather a herd at the old Morrow Ranch, about two miles from Taylor, and from there we went through to Kansas, and then rode back, making about a four months' trip in all, and then I felt like I was a real graduated cowboy . . . " Read more Look inside . . . for more like this please see Texas Cowboy History
Why Jesus Appears to People Today
by Mel Bond
"While my wife, Donna, and I and our oldest daughter, Cherish, were pastoring a church in Taylor, Texas, I went to bed on the Tuesday evening of November 14, 1978. At some point after going to sleep, I was awakened by an angelic or divine . . ." Read more Look inside . . . for more like this please see Texas Church Histor
Bill Pickett: Bulldogger (Biography of a Black Cowboy)
Bill Pickett grew up in Texas in the 1880's, the child of former slaves, to become nationally famous as the star of the 101 Ranch Wild West Show. Found inside: " In the late 1880s, Thomas Jefferson Pickett moved to Taylor, Williamson County, Texas. On October 18, 1888, he bought Lots 1 and 2, Block 77, from John S. Borues for one hundred twenty-seven dollars. The property, located at 811 East Second Street, remained the family home for many years . . . " Read more Look inside . . . for more like this please see Black Texans in History
The Texas Pistoleers: Ben Thompson and King Fisher
J. King Fisher was one of the most colorful characters of the Texas frontier. He was as handsome a figure as ... Shortly before the War Between the States broke out, Jobe and his family moved to Williamson County. Then in October of 1861 he joined Captain J. L. Whittenberg's infantry company from Williamson County . . . Read more Look inside
Buried Treasures of Texas:
"Around the turn of the century, a farmer named Henry Chapman found what many believe was part of the Sam Bass Treasure. Chapman owned a small farm near Springtown in Williamson County. One day as he was riding through the woods between Clear Fork Creek and Salt Creek, Chapman's mule began acting contrary. The farmer dismounted to check the girth on the balky animal, and as he was tightening it, he noticed a low mound of dirt just off the trail. At first he believed it to be a grave, but closer examination revealed it was not. Chapman dug into the mound and was surprised to discover a bushel-sized wooden box filled to the top with gold and silver coins..." Read more Look inside
These is my Words: The Diary of Sarah Agnes Prine, 1881-1901
Found inside:" August 6, 1881, We traveled up the river to the old town of Florence then come to the mouth of the San Pedro river. at that point we are joined by two wagons of folks who want to throw in with us to go east. By the time Papa gets done saying all he knew about San Angelo they is ready to go there too ... It is Mr. and Mrs. Lawrence and their four daughters Alice and Louisianna and Ulyssa and Savannah. They is all beautiful girls too except the middlest one whose got buckt teeth. I seen her smile at a rabbit and scare it! . . . " Read more Look inside
Lone Star Justice: The First Century of the Texas Rangers
Found inside: "July 19, 1878, about 4:00 P.M. Bass, Barnes, and Jackson rode into Round Rock to buy tobacco and make one last reconnaissance before hitting the bank the next day. Murphy managed to tarry at a store on the edge of town. The three outlaws hitched their horses in an alley and walked up a street toward a store. Lazing in the dusty street, some of the Jones's men watched the strangers, apparently without recognizing their identity. The Travis deputy, Moore, spotted the bulge of a pistol and alerted the Williamson County deputy, Grimes, who had orders to ensure that all strangers check their arms while in town . . . " Read more Look inside
Jarrell
by Mary H. Hodge and Priscilla S. King
In 1909, real estate developer Orlando D. Jarrell had a vision: He would sell lots near the Bartlett Western Railroad site and name the town Jarrell. When the railroad bypassed the nearby town of Corn Hill and Jarrell's lots began to sell, the residents of Corn Hill--and their houses--moved to the promising, new town . . . Read more Look inside
Ropes, Reins, and Rawhide: All About Rodeo
Bill Pickett and his brother Tom gave bulldogging exhibitions at the first Taylor ( Texas ) County Fair in 1888 . After that he toured throughout Texas and by 1900 made out - of - state appearances as well . In 1905 , back in Texas , Pickett . . . Read more Look inside
Early Settlers and Indian Fighters of Southwest Texas
Found inside: "Colonel Mullins, who commanded the regiment, was from Florence, Williamson County. Grandma Berr has belonged to the Baptist Church ever since 1841. The first Missionary Baptist Church in Williamson County was organized in her house by Revs. Garrett and Talafero . . . " Read more Look inside . . . for more like this please see Texas Church Histor
Deadly Dozen: Forgotten Gunfighters of the Old West, Vol. 2
Found inside: "In Williamson County, he was charged with attacking A. W. Grimes on August 6, 1876, and a grand jury brought in an assault to murder indictment on October 3. A month later Fowler made bond of $400, which was ordered forfeited by the court on September 23 1878, when the defendant failed to appear to answer the charge . . ." Read more Look inside
Texas Ranger Tales: Stories That Need Telling
"Following his honorable discharge from the Rangers late in 1877, Grimes, with his wife and two children, moved to Round Rock in Williamson County. Their third child, Mabel (Mae) was born in 1878. Round Rock was enjoying a boom as a railroad town, and Grimes' cousin, Henry Albert Highsmith, operated a livery stable there. Knowing of Grimes' previous experience as a city marshal and Ranger, Williamson County Sheriff Sam Strayhorn asked the young man to handle law enforcement duties in Round Rock as a deputy sheriff . . . " Read more Look inside
Coronado's Children: Tales of Lost Mines and Buried Treasures of the Southwest
J. Frank Dobie
Found inside:" He was born in 1852 on the North Fork of the San Gabriel River in Williamson County, where is father owned a wheat mill and blacksmith shop. Two miles above the Mather place a band of Comanches under Chief Yellow Wolf made their headquarters. They were peaceable at the time and were friendly with the settlers. "in 1851" says Andy Mather, "Yellow Wolf brought some silver ore to my father to be hammered into ornaments . . . " Read more Look inside
Genuinely Georgetown: Real people. Real stories. Real inspiration.
Genuinely Georgetown is a collection of interviews with local people of prominence and everyday people doing inspiring things. These stories received praise when they originally appeared in Georgetown View Magazine and now they're available in one page-turning volume . . . Read more Look inside
The Cedar Choppers: Life on the Edge of Nothing
Roberts weaves together the lively, gritty story of these largely Scots-Irish migrants with roots in Appalachia who settled on the west side of the Balcones Fault during the mid-19th century, subsisting on hunting, trapping, moonshining, and, by the early 20th century, cutting, transporting, and selling cedar fence posts and charcoal. Found inside: "Lenearce Boatright followed the more typical route to Texas; he was born in central Virginia in 1798, married in Kentucky, lived for a while in Missouri, and finally came to Williamson County after the Civil War. . . " Read more Look inside
Tales of Badmen, Bad Women, and Bad Places: Four Centuries of Texas Outlawry
Found inside: "Saturday, July 20, 1878 would be Town Day in Round Rock. Farmers, ranchers, cowboys---just about everybody would be in town to spend what little money they had, and of course the town would turn out to help them spend it. By bank-closing time the little bank would be be bulging at the seams with hard cash. It was a jim-dandy time for a stickup. The rangers certainly thought so. Early Friday morning , lawmen began to arrive by the drove . . ." Read more Look inside
Gunfighters
Found inside: "King Fisher began his life of crime at the age of 15 when he stole a horse and rode out of Florence, Texas with the law chasing him. A year later he was captured and sentenced to 24 months in the state penitentiary. After his release Fisher worked as a cowboy, breaking wild mustangs and for sort, chasing down and killing Mexican bandits. He ruled with his gun, taking what he wanted from those who did not have the guts to face him and those who did . . ." Read more Look inside
Eggs In My Pocket
by Mary E. Fenoglio
A collection of essays selected from a long-running column in The Williamson County Sun Newspaper in Georgetown, Texas, Eggs In My Pocket paints a series of vivid, often touching pictures of everyday life on a three-generation family farm. Readers who have experienced, or longed to experience, life in a rural setting with animals will enjoy the tales told here, from the saga of Miss Kitty the hen to adventures in the goat barn, with a little "pasture wisdom" thrown in for good measure. Parents and grandparents will recognize themselves . . .Read more
More Eggs In My Pocket
This sequel to the original Eggs In My Pocket continues the everyday saga of life on a small farm and three generations of family struggling to maintain a way of life they love in the face of steadily encroaching urbanization. Ever wanted to leave the rat race behind and connect with a more natural lifestyle? These essays recount the realization of that desire with all its joys and tribulations grounded in the realities versus the fantasies . . . Read more
The Suffering of Chasing Dreams
Found Inside "My folks own two thousand acres of land here in Taylor, Texas, and I know my family would just adore you. Please stay?" La' Nora was such a beautiful girl; it was hard to turn her down. Her family just didn't own land, they owned one of the biggest horse ranches in Texas and two grocery stores in Taylor . . . " Read more Look inside
Texas Tales Your Teacher Never Told You
Found inside: "The pursuit continued for about seven or eight miles to the east, finally ending on a hogback ridge overlooking the North San Gabriel River. The hogback, just incidentally, is just across the east fence of the old Fred Eckhardt place in west-Central Williams County, on property formerly owned by Dr. John Nichols. There the Flores party finally did make its only stand, and the Texians promptly killed Flores and two more of his men . . . " Read more Look inside
Kirrama: Life on an Australian Cattle Station
by Barbara Gunn
It is the true-life story of an average Texas ranching family who took a giant step across the boundary that lies between normal to extra-ordinary adventure and sacrifice. The Gunn family migrated from a small two-thousand acre Central Texas ranch in Williamson County, Texas, to a beautiful one hundred and six thousand acre (166 sq. mile) cattle station (ranch) in Queensland, Australia... Found Inside: "It was the month of April in 1972, when we arrived at the Sydney International Airport in Australia. I probably appeared to resemble someone between Annie Oakley and Ma Kettle with my arsenal of guns and children, not to mention a saddle" . . . Read more Look inside
200 Texas Outlaws and Lawmen
"Williamson County, Texas, gunman Judd Roberts killed his first victim in Fredericksburg, Texas in 1885. Robertson himself was killed in July 1887 in Williamson County by lawmen Ira Aten and john R. Hughes. . ." Read more Look inside
Williamson County
by Williamson Museum and Lisa E Worley
The area now known as Williamson County has attracted humans for over 13,000 years. The Tonkawa Indians called the area takachue pouetsu, which means "land of good water." In 1848, the Texas Legislature carved a county out of a southwestern portion of the Milam District. They named it after Robert McAlpin Williamson, a judge, lawmaker, and Battle of San Jacinto veteran who was widely known as "Three-legged Willie." Just as the Native Americans before them, settlers were drawn to the area for its abundant water and fertile soil, and the population quickly grew . . . Read more Look inside
Taylor
by Irene K Michna
El Camino Real de los Tejas, a National Historic Trail, connected the Rio Grande to the Red River Valley through the middle of Taylor on Highway 95. Moses Austin used this trail to establish a colony in Spanish Texas, and he was followed by Kit Carson, Davy Crockett, Jim Bowie, Sam Houston, Santa Anna, and many more. The Spanish and the French were the groups who marked the trail. Today, Taylor is restoring historical sites and preserving local history by encouraging quality growth as it protects the unique features of the community that make it an outstanding place . . . Read more Look inside
Grandma Thoughts by Boots Brizendine
Found inside: "My father was born on this day in Jarrell, Texas. He was named after the king of Sweden. He was the fifth and last child born to my grandparents. He was a full-blooded Swede and proud of it. My husband says I am just like my father, which is a ... Boots, an old lady in Florence, Texas, filled with the Holy Spirit used in some great work or ministry of God . . . " Learn more
Dance Halls and Last Calls: A History of Texas Country Music
Found inside: "Coupland was founded in 1887 by Civil War major and former Travis County sheriff Theodore Van Buren Coupland. Once known as Casa Grand Ballroom, Coupland Dance Hall has served as a mercantile shop and was featured in the movies Lonesome Dove, A Perfect World, and Cadillac Ranch. The bar in the dance hall was built in 1886. Coupland was a thriving . . . Read more Look inside
Cowboys and Gangsters: Stories of an Untamed Southwest
"Born in Williamson County, Texas, in 1886, Frank Pearson was the eldest son of of farmer Joseph H. Pearson. By the time he first arrived in Santa Cruz County, Frank had already faced his share of troubles. "My father's mother died when he was a teenager", Margaret Pearson would later recall, "and he raised the rest of us kids . . . " Read more Look inside
I'll Tell You a Tale: An Anthology
by J. Frank Dobie
Found inside: "Ma was just as pleased as Pa over the idea, and Sam Houston Hall has been my name from that minute to this. I can't recollect exactly when the next valuable possession was added to my life. It was a rim-fire, copper-lined, .30-caliber English sporting rifle, and there was not another like it in Williamson County, or, for that matter, in any county joining Williamson. I wouldn't say it myself, but by the time I was ten years old I was as sure a shot as ever drawed a bead . . . " Read more
Cow People
by J. Frank Dobie
Found inside: Lee Moore, born in 1856 among original settlers of Williamson County, Texas, wrote, "In 1851, when my uncle Jack Elliott started to the War of the Rebellion, or maybe it was to Mexico, he gave me an old cow and a little calf, and my father gave me a pony and a bridle and a sheepskin for a saddle. My cowboy uniform consisted of a straw hat and long hickory shirt; so at five years of age I was a cattle owner equipped for business, but that winter the old cow died . . . " Read more
The Brick Sidewalk
An autobiography written by author, Darwin L. Machu, is a delightful collection of stories about events that made up the life of an inquisitive, mischievous, yet innocent Czech farm boy living in Granger Texas from the 1930s through the 1950s. He has included his remembrances of life on the farm, school days, church life, friends, family gatherings, teen age years and his experiences as a soldier in Germany, serving his country in the U. S Army . . . Read more
QB 1
Found inside: "Next came the play they'd talk about for a long time in Granger, in the ice-cream parlors and barbecue joints where they all grew up, where the only thing they talked about all week in those place, and on the town's lone radio station, was last week's game Wyatt Cullen, number 10, in that Cowboy blue that matched the blue of the Dallas Cowboys, surrounded this time time, huge pressure now, one of the defensive linemen with a handful of blue jersey, trying to fight off a blocker an pull Wyatt down with his free hand . . . " Read more Look inside
My Extraordinary Ordinary Life
by Sissy Spacek
Found Inside: " A A Spacek and Mary Cervenka Spacek were first generation Americans who raised their family in the Czech community of Granger, Texas. AA and Mary Spacek raised four children; my dad, Edwin Arnold, born in 1910; his older sister, Thelma; and two younger siblings, Sam and Rose . . . " Read more Look inside
I Gotta Get a Nickname!
Nine-year-old Zimri is not pleased about leaving his friends and moving 500 miles away to a new place when his father loses his job. Zimri worries that it will be hard to make new friends in Granger, Texas ... I Gotta Get a Nickname follows Zimri on his journey to being accepted in his new community . . . Read more Look inside
The Family Saga: A Collection of Texas Family Legends
Included here are stories grouped by common topics, such as Ghosts and the Supernatural, Feuding and Fighting, and Death and Burial. They include tales from favorite storytellers Elmer Kelton, James Ward Lee, Robert Flynn, Archie McDonald, and John Graves. Found inside: "His wife of some 60 years declared that enough was enough and banished her husband from the premises. He left Granger, Texas, in a huff and never returned. No one knows for sure when he died, but he is buried in the Confederate Cemetery in Austin. A story my father delighted in telling my sister and me as well as the grandchildren involved the . . . " Read more
Lost, Texas: Photographs of Forgotten Buildings
Found inside: "The town's first post office was established in April 1884. When Granger was incorporated in 1891, the town's leaders had grand visions for its future, making Davilla Street on hundred feet wide and extending it across the railroad tracks. After existing as a wide but muddy street for several years, Davilla Street was paved with local bricks and became the prime location for the town's most important buildings . . . " Read more Look inside
Dilly of a Death
Found inside: "That's what happened to the little town of Thrall, Texas, back in 1921, when a dying tropical depression drifted in off the Gulf and dropped thirty-six inches of rain in eighteen hours—the most that has ever fallen on a U.S. city in that amount of time . . . " Read more Look inside
The Funny Side of Texas by Ellis Posey
Found inside: "Liberty Hill, Texas, I knew a retired constable named Joe Spivey. One day I asked him who was the best liar he ever knew . . . " Learn more
Jesse James Lived and Died in Texas
In her 1998 book, Betty Dorsett Duke of Liberty Hill, Texas presents her great-grandfather, James Lafayette Courtney, as the true Jesse James. Duke bases her claim on family stories, genealogical research, a comparison of photographs of Courtney and his kin with James family pictures, and the fact that Courtney, in his diary, once signed his name "J. James." . . . Learn more
All Things Ella
by Ella Anne Kocluba
Story of a young girl who is faced with adversity at an early age, All Things Ella is a story of courage, a story of one inspiring individuals fight against the darkness. From breaking her back in two places and struggling to get back to functioning, then becoming anorexic by the age of 18, signing with companies to compete in adventure and obstacle races then almost losing her life to bulimia ... Found Inside: "Spending countless hours in and out of wheelchairs, attending physical therapy post surgery, Ella grew tired of this codling and started training on the track team at her high school in Liberty Hill, Texas . . . " Read more Look inside
Encyclopedia of Western Gunfighters
Found inside: "John Reynolds Hughes helped drive several cattle herds from Texas to Kansas, and in 1878 he started a seventy-six acre horse ranch of his own near Liberty Hill, Texas. In 1886 six rustlers stole nearly one hundred horses, eighteen of which belonged to Hughes, in the Liberty Hill Area. Hughes tracked them for a year and finally killed three of the thieves, captured two others . . . Read more
Regenesis: How Synthetic Biology Will Reinvent Nature and Ourselves
Found inside: "The process has been demonstrated in the lab, as well as in a Joule pilot plant in Leander, Texas. The company calculates that an array of its Solar Converter panels can crank out more than 13,000 gallons of diesel fuel per acre per year . . . " Look inside
The Last Patriot: A Thriller
Found inside: "While they were all exceptional, Harvath's most lethal, most effective and most accurate piece came out of a quiet, sophisticated shop in Leander, Texas, called LaRue Tactical that stamped all of their gear . . ." Look inside
Hutto (Images of America)
In 1854, a freed slave named Adam Orgain settled in an area of Central Texas that would later become known as Hutto. Soon after, James Emory Hutto and his family followed, and the town was founded in 1876 when he donated land to the International-Great Northern Railroad. The growing town attracted many immigrants of Swedish, German, and Danish descent . . . Read more Look inside
The Hutto Hippo
For children and adults alike, this book celebrates in rhyme the unique legend of Hutto, Texas – now one of the fastest-growing cities in America. A circus train stopped in 1915 and there a large beast made her mark on the scene. What did she do? Tell me, where did she go? Just read these pages, my friends, and you'll know . . . Read more Look inside
Spirits of the Border V: The History and Mystery of the Lone Star State
Found Inside: "The legend is that if you go out to Jake's Bridge in Hutto at night, see the body of a man who committed suicide on the bridge. You will also be able to hear his wife crying out for her children . . . Read more
Land of good water, Takachue Pouetsu
A Williamson County, Texas history
by Clara Stearns Scarbrough
Historic Williamson County: An Illustrated History
by John Leffler
An illustrated history of Williamson County, Texas, paired with histories of the local companies.
Ten Dollars to Hate: The Texas Man Who Fought the Klan
Ten Dollars to Hate tells the story of the massive Ku Klux Klan of the 1920s—by far the most "successful" incarnation since its inception in the ashes of the Civil War—and the first prosecutor in the nation to successfully convict and jail Klan members. Found inside: "Williamson County Texas, just north of Austin, was his territory. The Real Silk door-to-door sales business wasn't as disreputable as it sounds . . . " Read more Look inside
Life in Williamson County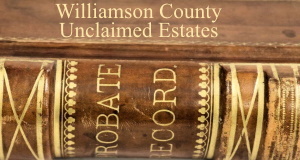 Williamson County Unclaimed Estates
These Deceased Residents from Williamson County left a total $628,451 in Unclaimed Money for their heirs. Please contact your Family and Friends in Georgetown, Cedar Park, Taylor, Coupland, Florence, Granger, Hutto, Jarrell, Leander, Liberty Hill, Taylor, Thrall and Hare Texas . . . Check the list
What's your Favorite Book about a Texas County, Town, Person or Place? Here's our best reads list County by County