Look Who's Talking about Texas History
Davick Services recommends the Facebook Group "West Texas History & Memories" for history, famous people, old photos, stories, unclaimed estates and genealogy of the Western Half of Texas . . . Check it out and join the conversation
Books About People Tom Green County Texas
Books about our friends, family and ancestors from Ben Ficklin, Carlsbad, Christoval, Knickerbocker, San Angelo, Veribest, Wall, Lone Wolf and Water Valley Texas

This site contains affiliate links to products. We may receive a commission for purchases made through these links. As an Amazon Associate we earn from qualifying purchases.
The Worst Hard Time: The Untold Story of Those Who Survived the Great American Dust Bowl
Following a dozen families and their communities through the rise and fall of the region, Egan tells of their desperate attempts to carry on through blinding black dust blizzards, crop failure, and the death of loved ones.
"On Sunday afternoon, September 11, 1933, nearly three thousand people gathered around a rocky scab of land at the edge of Clayton. The grave was opened, a pine box was lifted up out of the ground, and the top removed. An ex-sheriff, brought in from Tom Green County, Texas, where Black Jack had done some robbing, was called forth to take a good look. "Yup. That's him. . . . " Read more Look inside
These is my Words: The Diary of Sarah Agnes Prine, 1881-1901
Found inside:" August 6, 1881, We traveled up the river to the old town of Florence then come to the mouth of the San Pedro river. at that point we are joined by two wagons of folks who want to throw in with us to go east. By the time Papa gets done saying all he knew about San Angelo they is ready to go there too ... It is Mr. and Mrs. Lawrence and their four daughters Alice and Louisiana and Ulyssa and Savannah. They is all beautiful girls too except the middlest one whose got buckt teeth. I seen her smile at a rabbit and scare it! . . . " Read more Look inside
The Miniature Wife: and Other Stories
The eighteen stories of Manuel Gonzales's exhilarating first book render the fantastic commonplace and the ordinary extraordinary, in prose that thrums with energy and shimmers with beauty. "Isailo Abbasonov moved to Ben Ficklin, Texas, in 1938. In the late fall of 1936, he and his wife, Fabia, left their home in Albania on a steamer bound for New York City. They spent two years in New York, where Isailo, a skilled accountant . . . " Read more Look inside
Lottie Deno: Mysterious Hell Cat of the West
One of the most mysterious of the petticoat dealers that roamed the Old West was the voluptuous Lottie Deno. She was a dazzling beauty, wore the finest clothes, and conducted herself as a refined Southern belle. Yet, she told no one her real name; "Lottie Deno" was a nickname given to her by other gamblers. "The people of San Angelo buzzed with theories of just who Lottie really was; a New Orleans society woman, a visiting princess from Europe, or a woman on the run from a brutal husband. Even though she conducted herself with perfect propriety, the women of the fort breathlessly gossiped abut that woman of the casinos, "Mystic Maud." Apparently unfazed by the gossip, Lottie continued to rake in solid winnings at the gambling tables..." Read more Look inside
All the Pretty Horses
by Cormac McCarthy
All the Pretty Horses is the tale of John Grady Cole, who at sixteen finds himself at the end of a long line of Texas ranchers, cut off from the only life he has ever imagined for himself. With two companions, he sets off for Mexico on a sometimes idyllic, sometimes comic journey to a place where dreams are paid for in blood ... The story begins and ends in Tom Green County Texas . . . Read more Look inside
The Time It Never Rained
by Elmer Kelton
"In the 1950s, West Texas suffered the longest drought in the memory of most men then living. "He tried. there just wasn't nothin'" So he's got him a job with a feed company, travelin' out of San Angelo. Times like this, there's one thing that's bound to sell good, and that's feed." Manuel grimaced. "Big place San Angelo. I bet they got forty-fifty thousand people over there ..." Read more Look inside
The Deadliest Outlaws: The Ketchum Gang and the Wild Bunch
Found inside:
"On February 9, 1882 without the blessing of Viana's parents, she and Will Carver were wed in San Angelo. Then, on July 22, 1882, after less than six months of marriage, and two days short of her eighteenth birthday Viana Byler Carver died of complications during pregnancy... "Some of the money may have been impounded by people living in, or near, such Texas communities as Knickbocker and Christoval who had undertaken to hold it in safekeeping for the gang. We may be sure the the outlaws disbursed a wide range of bribes, presents, and gratuities, in return for protection, shelter and information. In 1895, several residents of San Angelo were suspected locally of ... " Read more Look inside
Desperate Men: Revelations from the Sealed Pinkerton Files
"In February 1906, Nye ordered a search of Kilpatrick's cell and found a small picture of a man, taken in San Angelo Texas. On a hunch it might be one of the Wild Bunch still at large, he rushed it to William Pinkerton, who in turn sent it on to Denver. They sent it to Bill Cheney in Knickerbocker, Texas, who knew the family. On February 27 Cheney replied. This photograph is of Boone Kilpatrick. He signs his name D. B. Kilpatrick and has a sheep ranch on the Pecos . . . Read more Look inside
A POISONED PASSION
The True Story of a Young Mother, her War Hero Husband, and the Marriage that Ended in Murder
Found Inside: "On his long weekend off, in early March 2005, Game Warden Marshall Davidson drove four hundred miles to the West Texas town of San Angelo to visit his parents at the family home. It was a tumultuous time for the Davidson clan. Marshall's brother-in-law Michael Severance had disappeared without a trace in January. Wendi, Marshall's veterinarian sister, was running a new business and caring for her infant and 3-year-old sons with help help from her parents ... " Read more Look inside
Voices of the Buffalo Soldier:
Records, Reports, and Recollections of Military Life and Service in the West
The Buffalo Soldiers were African Americans who served in the Regular Army between the Civil War and World War I and fought in some of the most difficult wars against western Indians. Found inside: "Jacob Wilks died in 1922, the oldest black citizen of San Angelo , Texas." "The reminiscences of soldier life on the border, as given below, were related to John Warren Hunter, at San Angelo, Texas in 1914. . . Read more . . . for more like this please see Black Texans in History
200 Texas Outlaws and Lawmen: 1835-1935
This is the story of Texas's most famous criminals, intrepid lawmen, and others, such as James Edwin Reed, who dared to be both. "Black Jack Ketchum's first known murder was on Thursday, December 12, 1895, when he killed John N. "Jap" Powers in Knickerbocker, Texas, with the assistance of Power's wife. Ketchum fled to New Mexico, and Mrs. Powers was arrested. Tom joined his brother . . . Read more Look inside
The Gunfighters: James Horan's Authentic Wild West
Period photographs and documents, along with eyewitness accounts and personal reminiscences, present a fascinating journey into the Old West, offering portraits of the frontier's most famous--and infamous--gunfighters. Found Inside: "Tap Duncan's brothers were Richard, hanged at Eagle Pass, Texas, for the murder of a woman and her two children during a robbery, and Bygo, a rancher near Knickerbocker, Texas. Tap Duncan married a sister of "Black ..." Read more
Let's Pretend This Never Happened: A Mostly True Memoir
By Jenny Lawson
The #1 New York Times bestselling (mostly true) memoir from the hilarious author of Furiously Happy.
Found Inside: "Shortly after that incident, we packed up and moved to the small, violently rural town of Wall, Texas. ... If you compared the Wall, Texas of today with the Wall Texas of my childhood, you would hardly recognize it, because the Wall Texas of today has a gas station. And if you think having a gas station is not that big of a deal, then you're probably the kind of person who grew up in a town that has a gas station, and " ... Read more Look inside
He Rode with Butch and Sundance: The Story of Harvey "Kid Curry" Logan
"Will Carver may have been in a hurry to get to Texas because he wanted to see his girlfriend, Laura Bullion, whom he had promised to marry. When her father died in 1881, Laura's mother moved her three children to their maternal grandparents' Dove Creek ranch near Knickerbocker, Texas in Tom Green County. Laura reportedly left home not long after her mother died in 1891, and it is believed that she ..." Read more Look inside
The Last of The Old-Time Cowboys
Within the pages of this book these genuine legends who rode through a golden moment in American history live on. Found inside: "Orville Sparks was born October 8, 1911, and first punched cattle about 1925 on the Benge Ranch in Concho County. Entering into a partnership with a stockman, he ranched and cowboyed in the 1940s in Tom Green County . . . Read more
Spirits of the Border V: The History and Mystery of the Lone Star State
HAUNTED PLACES IN SAN ANGELO TEXAS
According to this book of haunted places in Texas, San Angelo is home to 8 mysterious and haunted places including Angelo State University, Dorsey B. Hardeman Building, Girls High Rise Dorm, Fort Concho, Miss Hattie's Whore House, Santa Rita Park, Sun Set Mall and Regan Elementary . . . Check it out
See Also Mysterious Texas
In Search of Butch Cassidy
"Following a lead based on an envelope addressed to Tap Duncan, found in the dead man's coat, Denver and Rio Grande detective R. Brunazzi traced the letter to its origin in Texas, and upon interviewing the the dead man's relatives, verified that the outlaw was indeed, Tap Duncan of Knickerbocker, Texas" . . . Read more Look inside
Flash Floods in Texas
Found Inside: "Ben Ficklin served as Tom Green's county seat until it was wiped out by a flash flood in August 1882. The seat of government then moved to San Angelo, another city ravaged by flash floods until " . . . Read more Look inside
A Lone Star Cowboy: Being Fifty Years' Experience in the Saddle as Cowboy, Detective and New Mexico Ranger
"Early in the coming spring I hired out to Tom Merril (who was later murdered, as was also his young wife, by renegade Mexicans in Tom Green County, Texas), at thirty-five dollars a month, to be one of his cowboys "up the Chisholm Trail" to . . . Read more Look inside
Texas Woollybacks: The Range Sheep and Goat Industry
Paul Carlson engagingly chronicles the development of the range sheep and goat industry from Spanish times to about 1930.
"Sam Hill of Tierra Alta, near San Angelo in Tom Green County, built one of the first wolf-proof fences. Born in 1859, Hill herded sheep as a youth near Austin. In 1880 he began raising sheep for himself. Later, at the turn of the century, be began running cattle and goats in Tom Green County. . . . . " Read more Look inside
The Birth of a Texas Ghost Town
"Even though she had a contract to spend 1939-40 back in the Dodson Prairie country school, during summer 1939 Mary Jane Gentry accepted an offer to teach in the public schools of San Angelo, Texas. The pretty town beside the tree-lined Concho River..." Read more Look inside
Pearl's Historical Tour
Historical Tour in and close to the City of San Angelo, Texas. The book contains photos and historical facts about Fort Concho, cowboys and the 1923 oil boom when the Santa Rita Number One brought herself in ... Read more Look inside
Tailwind Both Ways: A Cowman's Chronicle
From the hills of Coahuila, Mexico, to the plains of west Texas, this is the story of one family's struggle to survive and prosper in the face of the declining U.S. cattle industry. Laurie Lasater, a descendant of two of America's great pioneer ranching families, began his career in Mexico in 1964 where he introduced the Beefmaster breed of cattle, which was genetically developed by his family, to the Mexican market. In 1972 he moved to San Angelo, Texas, where he later founded . . . Read more
Sandhills Boy: The Winding Trail of a Texas Writer
by Elmer Kelton
"I discovered America on April 29, 1926, at Horse Camp on the Five Wells Ranch a few miles east of Andrews , Texas . My mother recalled that it was a wet , stormy day , which seems ironic . I have spent my life in rain-shy West Texas, where most day we search in vain for a promising rain cloud. My uncle Ben Kelton, still in his teens, hurried to town to fetch the doctor ..." Read more Look inside
Early San Angelo
Soon after the Civil War, the city of San Angelo developed around Fort Concho. The mission of this western fort was to protect transportation routes, travelers, and settlers as they moved into territory claimed by Native Americans; and the mission of San Angelo was to make money by providing goods that the military personnel wanted and needed. After Fort Concho created peace in West Texas, it ceased operations. By 1889, however, San Angelo had plenty of dedicated citizens who would create an important western city on . . . Read more Look Inside
No Reason to Kill: The search for Sheila Elrod's killer
No Reason to Kill, Russell S. Smith's second nonfiction book, revolves around a murder that some say robbed San Angelo, Texas of its innocence. Twenty-year-old Sheila Elrod was shot to death during a jewelry store robbery on February 12, 1980. Police officers collected evidence and detectives pursued anything that even looked like a lead, but it was 21 years before a persistent Texas Ranger and DNA technology would place a suspect behind bars . . . Read more Look inside
West Texas Tales
Historian Mike Cox has been writing about Texas history for four decades, sharing tales that have been overlooked or forgotten through the years.
"With one wagon, two horses and forty head of shorthorns, the Pruett family traveled five hundred miles from New Mexico to Ben Ficklin, Texas. On New Year's Day 1877, they finally reached Ben Ficklin, at the time the seat of Tom Greene County " . . . Read more Look inside
San Angelo 1950s and Beyond
San Angelo grew steadily as the largest trading center in the region after World War II, doubling in population from 1940 to 1950. Growth was spurred by oil production west of the city, construction of the Goodfellow Air Force Base, and the establishment of local ranches to raise sheep, goats, and cattle . . . Read more Look inside
Homestead Pioneers of Texas' Frontier Volume II
by Jerry Lackey
The book grew out of Lackey's Homestead series in the San Angelo Standard-Times, which Lackey calls "the longest series of my 50-plus-year newspaper career, more than 200 stories thus far, and counting." A few examples . . . Read more
W. F. Matthews: Lost Battalion Survivor
The inspiring true story of a God-and-country American. A story of survival in the prisoner of war camps of the Japanese in World War 2. Matthews spent 3 1/2 years as a P.O.W. after being captured during the early days of the war. This book helped get W. F. Matthews inducted into the Southwest Military Museum Hall of Fame in San Angelo, Texas . . . Read more Look inside
Windmills, Drouths and Cottonseed Cake: A Biased Biography of a West Texas Rancher
John Furman Haley lived from 1897 to 1972, from wagon roads to superhighways, from chugging locomotives to rocket-powered journeys in outer space. He was a West Texas rancher, and his attitude epitomized the creed of western ranchers and cowboys of his time.
Found Inside: From there they moved farther west to Sterling County, where papa bought a small ranch and went into the cow business. In 1905 they backtracked to Miles in Eastern Tom Green County and John entered school ... Read more
Getting Back to San Angelo
Something is bothering Christopher Bennett, and not just in a figurative sense. He seems like an unremarkable boy living a nondescript life in the west Texas town of San Angelo. However, Chris has a purpose that goes far beyond his wildest imagination. Mysteries that date back to the founding of San Angelo, Ben Ficklin, and Lone Wolf haunt his thoughts while answers . . . Read more Look inside
Blood and Money: The Classic True Story of Murder, Passion, and Power
Found Inside: "For a time Marcia worked the "spots" in West Texas, staying a day or so in San Angelo, moving on to Lubbock or Odessa. Then she telephoned home and her mother had disturbing news. The Texas Rangers had come looking for her, and the Houston homicide detectives had called to warn that Marcia was in danger of being killed by "characters" unless she contacted them ... " Read more Look inside
Black Cowboys in the American West: On the Range, on the Stage, behind the Badge
Who were the black cowboys? They were drovers, foremen, fiddlers, cowpunchers, cattle rustlers, cooks, and singers. They worked as wranglers, riders, ropers, bulldoggers, and bronc busters.
Bess's eighty-plus years were described in just one-and-a-half pages. He spoke of hearing the news of freedom and going to work on a ranch in the old Ben Ficklin community in what became Tom Green County ...... Read more Look inside . . . for more like this please see Black Texans in History
Pistol Packin' Preachers: Circuit Riders of Texas
Circuit riders and other early preachers confronted dangerous outlaws, Indians, wild animals, and Texas' unpredictable weather. Found inside: "Another group of Christian believers camped on the banks of the South Concho River just south of San Angelo in Tom Green County. In the late 1800s, all the churches in this community of Christoval had a revival together. The location for this get together was a brush arbor. Rancher W. C. Jones remembered a tie when not all the events at the revival were " ... Read more Look inside
LETTERS TO HORRIE
by Mitzi Broome McKinney
These letters/essays were written by Mitzi Broome McKinney, and posthumously compiled (and very minimally edited) by her daughter, Rebekah McKinney-Reese.
"Born in 1925 in San Angelo, Texas, to George S. and Rebekah Jane Moody Broome, Mitzi was raised in San Angelo and on the family ranch in Broome, Texas . . . Read more Look inside
Mean As Hell: The Life of a New Mexico Lawman
by Dee Harkley
Found Inside" Jim (Dee Harkley's brother) went to work for Wash Tanklesee, on the Concho River in Tom Greene County and was later killed in a gunfight at Cotton Mott near Matador Texas . . . Read more Look inside
Are We Not Foreigners Here?:
Indigenous Nationalism in the U.S.-Mexico Borderlands
In Are We Not Foreigners Here?, Jeffrey M. Schulze explores how the U.S.-Mexico border shaped the concepts of nationhood and survival strategies of three Indigenous tribes who live in this borderland: the Yaqui, Kickapoo, and Tohono O'odham. "While en route, the 600 or so Kickapoo migrants were attacked by Confederate soldiers near the present-day town of Knickerbocker, Texas, along Dove Creek. The out-numbered and disorganized Confederates were routed by the Kickpoos, with some twenty left dead and nineteen left wounded" . . . Read more Look inside
Texas Ranger Tales II
"The closest the T&P Came to San Angelo, however, was Abilene, eighty-nine miles to the northeast. In the mid-1880s, to get the the seat of sprawling Tom Green County, which at that time stretched all the way to New Mexico, a person had only three practical choices o transportation: hors, wagon, or stagecoach .. . . Read more Look inside
Fourteen Unsung Pioneers of Early Rock And Roll Who Didn't Get Their Due
Fourteen artists who helped define the early roots of rock and roll with their historic pioneering contributions, but were never given the credit for doing so because something got in their way.
Found inside: "Jerry was a student at Water Valley High School in Water Valley, Texas, twenty-two miles northwest of San Angelo. There were only twenty students in his class, but as small a school as Water Valley was, it did have a football team and Jerry ... " Read more Look inside
Fritz and Annie Lippe Family: German Cotton Farmers in Early 1900s Texas
Fritz and Annie Lippe Family-German Cotton Farmers in Early 1900s Texas describes the childhood of Fritz and Annie beside the Brazos River in east Texas, their families' move west, their courtship and marriage, and the rearing of their eleven children on rented farms. Found Inside: 31 stories and photos of the Lippe family on cotton farms near Veribest Texas in the 1940's ... Read more look Inside
Marriage with a Gun to My Head
Robert came to me with a gun in his hand, pointed it to me, and said, If you don't marry me, you wont marry anyone. And if you do, I will look for both of you no matter where you go and kill you both. He cheated, beat me, killed people, was a jealous drunk, and was also a gambler and a rapist, and he never went to prison... "They found where in San Angelo he was, and they called him telling him they had Robert in custody for robbery, and when they told him he believed it and told them to let Robert go because he had done it not Robert. At least he had the , , , Read more Look inside
Lost Trails of the Cimarron
Lost Trails of the Cimarron is Harry Chrisman's folk history of nineteenth-century Cimarron country - southwestern Kansas, southeastern Colorado, and the neutral strip of Oklahoma and the Texas Panhandle. Buffalo hunters entered the area in violation of the Medicine Lodge Treaty, followed by cowboys... Found inside: "... forces withdrew to their range within the Neutral Strip. Before long a Texas herd under a foreman named Moore, from Tom Greene County, Texas, was given the coce of following the Beaver River trail established the the Strip ranchers on the south bank of the Beaver or using the " . . . Read more Look inside
Memorias: A West Texas Life
by Salvador Guerrero
Memorias...of the wool shearer's occupation: Leaders of several sheepshearing crews made their homes in San Angelo during the 1930s. Their true title was capitan de tasinques. This memoir recounts his experiences living in the barrio in San Angelo, serving as a soldier in World War II and becoming an activist for Mexican American rights . . . Read more
Spirits of the Border: School Spirits
In this newest installment of this award winning series, the authors look at what they like to call School Spirits! Find Haunted Texas schools in . . . Levelland, Lindale, Littlefield, Lubbock, Luther, Mcallen, Mesquite, Mission, Monahans, Moody, Nacogdoches, Odessa, Pasadena, Pearsall, Plainview, Rio Hondo, San Angelo, San Antonio, San Benito, San Juan, San Marcos, Santa Ana, Sealy, Seguin, Shafter, Sweetwater, Tyler, Uvalde, Waco, Weslaco, White Oak, and Zapata, Texas . . . Read more
Texas Cowboys: Memories of the Early Days
The thirty-three Depression-era interviews presented here were culled from the WPA-Federal Writers' Project. They faithfully show how old-time Texas cowhands lived and how they felt about their glamour-less existence. "My father and a brother of Hez Lowe, the present sheriff of Tom Green County, where in the bunch that went out. They found old Britt's body mutilated; his eyes were punched out, body split open, and the internal organs removed and replace by " ... Read more Look inside
The Trail Drivers of Texas: Interesting Sketches of Early Cowboys
These are the chronicles of the trail drivers of Texas those rugged men and, sometimes, women who drove cattle and horses up the trails from Texas to northern markets in the late 1800s.
"I remained at home until the spring of 1883, when I went to Hearne, Texas, and struck out with an outfit going to San Angelo in Tom Green County" . . . Read more Look inside
Game of My Life Texas A&M Aggies: Memorable Stories of Aggies Football
Game of My Life Texas A&M Aggies describes, in colorful detail, the single-favorite game of some of Texas A&M's greatest football legends. Jack Pardee "The family then moved to San Antonio, San Angelo, and finally Christoval, Texas, habitat of precious mineral waters, in search of a little relief for Earl. "We'd lived on a farm up there in Iowa and Dad was so crippled that he couldn't do any work ... Read more Look inside
The Shadow of Slavery: Peonage in the South, 1901-1969
Found inside: "Methods of intimidating black labor to keep them at work were anything but subtle. An unidentified writer from Lone Wolf, Texas , complained to the NAACP in 1923 that Isiah Sanders had refused to work on a Saturday afternoon because he wanted to play baseball . He went to the game , and later that afternoon his bosses " ... Look inside . . . for more like this please see Black History in Texas
Goodfellow Air Force Base (Images of America)
It was the first of scores of flying training fields established across Texas and Oklahoma during World War II. What qualified San Angelo as the site for the first of the new fields did not, for the most part, distinguish it much from its neighbors. The clear skies and flat, forgiving terrain so desirable in the training of pilots were regional qualities. But San Angelo also had Bob Carr . . . Read more Look inside
Foundation Dams of the American Quarter Horse
Found Inside: "Many years ago I visited William Anson's old Head of the River Ranch , near Christoval , Texas. Anson had died some years before . Mrs. Anson had graciously invited me to look through his records. When we went down to the basement of ... " Read more
Tejano West Texas
Featuring a side of Tejano history too often neglected, author Arnoldo De León shows that people of Spanish-Mexican descent were not passive players in or, worse, absent from West Texas history but instead were active agents at the center of it . . . Read more Look inside
A History Of Texas And Texans; Volume 5
"Her father landed with his family at Galveston about twenty-four hours before the battle of San Jacinto, and he hurried to the spot, joining Houston's army and took part in the glorious battle which gave Texas its independence. Later he spent his career as a farmer near Hempstead in Waller County. Mr. and Mrs.. Harvey's children were: Mrs. Lottie C. Dabney, who died in San Angelo; Peter Harvey, who died in Nugent Texas; and Mrs. L.B. Creath, who is still living and a resident of Abilene, Texas" . . . . Read more
More Ghost Towns of Texas
"Ben Ficklin - An estimated sixty-five people drowned in this flood--the greatest natural disaster in the history of Tom Green County. In a situation representative of the incident, members of the Metcalfe family and others sought refuge in the wood frame Metcalfe home. C. D. Foote drove to their home in his carriage to rescue them. but Mrs. Metcalf mistakenly thought that the water had reached" . . . Read more Look inside
San Angelo A to Z: A Young Reader's Guide
by Linda Thorsen Bond
Discover the story of a West Texas town that started with thundering herds of bison and grew to be a colorful city filled with history and fun. Follow the Concho River and learn - with English and Spanish words - about the many wonderful people, places, and things that make San Angelo such a special place. . . . Read more
Resources:

San Angelo Memories

San Angelo, TX: History and Memories

Remember in Christoval when.......

Texas History in the 19th Century (Amazon)

Vintage Texas Photos (eBay)

Early Life in Texas County by County

Books about Texas People and Places

True Stories of Amazing People and Places in Texas (Facebook)


Famous People from Tom Green County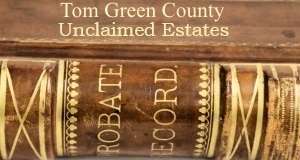 Tom Green County Unclaimed Estates
These Deceased Residents of San Angelo, Grape Creek, Knickerbocker and Christoval Texas Left a total $311,449 in Unclaimed Money for their heirs.
Know the Heirs? Let them know . . . See the list
What's your Favorite Book about a Texas County, Town, Person or Place? Here's our best reads list County by County






Tom Green Appraisal District
Tom Green County TX Experts
Tom Green County Unclaimed Estates
Famous People from Tom Green County
Life in Tom Green County 1900 - 1950
Books about Tom Green County People and Places