Look Who's Talking about Texas History
Davick Services recommends the Facebook Group "West Texas History & Memories" for history, famous people, old photos, stories, unclaimed estates and genealogy of the Western Half of Texas . . . Check it out and join the conversation
Books About Swisher County Texas
What's Your Favorite Book about a Swisher County Texas Person, Place or Event? Here are some of our favorites about Tulia, Kress and Happy Texas. Did we miss some good ones?
This site contains affiliate links to products. We may receive a commission for purchases made through these links. For Example: As an Amazon Associate we earn from qualifying purchases.
Another Pair Of Socks
Another Pair of Socks is a festive collection of holiday short stories penned and pinned together by six young authors with exceptional taste in modern footwear.
Grandpa Mclean had been born in Happy, Texas, and came home from France to service a hundred mile stretch of Highway 87, a boiling macadam snaking through Swisher County, connecting Amarillo to Lubbock by way of Plainview. Back then, paramedicine wasn't exactly . . . Read more
Texas Woollybacks: The Range Sheep and Goat Industry
Paul Carlson engagingly chronicles the development of the range sheep and goat industry from Spanish times to about 1930.
"Grazing circuits extended into the Red River drainage system as far southeast as Tule and Quitaque canyons and beyond into the Brazos River basin. Jesus Perea herded his flocks of thirty thousand sheep to Tahoka Lake, Yellowhouse Canyon, and Blanco Canyon . . . " Read more Look inside
A Texas Tale of the Depression
This story covers the time tunnel of the Great Depression in an area of Texas that had not changed for several decades and would continue to progress only slowly until the 1960s the Panhandle.
"Walter Bean, his two brothers, and I rode a bus together during the following two years, going to the town school of Kress . . . Read more Look inside
Texas True Crime Miscellany
Outrageous acts of villainy have slowly drifted out of the national limelight and into the dustbin of Texas history. Consider the genesis of a popular and critically acclaimed 1930 Broadway play was a brutal and cold-blooded murder that took place on the High Plains of Texas in 1925. Fred Conner, a prominent car dealer in Tulia, Texas, was found murdered by by the side of the road near the town of Kress on July 17, shot through the heart and in the back of the head..." Read more Look inside
Cruisin' Thru Life ~ Dip Street and Other Miracles
by Peggy Freeman
Cruisin' Thru Life ~ Dip Street and Other Miracles inspires traditional values and takes the reader back to faith and family. From the happy days of the 50s and 60s to today, these stories will cause the winds of yesterday to blow across your mind and strengthen your faith . . . Look inside
The Coldest Day in Texas
by Peggy Purser Freeman
On the coldest day in Texas—February 12, 1899—Shyanne Jones and her twin sister, Shenandoah, are snowbound in their schoolhouse in the Panhandle, along with the teacher—Shyanne's adored Miss Gibson—and Josh Paul Younger, the cutest boy in the county. Before rescuers can dig them out, Shenandoah's frail heart is weakened by the severe temperature. Gravely ill, she whispers her only wish . . . Read more
Lela and Joe
Lela Belle's Christian beliefs supported Prohibition. Joe Callaway's ambivalence toward faith shocks his family. But when Lela and Joe meet, their love is instantaneous.
"By Christmas 1920, Mother's parents had moved from the ranch in New Mexico to a small farm in the Texas panhandle, north of Tulia". . . Read more
Haunted by the Holy Ghost: Memoirs of a Reluctant Prophet
In this geographical, chronological and spiritual autobiography. The author describes the place of his birth: a farm in semi-arid Swisher County in the Texas Panhandle in depression/Dust Bowl days. He describes his schooling at a two-room rural school through elementary years, and his years at a small town high school. The author reflects upon the richness as well as the poverty of those days... Read more Look inside
That's All I'm Gonna Say: Earp Family Lore
Molly Stringer has authored five books. This book is filled with true stories from her life with friends and family. "In the meantime the couple of years that we had lived at Kress was enough. Jo Frances had found her soul ... I still always remember the love and acceptance shown to our family be the people of Kress, Texas. I will aways remember the ..." Read more Look inside
From The Heart Of A Country Preacher
"In 1940, the Howells moved to Kress, Texas where he served as pastor of the First Baptist Church for six and a half years. Clarence and Leta both taught school and he served as principal of the Kress High School..." Read more . . . for more like this please see Texas Church History
I Don't Sound Like Nobody: Remaking Music in 1950s America
"Wayne "Buddy" Knox was twenty-three years old when he recorded "Party Doll" in 1956. He later told an interviewer that he had written the song years earlier when he was "jus a kid," maybe fifteen, entertaining himself himself on his parents' farm near Happy, Texas, after chores were done . . . " Read more Look inside
Tell Me a Story PEPA "don't holler whoa when you're in a mud hole"
by Ernest Ervin (born in Kress Texas 1926)
When my first grandson, Tory, was about three years old I would lay down on the bed at night, when he would spend the night with us, and tell him a story to go to sleep by. After sometime he would say "Tell me a story Pepa" . When Chase was born is wasn't long until he and Tory would both want Pepa to tell them a story. My wife, Helen, suggested I write down the stories. So, to Tory and Chase Ervin and my wife I dedicate these remembrances - of stories of part of my life . . . Look inside
The Billboard Book of Number One Hits
Before MTV and VH1 . . . before books with "Stories Behind the Songs" of popular recording artists, there was Fred Bronson's stories behind the top chart hits.
"Buddy Wayne Knox, born July 20, 1933 in Happy, Texas, was the first artist of the rock era to write his own number one song (Elvis Presley was listed as songwriter on two of his number one hits before "Party Doll," but didn't actually participate in" . . . Read more
Murder Book: A Texas Murder Trilogy
By Tulia native Lana Payne Barnett features another trilogy of homicides that happened on the Texas Panhandle. The case of cocaine addicted Robert Blake who murders Fred Conner and dumps the body on a lonely Texas highway is a fascinating read. The hunt for the fugitive is an exciting one as J. Frank Norfleet pulls out all the stops to find the person who murdered his friend. Blake is eventually arrested, tried, convicted and executed. While on death row he pens an account of his exploits that become the basis for the most popular Broadway Play of 1930 . . . Read more Look Inside
Windmilling: 101 Years of Swisher County Texas History 1876-1977
A history of Swisher County in Texas from 1876 to 1977. Includes the windmill cities of Tulia, Happy, Kress and Vigo Park. Filled with pictures, community histories and families . . . Take a closer look
Non-Negotiable: The Story of Happy State Bank & The Power of Accountability
Based on the real life story of J. Pat Hickman, a man with a purpose, and the bank he leads, Happy State Bank, you will see firsthand what success looks like. Hickman transformed a sleepy small town bank from one location and $10 million in assets into 34 locations and over $2.5 billion in assets by knowing what he believes and not negotiating on what he holds dear . . . Read more Look inside
Christ and the cowboy
by Kenneth Wyatt from Tulia
Communication with words has always been a part of Kenneth Wyatt's life. Many believe his greatest contribution to the world of words is his outstanding ability to rhyme. With a mixture of story-telling, preaching, wit, childhood, salvation, humor and memories, his poetry touches us where we live and where we have lived. His poems are quoted and read by teachers, students, cowboys and clergy across the nation . . . Read more
Happy Days in Happy, Texas:

The Joys and Advantages of Growing up in The Town Without a Frown After World War II
It was the best of times; it was the happiest of times. Baby boomers, born in the latter part of the 1940s and into the 1950s, enjoyed an improved lifestyle after their parents survived the Great Depression and World War II. Parents could provide better lives for their children, especially for those who grew up in small communities like Happy, Texas, a small farming town in the Texas Panhandle thirty-five miles south of Amarillo and eighty-five miles north of Lubbock. The town's moniker, "The Town Without a Frown," really applied to these young . . . Read more Look inside
The Lonesome Plains: Death and Revival on an American Frontier
Loneliness pervaded the lives of pioneers on the American plains, including the empty expanses of West Texas.
"Hobart McManigal of Happy, Texas, and his father used to ride over to Hereford, Texas, to fish. Until around 1915 there was one place along the trail were all that was visible was a lone windmill. "you couldn't see another house. You couldn't see a fence. You couldn't see nothing but that windmill " Read more, Look inside
A Life Lived With Joy
by Miriam Joy Wood
...Then in 1926 they traded that land for the farm that I always knew as home. Our home was located 13 miles southwest of Silverton. The pavement from Silverton to Tulia was six miles north of us so our roads were not passable at all with any kind of moisture, however when I first remember we didn't go anywhere anyway... Read more
A Lone Star Cowboy: Being Fifty Years' Experience in the Saddle as Cowboy, Detective and New Mexico Ranger
"It was on this trip that I saw the piles of bones from thousands of ponies killed by orders from General McKenzie. They were at the head of the Tule Canyon, which empties into Canyon Paladuro. . . . Read more Look inside
Life in the Saddle
Englishman Frank Collinson went to Texas in 1872, when he was seventeen, to work on Will Noonan's ranch near Castroville. At the age of seventy-nine he began writing about the Old West he knew and loved. He had a flair for writing, a phenomenal memory, and a passion for truth that is evident in what he wrote and said. "His portrayal of Billy the Kid may be more sympathetic than most because of his dislike for the gunslinger's killer, Pat Garrett, whom he new between 1875 and 1906. In a 1938 letter to Bruce Gerdes of Tulia, Texas, Collinson wrote: "I never " . . . Read more Look inside
Angels' Food
Cook Book of Veda Wyatt, wife of the Texas Artist, Kenneth Wyatt of the Texas Panhandle. Tulia, Texas, 1988
Taking Out The Trash In Tulia, Texas
The title of this book was inspired by the headline on the back cover: "Tulia's streets cleared of garbage." A massive narcotics operation swept up 15% of the African American population of this town in the Texas panhandle. It was designed to get "trashy" people off the street. That's how Tulia's respectable folk characterized their famous sting and I believed them . . . Read more Look inside
Tulia: Race, Cocaine, and Corruption in a Small Texas Town
In the summer of 1999, in the tiny west Texas town of Tulia, thirty-nine people, almost all of them black, were arrested and charged with dealing powdered cocaine. At trial, the prosecution relied almost solely on the uncorroborated, and contradictory, testimony of one police officer. Despite the flimsiness of the evidence against them, virtually all of the defendants were convicted and given sentences as high as ninety-nine years . . . Read more Look Inside . . . for more like this please see Black Texans in History
Tall Enough to Coach: Elements of Leadership of Coaching and Life
Marsha Sharp was the coach of the Texas Tech Lady Raiders basketball team for over twenty years. This book traces Sharp's basketball journey from her beginnings in Tulia, Plainview, Lockney and Canyon Texas through her twenty-third season with the Lady Raiders. A 2003 inductee into the national Women's Basketball Hall of Fame . . . Read more
Texas Women and Ranching
Found Inside: "John Adair died unexpectedly in 1885, and Cornelia Adair became Goodnight's partner. Most commentators assert that Cornelia would become more engaged in JA affairs than John had ever been. Cornelia's partnership with Goodnight would end in 1887, and she would continue as sole owner of the ranch for the next thirty-three years. By 1887 the ranch had grown to over six hundred thousand acres and covered portions of Armstrong, Randall, Donley, Briscoe, Swisher, Floyd and Hall Counties" . . . Read more Look inside
Some of My Heroes are Ladies:
Women, Ages 85 to 101, Tell About Life in the Texas Panhandle
by Louise Carroll George
Some Real Good Old Boys. Men Ages 84 to 95 Tell About Life in the Texas Panhandle Area
by Louise Carroll George
Happy Tales Life in Happy, Texas
by Robert Lee
Happy Texas Yearbooks
Resources:
Life in Swisher County 1850 - 1950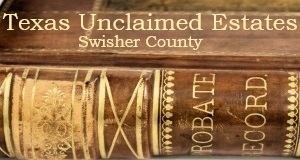 These deceased residents of Swisher County Texas left a total $22,902 in Unclaimed Money for their heirs. Know the Heirs? Please Share or Tag your Family and Friends from Tulia, Kress and Happy Texas to let them know they can collect it from the Texas Comptroller's Office . . . see the list
What's your Favorite Book about a Texas County, Town, Person or Place? Here's our best reads list County by County






Swisher County Appraisal District
Swisher County TX Experts
Swisher County Unclaimed Estates
Books about Swisher County People & Places
Life in Swisher County