Look Who's Talking about Texas History
Davick Services recommends the Facebook Group "West Texas History & Memories" for history, famous people, old photos, stories, unclaimed estates and genealogy of the Western Half of Texas . . . Check it out and join the conversation
Books About Reagan County Texas People and Places
What's Your Favorite Book about a Reagan County Texas Person, Place or Event? Here are some of our favorites about people from Big Lake, Best, Texon and Stiles Texas

All books listed here are available at Amazon. Just tap the book cover to read more, look inside and order if you want.

This site contains affiliate links to products. As an Amazon Associate we earn from qualifying purchases.

To read more and look inside an individual book just tap an image below
The Texas Rangers in Transition: From Gunfighters to Criminal Investigators, 1921–1935
Newly rich in oil money, and all the trouble it could buy, Texas in the years following World War I underwent momentous changes—and those changes propelled the transformation of the state's storied Rangers. "Ranger Charles Davis from Austin was assigned in November 1925 to Big Lake and Best in Reagan County to cooperate with the local authorities, an assignment that ended on January 5, 1926. On February 1, 1926, the adjutant general ordered...Read more Look inside
Now I See
by Buddy Helms from Big Lake Texas
"Jim's father had just disappeared when he was eight years old. He just didn't come home from work one day. Jim's life was turned upside down. he had become very introverted and had even had thoughts of suicide. The police had turned up nothing, and it seemed that they would never hear from Robert Greg again. Then, one day when they had all but given up all hope..." The author writes both fiction and non-fiction books about Christianity, faith, love, and relationships. He lives on a small ranch just outside of Big Lake, Texas..." Read more Look inside
West Texas Tales
Historian Mike Cox has been writing about Texas history for four decades, sharing tales that have been overlooked or forgotten through the years... "A town named Big Lake developed nearby, But Stiles remained the county seat---for the time being. Another major misjudgment associated with the courthouse came on ..." Read more Look inside
A Stake in West Texas: Pulling a Chain and Raising a Family Across Big Oil Country
In 1950, Ann was eighteen and Bob D twenty when he asked her to marry him and hit the road for West Texas.
"The voice of West Texas called to me throughout my life, but I was well into adulthood before I responded and made my first trip out there. For as long as I could remember, my father had told me about growing up in small towns far west of our home near Fort Worth, obscure towns like Monahans and Sanderson and Big Lake where he played with his siblings in the dust and dirt of the desert streets. He mentioned moving a lot when he was a kid, going to three different schools in three different towns during his first grade year..." Read more Look inside
Miracle Ball: My Hunt for the Shot Heard 'Round the World
"Back in 1921, in Big Lake, Texas, two Catholic nuns invested in an oil well. This was allowed by their priest on one condition. He told them to baptize a rose, and sprinkle the petals in the oil well, and paray every day to Saint Rita for luck---to achieve the impossible and strike oil. During the down time from drilling, the workers built a baseball field near the rig. After seventeen months of digging and drilling..." Read more Look inside . . . for more like this see Texas Football Stories - County by County
A Healing Place
Joyce Shaughnessy
The family finds a new home in Texon, Texas. Amos drove the truck over the railroad tracks and literally stopped in the middle of the little street on the other side, too astounded to continue. Everyone but Hannah, including Addie, was sitting with his or her mouth open, shocked at what there was to see. It was like out of a picture. Texan was a little town with neat gray houses trimmed in white, all in straight little rows. The neat dirt road ran in circles around the camp, where green grass had been planted..." Read more Look inside
The Rookie: The Incredible True Story of a Man Who Never Gave Up on His Dream
A decade after Jim walked away from the minors and began a life of fatherhood and mortgage payments, he made a promise to the hardscrabble high-school team (Reagan County High School) he coached: If they could win their local championship, he would try out again for the big leagues. They did-and he did. Now, in this wondrous, heart-tugging book, Jim Morris tells the story of his remarkable life and his amazing journey to the Big Show at the age of thirty-five . . . and how he finally fulfilled his childhood dream... Read more Look inside
The Movie Lover's Tour of Texas: Reel-Life Rambles Through the Lone Star State
"The movie shows how Morris, played by Dennis Quaid, grew up in Big Lake, where, as in most small Texas towns, high school football is the dominant sport. However, from earliest childhood, Morris had loved baseball exclusively. Except the the strangely mystical framing device that opens the movie---something about nuns praying for oil---The Rookie offers an unusually honest glimpse into contemporary small-town Texas life, middle-class routines, and the push-pull of family members continually adjusting..." Read more Look inside
Army Life: The first four months in my first duty station.
by Ramon Carrasco
I never saw myself as a soldier. I always imagined myself doing many different things, but this one was not one of them. My senior year in high school I planned everything out. It was nothing like this. Life has a funny way of changing your plans.Author Ramon Carrasco joined the U.S Army as a last resort, eager to leave the boring normalcy of Big Lake, Texas, and to make a fresh start. But he struggles..." Read more Look inside
Gospel of Mark: Simplified Cowboy Version
by Kevin Weatherby from Big Lake
Like a fast moving western, the Gospel of Mark jumps straight into the action. Ride along with Jesus and his cowboys as they ride the countryside, heal the sick, feed the poor, and even cast out demons. Believed to be the earliest written of all the Gospels, this paraphrase of Mark lets you see the sights, sounds, and actions of Jesus and his disciples in a brand new way. Join Kevin Weatherby, founder of Save the Cowboy, as he once again saddles up and takes you on a wild ride through the story of Jesus...and shows how it can change your life. Forever... Read more Look inside
Drillers, and Tool Pushers: Thirty-Three Years the Oil Fields
Oil, the black gold of Texas, has given rise to many a myth. Oil could turn a man overnight into a millionaire--and did, for some. But these myths have obscured what life was really like in the oil patch..."We settled in Big Lake. It wasn't hard to do, since the local men we hired turned out ok. I stayed on at the Big Lake Hotel at weekly rates and we all got acquainted with the towns people and really felt welcome in Big Lake. It was a friendly town. There just wasn't much social life in Big Lake. Mostly, wives in the company stuck together, as they had nothing in common with the ranchers and townspeople. Amy and Abby Saak were close friends and helped Amy get settled ..." Read more Look Inside
Mike's New Reality
Buddy Helms writes both fiction and non-fiction books about Christianity, faith, love, and relationships. He and his wife, Carla, recently sold the ranch where they lived outside of Big Lake, Texas to make more time for ministry. He served as the Pastor of Bethel Baptist Church in Big Lake for over twelve years. He is currently the Pastor of Brentwood Family Fellowship in San Angelo, Texas." Mike's New Reality" was his first novel..." Read more Look inside . . . for more like this please see Texas Church History
The Great Cow-Mission: Campfire Cowboy Ministries
by Kevin Weatherby
For years, there are things that humans have been searchin' for. Books have been written. Legends have been passed down from generation to generation. Expeditions have been organized and lives have even been lost. I think it's time we finally called in some cowboys, their horses, and their cowdogs to help find some of these things. The author spent his high school years on the Rocker B Ranch in Big Lake Texas. . .Read more Look inside
On the Wind: One Woman's Journey Through Life
by Gladys Dorris
A young Canadian girl grows up fast in a mostly dysfunctional childhood. As if she is blown in the wind, her life takes her to unexpected places. The story chronicles her journey as she quietly endures unimaginable trials and finally finds safety, security and love in another country... Dorriss' writings have won first place several times in annual State-level completions sponsored by The Texas Federation of Women's Clubs; her work has been published in both the Texas Clubwoman and in the Big Lake Wildcat, a weekly newspaper for Big Lake, Texas... Read more Look inside
Graham Barnett: A Dangerous Man
"In May of 1923, Graham heard that there was a huge oil boom on at the Santa Rita oil field hear the small town of Big Lake. The boom had created two more towns, Best and Texon..." "On the afternoon that Noisy Watson was killed in Big Lake, Prosser was sowing some of his saddles at a barbeque and roping in Best. The story of the shooting reached them at the barbecue quickly, and Prosser internalize it...","Whatever evidence Graham was looking for when he drove to Big Lake, he didn't find it with Kirtley Watson. What he did find was a man with a brick who had whipped him before and showed every indication of being prepared to do it again..."
Lost, Texas: Photographs of Forgotten Buildings
Bronson Dorsey takes us on a tour of old, abandoned buildings in Texas that evoke the mystique of bygone days and shifting population patterns... "Stiles Texas has received two historical markers---one in 1969 for the courthouse, the other in 1970 for the cemetery. Stiles is 19 miles north-northwest of Big Lake on SH 137..." Read more Look inside
A Boy From Barnhart: Times Remembered
by Herbie R. Taylor
"The move pleased me, because with part of the home in Reagan County, it meant I could go to school in Big Lake, play football, and see Penny Farr every day. In addition, we had electricity, television, a dial phone, and all the comforts that city folks were accustomed to enjoying. Moreover, I had my own house, The ranch house had only two bedrooms and one bathroom, so Daddy had a small building built beside the main house for me. It was a..." Read more Look inside
Ghost Towns of Texas
"Texon sprang up as a company town to house workers employed by the Big Lake Oil Company soon after the discovery of petroleum on University of Texas lands a the the Sant Rita No. 1 well in Reagan County. When the well blew ion on May 28, 1923, the site had only two wooden shacks and the drilling rig, but within a year it had become a booming oil field community with hundreds of residents. The Big Lake Oil Company owned Texon entirely... ' Read more Look inside
More Ghost Towns of Texas
"Best Texas lies on the south side of U.S. Highway 67 where that road intersects gravel Reagan County Road 113 at a point that is 9.4 miles west of Big Lake and 19.2 miles east of Rankin. Visitors should be wary of rattlesnakes, sting insects, sharp objects and thorny plants..." Read more Look inside
Texon: Legacy of an Oil Town
From 1924 to 1962, Texon was a model company oil town in Reagan County, Texas. Pittsburgh-based Big Lake Oil Company developed the town site next to the Big Lake Oil Field and Santa Rita No. 1, the discovery well on University of Texas lands in the Permian Basin. Pres. Levi Smith ensured that company employees and their families enjoyed comfortable housing and community amenities, including a grade school, hospital, nondenominational church, theater, swimming pool, and baseball park, as well as a cafe and dry goods, grocery, and drugstores... Read more Look inside
Prophet's Prey: My Seven-Year Investigation into Warren Jeffs and the Fundamentalist Church of Latter-Day Saints
Found Inside: "Upon his arrival in Texas, the prophet was taken to the Reagan County Jail, located sixty-five miles west of San Angelo, where his trial was scheduled to be held. The jail is a holding tank that handles the overflow inmate population from several surrounding counties, Big Lake Sheriff Jeff Garner pledged that Jeffs would receive no special treatment in the ninety-six-bed facility. What was unmentioned was that the Reagan county Jail is a for-profit facility and provides a telephone in the cell of every prisoner . . . " Read more Look inside . . . for more like this please see Texas Church History
Life in Reagan County 1850 - 1950
Reagan County Estates with Unclaimed Money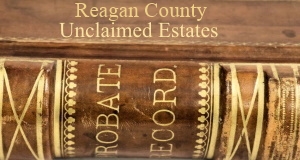 These Deceased Residents of Randall County Left a total $3,504 in Unclaimed Money for their heirs. Please share this with your family and friends from Big Lake and Reagan County Texas to let them know how to claim their inheritance from the Texas Comptroller's Office. . . see the list
What's your Favorite Book about a Texas County, Town, Person or Place? Here's our best reads list County by County