Look Who's Talking about Texas History
Davick Services recommends the Facebook Group "West Texas History & Memories" for history, famous people, old photos, stories, unclaimed estates and genealogy of the Western Half of Texas . . . Check it out and join the conversation
Books About Nolan County Texas People and Places
Favorite stories about people and places from Sweetwater, Roscoe, Blackwell, Decker, Wastella and Hylton in Nolan County Texas.

This site contains affiliate links to products. We may receive a commission for purchases made through these links. For Example: As an Amazon Associate we earn from qualifying purchases.
Wicked Women: Notorious, Mischievous, and Wayward Ladies from the Old West
Found inside: By the summer of 1876, Libby and her family were settled in Sweetwater Texas. She and Billy purchased a small ranch outside town and a dance hall on Main Street. Libby was the main attraction on stage, but the stable of women who worked for her behind the scenes brought in the lion's share of the business. Billy protected his wife whenever he needed to but spent much of his time away from the saloon, leaving the daily operations of the brothel and tavern . . . Read more Look inside
From a Southern Porch
Emily Dorothy Scarborough (January 27, 1878 - November 7, 1935) . She wrote about Texas, folk culture, cotton farming, ghost stories and women's life in the Southwest. Scarborough was born in Mount Carmel, Texas. At the age of four she moved to Sweetwater, Texas for her mother's health, as her mother needed the drier climate . . . Read more Look inside
Spirits of the Border V: The History and Mystery of the Lone Star State
HAUNTED PLACES IN SWEETWATER TEXAS
According to this book about haunted places in Texas there are three haunted places in Sweetwater: the Sweetwater High School at 1205 Ragland Street, Sweetwater Lake and the Texas Movie Theatre at 114 East Broadway... Check it out . . . for more like this, see Mysterious Texas
North of 9-Mile Mountain: Grabbing the Heart Out of the Watermelon
by Melton B Harp
"North of 9-Mile Mountain: Grabbing the Heart Out of the Watermelon," is a collection of stories, poems, pictures, and songs that celebrate the sweetness of life in small-town America. The book spotlights twenty-five years immediately following the end of World War II, a remarkable time in history called by some, "America's Golden Era." Set on the stage of one small city in semi-arid West Texas, the collection tells of challenges faced by all of America's small towns as they adapt to technological and societal change, and of individuals who were remarkable, not for causing or impeding change, but for their every-day contributions to the sweetness of life in their community..." Read more
Flying With One Wing
Cliff Etheredge was born in Roscoe, Texas on September 21, 1942, to Pete and Hilda Etheredge. He had one brother, Jay. Cliff graduated from Roscoe High School and Texas Tech University. He then began farming with his dad in the Wastella community northwest of Roscoe. He was a member of the Texas National Guard for six years. In 1972, Cliff was severely injured in a farming accident resulting in the amputation of his right arm. He understood that attitude would determine success or failure. He has since spent his life overcoming the myriad of obstacles that have presented themselves daily . . . Read more Look inside
A Sniper in the Tower: The Charles Whitman Murders
"The impetus to review the effect of violence depicted on television was given a jolt when on August 5, 1966 a fifteen-year-old boy was arrested for shooting a night watchman in the West Texas town of Roscoe. "I've been thinking about why I did it..." Read more Look inside
"Catch 'em Alive Jack": The Life and Adventures of an American Pioneer
Best known for catching wolves alive with his bare hands, John R. Abernathy (1876–1941) was born to Scottish ancestors in Texas. Raised in the burgeoning railroad town of Sweetwater. Found inside: "In 1882, my father was thrilled with the stories of opportunity in Western Texas. Bitter Creek, located ten miles south of Sweetwater, county seat of Nolan county, was the place he selected for a cow camp ... About the only law in Nolan County was the rule of the six-shooter. When persons had disputes they settled their quarrels with guns instead of appealing to the courts; for killing a man the slayer would be offered a drink at the bar . . . " Read more Look inside
From Boxing Ring to Battlefield: The Life of War Hero Lew Jenkins
World champion boxer Lew Jenkins fought his whole life. Found inside "..The family moved to Sweetwater, Texas where Lew started Newman High School. In Sweetwater, Lew started fighting in alleys. He was matched against Mexican kids, and the winner would get a pie, which Lew always won. His days of fighting with his hands had started. When Lew was fifteen years old, in 1932, his father died, becoming a statistic of the Great Depression. Minnie Jenkins kept the family together as best she could. Later that year T.J. Tidwell's carnival came through Lew's town . . . Read more Look inside
Y'Reckon?
by Stan Johnson
Found inside: "Back in 1932, Mama and Daddy lived at Shady Rest, about four miles down Bitter Creek from Sweetwater Lake Dam" "I remember a short thirty years ago or so, we had three meat-packing houses in Sweetwater. The people doing business with them and working there probably thought business and working conditions would be the same forever. Now there are four packing houses serving the United States. Lets review this: There were almost as many packing houses in Sweetwater as there are now in the whole nation. We used to have car lots, automotive, tractor and boat dealerships all over town. We had more churches and filling stations here than nearly any place I can remember . . . " Read more Look inside
Texas Women on the Cattle Trails
Found inside: "By early April, Howell and Mary moved to the Bar S ranch near Sweetwater, in Nolan County. Mary had never been on a ranch, much less the ramshackle, hard scrabble ones of West Texas. Her father's home in Austin was a mansion in the center of town, and she had grown up surrounded the most elegant of luxuries. The homes on the treeless plains of West Texas were anything but elegant, and Mary was amazed to find that most homes consisted of a large, square dirt room cut into the south side of a lolling hill. At the back of the earthen room, a fireplace provided a semblance of a kitchen. Mary learned that a chimney was dug through to the top of the hill, where smoke would sometimes make its escape . . . Read more Look inside
Ultimate Museum Musings
by Travis Monday
"Contains the complete collection of 62 articles with photos previously published by the author in the Sweetwater Reporter in Sweetwater, Texas, about the history of Nolan County, Texas, and the surrounding area. Includes an index and additional articles and chronologies designed especially for researchers and family historians. Topics include: Women Airforce Service Pilots (WASP), Royal Air Force (RAF), Double Heart Ranch and Rodeo, Harley Sadler, Lew Jenkins, Elvis Presley, Sweetwater Fire Department, Law Enforcement Stories (Lawmen & Outlaws), Cowboys and Indians, Frank Hamer ..." Read more Look inside
Bud & Me: The True Adventures of the Abernathy Boys
In 1905 Temple and Bud Abernathy at ages 5 and 9 set out on a series of daring rides alone across America. Raised by their widowed father, "Catch-'em-Alive" Jack Abernathy, from Sweetwater Texas. The daring little boys traveled alone on horseback from Frederick, Oklahoma to Sante Fe, New Mexico and back. Then to New York City, alone on horseback to meet their friend "Teddy" and back to Oklahoma driving their own "Brush" automobile. Their longest ride and again alone and on horseback, takes place in 1911 . . . Read more Look inside . . . for more like this please see Texas Cowboy History
The Wind
The Wind by Dorothy Scarborough is a tensely written story about Letty Mason's descent into madness. The novel opens with Letty, an 18-year-old orphan from Virginia, on a westbound train headed to Sweetwater Texas. The wind was the cause of it all. The sand, too, had a share in it, and human beings were involved, but the wind was the primal force, and but for it the whole series of events would not have happened . . . Read more Look Inside
The City Moves West: Economic and Industrial Growth in Central West Texas
by Robert L. Martin
"Nolan County was the first of this group to be organized. In 1880 Tom Robard, a teacher, circulated a petition proposing an election for separate county officials. The Shackleford County Court, to which Nolan County was attached, approved, and the election was held December 20, 1880. Despite the objections of cattlemen, who did not favor the proposal for fear of higher taxes and restrictions on movement of their herds if . . . " Read more Look inside
Slingin' Sam: The Life and Times of the Greatest Quarterback Ever to Play the Game
Found inside: "The tall, spindly-legged Texan who ambles onto the frozen turf of Wrigley Field on that dreary Sunday afternoon in 1937 has played in miserable weather before. The pride of Sweetwater, Texas, he has known northers that barrel across the plains with little warning, straight from the Canadian Arctic. As a high school senior four years earlier, he played in a blizzard, with driving snow and sleet pelting players and fans alike . . . " Read more Look inside . . . for more like this please see Texas Football Heroes
Best of Museum Musings, Vol. 1
by Travis Monday
True stories about the history of Nolan County, Texas, and the surrounding area.
Found inside: "After Gray's escape, the other three prisoners were sent to Mitchell County's Sheriff Dick Ware, who was already famous for his part in the shoot-out against the infamous outlaw gang of Sam Bass. Nolan County records indicate that Ware and his staff kept the three prisoners in jail in Colorado City from March 29, 1883 to May 14, 1883. During a trial in Colorado City on October 30, 1883, Dick Gilstrap was given ten years in the penitentiary for the murder of Guillot . . . " Learn More
Growing Up Ransberger: Growing up in Sweetwater Texas, Home of the World's largest Rattlesnake Roundup
by Paul E Ransberger
Stories and accounts of growing up in the 50's and 60s as the youngest son of Sweetwater historical icons, Mama Doris and daddy Bill Ransberger. Interesting views of being a part of the growth of the World's largest Rattlesnake Roundup. An author's view of the schools and community life of one of the most interesting towns in west Texas. . . . Read more Look inside
The Lawman of Sweetwater
United States Marshal Vince Ward has left the Oregon Territory for a warmer climate and a new life. He settles in Sweetwater, Texas, a sleepy little town where nothing much happens. Or, so he thought. Since his arrival prominent officials are murdered, the bank is robbed, a notorious gang of outlaws attempts to take the town hostage, and the Texas Rangers pounce on the local government. In the mist of the turmoil . . . Read more Look inside
Women Pilots Of World War II
Found inside: "Sweetwater Texas, September 1943; One hundred and twelve women pilots arrived in the small, dusty Texas town, eager to start the Women Air Force Service Pilots training program. These women were a diverse lot. Some were entering the program with the minimum number of flying hours (thirty-five), while some held a commercial license or an instructuor's rating, with several hundred hours of flying time. Some had started flying as early as 1936, and some had started only in 1943 . . . Read more
Aces High
by Jeanette Kossuth McAdoo
"Late last night a sheriff from Blackwell Texas came looking for him." Autumn had an ill feeling in her stomach. "I'm feeling nauseous." "He goes from town to town posing as priests, doctors, anything. He tricked people into giving him ..." Read more Look inside
On the Trail of the Jackalope: How a Legend Captured the World's Imagination and Helped Us Cure Cancer
The never-before-told story of the horned rabbit—the myths, the hoaxes, and the entirely real scientific breakthroughs it has inspired—and how it became a cultural touchstone of the American West.
"Horned Rabbits in Texas" claims that a horned rabbit was not only killed but also skinned and displayed in the office of the local newspaper in Roscoe, Texas, "in order to satisfy those who questioned it ..." Read more Look inside
Their Backs against the Sea: The Battle of Saipan and the Largest Banzai Attack of World War II
Seaman James Saunders came from a sharecropper farm at Blackwell, Texas, and he had just turned seventeen when Japanese planes attacked Pearl Harbor. "We were all mad as hell," he remembered, "I wanted to do something to get back at the Japs, but my dad said I had to wait..." Read more Look inside
The Johnson-Sims Feud: Romeo and Juliet, West Texas Style
In the tradition of Texas feudists since the 1840s, the Sims family sought revenge. Sims' son-in-law, Gee McMeans, led an attack in Sweetwater and shot Billy Johnson's bodyguard, Frank Hamer, twice, while Gladys—by now Mrs. Hamer—fired at another assassin. Hamer shot back, killed McMeans, and was no-billed on the spot by a grand jury watching the shootout through a window. An attempt against Billy Johnson failed, but a three-man team shotgunned the widely respected Cullen Higgins . . . Read more Look inside
Bravo of the Brazos: John Larn of Fort Griffin, Texas
Found inside: "Big Bill Gilson stayed clear of Fort Griffin after Larn was lynched. In 1881 he took the town marshal's job at Sweetwater in Nolan County, Texas, where he was said to have added two more notches to the pistol handle of his sawed - off shotgun. In 1883 he was a hired gun in a a fence-cutting war in Garza County, and the following year returned to Sweetwater. There he met his death at the hands of a tough gunman named Jim Cooksey . . ." Read more Look inside
W. F. Matthews: Lost Battalion Survivor
by Travis Munday
The inspiring true story of a God-and-country American. A story of survival in the prisoner of war camps of the Japanese in World War 2. Matthews spent 3 1/2 years as a P.O.W. after being captured during the early days of the war. This book helped get W. F. Matthews inducted into the Southwest Military Museum Hall of Fame in San Angelo, Texas. Travis Monday, known primarily for his newspaper articles in the Sweetwater Reporter about the history of Nolan County, Texas, has pursued his love of U. S. and Texas history since his school days in the Texas Panhandle . . . Read more Look inside
Welcome Home, Son
Ken Brawley was born in Roscoe, Texas, in September of 1943. He grew up mostly in and around Roscoe but did travel across the world a bit more than the normal Cotton farmer's kid from West Texas His world travels took him all across the USA and around the world two and one half times. . . . Read more Look inside
The Littlest Hotel
by Donald Rogers from Sweetwater Texas.
On the eve of her 20th birthday, lovely Julie Wilson is kidnapped as she exits a Fullerton, Texas fitness center and is walking toward her car. She is taken to the Ouachita National Forest in Western Arkansas by her abductors. There in the midst of two million acres of virgin forests, stands a tiny, one-room structure built by her captors, brothers Sam and Richard Baker, for the purpose of hiding and holding Julie until her father pays them a ransom demand of $5 million . . .Read more Look inside
Remembering Nguyen
Found inside: "This great umbrella of camouflaged silk above my head was the prettiest thing I had ever seen, including the head cheerleader back at Roscoe High School on that most fortunate occasion when I accidentally saw her naked. And to my knowledge, she still doesn't know about that to this day . . ." The book is a chronicle of events through out that 13 months tour of duty but it is different than most other books about the Vietnam experience. 'REMEMBERING NGUYEN' looks at the country, the people and the strife through a more humorous eye . . . Read more Look inside
Have More Money Now (WWE)
John Bradshaw Layfield's career began 20 years ago on a dare to wrestle an 800-pound bear at a cowboy bar in Texas. The bear won, but the challenge set off a chain of events that ultimately led Layfield to become the longest-reigning champion in WWE Smack Down history -- as well as an author, radio personality, FOX financial analyst and SVP on Wall Street. Found inside "There wasn't a lot to do while growing up in Sweetwater, Texas, except play football and hunt rattlesnakes, Sweetwater is the home of the world's largest rattlesnake roundup, and catching snakes and selling them to local Yaycees for their roundup is a good way for kids to make money . . . " Read more Look inside
Inside My Shadow Box
by Kerrie Bullard
Inside My Shadow Box allows the readers to feel as if they are alongside the author as she writes of her many adventures as a child growing up in Sweetwater, Texas, as a bride and mother at seventeen years of age, as a woman who suffered at the hands of family violence and a cheating husband, as a police officer who was the first of her kind in the county where she worked, as a police officer working on homicide cases, and as a state investigator working on child deaths and in the FLDS raids that caused the arrest and imprisonment of Warren Jeffs . . . Read More Look inside
900 Miles on the Butterfield Trail
by A. C. Greene
Found inside: "No, this road, save for certain sharper corners around fenced property, is still slightly throbbing with the iron-tired wheels of other days. At the former town of Hylton---one buiding still remaining--- turn left south again onto what looks to be an impassable, but isn't . . . Read more Look inside
Nalee
by E.J. Sankey
"I'm from a small town called Blackwell, Texas. There are only 360 people that live there." Both the boys raised their eyebrows. "Holy pop en fresh, now that's a small town," they said in unison. Moe asked her more questions as they ..." Read more Look inside
Brodie
Brodie Dent wakes up in a brothel in 1879 Sweetwater, Texas, to learn that a robbery and murder have occurred downstairs. The young ex-Ranger is quickly drafted to join the crusty town marshal on a vengeance ride, as the Marshal's girlfriend was the murder victim. The only witness to the crime is the thirteen-year-old . . . Read more Look inside
Texas Ranger Tales: Stories That Need Telling
Found inside: "Indian, probably Comanches, had attached settlers in Coleman County in West Texas and stolen a baby. Now the raiders were headed for the Red River and sanctuary on their reservation in the Territory. Rangers trailed the Indians westward through Runnels and Coke counties, and into Nolan County before making a grim discovery. About eight miles south of present-day Sweetwater, the rangers reined in their horses when they came up on a blanket hanging from a tree . . . Read more Look inside
Critical Evidence
by Laurance L. Priddy (Born January 14, 1941 in Sweetwater, Texas)
When a tanker truck crashes and explodes, down-at-the-heels lawyer Jim McSpadden hopes to represent some of the victims, but big-time attorney Rolly Sullivan gets to them first. The only client Jim can muster is Laura, widow of Danny Marcus, the truck driver whose drunken driving allegedly caused the accident . . . Read more
Welcome Home, Son
by Ken Brawley
Roscoe, Texas" YOU'RE FROM ROSCOE, TEXAS?" "Aw, come on Sir, don't tell me you have actually heard of Roscoe, hell, Rand McNally never heard of it." Capt. Robert Willis of Ruidosa, New Mexico was speechless. But just for a moment. Shaking his head, Roscoe, Texas, i don't believe this, I use to drive through that wide spot with a grain elevator on the way to college station . . . ' Read more Look inside
Early Settlers of the Panhandle Plains
The panhandle plains were Texas's last frontier, barren lands populated by hostile Comanche and outlaws attempting to outrun civilization. It was Texas Ranger and frontier scout Jim Jackson who first saw potential in the region. They were the point riders who took the challenge of opening Kent, Garza, Crosby, Lynn, Borden, Dawson, Mitchell, Fisher, Scurry, Stonewall, and Nolan Counties to permanent settlement . . . Read more Look inside
If I Can Do It Horseback: A Cow-Country Sketchbook
John Hendrix, a native Texan, lived in the West Texas of which he wrote for most of his life. His articles appeared in West Texas Today, The Hereford Journal, and other publications, in addition to The Cattleman. Hendrix died in Sweetwater in 1952 at the age of sixty-four.
Here are accurate, detailed, fascinating descriptions of the day-to-day life of the cowboy, the chuck-wagon cook, the range boss: narratives rich in human interest, in pathos, comedy, drama. . . Read more Look inside
A Bride On The Old Chisholm Trail In 1886
by Mary Taylor Bunton
When Mrs. Bunton was a young bride, she took great pleasure in going to her husband's ranch when When news came to the Bunton's Nolan County ranch, near Sweetwater, Texas, that the herds of cattle which Mr. Bunton was sending up to norther and western markets were ready for the trail, but that the general herd boss was stricken with sore eyes, Mr. Bunton could find no one to take the lead--except himself. Mrs. . . . Learn more
The Life of John Wesley Hardin: Written by Himself
Found inside: "I met Jim Newman quite lately and in talking over old times near Pisga in 1869, he asked me if I remembered how some fellow jumped when I shot at him. I told him, "Yes, I remember it." " Well," said Jim Newman, "I bet you at that time that you could not shoot his eye out, and we had a bottle of whisky on it, come in, now; it is my treat." I suppose I won the bet but did not recollect after so many years. This same Jim Newman is now sheriff of Nolan County; his post office is Sweetwater . . . " Read more Look inside
Pledge to Kill
The small town of Decker, Texas buzzes with excitement. A new dentist is taking over Dr. Tooley's practice. Little do they know her interest in Decker has nothing to do with dentistry. She is here to fulfill a promise made to her identical twin, Jane Hayes, several years ago after Jane was gang raped. Found inside: "It was a warm afternoon, this May 13, 1968, in Decker, Texas. A good day for a walk, Debra thought. She stopped when a sharp pain in her head caused her to drop her books . . . " Read more Look inside
Delbert McClinton: One of the Fortunate Few
Found inside: The summer of 1952, Delbert went to visit his mother's sister, Charlie Marie, and her family in Sweetwater, Texas. her son, Walter lee, was Delbert's favorite cousin. But, Uncle Earl was another story. "He had always been the meanest old son of a bitch I'd ever known. He'd get drunk and terrorize the family and anybody else around. All us kids were scared to death of him. But that summer---at least while I was there---he turned into a brand new man" recalls Delbert. "Right after I got there, my cousin, Walter lee, and I were out in the backyard. I was singing 'Hey, Joe,' a Carl smith song. He threw the back door and slammed the screen against the wall and hollered . . . " Read more Look inside
Kathleen of Sweetwater, Texas
Kathleen Parker was the picture of primness and propriety. She was a thirty-year-old beauty with big green eyes that could look straight through a person's soul. In town, they called her the old spinster lady. Kathleen wasn't a stranger to their ridicule, because she knew that men only wanted her five hundred–acre cattle ranch . . . Read more Look inside
Vietnam, 1969-1970: A Company Commander's Journal
Lieutenant Michael Lee Lanning was born in Sweetwater, Texas. came to Vietnam as a man who was confident of surviving the war and eager to perform his duty to his country. After six months in-country, he was promoted to company commander at the very young age of twenty-three, and his sense of duty began to shift from being focused on his nation to preserving the lives of the hundred men in Bravo Company . . . Read more Look inside
The Wind
The Wind (1925), a supernatural novel by Dorothy Scarborough, depicts the loneliness of life in Sweetwater Texas during the 1880s. She originally published it anonymously, anticipating a rough reception in Texas. It was later made into a film called The Wind (1928) starring Lilian Gish . . . Read more Look inside
Secrets In The Sky: Lone Star Heroines
It's 1943 and the world is at war, but 12-year-old Bethany Parker is stuck at home in Sweetwater, Texas. When the Women Air Force Service Pilots come to town, she is thrilled. They are glamorous and daring and they befriend Bethany! When one of the women dies during a training flight, Bethany is convinced the mysterious crash was the work of a Nazi spy, and she sets out to prove it. The Lone Star Heroines series brings to life real events in Texas history and shows young readers how girls living during those exciting times experienced and even contributed to those dramatic events. Each book in the series includes a chapter of background stories and pictures of the actual people who lived them . . . Read more Look inside
Dead Stick
Ryan Conley is a marine second lieutenant stationed in Abu Al Khasib, Iraq. Just as he is about to rotate out of the war zone, Ryan is severely wounded and granted a medical discharge, so he can return home to the family ranch in Sweetwater, Texas, to focus his energy on recovery. But life never goes as planned for the young marine, and he is unexpectedly found dead . . . Read more
Unknown Murder
by Q E Terry
Q E Terry was born in Sweetwater, Texas and is based near there. Unknown Murder is the second in the Owens Investigative Series. Starla Owens is on another case. She must travel to a distant city in another state to get more information on her client. She is taken into not only the more lavish side of life, but also into some of the slimy pits. When Star is almost killed, she goes back to her apartment only to find that she has been followed and is in jeopardy once again . . . Read more Look inside
The Royal Air Force in American Skies
Found inside: "Local residents began to realize the town's strategic importance when the record-breaking Army Air Service around-the-world flight stopped in Sweetwater for fuel and minor repairs in September 1924. The next month the U.S. Navy airship USS Shenandoah flew over Sweetwater on the first nonstop cross-country flight. Virtually all activities in town stopped as enthralled citizens watched the giant airship cruise majestically over Sweetwater at sixty miles-per-hour. Early itinerant flyers and barnstormers had used an abandoned polo field . . ." Read more Look inside
An Honorable Man
Lauren Campbell is scarred by grief and raw from betrayal. Widowed young and fleeing an abusive boyfriend, she crosses the country in hopes of starting over. The small town of Sweetwater, Texas feels like the perfect place to heal a broken heart, even more so after meeting a handsome thirty-something doctor. But Lauren should know by now—looks can be deceiving . . . Read more Look inside
A Wedding Renewal in Sweetwater, Texas
When Sylvia realizes something's missing in her marriage she starts a Proverbs 31 makeover. But will she find that romance isn't always about moonlight and candles? . . . Read more Look inside
The Millionaire Takes a Bride
Wealthy New York businessman Jackson Bradshaw was used to going after what he wanted, but this time it was what he didn't want that was making him pound on some stranger's door in the godforsaken hamlet of Sweetwater, Texas. And he didn't want his younger brother to marry his obviously gold-digging fiancée . . . Read more Look inside
Wings, WASP, & Warriors
By Travis Monday
True stories for aviation history buffs. Topics include WASP (Women Airforce Service Pilots); National WWII WASP Museum in Sweetwater; RAF (Royal Air Force) in Texas; Avenger Field in Sweetwater, Texas; P-47 Fighter Pilot Otto Carter and "The Sweetwater Swatter"; Pioneer Museum in Sweetwater; C-47 Crash and Memorial in Nolan Co., Texas; Charles Lindbergh in. . . read more
Letters to Goya
In the Letters to Goya section are "reproduced" letters from the 13th Duchess of Alba (living in a Sweetwater, Texas trailer park) to her artist friend Francisco Goya at the Spanish royal court; in the Titles section are Magee's poems to some of his sculptures . . . Read more
History of Nolan County, Texas
by E. L. Yeat, Hooper Shelton . . . Read more
Wings over Sweetwater: The History of Avenger Field, Texas
by Bennet B Monde . . . read more
Resources:
Life in Nolan County 1850 1950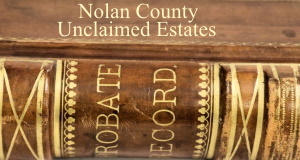 Nolan County Unclaimed Estates
These Deceased Residents from Sweetwater, Roscoe, Nolan and Maryneal Texas left a total $35,120 in unclaimed money for their heirs . . .
What's your Favorite Book about a Texas County, Town, Person or Place? Here's our best reads list County by County






Nolan County Appraisal District
Nolan County TX Experts
Nolan County Products
Nolan County People
Books about Nolan County People and Places
Nolan County Unclaimed Estates
Life in Nolan County