Look Who's Talking about Texas History
Davick Services recommends the Facebook Group "West Texas History & Memories" for history, famous people, old photos, stories, unclaimed estates and genealogy of the Western Half of Texas . . . Check it out and join the conversation
Books About Midland County Texas
Here are some of our favorites books about people from and places in Midland, Chub, Cotton Flat, Greenwood, Spraberry, Dameron City and Germania Texas.

This site contains affiliate links to products. We may receive a commission for purchases made through these links. As an Amazon Associate we earn from qualifying purchases.
Shakespeare on the Pecos:

Originally Published as Dead Javelinas Are Not Allowed on School Property

Charlena Chandler of Midland is a retired teacher and a very good writer. In Shakespeare on the Pecos she captures the essence of small town schools in West Texas in this delightful foray into the relationship of teacher and students . . . Read more Look inside . . . for more like this please see Back to School in Texas
American Soldier
Tommy Franks is the adopted son of Ray and Lorene "Pete" Parker Franks. He attended Midland High School and graduated from Robert E. Lee High School in Midland, Texas. Few individuals have the chance to contribute so much of themselves to the American story as General Tommy Franks. In American Soldier, he captures it all. The Commander in Chief of the United States Central Command from July 2000 through July 2003, General Tommy Franks made history leading American and Coalition forces. . . read more .
Perseverance
by Patrick Dearen
The year is 1932, the depths of the Great Depression, and thousands of desperate people ride the rails in search of jobs, homes, and hope. For some, the tracks are a road to nowhere, a dead end in a boxcar or under the wheels or in a sea of emptiness. Their fate seems certain--until Ish Watson grabs the rungs of a passing freight train bound for a dying relative on the Texas Gulf Coast. . . . Read more, Look inside
Midland (Images of America)
On the southern edge of the vast Llano Estacado, Midland began as a midpoint along the Texas and Pacific Railway. From its earliest days, entrepreneurs like the Scharbauers and Henry Halff built a city based upon their dreams. Land speculators, ranchers, farmers, financiers, oilmen, investors, and engineers each placed their own unique brands on Midland's landscape. Over time, the community earned a variety of nicknames--Windmill Town, Land of the High Sky, and Tall City, among them. Although seemingly remote, Midland has regularly gained attention at the state, national, and even international level in areas as diverse as airplanes (Texas's first), cattle ranching, and as . . . Look inside
When the Sky Rained Dust
by Patrick Dearen
Fourteen-year-old Josh and his friend Shan are facing hard times on their families' farms in Texas in 1934. It's the days of the Dust Bowl and Great Depression, and rain is as scarce as money. With the long dry spell have come wild animals with flashing teeth and deadly rabies. Dust storms known as black blizzards are raging, threatening lives and destroying cropland. Will a rainmaker bring rain? Will their families lose their homes? Will Josh's and Shan's friendship survive? From rabid animal attacks to a deadly flood to a barreling freight train . . . Read more Look inside
The Last of The Old-Time Cowboys
J. E. "Shorty" Northcutt, born March 21, 1912, south of Colorado City, Northcutt gained exposure to the cowboying life at an early age. He started as a horse jingler, or wrangler, but soon became a cowhand. At age sixteen he ventured to Midland country and cowboyed at the Cowden spread northwest of Odessa, the Adobe Ranch near Andrews, the Sand Ranch twenty-five miles southwest of Andrews, and the Tom Nance spread south of Midland ... Read more Look inside
A History of Character: The Story of Midland, Texas
by Jimmy Patterson
Sixty-six short biographical sketches of Midlanders from widely varied professions, and a few of its community leaders and countless volunteers. In capturing Midland's staunch patriotism, it resilience through oil busts and droughts and tragedies, its generosity and rare willingness to help both neighbor and stranger, Jimmy Patterson best conveys why so many Midlanders say. "There's no place like it." . . . Look closer
The Great Plains during World War II
Emphasizing the region's social and economic history, The Great Plains during World War II is the first book to examine the effects of the war on the region and the responses of its residents.
"... when black troops arrived at Midland, Texas, in January 1942, given the military and social traditions of the time, they were segregated into service and quartermaster units. The black soldiers also had their own mess, housing and service club on the base and a segregated USO club in Odessa. Racial clashes did not occur on the base, however, until " . . . Read more Look inside . . . for more like this please see Black Texans in History
The Rainbow's Shadow
Untold Stories of the Baby Jessica Rescue and the Tragedies that Followed
The tragic stories that followed in the wake of the rescue of young Jessica McClure from an abandoned water well in Midland, Texas on October 16, 1987. When the spotlight began to fade, lives were left in tatters. Author D. Lance Lunsford spent two years researching the story. What he found was dysfunction, death and imprisonment. For the dozens of others involved in the rescue that created a worldwide media frenzy, it was a life-changing experience. This is that story.
Law on the Last Frontier: Texas Ranger Author Hill
by S.E. Spinks
"In a career forged in the saddle on scout duty along the Rio Grande, Arthur Hill witnessed dramatic changes from 1947 to 1974. Whether inspecting brands, deterring smugglers of everything from cattle to candelilla wax, or giving chase on horseback across merciless terrain―often into Mexico―Hill found himself immersed in a world that straddled centuries as well as cultures. The six Ranger companies maintained headquarters in selected Cities; Hill's Company E was based in Midland. But the rangers themselves were scattered around the company's huge jurisdiction..." Read more Look inside
The Eddie Trice Story
By Richie Taylor
His legend began at the age of eight years old when he began skipping school to help his dad move houses with the family business. He had to get tough and get tough young to survive in the rowdy times of 1960's Midland, Texas . It was a rough wild place back then reminiscent of the wild west in 1800's Tombstone, Arizona. Saloons, gambling, fighting, and drinking were all rampant. After winning fight after fight, he became Midland's very own Paul Bunyon of sorts. His story is one of big highs as he became a hero of the honky tonks, and one of big lows as he struggled with addiction . . . read more
More Than A Badge
by Midland Author Carl C Williams
Part I of the book is of Sheriff Williams from birth through growing up years, starting a family, with stories of his Life's activities and of his career in Law Enforcement and life happenings, through retirement. Part II is the History of all of the Sheriffs of Brewster County, Texas, ending with a gallery of some of the officers he worked with and concluding . . . read more
For Posterity's Sake: Legacy of an American Couple
When they met, Raymond Jay Wright and Margie Moselle Brooks had at least one thing in common: humble beginnings. He was the son of an early twentieth-century Texas sharecropper. Her father owned a farm just outside of Midland. With the advent of World War II, they embarked on what would become a military career, he the brave but understated soldier and she the . . . Read more Look inside
Growing Up Dead in Texas: A Novel
Jones combines memoir and mystery in his latest novel, returning to his hometown of Greenwood, Texas, to explore a decades-old crime that would rend a community irrevocably asunder. In 1985, when the author is just 12 years old, a suspicious fire decimates Greenwood's cotton crop and threatens many of the townsfolk's livelihoods. Local teen Tommy Moore is caught in the field with an incriminatingly lit cigarette, and his savage beating by a descendant of the community's largest . . . Read more Look inside
Chaparral: Can-Am Racing Cars from Texas
Few sports-racing cars have captured the imagination as did the Chaparrals. The menacing white machines from Texas oil country cut a swathe through American sports car racing in the 1960s, and even won at the Nurburgring and Brands Hatch. Created by Jim Hall and Hap Sharp from Midland Texas -- the Chaparrals pioneered such innovations in racing as the wing for aerodynamic down force and the automatic transmission . . . Read more
Land of the High Sky
Once the home of the buffalo, the mustang and the lordly Comanche, the Midland Country of West Texas has been the site of human drama on a large and often violent scale. When the Anglo-Texans, after years of bloody conflict, finally wrested the land from the Indians, the high flat prairies became the home of cowboys and ranchers with their carefully-bred cattle. Midland was the school center for the area. Great ranches developed and the town became a cattle-shipping center. Later, with the discovery of oil the little cowtown grew into a cosmopolitan city - center of the immense Permian Basin oil empire . . . Read more
A Personal Country
by A. C. Greene
This book brings alive what one man feels about his childhood home. The place is West Texas, seen across a long vista in which today's events and people merge with the author's boyhood and young manhood: Found inside: "We had moved westward from my father's Old Home Place farm in Eastland County with the out break of World War II, following the oil boom and ultimately settling in Midland, so that my father might assist in the war effort-- and sagging family fortunes . . . " Read more Look inside or browse more books by A.C. Greene
Bits of Practical Wisdom
Vernon Gilbert is a life-long Texan who became a Christian as a young teen. He has been happily married to his wife Shirley for over sixty years. The two started a small business in Midland, Texas, the year they wed. That company continues today under the leadership of their three sons, one daughter, and a number of their twenty-five grandchildren. Gilbert considers his greatest earthly blessing to be the good name of his family and business.. . . Read more Look inside
Midkiff: A Texas Family, Town, and Way of Life
Oscar Midkiff's dream of becoming a real cowboy comes to fruition after leaving behind in Indian Territory his sweetheart, Lillie Davenport. Their correspondence first as sweethearts and following through their marriage and child bearing years comprises much of the book. Oscar begins working on ranches in Midland County and returns to Indian Territory to marry his sweetheart. This book is a real look at the history of the settlement of West Texas . . . Read more
Castle Gap and the Pecos Frontier, Revisited
by Patrick Dearen
Found Inside: "Will Sublett, who found gold in 1887 and kept its location secret unto death.
"Will doubtless spent time twenty miles east of Odessa at Midland, a sister ranching community. There not only did Charles Dixon claim to have heard Will state that he learned the gold's location from an Apache, but folklore dictates that some of the town's leading citizens once plotted to steal the mine from him. As recounted by master storyteller J. Fank Dobie, the conspirators were pioneer banker W. E. Connell, rancher George Gray, livery stable operator Lee Driver, and horseman Jim Flannigan" . . . Read more Look inside. . . for more like this please see Mysterious Texas
Midland (Postcard History Series)
Midland was a young farming and ranching community on the southern edge of the Llano Estacado when the real-photo postcard era began near the opening of the 20th century. Businesses, residents, and promoters embraced this new technology to produce images capturing Midland's unusual rural-and-cosmopolitan mix. As postcards changed to linen and chrome, Midland also underwent dramatic changes. The city on the plains worked hard to . . . continued
Not for Nothing
The town is Stanton, Texas, population three thousand; the private investigator is disgraced. Midland homicide detective Nicholas Bruiseman, who's so down on his luck that he's forced to take a job as a live-in security guard for the town's lone storage facility. This is his new life—starting over with nothing in the town he grew up in . . . Read more Look inside
The Goddess of War, A True Story of Passion, Betrayal and Murder in the Old West
John Wesley Hardin is the most famous gunfighter of the American Wild West. The subject of conversations from the Mexican border to the rowdy saloons of Kansas, he was the greatest celebrity of the age. He wrote an autobiography, but he only told what he wanted known, and few have researched beyond that. Today, Hardin is an enigma. Part of the mystery is his disastrous relationship with Helen Beulah Mrose, yet she has not been researched at all. Until now. The author names Midland County courthouse records as a primary source for this book . . . . . . Read more Look inside
The Texas Indians
During an excavation in the 1950s, the bones of a prehistoric woman were discovered in Midland County, Texas. Archaeologists dubbed the woman "Midland Minnie." Some believed her age to be between 20,000 and 37,000 years, making her remains the oldest ever found in the Western Hemisphere.. . . Read more Look inside
On Independence Creek: The Story of a Texas Ranch
Charlena Chandler's work is about the dreams and hard work of her grandfather, Charles Chandler, the vision and tenacity of her father, Joe Chandler, and the ebb and flow of life along Independence Creek.. "The ranch was especially popular with Odessans and Midlanders. There's hardly a veteran fisherman in the area today who didn't fish at Chandler's at some point. " . . . Read more Look inside
Not far from Dryden: A Collection of Columns
Charlena Chandler has received positive feedback since her first opinion column appeared almost 20 years ago. Her topics range far and wide. Ranch life provides a background for subjects such as growing up on the Pecos River, of eating goat meat in Peru, of hanging clothes on the line to dry, and of remembering her grandmother's macaroni and cheese. Reading and writing, two favorite activities, offer a look into rejection letters, shaking hands with Walter Cronkite, and winning the state championship in scholastic journalism. ... Today she writes regularly for the Odessa American in Odessa, Texas, with a circulation that covers the vast Trans-Pecos area of the Chihuhuan Desert . . . Read more
The Trail Drivers of Texas: Interesting Sketches of Early Cowboys
These are the chronicles of the trail drivers of Texas those rugged men and, sometimes, women who drove cattle and horses up the trails from Texas to northern markets in the late 1800s.
"In 1888 we drove two thousand head to Panhandle City. We sold some of them to be delivered above Amarillo, and the remainder were driven on to Kiowa and sold there. In driving this herd across the plains from the Pecos River to Warfield, a station ten miles west of Midland, I made arrangements with a ranchman at Warfield to have enough water pumped up for two thousand head of cattle. He had a windmill and troughs for watering and charged 5 cents a head . . . " Read more Look inside
Tejano West Texas
Featuring a side of Tejano history too often neglected, author Arnoldo De León shows that people of Spanish-Mexican descent were not passive players in or, worse, absent from West Texas history but instead were active agents at the center of it . . . Read more Look inside
The Midland Discovery-A Report on the Pleistocene Human Remains
One of the most significant archaeological discoveries to occur in the Western Hemisphere. The first positive identification of partial human skeleton of an age greater than that of the ancient Folsom culture.
Marriage with a Gun to My Head
My wedding day was the darkest day of my life. I was forced to marry a man I did not love. I let go of the man I truly loved. Letting him go was also one of the biggest mistakes of my life, and I paid for that. I did it to save his life and mine. Robert came to me with a gun in his hand, pointed it to me, and said, If you don't marry me, you wont marry anyone. And if you do, I will look for both of you no matter where you go and kill you both. He cheated, beat me, killed people, was a jealous drunk, and was also a gambler and a rapist, and he never went to prison. , , , Read more Look inside
A Red Raider Officer's Diary during WWII
A personal diary of 1st Lt Carroll G. Henry with the 408th Bomb Squadron in the Southwest Pacific
1st Lieutenant Carroll Gene Henry grew up in West Texas in the towns of Midland and San Angelo. Once he saw his first airplane he wanted to fly. With the advent of WWII, he joined the United States Army Air Forces to be a pilot. After he failed pilot training, he became a bombardier and a navigator. He served with the 408th Bomb Squadron in the South West Pacific Area. This book is an overview of his life including pictures, letters, a diary he kept during the war, mission reports and newspaper clippings . . . Look inside
How to Go Further: A Guide to Sustainable Living by Woody Harrelson
Born in Midland, Texas, in 1961, Woodrow Tracy Harrelson is better known as Woody Harrelson the Academy Award-nominated and Emmy Award-winning actor, playwright and now author. He is the son of Diane and Charles Voyde Harrelson. Woody's father disappeared from Woody's life in 1968 when he was just seven years old, leaving Woody's mother Diane to raise Woody and his two brothers . . . read more about Woody's life here. or . . . Take a closer Look at his Book
The Texas Frontier and the Butterfield Overland Mail, 1858–1861
This is the story of the antebellum frontier in Texas, from the Red River to El Paso, a raw and primitive country punctuated by chaos, lawlessness, and violence. During this time, the federal government and the State of Texas often worked at cross-purposes, their confused and contradictory policies leaving settlers on their own to deal with vigilantes, lynchings, raiding American Indians, and Anglo-American outlaws. "The Overland Mail Road does cross Denton Creek, but this crossing is almost 8 miles upstream from Allison, near present-day Greenwood, Texas . . . " Read more Look inside
West Texas: A Portrait of Its People and Their Raw and Wondrous Land
Found inside: "It hadn't rained appreciably in Midland for eighteen months when Edward Powers began blasting away at the skies in 1891 ... Undeterred, they arranged cannons in a semicircle and fired them in unison at what appeared to be a wisp of a cloud; planted explosives in prairie dog holes, launched ten-foot balloons of oxygen and hydrogen, attached explosives to kites . . . ". . . Read more Look Inside
The Trial of Prisoner 043
by Terry Jastrow
Terry Jastrow was raised in Midland, Texas. He has been the Producer and / or Director of some of the world's greatest events for more than 30 years. . . . more about Terry Jastrow
In his novel, The Trial of Prisoner 043 Jastro poses the question, What Would Happen If George W. Bush Were Prosecuted for War Crimes?" On a glorious autumn morning in St. Andrews, Scotland, former US president George W. Bush" approached the first tee of the world-famous Old Course to play a round of golf he would not finish . . . read more about this novel by a former Midland Resident
The Films of Tommy Lee Jones
Tommy Lee Jones was born in 1946 in San Saba, Texas and raised in Midland, Texas where he attended Robert E. Lee High School. His mother, Lucille Marie (née Scott), was a police officer . . .More about this famous actor from Midland.
. . . see books, movies and memorabilia featuring Tommy Lee Jones
Wahoo McDaniel Record Book: 1962-1996
Wahoo MckDaniel was raised in Midland While he was in middle school, in Midland, one of his baseball coaches was George H. W. Bush. He was a Choctaw-Chickasaw Native American who achieved fame as a professional football player and later as a professional wrestler . . . read more about Wahoo
This book is a record book containing the results of over 5000 matches from the legendary professional wrestler, Wahoo McDaniel. One of the sport's legitimate tough guys, Wahoo was an unstoppable force in the ring. This record book looks back over his 34 year career . . . take a closer look
A Woman's Guide to Better Golf by Judy Rankin
Born in 1945, Judy Rankin was Judy Torluemke until her marriage to Walter "Yippy" Rankin in 1967. She is a professional golfer and golf broadcaster. A member of the World Golf Hall of Fame, she joined the LPGA Tour in 1962 at age 17 and won 26 tour events. They lived in Midland, Texas. . . more about Rankin
. . . look inside her book, A Woman's Guide to Better Golf
Midland County Yearbooks
Midland County Church Histories
To God Be the Glory
A history of First Baptist Church of Midland, Texas 1886-1975
by Billy Keith . . . for more like this please see Texas Church History
The Memorial Presbyterian Church of Midland
The first one hundred years, 1867-1967 . . . for more like this please see Texas Church History




Midland County Estates with Unclaimed Inheritance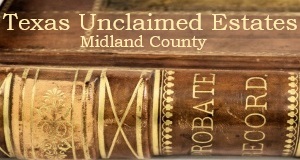 These Deceased Residents of Midland County Left a total $800,272 in Unclaimed Money for their heirs. Please share this with your family and friends from Midland Texas to let them know how to claim their inheritance from the Texas Comptroller's Office. . . . See the full list
What's your Favorite Book about a Texas County, Town, Person or Place? Here's our best reads list County by County






Midland County People
Midland County Appraisal District
Midland County TX Experts
Midland County Products
Midland County Unclaimed Estates
Books about Midland County