Look Who's Talking about Texas History
Davick Services recommends the Facebook Group "West Texas History & Memories" for history, famous people, old photos, stories, unclaimed estates and genealogy of the Western Half of Texas . . . Check it out and join the conversation
Books About Lamb County Texas People and Places
What's Your Favorite Book about a Lamb County Texas Person, Place or Event? Here are some of our favorites about people and places in Littlefield, Amherst, Earth, Olton Spade and Sudan.

This site contains affiliate links to products. We may receive a commission for purchases made through these links. For Example: As an Amazon Associate we earn from qualifying purchases.
I'll Tell The Moon
by Lisa McKinnon
In Littlefield, a small West Texas town in the 1960s, a pair of adventure-seeking kids create mischief wherever they go. From stamp stores to Dracula movies, Grape-Nehi soda and Sunday afternoon car rides, climb into the backseat of a '67 Chrysler and ride through a time where ice cream suppers and visits with neighbors were the norm. But while the kids and their family exude Americana on the outside, their home harbors many secrets, and only the moon knows the truth . . . Read more Look inside
Why: Discovering Your Essence Is Important for a Life of Meaning
In this latest book by Carl Nafzger, he shares the results of his lifelong quest to understand the true meaning of success and how to achieve it. Author of the popular book on training racehorses, Traits of a Winner, Carl was raised on a ranch near Olton Texas. He spent his early life on the rodeo circuit, quickly becoming one of America's leading bull riders in the 1960s before retiring in the early 1970s and launching a new career as a Thoroughbred racehorse trainer. Carl's success in both careers earned him... read more
Traits of a Winner: The Formula for Developing Thoroughbred Racehorses
Thoroughbred trainer Carl Nafzger took 84 year-old Frances Genter's gawky yearling, Unbridled, and turned him into a Kentucky Derby winner and Breeders' Cup Champion. Millions of television viewers were touched as Nafzger hugged the frail first lady of the turf and declared, "You've won the Kentucky Derby! I love you!" Now Nafzger gives you his methods for developing champion Thoroughbreds in his book, Traits of a Winner: The Formula for Developing Thoroughbred Racehorses. In it he explains ... Read more
Texas Ranger Tales: Stories That Need Telling
"Cattle theft and bank robbery were not Gault's only challenges as captain of Company C. On August 22, 1942, someone attacked Dr. Roy Hunt on a country road near Littlefield in Lamb County. He had not yet fully recovered from the gunshot wounds he suffered in the attempted murder when someone broke into his house late on the night of October . . . " Read more Look inside
One Ranger: A Memoir
"James's bitterness ate at him long before his father dragged him off to Lamb County to dry farm a half-section of land carved out of the Old Spade Ranch, sandy loam pasture that had never been scratched by a plow. Papa Jackson reaped bushels of hope from new country, believed in the promise of abundance to come. He strapped on his Dickie overalls, hitched up his Georgia mules and led his boys James and Clarence into the fields . . . Read more Look inside
Littlefield Lands: Colonization on the Texas Plains, 1912–1920
Major George W. Littlefield created the Littlefield Lands Company and founded the town of Littlefield, Texas, in 1912, in order to sell as farmland a part of his Yellow House Ranch. His sales manager, Arthur P. Duggan (his nephew by marriage, and grandfather of the author of this study), used many of the techniques then current to attract buyers for the Lamb County land in and around Littlefield. He dug wells and operated a demonstration farm; he planted trees, planned a park, and otherwise beautified the town . . . Read more
Dynasty on the Texas Plains:
Short Stories of Life and Customs on the Plains of Texas
by Bonnie Faye James Gaston
Bonnie Gaston grew up during the Depression six miles south of Littlefield Texas. As an adult she was an award-winning elementary school teacher in Plainview. This is her joyful story of growing up in Littlefield, Shallowater, Anton . . . Read more
The Lonesome Plains: Death and Revival on an American Frontier
Loneliness pervaded the lives of pioneers on the American plains, including the empty expanses of West Texas.
"Eula Cave remembered the covered wagons that camped as late as 1922 by the side of their house in Olton. 'They would get their water from our well and I loved playing with their kids.' These wagon trains that stopped over were one of the biggest events in the lives of isolated children . . . " Read more, Look inside
Waylon: An Autobiography
Equal parts outlaw, renegade, and legend, Waylon Jennings reveals the story of a man from Littlefield Texas who infused conservative country music traditions with the energy of rock and roll to rewrite the rules of popular music in America. It chronicles all the chapters of Jennings's incredible life, including his beginnings as a dirt-poor son of a farm laborer . . . Read more Look inside
Spirits of the Border V: The History and Mystery of the Lone Star State
Lennox / Church School in Littlefield
"In a small church house or what people would also call a school house, there is to be seen lights turning on and off when it is known that there is no one in the building. Those who have ventured close to the structure report that black shadows have been seen around the building. It has been said if you drive there around midnight you can see both the shadows and the lights being turned on and off..."
Check it out . . . for more like this see also Mysterious Texas
The Great Plains during World War II
Emphasizing the region's social and economic history, The Great Plains during World War II is the first book to examine the effects of the war on the region and the responses of its residents.
"September 1942 some farmers in West Texas anticipated harvesting the largest cotton crop in their history. William DeLoach in Lamb County, Texas, pulled 231 pounds and his wife 131 pounds of cotton in a day . . . " Read more Look inside
Marriage with a Gun to My Head
Robert came to me with a gun in his hand, pointed it to me, and said, If you don't marry me, you wont marry anyone. And if you do, I will look for both of you no matter where you go and kill you both. He cheated, beat me, killed people, was a jealous drunk, and was also a gambler and a rapist, and he never went to prison... "We did not want nor need company now, but they came to tell us they had seen our other cousin running down the road, and they picked him up and took him home to Sudan , , , Read more Look inside
The Facts of Life: And Other Lessons My Father Taught Me
by Lisa Whelchel from Littlefield
America grew up learning The Facts of Life on this popular television sit-com of the 1980s. As Blair Warner -- rich, pampered boarding school student, Now the actress recounts the real facts of life she's learned as a child of God making the journey -- from a shy girl out of a small town in Texas, to the glamorous life of fame and fortune in Hollywood . . . Read more Look inside
Plains Farmer: The Diary of William G. DeLoach, 1914-1964
Gathering eggs, planting crops, feeding hogs: firsthand experience of these grow more distant with each new generation. On March 28, 1914, at the age of thirty-four, DeLoach made the first entry in his diary. After three years he moved on to other opportunities before settling on a farm near Sudan in Lamb County in 1925. . He described weather, plantings, harvests, births, and deaths in his diary. In doing so, he not only chronicled the life changes that everyone experiences but also kept a record of the developments taking place across the . . . Read more
Life in the Saddle
Englishman Frank Collinson went to Texas in 1872, when he was seventeen, to work on Will Noonan's ranch near Castroville. At the age of seventy-nine he began writing about the Old West he knew and loved. He had a flair for writing, a phenomenal memory, and a passion for truth that is evident in what he wrote and said. "We were up an away by 3:00 A.M. the following morning headed for Silver Lake (now in Lamb County). The wagons were to follow one hour later. At sunup we topped the eastern slope of the lake, and it " . . . Read more Look inside
From the Cotton Fields to a College Professor: My Life's Experience
Dr. Joe H. Alcorta grew up speaking Spanish. He was born in Novice, Texas, and at the age of two months, his parents took him to Monterrey, Mexico. For seven years, he lived in Mexico. He moved to Olton for the fifth grad and graduated from Olton High School, and then he received his bachelor's degree from Hardin-Simmons University. He obtained his master's degree from Howard Payne University and earned his PhD degree from Texas Tech in Lubbock, Texas . . . Read more Look inside
After Everybody Else Gave Up
by Joe Priest
"In my high school, the Olton Mustangs coaches taught us to break the team huddles with "all for one and one for all"
After Everybody Else Gave Up" provides an operational description of a supervised exercise training program in service since 1994 at a university in Texas. . . . Read more Look inside
Summer Stories: Summer True and Some Are Stories
Stories, anecdotes and humor by the author who hails from Anton, Texas and has lived in Muleshoe, Olton, and others. The family moved to Olton in 1954 to operate an irrigated farm. Today, he operates several farms near Olton along with the Up Front Cattle Company . . . Read more
18 Miles From Earth :
Stories From Barber Shops, Front Porches and Supper Tables
A collection of humorous stories about growing up in a small West Texas town during the 1940s and '50s. Author, Wayne Bristow, says, "I really did grow up 18 miles from Earth (Texas) in Muleshoe, the County Seat of Bailey County. Much of my childhood was spent around cowboys, barbers and preachers . . Read more Look inside
The Last of The Old-Time Cowboys
Within the pages of this book these genuine legends who rode through a golden moment in American history live on. Found inside: "Lee Loyd Brice was born August 14,1909 in Winters. Brice lived in Houston during World War One and later in Winters and Littlefield. He worked in the oil fields near the tent city of Crane in the mid-1920s and took up cowboying on the . . . Read more
A Door of Hope: My Search for the Treasures of the Copper Scroll
by Vendyl Jones from Sudan Texas
An inscription on a mysterious Copper Scroll, found in the Qumran caves in Israel, has led Professor Vendyl Jones on a life-long quest to locate sacred treasures from the Temple of Solomon . . . Look inside
Historic Tales of the Llano Estacado
The distinctive high mesa straddling West Texas and Eastern New Mexico creates a vista that is equal parts sprawling lore and big blue sky.
"Meanwhile, two other groups of Mennonites purchased land in 1914 near Littlefield in Lamb County, and within two years, the colony had grown to 160. However, the severe drought that began in 1917 on the plains, and the threat of conscription . . ." Read more Look inside
Oil, Taxes, and Cats:
A History of the DeVitt Family and the Mallet Ranch
Many of the great Texas ranches established during the cattle boom of the 1880s became immediate business successes, but as time passed, many of them failed. Oil, Taxes, and Cats is the story of one of the survivors and of the family that kept it alive. David Mantz DeVitt, a young New York newspaperman, came to Texas in 1880 and became co-owner of the Mallet Ranch in 1895 . . . Read more
6000 Miles of Fence
The fabulous XIT Ranch has been celebrated in song, story, and serious history. This book of reminiscences of old XIT cowmen puts on record the everyday life of the individuals who made the ranch run. Their forthright, yet picturesque, discussion of ranching hardships and dangers dissipates Hollywood and TV glamorizing. They relate in honest cowboy language what actually happened inside the XIT's 6,000 miles of fence . . . Read more Look inside
Greater Tuna
Jaston is the son of a West Texas farmer and a school teacher. His family moved to Olton, Texas, and then to Crosbyton, where he graduated from Crosbyton High School. Greater Tuna is an hilarious send-up of small town morals and mores among the upstanding citizens of Tuna, Texas' Greater Tuna is the first in a series of four comedic plays (followed by A Tuna Christmas, Red, White and Tuna, and Tuna Does Vegas), each set in the town of Tuna, Texas, the "third-smallest" town in the state. . Read more
The Big Ranch Country
"Like most of the other large ranch properties, thousands of acres of the Mashed O grasslands hve surrendered to the plow. Something near half of the original purchase has become farm Land. Lamb County, most of which Littlefield and Halsell long held within the loops of their great lariats, now stands second from the top of the South Plains counties in the amount of cultivated acres." . . . Read more Look inside
Lone Star Noir (Akashic Noir)
If everything is bigger in Texas, then that includes the boldness of the criminals who call the state home. Think of the book as a sort of criminal travelogue of Texas. In Lone Star Noir, you'll find stories by James Crumley, Joe R. Lansdale, Claudia Smith, Ito Romo, Luis Alberto Urrea, David Corbett, George Wier (Duckweed: Littlefield Texas) , Sarah Cortez, Jesse Sublett, Dean James, Tim Tingle, Milton T. Burton, Lisa Sandlin, Jessica Powers (Preacher's Kid: Andrews Texas), and Bobby Byrd. . . . Read more Look Inside
Land of Bright Promise:
Advertising the Texas Panhandle and South Plains, 1870-1917
Found Inside: "After acknowledging that the nearest town was twenty-five miles away, the brochure for Olton stressed that "every citizen is anxious to make Olton a city." Along with guarantees of a delightful climate with and abundance of of ozone, the brochure resorted to poetic insistence on a bright future:
The Indian, the Buffalo, the long horned Steer
Have now passed from this mundane sphere;
For where once they roamed, OLTON will thrive ... Read more Look inside
Spirits of the Border: School Spirits
In this newest installment of this award winning series, the authors look at what they like to call School Spirits! Find Haunted Texas schools in Alpine, Alvin, Amarillo, Arlington, Austin, Beaumont, Belton, Big Sandy, Big Spring, Brownsville, Bryan/College Station, Caldwell, Carrollton, Clint, Coahoma, Commerce, Corpus Christi, Corsicana, Cotulla, Dallas, Denton, Duncanville, East Bernard, Edinburg, El Paso, Elgin, Eola, Fabens, Fort Worth, Galveston, Garland, Georgetown, Granbury, Hargill, Harlingen, Helotes, Hidalgo, Hillsboro, Hockley, Houston, Huntsville, Iowa Park, Irving, Jacksonville, Junction, Kerrville, Kilgore, Kingsville, La Feria, La Grange, Laredo, League City, Levelland, Lindale, Littlefield, Lubbock . . . Read more
The Worst Hard Time: The Untold Story of Those Who Survived the Great American Dust Bowl
Following a dozen families and their communities through the rise and fall of the region, Egan tells of their desperate attempts to carry on through blinding black dust blizzards, crop failure, and the death of loved ones.
"The Whites had no money. They were moving from the high desert chill of Las Animas, Colorado, to Littlefield, Texas, south of Amarillo to start anew. Bam White was a ranch hand, a lover of horses and empty skies, at a time when the cowboy was becoming a museum piece in Texas and an icon in Hollywood. . . . " Read more Look inside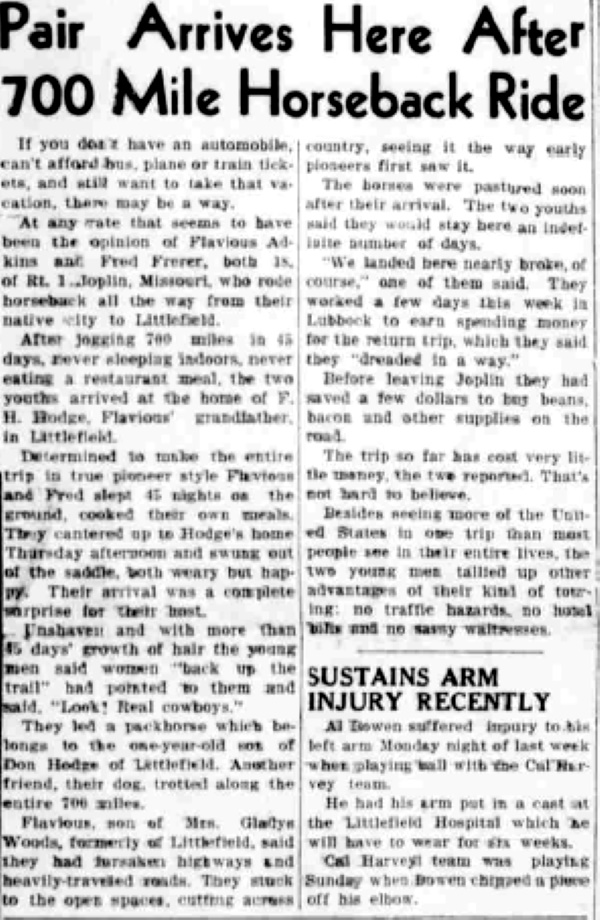 Pair Arrives on Horseback in Littlefield After 700 Mile Ride
In 1950 two young men, three horses and a dog arrived in Littlefield Texas after a 700 mile ride to visit grandfather, F.H. Hodge . . . This is their story as reported in the Lamb County Leader . . .
Resources:


Lamb County Estates with Unclaimed Money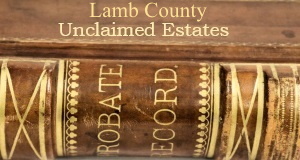 These Deceased Residents of Littlefield, Sudan, Springlake, Amherst and Olton Texas Left a total $29,548 in Unclaimed Money for their heirs.
Know the Heirs? Let them know See the full list
Lamb County Historic Treasure
Rare books, historical documents, genealogy and nostalgic collectibles from Littlefield, Amherst, Earth, Olton and Sudan Texas (eBay) . . . see them all
What's your Favorite Book about a Texas County, Town, Person or Place? Here's our best reads list County by County