Davick Services on Facebook
True Stories of Amazing People and Places in Texas
Books About Knox County Texas People and Places
What's Your Favorite Book about a Knox County Texas Person, Place or Event? Here are some of our favorites about Munday, Knox City, Goree, Truscott, Gilliland and Benjamin Texas.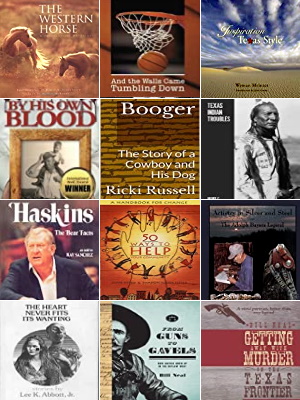 This site contains affiliate links to products. We may receive a commission for purchases made through these links. For Example: As an Amazon Associate we earn from qualifying purchases.

To read more and look inside an individual book just tap an image below
By His Own Blood
Doc Montandon will quite possibly be the best man you will ever know. This book is about him, a hard-working and religious Texas farmer of uncommonly good character. It's about prejudices that affected everyone growing up in rural Texas in the 50's and 60's. And it's about Doc's tragic death and cover-up by medical authorities. Found inside: "They met on a Sunday afternoon in July, 1937 in the middle of Main street in Knox City, Texas. It was like most small farm towns in the those parts, dry and windswept, yet vibrant with fewer than 1,000 resident. Mama said she rode in the front passenger seat of a new, black Model 40 Ford with some girlfriends. They had seen Daddy standing on the sidewalk, and when they drove by where he was, he walked out into the street and asked them to stop . . . " Read more Look inside
From Guns to Gavels: How Justice Grew Up in the Outlaw West

Found inside: "Stanton Brown of Benjamin, a Knox County native who served as the Knox County tax assessor-collector for a number of years, still recalls stories about old Tom Pickett,. He remembers Wad House, who worked for years on the McFadden Ranch in Knox County, telling tales about Pickett. One story he related must have occurred about the time of the showdown between Burk Burnett and Farley Sayers in 1912, for House recollected that the incident occurred when he was a very young man. House told the story this way: One day Pickett showed up at his place on horseback. Well aware of Pickett's reputation . . ." Read more Look inside
Booger: The Story of a Cowboy and His Dog
Action and adventure set in the Old West, as told by the cowboy who lived it. A young lady is kidnapped by Kiowa Indians and a Texas lawman pursues the Indians with his trusty mule and his imported Rottweiler, Booger. Found inside: "... in Truscott, Texas last fall . That blue eyed devil you have bound so well , with that grass rope bow tie around his neck , if that ' s the Bob Logan your referring to , here I stand . He was never off the ranch the whole time we were together ..." Read more Look inside
Backroads of Texas: The Sites, Scenes, History, People, and Places ...
Found inside: "At Benjamin, you are on the edge of an emptiness that is the domain of the old big ranches. The Knox County Museum, in the courthouse,, recalls old ties, when this little town was established in 1884, with lumber necessarily hauled from Wichita Falls---little more than a cover of cedar and mesquite tufts these low hills. One store, Uncle Bob Barton's General Mercantile, needed no lumber; the store was much traveled. It had stood in Arkansas awhile, then at Jacksboro, each time torn down for reassembly, at last here . . . " Read more Look inside
Texas Indian Troubles: The Most Thrilling Events in the History of Texas
This book gives a graphic portrayal of frontier life in Texas with marauding Comanche and Kiowa Indian tribes. Replete with many stories of Indian raids and murders, it is a classic in providing the pioneer's point of view on the unfriendly Indian tribes in the nineteenth century. Found inside: "In 1872 Henry and Willie Dillard had a fight with the Indians and narrowly escaped death. I obtained my information on this fight from Willaim Dillard, who now resides at Benjamin, Texas . . . " Read more Look inside
Getting Away with Murder on the Texas Frontier: Notorious Killings and Celebrated Trials
In 1916, in the tiny West Texas town of Benjamin, a gunman slips into a courtroom and murders the defendant. In 1912, in Fort Worth's finest hotel, a young man kills an old gentleman in cold blood in the middle of the lobby. The verdict in both of these murderers' trials? Not guilty. The explanation? "This is Texas." Laws passed by politicians in far-off Austin meant little to Westerners living on the Texas frontier. Sagebrush justice relied less on written statutes than on common sense, grass-roots fairness, and vague notions of folk law . . . Read more Look inside
Shifters of the Black Moon
It was a strange year with a winter that comes along as rare as The Black Moon. Nonetheless, such was the year for Will Kross. He was a man beguiled by his own actions and choices, a man condemned and tormented by a past he was not guilty of, a man demoralized and disillusioned by a past created by himself and the beliefs of those who wanted so desperately to believe the worst in him that they would spin a tale anyone would believe if they wanted to see him fail. Then came Benjamin, Texas and a Marshal named Collin Teale along with a range war . . . Read more
The Other Side of the Medal: A Paleobiologist Reflects on the Art and Serendipity of Science
This is a personal account of the human side of Everett C Olson's distinguished career as a paleobiologist. Found inside" Later , Benjamin, Texas , became the center of operations , and with the discovery of a rich deposit some six miles west of Benjamin , along the Benjamin - Crowell Highway and six miles north on mud roads, we set up a field camp at the site . . . " Read more
Haskins: The Bear Facts
Found inside: "I told him no thanks, that if I were to coach it would have to be as a head coach somewhere. Robinson heard me. He go up and went to a nearby telephone and called a man who had called him from Benjamin, Texas, looking for a coach. Robinson motioned me over and I talked to the man on the other end of the line. It was D. V. Markham, superintendent of schools and a former football star at Hardin Simmons University. He offered me the job despite learning I didn't have a degree . . ." Read more Look inside
The heart never fits its wanting : stories by Lee K. Abbot, Jr.
Found inside: "Friends , it was Grimsville, a place called Goree, Texas — later described in Rae Nell Tipton ' s memoirs as quote conterarticulate, mythopathic and wanton, a meager skyline of grain silos , truck dealerships , saloons and an . . . " Read more
And the Walls Came Tumbling Down: The Basketball Game That Changed American Sports
Found inside: "He sure did bring a sense of excitement to the town" said Benjamin resident Johnny Hudson. "If you were at the town square of over at Red Kilgore's----he had a hamburger stand on the main street----that's all people would talk about ... The whole attitude of the school changed. It had never been the kind of place where there was a whole lot of pride, especially in athletics, because we just weren't very good. But after Coach Haskins arrived, you could say, 'I'm from Benjamin High School' and be proud of it," . . . Read more
50 Ways to Help Your Community
The people in this book are ordinary men, women, and youngsters who have started programs that you can become a part of, replicate, or adapt to your own community. Found inside: "One of seventeen children born to cotton farmers in Goree, Texas, he and his family had lost two homes to poverty by the time he was eight . " That ' s when I started working in the fields , drawing a man ' s wages , " he remembers . Going to . . ." Read more
Artistry in Silver and Steel: The Adolph Bayers Legend
Adolph Bayers was born 1912 and died in 1978, he lived his entire life in Gilliland, Texas on the farm where he was born. He never earned his primarily living as a bit and spur maker and worked as a farmer for his primary income . . . Learn more
Western Horse: A Photographic Anthology
by Buster Mclaury from Benjamin Texas
The Western Horse pays tribute to the power, mystique, and grace of the horse that settled the West. This spirited coffee-table book features Dave Stoecklein's best horse photography-including Quarter Horses, Paints, Appaloosas, Palominos, Mustangs, and many more . . . Read more Look inside
Inspiration Texas Style
Many Texans are proud of their state. The people, the places, the ideals and hearts all come together in a magnitude of pride exhibited toward the Lone Star. For many reasons, some more obvious than others, Texas holds a special place in hearts of inhabitants and visitors alike. Texas State Photographer, Wyman Meinzer, is such a person, a native son, and a documentarian of what it means to be a proud Texan. Meinzer is a self-taught historian who lives in Benjamin with his wife, Sylinda.
Read more about Inspiration Texas Style or see More books by Wyman Meinzer
America's 100th Meridian: A Plains Journey
Found inside: "I was photographing the backstop when Tommy Tapp approached, looking for all the wold like th town's only citizen, since there was no one else there. Tommy volunteered that in 1924 he'd been brought to Truskett from the country to attend school, at age ten. Before that, his life was hoeing and picking cotton. Pointing imprecisely to the piles of weathered wreckage, he continued. "There's the old cleaners, and next door was the barber shop where cowboys used to come and bathe, getting their clothes cleaned up for Saturday night . . . " Read more Look inside
1948 Yearbook: Munday High School, Munday, Texas
1967 Yearbook: Benjamin High School, Benjamin, Texas
1965 Yearbook: Knox City High School, Knox City, Texas
What's your Favorite Book about a Texas County, Town, Person or Place? Here's our best reads list County by County