Davick Services on Facebook
True Stories of Amazing People and Places in Texas
Books About Hartley County Texas People and Places
What's Your Favorite Book about a Hartley County Texas Person, Place or Event? Here are some of our favorites about Channing, Dalhart and Hartley Texas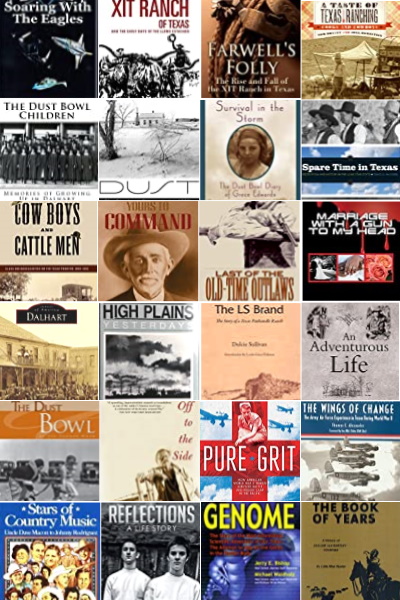 This site contains affiliate links to products. We may receive a commission for purchases made through these links. For Example: As an Amazon Associate we earn from qualifying purchases.

To read more and look inside an individual book just tap an image below
The Worst Hard Time:
The Untold Story of Those Who Survived the Great American Dust Bowl
"At the high western edge of the plains, a wind-bent cowboy feeds a horse in a field near the house he built in Dalhart, Texas. The breeze is up again in the Panhandle, blowing tumbleweeds against a fence. Melt White walks with the slow, stiff gait of a horseman in his later years . . . Read more Look inside
Survival in the Storm: The Dust Bowl Diary of Grace Edwards, Dalhart, Texas 1935
Fourteen-year-old Katelan Janke writes this exciting and harrowing tale of Grace Edwards and her family's struggle to survive the dangers and despair of the American Dust Bowl. In fourteen-year-old Katelan Janke's first Dear America book, we meet Grace Edwards, a little girl growing up in the heart of the Texas panhandle, in the midst of the Dust Bowl . . . Read more
Last of the Old-Time Outlaws: The George West Musgrave Story
Once, while he was playing with a number of tinhorns, and beating them at their own game, an observer pushed a gun into George's ribs and ordered that he continue playing. Unruffled, he continued his cheating ways; the observer left, astonished the Musgrave's beginner's luck. If Schiffely's tale has any foundation, it would suggest that Musgrave, no longer content with fleecing railroad workers as he had done at Dalhart, Texas . . .: Read more Look inside
The Dust Bowl Children, Memories of Growing up in Dalhart
Much has been written about the Dust Bowl and about the suffering of those who lived through it. This book does not tell the story of the Dust Bowl but rather the generation that followed. It tells the story of those Texas panhandle children who were born in and around Dalhart, or who joined us at the height of the Dust Bowl and later . . . Read more Look inside
Dust Bowl: The Southern Plains in the 1930s
In the mid 1930s, North America's Great Plains faced one of the worst man-made environmental disasters in world history.
"In 1936, eight miles north of Dalhart, Texas, on Andy James's farm, the once level land was growing a crop of sand dunes. As late as 1930 there had been native grasses here, but in the next year the sod was broken and wheat was sown . . . Read more Look inside
Dalhart (Images of America)
In 1882, the Fort Worth and Denver City Railway made its way to Dalhart, and by 1901 two railroads crossed tracks in the northwest corner of the Texas Panhandle. The twist of tracks was located at what is now the intersection of Highway 87, running north and south, and Highway 54, running east and west, in Dalhart. The second railroad, the Rock Island and Chicago Railway, along with the first, gave rise to Dalhart's first name, Twist Junction, but right away a new name was . . . Read more Look inside
High Plains Yesterdays: From XIT Days Through Drought and Depression
Buffalo Springs, thirty miles northwest of Dalhart, was the original XIT headquarters, and many early residents of the Dalhart area spent their youthful years as cowboys on the ranch. From about 1901 to about 1939, those living in the High Plains area witnessed and took part in its transition from a purely cattle-raising empire to a cattle and farming empire. Only venturesome, independent, and self-reliant people were willing to cast their fate with the High Plains In "High Plains Yesterdays," John C. Dawson, a retired Houston lawyer who grew up in Dalhart, captures the personalities and characters of some of these people . . . Read more
6000 Miles of Fence
The fabulous XIT Ranch has been celebrated in song, story, and serious history. This book of reminiscences of old XIT cowmen puts on record the everyday life of the individuals who made the ranch run. Found Inside: "Henry Eubanks, foreman of the Rito Blanco in the 1890's, turned away from ranching, becoming a county judge in Channing. Eubanks was remembered kindly by the hands because he had two eligible daughters, the he personally disagreed as to their eligibility, particularly when his Lulu was mentioned. The cowboys joked frequently that . . . " Read more Look inside
The LS Brand: The Story of a Texas Panhandle Ranch
Drawing upon stories told to her by men and women who were with the LS during the 1880's and later years, Dulcie Sullivan presents her narrative in a clear, straightforward, but sympathetic manner that gives the reader a vivid sense of how life was really lived there in those times . . . Read more Look inside
Cow Boys and Cattle Men: Class and Masculinities on the Texas Frontier, 1865-1900
"In the Texas panhandle, it was not the political parties who ran candidates but XIT and LS Ranches. Either way, cattlemen dominated local politics. In 1896, XIT ranchers ensured Hartley County seat would be in company town Channing rather than Hartley by rounding up illegal votes, presumably from among its . . . Read more Look inside
Yours to Command: The Life and Legend of Texas Ranger Captain Bill McDonald
Captain Bill McDonald (1852–1918) is the most prominent of the "Four Great Captains" of Texas Ranger history. His career straddled the changing scene from the nineteenth to the twentieth centuries. "A few months earlier the sheriff of Hartley County was taken into custody by Panhandle Rangers and housed in the Amarillo jail for stealing several thousand dollars of county funds. Sergeant Britton temporarily assumed the duties of the office of sheriff . . ." Read more Look inside
Soaring With The Eagles: Autobiography of TD Barnes
For half a century, his family and friends never knew he worked on special projects at Area 51 for the CIA. Barnes, an Area 51 and Cold War veteran tells what brought him from a desolate childhood on a remote ranch in the West Texas Panhandle near Dalhart, and through an Army career to Area 51 to serve the CIA's Directorate of Science and Technology. Only since the CIA recently declassified how it secretly formed Area 51 can renowned Area 51 veteran, TD Barnes publish his autobiography . . . Read more Look inside
The XIT Ranch of Texas and the Early Days of the Llano Estacado
Among the famous ranch brands of Texas are the T Anchor, JA, Diamond Tail, 777, Bar C, and XIT. And the greatest of these was XIT—The XIT Ranch of Texas.
"As the only town in the western Panhandle when the XIT development started, Tascosa became the focal point for the ranch business. When the railroad built through, the XIT's shifted headquarters to Channing . . ." Read more Look inside
Farwell's Folly: The Rise and Fall of the XIT Ranch in Texas
Farwell's Folly is the story of the development of that land into the XIT Ranch, the largest cattle ranch in the world, stretching across ten counties and requiring 6,000 miles of fencing. It has been more than 30 years since a book has come out on the famous XIT ranch of Texas. Now Texas writer Dede Casad brings this mystique of this historic ranch out of the tumble weeds of West Texas into the modern age for readers who love to read about the often forgotten tales of early Texas . . . . Read more Look inside
A Taste of Texas Ranching: Cooks and Cowboys
A Taste of Texas Ranching takes readers to more than thirty ranches in the Lone Star State and introduces them to the cook at each one. A cookbook, history book, geography book, story book, and a book about western America, A Taste of Texas Ranching serves up a slice of life along with a piece of the pie ...
"Barber Ranch, Channing, Texas. Dale and Mary Ann Barber showing for fun and profit. Driving around the Channing / Dumas area after dark leaves you with the impression that someone forgot to turn out all the . . . Read more Look inside
The Dust Bowl (Essential Events)
"In Dalhart, Texas, explosive expert Tex Thornton told a group of local residents that setting off dynamite in the air could bring rain. Farmers and ranchers gave Thornton $300 to purchase explosives and send them up in balloons into low-lying clouds . . ." Read more
Indians, Cattle, Ships and Oil: The Story of W. M. D. Lee
Indian trader, rancher, harbor developer, oil impresario—these are the many worlds of one of the least chronicled but most fascinating characters of the American West. "As the site for a permanent ranch headquarters, Lee purchased a Spanish settlement located on Trujillo Creek in Hartley County, approximately three miles east of the New Mexico border. As a consequence, several . . . Read more Look inside
Off to the Side: A Memoir
Selected as a New York Times Notable Book of the Year, Off to the Side is the tale of one of America's most beloved writers.
"Dalhart, Texas: I've never quite figured out why I like this place except that it is surrounded by a vast emptiness that has been grazed more prudently than public cattle country farther west. The history of Dalhart has a mythic touch . . . " Read more Look inside
Spare Time in Texas: Recreation and History in the Lone Star State
What do Texans' pastimes and recreations say about their characters? Looking at Texas history from a new angle, David McComb starts from the premise that how people spend their leisure time may well reveal more about their true natures and interests than the work they do or their family connections. "Friends and the county supplied her with food, coal, and kerosene. Her well caved in, rattlesnakes denned under the house, and Frenchy became deaf, toothless, thin, and enfeebled. She finally allowed a friend in nearby Channing, Texas to take her . . . Read more Look inside
The Wings of Change: The Army Air Force Experience in Texas During World War II
On the brink of World War II, Texas was still largely a rural state, a closed society. Few chose to leave, and even fewer outsiders found any reason to enter. A frontier morality dictated adherence to strict moral guidelines regarding temperance, frugality, tolerance, fidelity, and moderation. Cultural activities and educational opportunities were limited. The air force had come to Texas in a big way, and changes, as well as the wings of thousands of airplanes, were in the air, from Dalhart to Laredo and from El Paso to San Antonio . . . Read more Look inside
Pure Grit: How American World War II Nurses Survived Battle and Prison Camp in the Pacific
"Frankie Lewey, a feisty redhead from Dalhart, Texas had argued her way into the Army Nurse Corps despite being older than the twenty-eight-year age limit. She left her hometown nursing job, gelling her mother, "If ever there is a war, I hope I get right in the thick of it." Maybe she remembered those words on the bus jolting toward the Bataan Peninsula . . . Read more Look inside
Marriage with a Gun to My Head
Robert came to me with a gun in his hand, pointed it to me, and said, If you don't marry me, you wont marry anyone. And if you do, I will look for both of you no matter where you go and kill you both. He cheated, beat me, killed people, was a jealous drunk, and was also a gambler and a rapist, and he never went to prison... "We got Julie Saturday, March 7, about 5: p.m. Ruth met Davie and me at Dalhart, Texas. Davie takes her back May 1. She weighed twenty-five pounds when we got her , , , Read more Look inside
Stars of Country Music: Uncle Dave Macon to Johnny Rodriguez
The first country music recording artist to attain an international following for himself and commercial country music was Vernon Dalhart. Coming to the Bronx from Dallas with his wife and two small children in 1910, the twenty-seven-year-old Texan took his professional name from Vernon and Dalhart, Texas, the towns between which he had punched cattle in the second half of the 1890s . . . Read more
Texas Biographical Dictionary
William Wayne Keeler born April 5, 1908 in Dalhart, Texas was a noted industrialist and principal chief of the Cherokee Nation. He served as chairman of the board of director of Phillips Petroleum Company from September 9, 1968 until his retirement as an employee April 1, 1973. Keeler joined Phillips permanently in 1928 after several summers of vacation employment. He advanced through various jobs as chemist, engineer, and supervisor at several Phillips refineries . . . Read more Look inside
Reflections: A Life Story
Life is a journey. In this case, the story of a special boy, Little Bill, who is born in the poverty of a small Kentucky coal-mining town. His father is murdered, and his mother remarries trying to hold on to her two daughters and young son.
"Having packed our belongings and supplies, namely; food, we set out to arrive in Dalhart Texas. The day started well. We were rested and had a good idea of our first leg of the trip, and mean our first leg as we were on foot, hoping to reach Dalhart in approximately twelve days . . . " Read more
An Adventurous Life
I wrote my cousin in Dalhart, Texas, and asked if he knew of a large ranch that I could go to during a roundup and do sketches and take photographs to paint. He called and said he helped out one such ranch at Kerrick, Texas. It was the Perkins and Prothro Land and Cattle Company. They rounded up between 4,500 and 5,000 heads each spring. I drove up to Dalhart and spent the night with Bill at his ranch, and the next morning we made the drive to Kerrick and the Prothro ranch. for the next five days, I got up each morning at four o'clock . . . Read more Look inside
Genome:
The Story of the Most Astonishing Scientific Adventure of Our Time--The Attempt to Map All the Genes in the Human Body
By Jerry E. Bishop
Jerry E. Bishop was born March 29, 1931 in Dalhart, Texas. Bishop has been the science reporter for the Wall Street Journal since 1955. Told with the pacing of a great suspense novel, Genome tells the very real story of what could be the most ambitious scientific research project ever undertaken . . . Read more Look inside
The Book of Years: a History of Dallam and Hartley Counties
by Lillie Mae Hunter
What's your Favorite Book about a Texas County, Town, Person or Place? Here's our best reads list County by County