Davick Services on Facebook
True Stories of Amazing People and Places in Texas
Books About Garza County Texas People and Places
Here are some of our favorite books about Garza County, Post and Justiceburg Texas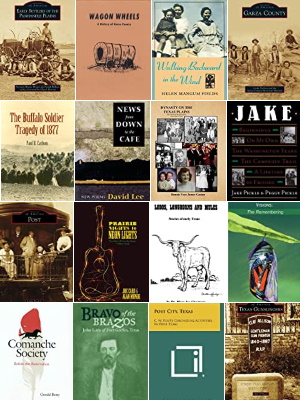 This site contains affiliate links to products. We may receive a commission for purchases made through these links. For Example: As an Amazon Associate we earn from qualifying purchases.

To read more and look inside an individual book just tap an image below
The Last of The Old-Time Cowboys
Within the pages of this book these genuine legends who rode through a golden moment in American history live on. Found inside: "Born February 8, 1906, Bill Townsend grew up in Fluvanna in Scurry County and got his first horse-breaking job in 1923 in Borden County. In the mid-1920s he worked for the Slaughter operation near Post, the Matadors, and the Beal outfit near Gail . . . Read more
Early Settlers of the Panhandle Plains
The panhandle plains were Texas's last frontier, barren lands populated by hostile Comanche and outlaws attempting to outrun civilization. It was Texas Ranger and frontier scout Jim Jackson who first saw potential in the region. They were the point riders who took the challenge of opening Kent, Garza, Crosby, Lynn, Borden, Dawson, Mitchell, Fisher, Scurry, Stonewall, and Nolan Counties to permanent settlement . . . Read more Look inside
Walking backward in the wind was often a child's game. But in West Texas during the Great Depression, whether you were child or grownup, it was a method of moving ahead by backing through the legendary windstorms which swept the landscape, the same winds that covered beds, furniture and even food with a thick layer of dust. Helen Mangum Field's account opens and closes with the winds - one a nameless windstorm, the other the fabled Black Duster. But Walking Backward in the Wind is about more than the winds - they are only bookends, a blustery literary device. What occurs between the winds - the rhythms of farm families and communities in the 1920s - is the heart of this narrative . . . Read more
Garza County by Linda Puckett
Garza County was created in 1876 and named by Texas legislators in honor of the de la Garza family of San Antonio. The county lay claim to vast ranch lands with the picturesque cap rock escarpment weaving its way from north to south. Though the 1880 census listed the population as a sparse 36 people--mostly landowners and cowhands--cattlemen like John B. Slaughter and W. E. Connell owned massive spreads in excess of 100,000 acres with more than 5,000 head of cattle and 100 horses. By 1900, the . . . Read more
The Big Ranch Country
J. W. Williams's classic survey of the big ranches of the Southwest reaches deep into the stories of key players in American ranching history. "It was up this canyon some ten miles north of the place where Post City is located that Young and Galbraith drove their small herd of cattle with the Y. G. Brand in 1879" . . . Read more Look inside
The Buffalo Soldier Tragedy of 1877
At the end of February about fifty Comanches rode up on Marshal Sewall, who was shooting bison and did not notice the Indians approaching. Sewall's outfit was near the head of the Salt Fork of the Brazos River, probably in modern Garza County and about five miles northeast of Devins's Camp. . . Read more
Bravo of the Brazos: John Larn of Fort Griffin, Texas
Found inside: "Big Bill Gilson stayed clear of Fort Griffin after Larn was lynched. In 1881 he took the town marshal's job at Sweetwater in Nolan County, Texas, where he was said to have added two more notches to the pistol handle of his sawed - off shotgun. In 1883 he was a hired gun in a a fence-cutting war in Garza County, and the following year returned to Sweetwater. There he met his death at the hands of a tough gunman named Jim Cooksey . . ." Read more Look inside
Texas Ranger: The Epic Life of Frank Hamer, the Man Who Killed Bonnie and Clyde
Found Inside: "Early in 1916, she learned that Ed was sill seeing her former girlfriend. Enraged, she moved back to the Johnson ranch and instructed her attorney, Cullen Higgins, to file for divorce in Scurry County. Ed's lawyers managed to get the case continued, and then filed Ed's own divorce action in Garza County. Ed had good reason to believe that the courts in Scurry County would favor Gladys, while the courts in his home county would favor him. In May Ed had his attorneys . . . Read more Look inside
Great Plains
"In 1910, C. W. Post, the cereal magnate, began an ambitious rainmaking project on his 20,000 acres of the Texas plains. Post had noticed that in accounts of wars which he had read, heavy rains always seemed to follow artillery battles. He believed that with enough explosions he could produce Rain He blew off boxcars of dynamite on the plains around his town of Post City, Texas. . . . " Read more Look Inside
News from Down to the Cafe: New Poems
By David Lee
David Lee played semiprofessional baseball as the only white player to ever play for the Negro League Post Texas Blue Stars and was a knuckleball pitcher for the South Plains Texas League Hubbers. These poems are rooted in stories overheard at the Wayburne Pig Cafe. They capture a rural community's true voice, peppered with gossip and arguments right off Main Street. It was nominated for the Pulitzer Prize for Poetry . . . Read more Look inside
Dynasty on the Texas Plains
Page 71: In order to reach the flat land of West Texas, the family passed through Post, Texas. West of Post was a steep incline to the Caprock. The dirt road made it difficult to climb with heavy farm equipment . . .
Jake
"About this time Pop was given a team of mules and a wagon as payment of a debt, However he had to bring them from Post, Texas, back to Lamesa, a distance of about fifty miles. Without warning, a Blue Norther hit, covering the ground with sleet and ice. The mules wouldn't move" . . . Read more Look inside
Post City was founded in 1907 by an American icon, cereal magnate C.W. Post. Mr. Post acquired approximately 333 square miles on which to construct a unique town and farming community on the plains of West Texas, a place where Comanche Indians roamed until the buffalo hunters depleted the buffalo herds. By 1900, the population for the entire county of Garza was 180--a meager handful of people, mostly cowhands and landowners, scattered amid the vast ranches. Great change would take place with the arrival of C.W. Post, a man with a plan to build a model town in the middle of Garza County . . . Read more
Prairie Gothic: The Story of a West Texas Family
Erickson tells the story of people in the context of a specific place. This place, instrumental in shaping their lives, is the flatland prairie of northwestern Texas that has gone by various names (High Plains, South Plains, Staked Plains, and Llano Estacado), as well as the rugged country on its eastern boundary, often referred to as the "caprock canyonlands." ...
Max Coleman says that Sherman worked for a time with Nave-McCord Cattle Company on their Square and Compass Ranch in Garza County, near present-day Post . . . Read more
Prairie Nights to Neon Lights: The Story of Country Music in West Texas
Floyd Tillman was an influential singer and songwriter in the 1940's who spent his teenage years in Post, Texas. His songs include classics such as "It Makes No Difference Now"
"Born David Pinkston on November 11, 1913 in Post, Texas, David Sloan grew up loving country music through the phonograph records of his parents, friends, and relatives. . . . Read more Look inside
Lobos, Longhorns and Mules: Stories of early Texas
"Pete, with his mother and dad, lived on a ranch on the edge of the Caprock near Post, Texas. Part of the ranch was on top of the Caprock and part below. In that area, the rocky cliffs of the edge were not as high and steep as in some other. Their ranch house below the edge, protected from the northwest wind . . ." Read more Look inside
Visions: The Remembering
I can remember being so involved in everything that happed back in Post, Texas. Who might be sleeping with whom was just about the most important news in town . . . Read more Look inside
Comanche Society: Before the Reservation
Rather than a narrative history of the Comanches, this account presents analyses of the formation of clans. "Cowhead Mesa in Southwestern Garza County, Texas has been described as "a typical bread-loaf-shaped western mesa. Among the the various carvings etched into the mesa's pliant walls is a pictographic account of the violent San Sabs Mission episode, apparently put there by a Comanche artist-historian sometime after the attack of March 16, 1758 . . . Read more
Texas Gunslingers: Images of America
"In 1905, Ed Sims, 21, married 14-year-old Gladys Johnson. Billy Johnson helped the couple acquire a ranch south of Post City, seat of Garza County. Instead of the happy union of two ranching families, the marriage became turbulent and adulterous" . . . Read more Look inside
Bravo of the Brazos: John Larn of Fort Griffin, Texas
Except for western history buffs, almost everyone has forgotten the Texas outlaw John Larn. "Big Bill Gilson stayed clear of Fort Griffin after Larn was lynched. In 1883 he was a hired gun in a fence - cutting war in Garza County , and the following year returned to Sweetwater . There he met his death at the hands . . . " Read more
Buffalo Days: Stories from J. Wright Mooar
J. Wright Mooar tells the story of the buffalo hunter, from the hunter's perspective, in this first-person account published more than seventy years ago.
The story from Wright Mooar's lips; and the rugged old frontiersman, among the very last of the buffalo hunters, laughed heartily over the Indians amazement and frantic flight. 'Where did that happen'?' I asked. 'Somewhere in Garza County, Texas, not far from where Post is now.. . . " Read more Look inside
Post City, Texas: C. W. Post's Colonizing Activities in West Texas
by Charles Dudley Eaves and C. Alan Hutchinson
Documents cereal king C.W. Post's colonization efforts from the founding of his namesake town in 1907 until 1918
Life in Garza County Tx 1850 - 1950
Books about People and Places from Nearby Counties
Books about Crosby County People and Places
Books about Kent County People and Places
Books about Scurry County People and Places
Books about Borden County People and Places
What's your Favorite Book about a Texas County, Town, Person or Place? Here's our best reads list County by County