Davick Services on Facebook
True Stories of Amazing People and Places in Texas
Books and Articles about Floyd County People and Places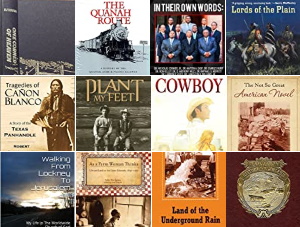 Books and Articles about Your Friends, Family and Ancestors from Floydada, Lockney, Aiken, Barwise, Dougherty and South Plains Texas

Check Our List of Books About People and Places from Other Texas Counties Here

This site contains affiliate links to products. We may receive a commission for purchases made through these links. As an Amazon Associate we earn from qualifying purchases.
Tragedies of Cañon Blanco: A Story of the Texas Panhandle
Robert Goldthwaite Carter was a US Cavalry officer who participated in the American Civil War and Indian Wars thereafter. Carter would participate in a number of expeditions against the Comanche and other tribes in the Texas-area. It was during one of these campaigns in 1869 that he was awarded the Medal of Honor for his "most distinguished gallantry" against the Comanche in Blanco Canyon in present day Floyd and Crosby Counties . . . Read more Look inside
By Duane Griffith from Lockney Texas
When the Old West was new and unsettled . . . The Comanche Indians had been forced onto the reservation . . . This is the story of twenty-one-year-old Clay Long when he left his home and family near Waco, Texas to establish a homestead northeast Lockney. The author goes into great detail about the people and places he encountered . . . Look inside and search for Lockney, Floyd City or Della Plain.
Quanah Route: A History of the Quanah, Acme, & Pacific Railway
The Iron Horse forever changed the American West, from a wild frontier to a network of scattered settlements tied together by steel rails. Behind the romantic image of the galloping Iron Horse, however, lies a rich history of American business activity. Railway giants have dominated this history, but small companies such as the Quanah, Acme & Pacific Railway Company (QA&P), a short line that operated in four counties . . . Read more
Cowboy
by Bob Holt from Lockney Texas
The second son of a hard-as-nails Texas rancher is drafted out of college for the Vietnam war. Assigned to the Pentagon, he observes the great March on Washington protesting the war and questions why his peers are marching outside and he's inside the walls of the citadel. After his discharge, he enrolls at the University of Connecticut where he hopes to catch up with his generation. There, he meets and falls in love with a beautiful Woodstock flowerchild, a beguiling, free-loving, Tinker Bell in blue jeans . . read more and Look inside
The Not So Great American Novel
The "Great American Novel" was a concept illustrating the essence of a generation and its defining influences. Jim Doucette represents an American dream realized, although his journey to the 'Great American' ideal was at times, simply, 'Not-So-Great.' Jim invites us to look at this Dream through an era of post-war time, arising commerce, and the technology boom of cable television. In his entertaining memoir, he shares his journey . . . Read more
As A Farm Woman Thinks: Life and Land on the Texas High Plains, 1890–1960
by Nellie Witt Spikes
Nellie settled with her family in Emma (the once-thriving county seat) in Crosby County. At 18, she moved to a farm in the Cone community south of Floydada with her husband, Jeff Spikes, where they raised wheat, cotton and other crops for 43 years. In twenty-five years of syndicated columns in small-town Texas newspapers between 1930 and 1960, Nellie Witt Spikes described her life on the High Plains, harking back to earlier times and reminiscing about pioneer settlement, farm and small-town culture, women's work, and the natural history of the flatlands and canyons . . . Read more
One corner of Heaven
by Blanche Scott Rutherford from Floydada Texas
Preface: THE PURPOSE IN WRITING this book is two-fold. First, to preserve the history of this part of the country and its people as it has actually been lived since the white settlers first carne. The author paints a word picture of daily life as she and her loved ones, and her neighbors have lived it. She presents the mode of living on the Great Texas Plains during the last seventy-six years, up to 1964. She believes the stories herein are typical of many families throughout this great area . . . Read more
Walking From Lockney To Jerusalem
It's a walk of faith--and it also involves a "faith of inconvenience"...Join Coy Reece Holley as he takes you through a "walking tour" of his life in this unique "memoir with a twist"
Lockney - Where for me it it all began. Being Raised as a "Black Sheep"
Lockney Main Street - How I began to Listen to Mr. Armstrong
Lockney High School - The Long Wait until Graduation
Lockney W. Locust Street - Going Back to Siberia - My Siberian Exile / Great Tribulation Period
In Their Own Words: Ten African-American Men With Doctoral Degrees Tell Their Story
In Chapter 8, Dr Langston B. Williams, Jr tells his story of growing up in Floydada Texas. Langston attended North Ward School in Floydada and graduated from Floydada High School in 1972. A graduate of Wayland Baptist University in Plainview in 1976 he served served as a teacher, coach and administrator in Lubbock, Waco, Seguin and San Antonio Texas.
Land of the Underground Rain: Irrigation on the Texas High Plains, 1910-1970
by Donald E Green
The scarcity of surface water which has so marked the Great Plains is even more characteristic of its subdivision, the Texas High Plains. Settlers on the plateau were forced to use pump technology to tap the vast ground water resources—the underground rain—beneath its flat surface . . . Read more
History Of Floyd County 1876-1979
by Floyd County History Book Committee
History of Floyd County, plus family sketches.
Spirits of the Border V: The History and Mystery of the Lone Star State
Page 132 "According to folklore, the old Commercial Hotel (Lamplighter) in Floydada, built in 1912, is home to tow ghosts, Floyd and Ada. A pair of man's legs has been seen running up the stairs, and a woman dressed in 1930s-era clothing also has been seen, the story goes. According to legend, a past owner got up one morning to find a table had set itself for lunch. Others have reported feeling cold breezes when there was no wind outside" . . . Check it out
Books by Floyd County Authors
Floydada Yearbooks
. . . see them all
Articles About Floyd County People and Places

Panhandle Residents Ponder Polygamist's Move


What's your Favorite Book about a Texas County, Town, Person or Place? Here's our best reads list County by County






Floyd County Appraisal District
Floyd County News
Floyd County Land Auctions
Floyd County Experts
People from Floyd County TX
Floyd County Products
Floyd County Unclaimed Property Owners
Floyd County Unclaimed Estates
Books about Floyd County Texas