Look Who's Talking about Texas History
Davick Services recommends the Facebook Group "West Texas History & Memories" for history, famous people, old photos, stories, unclaimed estates and genealogy of the Western Half of Texas . . . Check it out and join the conversation
Books About Eastland County Texas People and Places
What's Your Favorite Book about a Eastland County Texas Person, Place or Event? Here are some of our favorites about Cisco, Eastland, Gorman and Ranger Texas.

All books listed here are available at Amazon. Just tap the book cover to read more, look inside and order if you want.

This site contains affiliate links to products. As an Amazon Associate we earn from qualifying purchases.

To read more and look inside an individual book just tap an image below
Welcome Home, Son
by Ken Brawley
Found inside: "I remember well the day I turned 18 years old. At that time, the law of the land said that any male American reaching this plateau was required to register with the Selective Service. This put one's name in the hat. I was bursting with pride the day, September 14, 1961, my 18th birthday, that I proudly marched into the County Court House in Eastland, Texas and did my legal duty. I did this never really knowing what such action might foretell . . . ' Read more Look inside
Frontier Defense in the Civil War: Texas' Rangers and Rebels
Found inside: "The most notable conflict with Indians during the first eight months of Erath's command occurred in August, 1864. Lt. Singleton Gilbert commanded an Eastland County company stationed at Nash Springs, three miles northwest of present Gorman. On August 8 he sent out a squad of eight men, led by James L. Head; they left camp for a ten day scout and the next morning came upon fresh Indian signs between present Cisco and Eastland . . . " Read more Look inside
The West of Billy the Kid
Found inside: "On September 2, 1876, Josiah Gordon "Doc" Scurlock accidentally killed his friend Mike Harkins while examining a pistol. Just a few weeks later, on October 19,1876, Scurlock was married to sixteen-year-old Antonia Miguela Herrera. They had ten children. After the Lincoln troubles he left New Mexico for Texas and dissociated himself from his past. His wife died at Acton, Texas in 1912; Scurlock moved to Eastland Texas, where he died on July 25, 1929 . . . " Read more Look inside
Biscuits Across the Brazos, Recollections of a Memorable Horseback and Covered Wagon Journey
The small boy watched as loving hands wrapped two biscuits in wax paper. Eighty years later, the boy's son led a single wagon across Texas, carrying those same biscuits. This is the story of how two cousins, two mules, two horses... Found inside: Saturday, June 6, 1998. "Charles kept asking, "Has anybody ever froze to death in Ranger, Texas in June?" We were a little disorganized on this first day of travel, but Charles had potatoes, eggs and sausage going by the time we fed the stock. We managed to . . . " Read more Look inside
The Texas Sheriff: Lord of the County Line
In the first half of the twentieth century, rural Texas was a strange, often violent, and complicated place. "In Eastland County in 1951, with grand jury encouragement, Sheriff Frank Tucker shut down "cutthroat gambling gyps at the county fair booths run by Eastland American Legion, and the veterans' group took out full-page newspaper ads in self-defense. Grassroots gambling passions remained strong, however, and as soon as active suppression ceased, gambling devices and games of chance popped up like mushrooms in the sheriff's domain ..." Read more Look inside
Sex, Murder, and the Unwritten Law: Courting Judicial Mayhem, Texas Style
by Bill Neal
"Whereas prior to Big Mac, Mrs. McCleskey spent her days feeding chickens, milking cows, and washing clothes by hand on the couple's little drought-stricken farm in Eastland County, two years later she found herself sitting on a $7 million bank account that was growing larger and larger by the minute ..." Read more Look inside
Running With Bonnie and Clyde: The Ten Fast Years of Ralph Fults
Ralph Fults began his career of crime at the improbable age of fourteen. At nineteen he met Clyde Barrow in a Texas prison, and the two men together founded what would later be known as the Barrow gang. Found inside: "On Tuesday, February 20, 1934 Clyde and Ray were able to put their difference aside long enough to raid the National Guard Armory at Ranger, Texas, where they loaded a large quantity of Browning automatic rifles, Cold .45 automatic pistols, and ammunition into the rear of their stolen V-8 . . . " Read more Look inside
Interwoven: A Pioneer Chronicle
Found inside: "From there we drove to Merriman in Eastland County where Sister and Brother Barney live. Here, Father, Mother and I spent part of the winter, while Brother George and Sister Bettie went on the Matthews home near Fort Griffin. There was a pleasant surprise in store for me here; my school teacher, Miss Jennie Spooner, now Mrs. Will Vincenheller, was living in this little settlement of Merriman, her husband having a general merchandise store " . . . Read more Look inside
Lone Star Lawmen: The Second Century of the Texas Rangers
by Robert M. Utley
Based on unprecedented access to Ranger archives, Lone Star Lawmen chronicles one hundred years of high adventure as told by one of the nation's most respected Western historians. Found inside: "Less than a month earlier, with bank robberies a daily occurrence, the most spectacular in Texas history took place at Cisco, a railroad town in Eastland County. On December 23, 1927, four men entered the First National Bank and covered everyone with pistols. They were ex-convicts Marshall Ratliff, Henry Helms, and Robert Hill, and an accomplice, Louis Davis. Ratliff wore a bright Santa Claus costume. . . . " Read more Look inside
Gangster Tour of Texas
Found inside: " Alex Spears, cashier at the First National Bank in Cisco, Texas, was sitting at his desk visiting with local grocer Oscar Cliett and a friend Marion Olson, who had just come for the Christmas holidays from Harvard University. It was just before lunch on a Friday two days before Christmas in 1927 . . . " Read more . . . for more like this please see Christmas in Texas
Lone Wolf Gonzaullas, Texas Ranger
In this lively biography, Brownson Malsch describes Gonzaullasís career, first as a major in the Mexican Army and then as an agent of the U.S. Treasury Department, before he joined the Rangers in 1920. His many cases included the Santa Claus bank robbery in Cisco, the famous courtroom burning and lynching in Sherman, the race riots in Beaumont, and the Phantom Killer episode near Texarkana.
Found inside: "... First Week in December 1920. During the ensuing affray, he was wounded by gunfire, a not uncommon occurrence. However, in this instance there was fierce reaction. The Eastland County Sherriff arrested and jailed Gonzaullas and Koonsman, charging them with assault with intent to kill . . ." Read more Look inside
West Texas Tales
Historian Mike Cox has been writing about Texas history for four decades, sharing tales that have been overlooked or forgotten through the years.
"On November 19, 1929, annoyed at the slow pace of due process, a mob removed Ratliff from the county jail in Eastland and lynched him from a utility pole... " Read more Look inside
Texas Haunted Forts
"Screams of horror and agony sent the boy racing back to Blair's Fort. He turned and looked over his shoulder. The cabin door fell inward, and the Preacher man walked into the inferno. In the early 1920s 1920s during the Desdemonia oil boom in Eastland County another house of ill repute burned to the ground under suspicious circumstances. Working until the wee hours of the mornings, the girls in Miss Janie's house invariably slept late in the next day after a long night's work. Miss Janie herself worked, as did her stepdaughter and three other girls. Miss Janie was the widow of a preacher... " Read more Look inside . . . read more like this in Mysterious Texas
Ranger
by Alfred Rogers
Ranger Texas began in the 1870s near a Texas Ranger camp in northeastern Eastland County. It remained a farming community of about 700 people until October 17, 1917, when an oil well on the McCleskey farm, south of town, ushered in one of the best-known oil discoveries. Within months, Ranger's population had surged to approximately 30,000 . . . Read more Look inside
Haunted Texas: Ghosts and Strange Phenomena of the Lone Star State
"Word of the miracle spread throughout Eastland County and beyond. Boyce Hous's story of the reptile's revival was picked up by the United Press. Newsreel companies descended on Eastland to film the little lizard. Before long, the horned toad's image appeared on movie screens across the nation. A few weeks after Rip's miraculous resurrection, he went on tour. Rip made public service announcements and endorsed tennis shoes. His is also reputed to have sat on Calvin Coolidge's desk. Robert Ripley featured him in his "Believe It or Not" column. Eventually, Old Rip returned to Eastland where he spent his last days in a goldfish bowl in E. E. Woods's front window ..." Read more Look inside
See also Mysterious Texas
The Meanest Man in Texas Movie Edition
Found inside: "The crime was being called "one of the most brutal murders in the history of Eastland County ... On Friday --- three days after the arrests---, Reuben, and Mark were formally indicted for murder by an Eastland County Grand jury, which had convened especially for the purpose of investigating the murders ... The following day, September 15, 1928, Mark was released on $2,500 bond, wile Reuben and Clyde remained in jail with no bond . . . " Read more Look inside
A Saint from Texas
Yvette and Yvonne Crawford are twin sisters, born on a humble patch of Texas prairie but bound for far more dramatic and tragic fates. Just as an untold fortune of oil lies beneath their daddy's land, both girls harbor their own secrets and dreams-ones that will carry them far from Texas and from each other.
Found inside: "It all changed in the 1950s when our mother, Margie Ann, died and daddy married a lady nine months later and brought her back to the little house on Elm Street in Ranger, Texas . . . Read more Look inside
Unsolved Texas Mysteries
Found inside: "One of the best Texas stories of all time began on February 18, 1928, when the cornerstone of the old courthouse in Eastland County was opened after having been sealed for thirty-one years. Inside was a very flat, dirty, but very much alive horned toad, also known as horned frog in parts of Texas. A legend was instantly born that lives on to this day . . . " Read more Look inside . . . for more like this please see Mysterious Texas
Blood on the Saddle: The Life of Doc Scurlock
Doc Scurlock Ė One of John Chisumís cowboys, a compadre of Billy the Kid, captain of the Regulators, veteran of numerous gun battles, and survivor of the Lincoln County War. This is the first-ever, definitive biography of Josiah Gordon Scurlock, the enigmatic intellectual whose amazing and remarkable life brought him into contact with some the most famous and infamous individuals of the Wild West. Yet, somehow, he survived where numerous others died with their boots on. Found inside: "In 1919 Doc moved to Eastland, Texas. He would live out the rest of his life here. The first couple of years in Eastland he opened a confectionary store . . . " Read more Look inside
Ranger, Texas
The year is 1874. The sleepy town of Ranger, Texas, is in trouble and the only man standing up for the law is one rookie Texas ranger, John Foley. He is alone and facing a gang of armed men as he tries to carry out his mission. His coolness under fire and his fast draw, his skill with a gun, and his sharp wits are his only protection in the Old West where might made right . . . Read more
A Personal Country
by A. C. Greene
This book brings alive what one man feels about his childhood home. The place is West Texas, seen across a long vista in which todayís events and people merge with the authorís boyhood and young manhood: Found inside: "We had moved westward from my father's Old Home Place farm in Eastland County with the out break of World War II, following the oil boom and ultimately settling in Midland, so that my father might assist in the war effort-- and sagging family fortunes . . . " Read more Look inside or browse more books by A.C. Greene
Cisco: Cradle of Hilton's Empire
by Lela Latch Lloyd
There Will Always Be the Need for Hometown Newspapers
by Eastland County Publisher and Author H. V. O'Brian
In spite of the near over-load of electronic communication devices which may or may not always have the accurate information that Americans want and need...
There Will Always Be The Need for a "Hometown Newspaper". These are the vehicles of which necessary information is passed . . . Read more
Miss Amanda and Mr. Will
by Lela Latch Lloyd
The Movie Lover's Tour of Texas: Reel-Life Rambles Through the Lone Star State
by Veva Vonter
Texas movies are as vast as the Lone Star State. This book offers readers the chance to visit Texas vicariously by viewing movies filmed in and about the state that reflect Texas history, cultures, and landscapes. Found inside: "Her love of movies was possibly instilled before she was born when her mother saw almost every movie shown in the Arcadia Theater in little Ranger, Texas, while pregnant and waiting for her husband to return from World War 2. Love of the . . . " Read more Look inside
The Santa Claus Bank Robbery
Recreates the 1927 Texas bank robbery that turned into a tragic comedy of errors through the miscalculation of the four men involved. Found inside: " Bit Bedford, who had not been believed critically wounded at first, grew steadily worse through the afternoon, and expired in Cisco at 7:45 P.M. There were a good many people in Eastland County who had known Bit Bedford through a long part of his career and who just couldn't make themselves believe it could have happened the way it did. For a man who had passed through so much danger facing the real gunslingers of the frontier days to die at the hands of a bunch of lowdowns like Marshall Ratliff and his gang . . . " Read more
Texas Ranger Tales: Stories That Need Telling
Found inside: "In booming Ranger, Texas, Aldrich and a handful of other Rangers shut down a gambling operation in the Commercial Hotel, arresting eight-seven men, most of them armed. Asked a few years later how so few Rangers could disarm so many without trouble, Aldrich replied: "Saw our guns cocked, I reckon." . . . Read more Look inside
The Texas Rangers: A Century of Frontier Defense
Found inside: "Houston marshaled much evidence to show how serious the Indian depredations were, and made much of the fact the the federal soldiers could not even protect their own horses. From Eastland and Palo Pinto counties he had new of the murder of three men and tow boys. The German settlements on the Medina were being ravaged. Within four months the savages had killed fifty-one persons, raped tow women, shot two ministers, carried away several captives, and stolen eighteen hundred head of horses including seventy animals belonging to the cavalry at Camp Cooper! . . . Read more Look inside
Frontier Texas: History of a Borderland to 1880
Found inside: "Near present-day Gorman the patrol drew up on a sight that shocked them: nearly fifty well-armed Comanches and Kiowas bent on mischief, many of whom were dismounted and obviously hunting for horses. The militiamen rode a few miles to the perceived safety of Lieutenant Singleton Gilbert's Ranch cabin near Ellison Springs while alerting the rest of of the militia of the situation. Before long, sixteen Texans had gathered to contest this Indian raid . . . Read more Look inside
Indian Depredations in Texas
Found inside: "...among the first settlers in Eastland County. The Flanagan's resided on what was known as the Colony fork of the Leon River. Some time in 1858, Mr. Flanagan had occasion to send some distance for breadstuffs for the use of his family. Accordingly he fitted up his wagon and tam and started his son and another youth to the settlements on the lower Brazos. It appears that a party of Indians had been concealed near Flanagan's house for several days, watching for a favorable opportunity to attack it, and when they discovered young Flanagan and his companion leaving the house in their wagon they determined to get their scalps . . ." Read more Look inside
TALL TALES AND SHORT STORIES
Found inside: "Barn and Alice White had eleven children and I was the last of the bunch, born in 1886, near Cisco, Texas. In 1903, when I was about seventeen, I told my folks goodbye, saddled my horse, and caught up with two young men who were passing through as they headed for cow country. We rode from Crowell, Texas, some three hundred miles to . . . " Read more Look inside
Thatís All Iím Gonna Say: Earp Family Lore
Found inside: "Joe Earp moved his young wife Opal and son Wesley from Haskell County to Eastland County to the Earp family farm and home place Jo was the youngest of twelve children, two of whom didn't survive their birth. The parents were John Wesley and Mary Edna. It seemed Grandpa and Grandma needed someone to take over the farm and care for them as Grandpa's health was failing . . . When Joe and Opal moved to Eastland County in 1932, Joe arranged with his father John Wesley to purchase one half of the half section of the Earp farm . . . " Read more Look inside
Waverly's: The Story of a Family, Faith, and a Coffee Shop
With tragedy and loss, it is natural for mourners to grapple with the meaning, purpose and direction of life, digesting the raw reality that none are promised another day. Such was the case for Sean and Kasity after the unexplained death of their second child, Waverly. "Sean informs his readers how the family learned to some extent what God wanted for them, and how they came to the little town of Cisco, Texas, an unlikely place for many . . ." Read more Look inside
Texas: Land of Legend and Lore
There is a myriad of little known, often forgotten, and sometimes unbelievable events, places and people that make up the warp and woof of the Texas mystique.
Found Inside: "Several hands caught the rope and lifted Ratliff (Santa Claus) into the air. He dangled for a moment, before the rope broke and he fell to the ground murmuring, 'God have mercy and forgive me,' The lynchers of Eastland county found a new rope stronger than the first. As he was being pulled up tor the second time, hew was asked if he wanted to talk? . . . Learn more
Jon McConal's Texas
Jon McConal, longtime columnist for the Fort Worth Star-Telegram, takes readers on a trip back through years of writing about Texas-its history, people, and unusual places.
Found Inside: "Ranger: Practically anyone in this town in Eastland County west of Fort Worth can give you directions to the Merriman Community. ďOh, you mean the place that wouldn't sell its cemetery to the oil drillers,Ē they will say. Well, that is true. The folks . . . " Read more
Murder in Dealey Plaza: What We Know Now that We Didn't Know Then
Found inside: "The suspect explains that he has driven 100 miles from his home in Ranger, Texas to Dallas hoping to visit an old friend. When he is unsuccessful, he decided that since he was downtown and traffic was heavy, he would stay there and see the . . . " Read more Look inside
Prairie Nights to Neon Lights
Found inside: "The Skyrockets, and Bob Kendrick in particular, provide and interesting example of West Texas musicians of the 1930s ... Bob's first memories of music are of playing with his father at house dances in and around their hometown of Cisco, Texas. His first musical instrument was the mandolin, and later he learned guitar and the fiddle. Kendrick recalled that the . . . " Read more Look inside
How Will I Tell My Mother?
Found inside: "Six years after I left home and married, my father killed himself. And although I had been away from home for several years, his untimely death was a shock and a deep heartache. In our early years in Ranger, Texas, Walter was wrapped . . . " Read more
Cold War Exile: The Unclosed Case of Maurice Halperin
In 1953 Maurice Halperin was called before the Senate Internal Security Subcommittee to defend himself on charges of espionage. He was accused of having supplied Soviet sources with classified material from the Office of Strategic Services while he was an employee during World War II. Found inside: "Halperin was graduated cum laude in 1925. He was twenty and Edith was eighteen... He had already sent out inquires and took the first job that came along. It was in Ranger, Texas . . . Read more
On My Honor I Will Do My Best: A Memoir of Making the Most of What Comes Our Way
by Bill Deffebach
This book traces the real life experiences and adventures of the author, who was raised in several small communities in West Texas. Found inside: "He then suggested that I contact my uncles, Vernon and Arthur, who owned a garage in Ranger, Texas, and get an estimate for a rebuilt engine. I did this, and over the next several months they completely reworked this jewel mechanically . . . " Read more Look inside
Fight of the Phoenix: Order of the Delta Dragon
by LTC Roy E. Peterson
Fight of the Phoenix is a historical personal account of duties as an Advisor in the Delta of Vietnam in 1972. The author counters claims of other Advisors and Academics and sets the record straight on the vicious nature of the Communist insurgency that killed their own people and the spectacular success of the Phoenix Program ... Found inside: "By 1972 the "Summer of Love" had turned to the winter of Haight. The hippies were all deflowered by now. Not long after Christmas with my wife, three year old daughter, and our parents and grandparents in McCamey and Ranger, Texas, we returned to . . . " Read more look inside
Remember Ben Clayton
Found inside: "Shrapnel pierced the tree trunks and ploughed into the earth with hissing force as the ground heaved and pitched like a malevolent carnival ride. Arthur Fry, a nineteen-year-old feed store clerk from Ranger, Texas, thought one of his ears might have been sliced off but he was not sure. There was a thick pooling warmth below the rim of this helmet but no pain. The blasts had blown dirt into his eyes and when he . . . " Read more Look inside
A Sci-Fi Swarm and Horror Horde: Interviews with 62 Filmmakers
In this jam-packed jamboree of conversations, more than 60 movie veterans describe their experiences on the sets of some of the world's most beloved sci-fi and horror movies and television series. Found inside" Born in Cisco, Texas, Jean Porter began her career as a child entertainer there. In 1935, when her parents brought her to California in order for her to take dancing classes and learn some new routines, Porter unexpectedly landed a minuscule role in a Fox musical and put her tap shoe on the first rung of the Hollywood ladder. She rose from extra to supporting payer to B-movie in the 1940s . . . " Read more Look inside
Henry's Story
Found inside: "Henry is getting up in years, but his story is timeless. He was on his own at the age of fourteen, lived on an Indian reservation, survived two tours in Vietnam, was the first black man to be on the police force in Cisco, Texas, and the first black man to be the commander of the VFW in Kilgore, Texas . . . Read more Look inside . . . for more like this please see Black Texans in History
Enterprise: America's Fightingest Ship and the Men Who Helped Win World War II
Found inside: "Just outside the pilothouse Seaman Jim Barnhill, barely nineteen and one of four buglers on board, had just relieved the previous watch stander. Raising the his instrument, Barnhill placed the polished brass bugle near the loudspeaker and blew the call to arms, thirty staccato notes of "Boots and Saddles." At that point Jim Barnhill thought to himself that he was 3,700 miles and a world war away from Cisco, Texas . . . " Read more
The Border
A volume of poetry by Cleatus Rattan, a former marine who ranches 100 miles west of Fort Worth near Cisco, a small town of some 3000 souls cinched by the Bible Belt . . . Learn more
LIKE A BOLT
by Howard D'Spain
Retired School Teacher, and Labor Arbitrator, Howard D'Spain spent much of his childhood between Marshall and Cisco, Texas. Found inside: "The one you shot between the eyes, Steve, didn't have enough face lift to match to a picture, but the name in his hatband and his description fit a "Wanted" poster with a two hundred dollar reward on it from the National Bank of Cisco, I'll notify the banks to send your checks in . . . Read more Look inside
The Theocons: Secular America Under Siege
Found inside: "Continuing his pattern of youthful defiance, Richard managed to get himself expelled from the school by the age of sixteen. Over the next few months, the teenage Neuhaus became a naturalized American citizen and relocated to Cisco, Texas, where he ran a gas station and grocery store, becoming the youngest member of the local chamber of commerce . . . " Read more Look inside
One Ranger: A Memoir
By H. Joaquin Jackson and David Marion Wilkinson.
Found inside: "So Mike and Jamie relocated once again, this time to Eastland, Texas, a ranching and roughneck town on the I-20 corridor between Fort Worth and Abilene. Mike knew the business. Rural, north-central Texas was the variable now, and much to Jamie's delight their adopted state. Soon he was wearing Western shirts and cowboy hats and looking very much like one of the locals . . . " Read more Look inside
A Lick of Sense - The Book
by Paul Howie
In this new century, with so many people living in the city far from the food source, it seems that only God and another cowboy could truly understand who we are as keepers of the land and critters. Like the cows need grass and water, we too, are in need of nourishment. Pastor Paul Howie and Cathi Ball lead us directly to the feed trough with this collection of inspirational shorts perfectly suited for truth-hungry cowgirls and cowboys. Paul Howie lives in Eastland, Texas with his wife and has three children and grandson. "Pastor Paul" as he is known around the county, is pastor of the Leon River Cowboy Church in Eastland . . . Read more Look inside
Texas Boomtowns:: A History of Blood and Oil
...Brothels, bordellos and slums overran sleepy towns, and thick, black oil spilled over once-green pastures. While dreams came true for a precious few, most settled for high-risk, dangerous jobs in the oilfields and passed what spare time they had in the vice districts fueled by crude. From the violent shanties of Desdemona and Mexia to Borger and beyond . . . Read more Look inside
Weird Texas: Your Travel Guide to Texas's Local Legends and Best Kept Secrets
Found inside: "At the center of Eastland's town square, locked away behind two layers of glass, a Texas legend lies. Once famous around the country, hailed by fans and even a U.S. president, he now rests in near obscurity. His name is Old Rip, and although you may never have heard his name, you're almost certainly familiar with story--the basics of it anyway . . . " read more
History of Eastland County, Texas
by Mrs. George Langston
. . . Look inside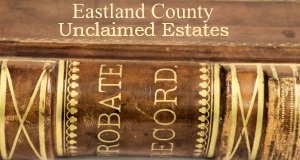 Eastland County Unclaimed Estates
These Deceased Residents of Carbon, Cisco, Desdemona, Eastland, Gorman, Ranger and Rising Star Texas left a total $30,568 in Unclaimed Money for their heirs. Know the Heirs? . . . . See the list


What's your Favorite Book about a Texas County, Town, Person or Place? Here's our best reads list County by County