Look Who's Talking about Texas History
Davick Services recommends the Facebook Group "West Texas History & Memories" for history, famous people, old photos, stories, unclaimed estates and genealogy of the Western Half of Texas . . . Check it out and join the conversation
Books About Dallas County Texas People and Places
Favorite Books about and by Dallas County People and Places. Here's some of our favorites about our friends, family and ancestors from Dallas, Addison, Coppell, Carrolton and surrounding towns in Dallas County. Did we miss some good ones? What's your favorite? Please let us know.Texas.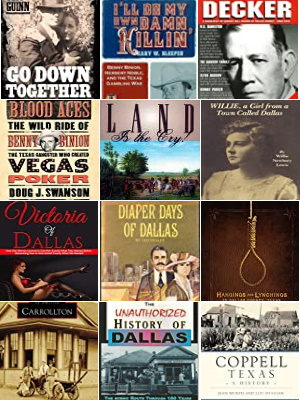 This site contains affiliate links to products. We may receive a commission for purchases made through these links. For Example: As an Amazon Associate we earn from qualifying purchases.
Go Down Together: The True, Untold Story of Bonnie and Clyde
Bestselling author Jeff Guinn combines exhaustive research with surprising, newly discovered material to tell the real tale of two kids from a filthy Dallas slum who fell in love and then willingly traded their lives for a brief interlude of excitement and, more important, fame. Go Down Together has it all—true romance, rebellion against authority, bullets flying, cars crashing, and, in the end, a dramatic death at the hands of a celebrity lawman . . . Read more Look inside
I'll Do My Own Damn Killin': Benny Binion, Herbert Noble, and the Texas Gambling War
In the early days, before he founded the Horseshoe Casino in Las Vegas and became the patron saint of the World Series of Poker, cowboy Benny Binion was a horse trader, a bootlegger, and the "boss gambler" of Dallas and Fort Worth, Texas. This book traces Binion's rise to power in the Dallas underworld during World War II . . . Read more
Hangings and Lynchings in Dallas County, Texas: 1853 to 1920
"Hangings and Lynchings in Dallas County, Texas: 1853 to 1920" documents all of the known hangings in Dallas County including . . . Jane Elkins, a slave, hanged for the ax murder of Andrew C. Wisdom and the first female to be legally hanged in Texas . . . Read more
Dateline Purgatory: Examining the Case that Sentenced Darlie Routier to Death
The brutal murders of young Devon and Damon Routier in the early morning hours of June 6, 1996, put their mother—Darlie Routier—at the heart of one of the most notorious murder cases in modern Texas history—despite her own throat having been slashed to within two millimeters of her carotid artery . . . Read more
Land is the Cry!: Warren Angus Ferris, Pioneer Texas Surveyor and Founder of Dallas County
Land Is the Cry! is the fascinating, untold story of Warren Ferris, a New York Yankee who deserves to be remembered as the "Father of Dallas County." Except for a twist of fate, Dallas, Texas, would have been named "Warwick" . . . Read more
Benny Binion (The Dallas Vigilanties and the Texas Hold'em Poker)
Benny Binion was a soldier of fortune at the turn of the century in Texas. His fearless determination to control his fate, first boot-legging then gambling, left an indelible imprint on Dallas history and the world of gambling. He was capable of activating his charm or his ferocious rage as implements of choice, just as he could either a pencil or the sawed- off shotgun . . . Read more
Blurred Justice: A tale of hard-fought justice in Dallas County
Roy Mitchell is an Assistant District Attorney in Dallas, Texas, assigned to the trial division. By a consensus of the local criminal defense attorneys, Mitchell is one of the best prosecutors in the office. Mitchell decides to handle a case in prosecuting Ulysses Carillo for attempting to murder Tony Medina. Medina has been left paralyzed . . . Read more
Blood Aces: The Wild Ride of Benny Binion, the Texas Gangster Who Created Vegas Poker
They say in Vegas you can't understand the town unless you understand Benny Binion—mob boss, casino owner, and creator of the World Series of Poker. Binion built a gambling empire in Dallas. When the law chased him out of town, he loaded up suitcases with cash . . . . Read more
Decker: A Biography of Sheriff Bill Decker, Dallas County, Texas, 1898-1970
The KKK will rise and fall when met by a determined Sheriff Decker of Dallas County. Decker puts an end to Bonnie and Clyde's killing spree. The Dallas gang wars - as Benny Binion fights for a gambling empire. The assassination of JFK . . . Read more
Goodbye to a River: A Narrative (Vintage Departures)
in the 1950s, a series of dams was proposed along the Brazos River in north-central Texas. For John Graves, this project meant that if the stream's regimen was thus changed, the beautiful and sometimes brutal surrounding countryside would also change, as would the lives of the people whose rugged ancestors had eked out an existence there. Graves therefore decided to visit that stretch of the river, which he had known intimately as a youth . . . read more
In the New World: Growing Up with America from the Sixties to the Eighties
by Lawrence Wright who grew up in Dallas.
We first meet Larry Wright in 1960. He is thirteen and moving with his family to Dallas, the essential city of the New World just beginning to rise across the southern rim of the United States. As we follow him through the next two decades—the civil rights movement, the Vietnam War, the devastating assassinations of John F. Kennedy, Robert Kennedy, and Martin Luther King, Jr., the sexual revolution, the crisis of Watergate, and the emergence of Ronald Reagan—we relive the pivotal and shocking events of those crowded years . . . read more
Behind the Texas Badge
A big, beautiful, 12 x 11 coffee table book is the result of traveling 15,000 miles all over Texas to photograph and interview Texas law enforcement officers. This book contains 252 pages of portraits and heartfelt stories of over 100 Texas law enforcement officers, including images of squad cars, badges, shoulder patches, firearms and more! Buy the book book that tells the story of Texas law enforcement . . . Read more.
Addison
Addison, Texas: a pictorial history
A comprehensive history, profusely illustrated with photographs - many in color - of The Town of Addison. Includes early history, religious institutions, educational facilities, signature special events, the growth of Addison and the Big City feel.
Carrollton
Carrollton (Images of America)
Over 160 years ago, bear and buffalo roamed the prairie and Wichita Indians camped on the banks of the Elm Fork of the Trinity River. Settlers from places like Illinois, Missouri, Kentucky, Tennessee, and as far away as England and Ireland began arriving in North Texas . . . Read more
Coppell
Coppell, Texas: A Brief History
Coppell history is rooted in peace and community. In 1843, Sam Houston met with ten native tribes along Grapevine Springs Creek to negotiate an accord to end fighting and allow trade and settlement in the area. When Dallas/Fort Worth International Airport opened in 1974, Coppell transformed from a farming hamlet into a thriving town with expanding economic opportunity. Through firsthand account . . . Read more
Dallas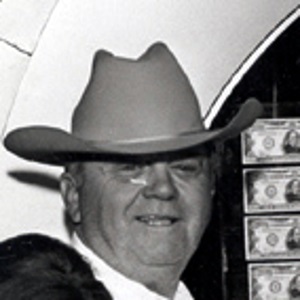 Benny Binion
Benny Binion was born November 20, 1904 in Pilot Grove Texas. The son of a horse trader, young Binion learned to play poker at county fairs with his father. He grew up to become gambling icon in Dallas and Las Vegas. . . more about Binion

What's your Favorite Book about a Texas County, Town, Person or Place? Here's our best reads list County by County






Dallas County Appraisal District
Dallas County News
Dallas County Land Auction
Dallas County TX Experts
Dallas County Products
Books about Dallas County Texas