Davick Services on Facebook
True Stories of Amazing People and Places in Texas
Books About Dallam County Texas People and Places
What's Your Favorite Book about a Dallam County Texas Person, Place or Event? Here are some of our favorites from Dalhart, Texline and Coldwater.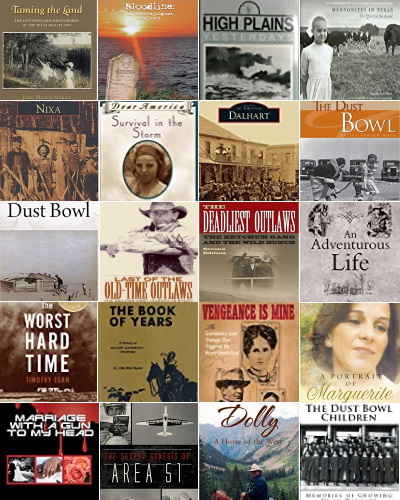 This site contains affiliate links to products. We may receive a commission for purchases made through these links. For Example: As an Amazon Associate we earn from qualifying purchases.
Survival in the Storm:
The Dust Bowl Diary of Grace Edwards, Dalhart, Texas 1935
In fourteen-year-old Katelan Janke's first Dear America book, we meet Grace Edwards, a little girl growing up in the heart of the Texas panhandle, in the midst of the Dust Bowl. Fierce, dust-filled winds ravage the plain . . . Read more
The Secret Genesis of Area 51
by T D Barnes
Thornton D. "T D" Barnes, author and entrepreneur, grew up on a ranch at Dalhart, Texas.
In 1955, the Central Intelligence Agency established a clandestine base of operations in the Nevada desert with a mission to protect the United States from a growing communist threat. Special projects at Area 51 were shrouded in mystery, and the first was one of the world's most famous spy planes, the U-2. It fueled half-truths, rumors and legends for more than half a century. Now with many details of that endeavor declassified, the real story can finally be told . . . Read more Look inside
High Plains Yesterdays: From XIT Days Through Drouth and Depression
The northernmost portion of the Texas Panhandle, the Dalhart High Plains area, is perhaps best known for its legendary cold weather. To many it is famed for the three-million-acre XIT Ranch, and many early residents of the Dalhart area spent their youthful years as cowboys on the ranch. From about 1901 to about 1939, those living in the High Plains area witnessed and took part in its transition from a purely cattle-raising empire to a cattle and farming empire. Only venturesome, independent, and self-reliant people were willing to cast their fate with the High Plains. In "High Plains Yesterdays," John C. Dawson, a retired Houston lawyer who grew up in Dalhart, captures the personalities and characters of some . . . Read more
Dalhart
In 1882, the Fort Worth and Denver City Railway made its way to Dalhart, and by 1901 two railroads crossed tracks in the northwest corner of the Texas Panhandle. The twist of tracks was located at what is now the intersection of Highway 87, running north and south, and Highway 54, running east and west, in Dalhart. The second railroad, the Rock Island and Chicago Railway, along with the first, gave rise to Dalhart's first name, Twist Junction, but right away a new name was chosen and Dalhart . . . Read more and look inside
A Portrait of Marguerite: A Novel
Just three weeks before her wedding, Emma Grace Falin has returned to her hometown of Coldwater, Texas, consumed by a single, burning desire. She must confront the guilt and shame of a devastating event that has haunted her since childhood ... Read more Look inside
Last of the Old-Time Outlaws: The George West Musgrave Story
Soft-spoken, cheerful, handsome, and well dressed, George West Musgrave "looked more like a senator than a cattle rustler." Yet he was a cattle rustler as well as a bandit, robber, and killer, "guilty of more crimes than Billy the Kid was ever accused of.
"Musgrave arrived in Alma soon after his late February 1907 departure from Dalhart, Texas. The extent of their prior planning is unknown, but shortly after George's arrival in Alma " . . . Read more Look inside
The Dust Bowl Children, Memories of Growing up in Dalhart
Much has been written about the Dust Bowl and about the suffering of those who lived through it. This book does not tell the story of the Dust Bowl but rather the generation that followed. It tells the story of those Texas panhandle children who were born in and around Dalhart, or who joined us at the height of the Dust Bowl and later. We are among the generation that survived the endless dust storms, to live and experience a wonderful life in our home town . . . Look inside and Read more
Vengeance Is Mine: The Scandalous Love Triangle That Triggered the Boyce-Sneed Feud
Then came "Scandalous John" McCandless to the rescue. He was the sheriff at Dalhart. He hand been a cowboy on the XIT ranch when Colonel Boyce was the ranch manager, and it was Colonel Boyce who had affixed the "Scandolous John" moniker on him. Later, he became a Texas Ranger and then sheriff of Dallam County . . . Read more Look inside
An Adventurous Life
I wrote my cousin in Dalhart, Texas, and asked if he knew of a large ranch that I could go to during a roundup and do sketches and take photographs to paint. He called and said he helped out one such ranch at Kerrick, Texas. It was the Perkins and Prothro Land and Cattle Company. They rounded up between 4,500 and 5,000 heads each spring. I drove up to Dalhart and spent the night with Bill at his ranch, and the next morning we made the drive to Kerrick and the Prothro ranch. for the next five days, I got up each morning at four o'clock . . . Read more Look inside
Marriage with a Gun to My Head
My wedding day was the darkest day of my life. I was forced to marry a man I did not love. I let go of the man I truly loved. I did it to save his life and mine. Robert came to me with a gun in his hand, pointed it to me, and said, If you don't marry me, you wont marry anyone. And if you do, I will look for both of you no matter where you go and kill you both.
"Ruth called today. She called again and talked to Davie January 16. She said for us to go get Julie on February 6 at Texline and that we could keep her four months . . ." Read more Look inside
The Deadliest Outlaws: The Ketchum Gang and the Wild Bunch
After Tom Ketchum had been sentenced to death for attempting to hold up a railway train, his attorneys argued that the penalty was "cruel and unusual" for the offense charged. The appeal failed and he became the first individual—and the last—ever to be executed for a crime of this sort.
"The train had left Texline at 2 a.m. Thomas Owen contributes a variant. When Ketchum raised the revolver, the conductor berated him:" We just came to help you but if this is the way you feel, we will go and leave you" This produced instant capitulation: "No boys, I'm all done, take me in." . . . Read more Look inside
Historic Texas Gyms: A Tribute to Vanishing Traditions
For generations of small-town Texans, the school gymnasium was the hub of the community. If it was a Tuesday night in Texline, most folks could be found in the old tin barn of a gym, rooting for their Tornadoes against the arch-rival Adrian Matadors. Transcending the role of a sports arena, the gym also provided a place to gather in celebration or shelter in crisis. Sadly, with the dramatic reduction of school districts around the state, many of the polished . . . Read more Look inside
The Dust Bowl
"In Dalhart, Texas, explosive expert Tex Thornton told a group of local residents that setting off dynamite in the air could bring rain. Farmers and ranchers gave Thornton $300 to purchase explosives and send them up in balloons into low-lying clouds. However, an unexpected dust storm thwarted their plans. It was too windy to send the explosives into the air, so Thornton buried" . . . Read more
Documents of the Dust Bowl
During the 1930s, drought and the cultivation of submarginal lands created a severe wind-erosion problem in the southern Great Plains, a region that became known as the Dust Bowl. During the worst dust storms, the blowing soil often turned day into night. Some people died when caught outside during a black blizzard, others developed "dust pneumonia," and some residents moved to California. Most people, however, remained. "Of the 80 Dallam County farmers interviewed, 29 owned all of the land operated, 29 owned part of the land and rented the remainder and 22 rented all land farmed. Fifty-four of all farm land in Dallam county was mortgaged in 1935" . . . Read more Look inside
The Worst Hard Time: The Untold Story of Those Who Survived the Great American Dust Bowl
Following a dozen families and their communities through the rise and fall of the region, Egan tells of their desperate attempts to carry on through blinding black dust blizzards, crop failure, and the death of loved ones.
"Dust is killing me!" the woman shouted. Her voice echoed through the red brick fortress of the Dallam County Courthouse. Cowen tried to talk to her about what had happened and the steps she could take to recover. The judge told her about the relief house, just opened in town, Doc Dawson's operation . . . " Read more Look inside
Bloodline: of Peasants, Pilgrims and Poets
Bloodline spans a thousand years of murder, sex, suicide and insanity,balanced by faith, family loyalty, pacifism and pilgrimage. "Life in Coldwater, Texas, hadn't been so bad. I had learned some new skills. Our neighbor, Mr. Thompson had a large herd of horses that he had bought from the US. Army. Most of them were unbroken and lived like wild horses on the large . . ." Read more Look inside
Nixa
Judge J.P." Peter lnman was a judge who lived with his wife, Maggie C. (Ward) lnman, in the town of Texline, Texas, the county seat of Dallam County. He was a former resident ot Nixa. He later died due to injuries sustained by a kick to his head by a horse. He died on June 10, 1919 in Dalhart, Texas . . . Read more Look inside
Genome:
The Story of the Most Astonishing Scientific Adventure of Our Time--The Attempt to Map All the Genes in the Human Body
By Jerry E. Bishop
Jerry E. Bishop was born March 29, 1931 in Dalhart, Texas. Bishop has been the science reporter for the Wall Street Journal since 1955. Told with the pacing of a great suspense novel, Genome tells the very real story of what could be the most ambitious scientific research project ever undertaken . . . Read more Look inside
Dolly: A Horse of the West
In my last few days of life, I began to understand the "Great Keeper" of this earth was calling me home. Though sick and not knowing what my real illness was at the time, I began reflecting on my past experiences. As I backed out of the trailer for the last time on this earth, taking two mouthfuls of blue gamma grass from the pasture at my feet, I knew the end was near, but having my owner and friend, Chilicote, take a picture of the two of us meant a culmination of service between both of us.
"While I was caring for Sprout, Cat and Rusty were caring for cattle up in Texline, TX. They worked hard on occasion, but disaster hit on the night before they were to ship the cattle—a tornado hit the pastures where the" . . . More inside
Gospel Tracks through Texas: The Mission of Chapel Car Good Will
In 1895 a different kind of railroad car rolled into Texas, bringing the "good news" of the evangelical Gospel to transient railroad workers and far-flung communities alike ... Author Wilma Rugh Taylor's portrayal of this ministry for the car named Good Will, which served Texas, provides a view of life in towns such as Denison, Texline, Marshall, San Antonio, Laredo, Abilene, and Dalhart . . . Read more
West Texas: A Portrait of Its People and Their Raw and Wondrous Land
Found inside: "A freak hail storm near Dalhart once dumped pellets waist - high ". . . Read more
The Book of Years:
The XIT Ranch of Texas: And the Early Days of the Llano Estacado
by J. Evetts Haley
Among the famous ranch brands of Texas are the T Anchor, JA, Diamond Tail, 777, Bar C, and XIT. And the greatest of these was XIT—The XIT Ranch of Texas. It was not the first ranch in West Texas, but after its formation in the eighteen-eighties it became the largest single operation in the cow country of the Old West and covered more than three million acres, all fenced . . . Read more
6000 Miles of Fence: Life on the XIT Ranch of Texas
The fabulous XIT Ranch has been celebrated in song, story, and serious history. This book of reminiscences of old XIT cowmen puts on record the everyday life of the individuals who made the ranch run. "I had been in Dallam County continuously since that time and made it my home, but have never seen a storm as severe or as much snow as we had that spell. I thin Andy James will verify that fact, Andy had cattle up there at that time. The only cows we could skin were the ones yet with circulation. They were down and couldn't get up. We would cut their throats and skin them while yet warm . . . Read more and Look inside
Taming the Land: The Lost Postcard Photographs of the Texas High Plains
A postcard craze gripped the nation from 1905 to 1920, as the rise of outdoor photography coincided with a wave of settlement and prosperity in Texas. Hundreds of people took up cameras, and photographers of note chose some of their best work for duplication as photo postcards—sold for a nickel and mailed for a penny to distant friends and relatives ... "Photographers from that area take us from Texline and Dalhart" . . . Read more Look inside
West Texas: A History of the Giant Side of the State
Texas is as well known for its diversity of landscape and culture as it is for its enormity. But West Texas, despite being popularized in film and song, has largely been ignored by historians as a distinct and cultural geographic space. "Later on, in 1930, a group of forty Holdeman Mennonites settled near Texline, but again drought and then the 1930s Dust Bowl drove the colony away by 1940. Two more Mennonite colonies developed in the upper Panhandle in the 1940 . . . " Read more Look inside
Stars of Country Music: Uncle Dave Macon to Johnny Rodriguez
"Vernon Dalhart was born Marion Try Slaughter on April 6, 1883, to a Texas rancher and his wife , Robert Marion Slaughter and Mary Jane Castleberry Slaughter. Coming to the Bronx from Dallas with his wife and two small children in 1910 , the twenty - seven - year - old Texan took his professional name from Vernon and Dalhart , Texas , the towns between which he had punched cattle in the second half of the the 1890s, Dalhart brought to the big city a variety of additional work experience " . . .
Mennonites in Texas: The Quiet in the Land
With their distinctive head coverings, plain dress, and quiet, unassuming demeanor, the Mennonites are a distinctive presence within the often flamboyant and proud people of Texas
"Two hundred miles north of his former home in Littlefield, he settled on a farm in Coldwater, Texas where he served as minister for a Mennonite Brethren Church... Just up the road from Coldwater, another Mennonite community is known to have existed around the same time near Texline, also in Dallam County . . . " Read more Look inside


Books about Hartley County People and Places
What's your Favorite Book about a Texas County, Town, Person or Place? Here's our best reads list County by County