Look Who's Talking about Texas History
Davick Services recommends the Facebook Group "West Texas History & Memories" for history, famous people, old photos, stories, unclaimed estates and genealogy of the Western Half of Texas . . . Check it out and join the conversation
Books About Childress County Texas People and Places
What's Your Favorite Book about a Childress County Texas Person, Place or Event? Here are some of our favorites about Childress, Carey, Tell and Kirkland Texas.

This site contains affiliate links to products. We may receive a commission for purchases made through these links. For Example: As an Amazon Associate we earn from qualifying purchases.
The Big Ranch Country
J. W. Williams's classic survey of the big ranches of the Southwest reaches deep into the stories of key players in American ranching history.
"The time arrived for the contest and eleven cowboys were within the enclosure. Boley Brown from Kent County, one of the eleven, was there on his big six-year old sorrel horse. Boley was a great sport and everybody was betting on his sorrel to win. The gate was finally closed, but in a moment a cowboy from Childress rode up on a fine-looking horse." . . . Read more Look inside
Texas Panhandle Tales
The Texas Panhandle is like a whole 'nother country. The area stretching from just south of Lubbock all the way north to Oklahoma is filled with ranch land, oil fields, windy plains and some of the Lone Star State's most unique history. Read about the duck that started a gun battle in Oldham County and find out how Kate Polly's pancake flipping saved her life. Or witness Gene Autry's days as a performer in Childress and a different sort of "gold rush" in Palo Duro Canyon as historian Mike Cox shares his favorite pieces of the Panhandle's past . . . Look inside
Homeless Bound
The autobiography of Boody Rogers who died in Childress Texas in 1996. He was a comic strip and comic book artist who created the superhero parody Sparky Watts.
An Adventurous Life (Collection of Tales from Daily Life)

Life is never easy but specially so when you're born in a boxcar in the center of a railroad siding in the Great Depression. Add in the fact the Dust Bowl is flooding the air your can hardly breathe to survive each day. "On the western outskirts of Childress, occupying a site on the railroad siding is a boxcar that serves as living quarters of Clarence and Ida Mae Nobles, my mom and dad. Dad is a foreman on a steel gang that is in the process of being moved to Magenta, Texas, north of Amarillo" . . . Read more Look inside
The Complete Guide to Mysterious Beings
A comprehensive encyclopedia of the unexplained, with incredible eyewitness accounts of strange creatures from around the globe, including: "For Carroll Watts the nightmare began at 10:30 P.M. on a Friday, March 31, 1967. He was driving home towards Loco, Texas when he saw a strange light near an abandoned house ... Read more Look inside . . . for more like this see Mysterious Texas
The Childress County Cemetery
Demonstrates a slice of life as depicted from the events and conditions surrounding a small Texas town as its people suffered through the depression, and the people involved moved from this impoverished era into a dramatic conflict brought upon the nation by the events of the major wars that have beset the nation . . . Look inside
They Followed the Rails: A History of Childress County
Fascinating history of Childress, Texas from its beginnings through 1970. Wonderful black and white illustrations and historical photographs. In pictures and words a story of hardy people who left other homes and braved great odds to begin a new life in an unsettled but fertile area. Pictures and stories of old timers and current families, the Fort Worth and Denver Railroad, and the businesses that helped the town to grow . . .
From Guns to Gavels: How Justice Grew Up in the Outlaw West
Tracing the struggles of incipient criminal justice in the Southwest through an engaging progression of outlaws and lawmen, plus a host of colorful frontier trial lawyers and judges, Neal reveals how law and society matured together.
"Two Texas Rangers intervened and forcibly subdued Matthews and one of his men. From that point on, Matthews held a grudge against any ranger. After Matthews was elected Childress County sheriff, he aggravated the animosity by provoking an incident at the 1892 . . .Read more Look inside
Texas Longhorns: Where Have You Gone?
"... the commander asked me if I needed any help with anything, I said it would probably help if someone showed me how those things worked, because the biggest thing I had ever been on was a rowboat on a stock tank in Childress, Texas..." Read more
Wanted: Historic County Jails of Texas (Volume 11)
"The first murder trial in Childress occurred in 1888, when G. W. Clement was accused of the crime. Temple Houston, son of Gen. Sam Houston, defended Clement. The defendant was found guilty, but a second trial found him innocent. The first jail was a wooden structure built by B. T. Williams in 1887 on the corner of Third Street and Avenue D, where it served until 1905..." Read more Look inside
Lone Wolf Gonzaullas, Texas Ranger
In this lively biography, Brownson Malsch describes Gonzaullas's career, first as a major in the Mexican Army and then as an agent of the U.S. Treasury Department, before he joined the Rangers in 1920. "A short , but potentially violent , flurry of racial excitement gripped Childress, Texas , in August 1927 , causing the mayor , Will P. Jones , and the sheriff , John B. Compton , to send a telegram jointly to ..." Read More Look inside
Dave Campbell's Favorite Texas College Football Stories
"He recalled his experience as a 12-year-old hitchhiking to Childress, Texas, to see FDR. His father didn't know that he was ducking out of school for the trip. He hitchhiked there, worked his way "between those legs right up to where I ..." Read more Look inside
They Called Them Soldier Boys: A Texas Infantry Regiment in World War I
They Called Them Soldier Boys offers an in-depth study of soldiers of the Texas National Guard's Seventh Texas Infantry Regiment in World War I, through their recruitment, training, journey to France, combat, and their return home. Gregory W. Ball focuses on the fourteen counties in North, Northwest, and West Texas where officers recruited the regiment's soldiers in the summer of 1917.
"The companies from Potter, Donley, and Childress counties arrived first, followed by the companies from Hardeman, Foard, and Wilbarger counties " ... Read more Look inside
A Private in the Texas Rangers: A.T. Miller of Company B, Frontier Battalion
Found inside: "John Pierce Matthews had a domineering personality with a troubled past. He had killed an African American in Louisiana, come to Texas, dropped Matthews from his name for awhile, and was responsible for the 1884 accidental death of cowboy James Mankins in Wheeler county. Despite all that, or maybe because of it, he handily won election in 1892 as Childress County's second sheriff. Sheriff Matthews and two companions did some drinking that day, according to the later report of Sergeant Grude Britton . . . " Read more Look inside
Ella Elgar Bird Dumont: An Autobiography of a West Texas Pioneer

A crack shot, expert skinner and tanner, seamstress, sculptor, and later writer—a list that only hints at her intelligence and abilities—Ella Elgar Bird Dumont was one of those remarkable women who helped tame the Texas frontier. First married at sixteen to a Texas Ranger . . .

"I had been at home only a short time when I had a bad attack of ulcerated throat. I suffered with it several days and finally had to go to the doctor at Childress for treatment" . . . Read more Look inside
Dust Bowl: The Southern Plains in the 1930s
In the mid 1930s, North America's Great Plains faced one of the worst man-made environmental disasters in world history.
"There were sharecroppers and tenants, mules and gins, in Childress, Floyd, Hale and Bailey counties of the Texas Plains. Up north, in the wheat and cattle country, many of the residents had also come out of eastern Oklahoma or Arkansas, and their background was largely Southern poor white. Woody Guthrie is a case in point . . . Read more Look inside
The Childress County Story
by Michael G Ehrle
1929 Yearbook: Childress High School, Childress, Texas
Childress Texas 1948 Directory
by Moorehead Directory Company
Sketchbook: 101 drawings from around Carey, Texas
by Mogens V Melander
SKETCHBOOK is a collection of one hundred and one drawings from around Carey, a tiny town in the Texas Panhandle with one paved T-intersection and . . . Look inside
War on the Middle Class
by Lou Dobbs from Childress Texas
Millions of TV viewers have known Lou Dobbs for years as the Walter Cronkite of economics coverage, and now the anchor has become the preeminent champion of the common man and the good of the national interest, who tells uncomfortable truths in a voice that can't be ignored. In this incendiary book, he presents a frontline report on the betrayal of America's middle class by interests that range from rapacious corporations to an out-of-touch political elite . . . Read more "War on the Middle Class"
. . . More Books by Lou Dobbs
The Good Cooks' Cook Book
Our Favorite Recipes. Wal-Mart #900, Childress, Texas 1991.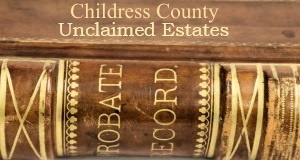 Childress County Unclaimed Estates
These Deceased Residents of Childress and Kirkland Texas left a total $28,247 in Unclaimed Money for their heirs. Please Share this with your Family and Friends to Let them know they can collect from the Texas Comptroller's Office . . . see the list


What's your Favorite Book about a Texas County, Town, Person or Place? Here's our best reads list County by County