Davick Services on Facebook
True Stories of Amazing People and Places in Texas
Books about Bastrop County Texas
Books about People and places in Bastrop County Texas including Bastrop, Elgin, Smithville, Camp Swift, McDade and Wyldwood, Texas.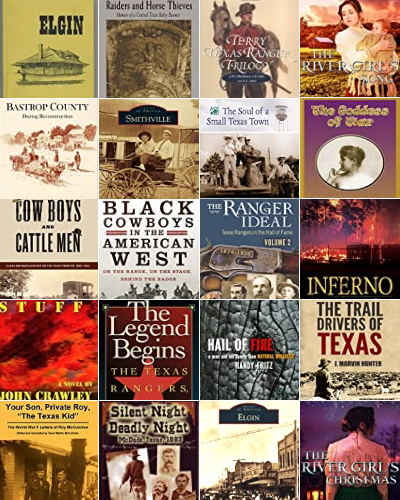 This site contains affiliate links to products. We may receive a commission for purchases made through these links. As an Amazon Associate we earn from qualifying purchases.
The Texas Rangers: Wearing the Cinco Peso, 1821-1900
Found inside: "In retaliation, a large Comanche war party swept down the Colorado river into Bastrop County on February 24, 1839. The first cabin they attacked, about twelve miles above Bastrop, happened to the the late Captain Robert Coleman's homestead. The Indians killed his widow, Elizabeth and two of her children . . ." Read more Look inside
Raiders and Horse Thieves: Memoir of a Central Texas Baby Boomer
Raiders and Horse Thieves is the story of my early childhood in Cedar Creek, Texas (Bastrop County), during the final days of World War II. Due to Reconstruction and the Great Depression, economic growth in this central Texas County had been severely restricted. The residents maintained the pioneer values and lived the lifestyle of a much earlier period. This is a true story of the human will to persevere . . . Read more Look inside
Cow Boys and Cattle Men: Class and Masculinities on the Texas Frontier, 1865-1900
"Bastrop County court records reveal the typical efforts to crack down on gamblers. From the late 1860s, by far the most common offense was aggravated assault, with a few gambling cases each month. Beginning in July 1890, however, the authorities made a concerted effort to wipe out gambling in the county. On July 28, fourteen . . ." Read more Look inside
Hail of Fire: A Man and His Family Face Natural Disaster
by Randy Fritz
Hail of Fire: A Man and His Family Face Natural Disaster is an intimate account of the third worst wildfire in modern U.S. history, and the most destructive in the history of Texas. It is a memoir about what happened to Randy Fritz, an artist turned politician turned public policy leader, and his family during and after, combining a searing account of the fire as it grew to apocalyptic strength with universal themes of loss, grief, and the rebuilding of one's life after a calamitous event . . . Read more
Elgin (Images of America)
Elgin is located in northern Bastrop County and recognized as the "Sausage Capital of Texas" and "Brick Capital of the Southwest." Beginning as a watering stop for the Houston & Texas Central (H&TC) Railroad Company, the town was named for Robert Morriss Elgin, an official in the railway company. The town was incorporated on May 31, 1873. Swedish, German, and Czech emigrants soon turned it into some of the best farming land in the state. With the growth of cotton farming, coal-mine work, and a local brick-making business . . . Read More
200 Texas Outlaws and Lawmen
"On March 25, 1868, Bastrop County Deputy Sheriff and a posse pursued two members of a suspected gang of horse thieves. Suspected rustlers Charley Taylor and James Sharp resisted arrest, provoking a fierce gun battle in which Taylor was fatally wounded. Sharp survived the fight but not the ride back to town as he was shot and killed while allegedly trying to escape. . ." Read more Look inside
Indian Depredations in Texas
Found inside: "...Samuel Robertson was a resident of Bastrop County. In the latter part of the summer of 1838 Mr. Robertson and a man named Dollar were employed by Mr. Thomas Glasscock in getting out timber from a pinery near the town of Bastrop. One day whilst engaged at this business their attention was suddenly drawn to their horses, which were snorting loudly at something that had alarmed them. There horses were tied close by for the purpose of riding them to and from their work. Looking around to see what it was that frightened their animas they discovered a large party of Indians within a few rods of them. The two men instantly mounted their horses and endeavored to escape, but the . . ." Read more Look inside
Stuff
You are awakened before 6 am, before the sun has had a chance to warm the drought-parched land around your home. You are awakened by a fire brigade and told you have less than an hour to pack up your things and vacate the premises. You are told your home is going to be destroyed. There is nothing the fire fighters can do to save it ... And so goes the day David Taylor faced the ravaging forest fire that attacked his hometown. As he gathers his things to escape, we discover who he is, what he stands for and how fragile life, itself, can be. We urge him on, waiting for his final escape from the cul d' sac that he has called home . . . Read more Look inside
Silent Night Deadly Night McDade, Texas, 1883
The true story of the events that led up to the Christmas Eve lynching of three innocent men and the Christmas Day shootout in McDade in 1883.
Terry Texas Ranger Trilogy
The ten companies of the Terry Texas Rangers were officially activated into the Confederate Army as the 8th Texas Cavalry Regiment, but throughout the Civil War they were known by the name of their first commander, Col. Benjamin F. Terry, who fell at the battle of Woodsonville ...
Found Inside: It was recruited largely from Bastrop, with contingents from Hays, Travis and Burleson counties. This organization, full at the beginning, always one of the largest for duty, sustained the greatest loss in killed of all companies of the regiment . . . Read more Look inside
Texas Ranger Tales: Stories That Need Telling
Found inside: "All the action seems to have been taking place at the nearby Bastrop County community of McDade, Where a murder and the hasty lynching of the alleged perpetrator were reported on May 9, 1874. The killing was the culmination of a small difficulty that started when a man tossed a dirty sock into the skillet of a railroad worker who was preparing his meal . . ." Read more Look inside
The Legend Begins: The Texas Rangers, 1823-1845
Found Inside: At Cedar Creek they found the first signs of what would be famous as the Runaway Scrape; the settlers had abandoned what they could not carry, and the two rangers found plenty of food. The following day they reached Bastrop, completely abandoned except for the ranger company . . . Read more Look inside
The Soul of a Small Texas Town:
The Photographs, Memories, and History from McDade, Texas
Thirty-five miles east of Austin, McDade, Texas is quintessential small-town America. McDade's colorful history, from its founding in 1871 as a Wild West boomtown and continuing to the much quieter present day, comes to life in The Soul of a Small Texas Town. David Wharton's contemporary photographs of the community and its residents and his accompanying narrative reveal growth and decline, shared family histories, traditions, crises, and celebrations . . . Read more Look inside
The River Girl's Song:
An Inspirational Texas Historical Women's Fiction Novella (Texas Women of Spirit)
by Angela Castillo from Bastrop Texas
Join a young pioneer girl on a journey of hope and courage on the Colorado riverbank in frontier Texas.
Zillia Bright never dreamed she'd be orphaned at sixteen and left to care for her baby brother and papa's farm. With only a mule and a hundred-year-old shotgun, she must fight to protect what's hers . . . Read more Look inside
The River Girl's Christmas
by Angela Castillo from Bastrop Texas
Clean Christian historical fiction. Christmas of 1892 promises to be exciting for Zillia Eckhart, especially after she finds out her best friend and sister-in-law, Soonie, is coming home ... Read more Look inside
The Texas Calaboose and Other Forgotten Jails
Found Inside: "Even though stories of cages having been used as lockups in the outdoors are common, most here housed in a a building. I recall seeing prisoners on the second floor of the Bastrop County jail looking out the windows in 1971 ... " Read more Look inside
Inferno in the Lost Pines
... Stunned at the orders to evacuate, residents of Bastrop, Texas, left their homes full of irreplaceable memorabilia and fled to safety. They had little time to gather even the most essential possessions.
Inferno in the Lost Pines is filled with stories of people who had to make fast decisions when chased by a forest fire, and thoughtful decisions when moving into an unexpected future. . . . Read more Look inside
Austin Colony Pioneers. Including History of Bastrop, Fayette, Grimes, Montgomery and Washington Counties, Texas
This book is a compilation of research done by Worth S. Ray about Washington, Fayette, Bastrop, Montgomery and Grimes Counties , which comprised a large portion of the Austin colonies in Texas. "The most interesting topic sought to be presented is the part played by the colonial pioneers that followed in the wake of the Austins, father and son, and whose humble and unassuming lives were sacrificed in the establishment of new homes for their descendants . . . Read more
The Big Book of Texas Ghost Stories
Found inside: "Reuben and his friends buried the two dead men, then wrapped up Josiah in a sheet, placed him on a sled, and dragged him back to the Hornsby cabin. Josia lived for more than a decade after the attack, but his body never fully recovered. The skin never grew entirely over his head wound, so a portion of his skull was exposed. Despite his wounds, Josiah tried to live a normal life. He began farming in 1836 and even built one of the first gristmills in Bastrop County . . . Read more Look inside
Elgin: A History of Elgin, Texas 1872-1972
by Mrs. C. W. Webb & Others
Your Son, Private Roy, the Texas Kid:
The World War II Letters of Roy Mccutchen
WWII histories and the memoirs of generals and political leaders have dominated our view of the war. The stories of ordinary Soldiers, Marines, Sailors, Airmen, and their families are few in comparison. Private Roy McCutchen's letters home, covering his time in the U.S. Army Signal Corps at Camp Swift, Texas from March to October 1943, prove that stories like his can be a rich reading experience in several ways ... We watch him with mounting interest as he learns his craft; ventures out to Bastrop, Taylor, and Austin . . . Read more Look inside
Smithville (Images of America)
Smithville's reputation is that of a railroad town, yet it offers an even richer history. Fertile land and the Colorado River attracted pioneers with energy, dreams, and a hunger to build. After Thomas Gazley chose head-right land in Stephen F. Austin's Second Colony in 1827, area settlers joined the fray to secure a Texas free from Mexico's supremacy ... Read more Look inside
Black Cowboys in the American West: On the Range, on the Stage, behind the Badge
Who were the black cowboys? They were drovers, foremen, fiddlers, cowpunchers, cattle rustlers, cooks, and singers. They worked as wranglers, riders, ropers, bulldoggers, and bronc busters.
Johnson's memories of his childhood are sketchy, though he says that he often felt unwanted and that around the age of fifteen he went to work on another of Mr. Yost's ranches near Manchaca in Bastrop County. "They give me to them," he says. "they'd feed me, you know, shoe me and clothe me. And I did horseback riding, taking care of cattle ... Read more Look inside
The Ranger Ideal Volume 2: Texas Rangers in the Hall of Fame, 1874-1930
"Mat Banks, a convicted horse thief, and Randall Lightfoot and Charles HIne, both incarcerated for theft and attempted murder, had escaped from the Travis County jail in early 1869. They remained at large until McNelly was ordered to find the fugitives and take them into custody. The captain, doubtless with a posse, cornered the three outlaws near Sand Fly in northern Bastrop County on July 23, 1870. Hine resisted arrest and " . . . Read more Look inside
The Goddess of War, A True Story of Passion, Betrayal and Murder in the Old West
John Wesley Hardin is the most famous gunfighter of the American Wild West. The subject of conversations from the Mexican border to the rowdy saloons of Kansas, he was the greatest celebrity of the age. He wrote an autobiography, but he only told what he wanted known, and few have researched beyond that. Today, Hardin is an enigma. Part of the mystery is his disastrous relationship with Helen Beulah Mrose, yet she has not been researched at all. Until now. The author lists Bastrop County courthouse records as a primary source for this book . . . . . . Read more Look inside
The Evolution of a State, or, Recollections of Old Texas Days
"Bastrop County suffered more from Indians during the year 1936 than for any other year of its history. I could mention numbers of its best men who were killed during that time. The return of the rangers, however, check the hostile incursions for a time, and people began to scatter out from the forts . . . " Read more Look inside
The Trail Drivers of Texas: Interesting Sketches of Early Cowboys
These are the chronicles of the trail drivers of Texas those rugged men and, sometimes, women who drove cattle and horses up the trails from Texas to northern markets in the late 1800s.
"During the fall and winter of 1880 I bought cattle in Bastrop and Lee Counties for Mr. Ellison. In the spring of that year I drove another herd of the Y cattle for him, making the start in April. This was a very dry year on the trail. While crossing the Washita, we broke a wagon wheel and had to use a pole drag for one hundred and fifty miles to Wolf Creek" . . . Read more Look inside
Flash Floods in Texas
Found Inside: "In Bastrop, the river peaked at 43 feet on April 8, 1940. At Smithville, the crest reached 40 feet, and at La Grange, the highest point was measured at 47 feet in the evening of April 9. " . . . Read more Look inside
History of Bastrop County Before Statehood
by Kenneth Kesseulus
Bastrop County During Reconstruction
by Kenneth Kesseulus
Bastrop County, 1691-1900
by Bill Moore
Bastrop and Lee Counties Texas - The Wend Colony of Texas 1854
Related Articles


What's your Favorite Book about a Texas County, Town, Person or Place? Here's our best reads list County by County