Davick Services on Facebook
True Stories of Amazing People and Places in Texas
Books About Aransas County Texas People and Places
Some of our favorite Books about our friends, family and ancestors from Rockport, Fulton, Holiday Beach and Lamar Texas. Did we miss some good ones?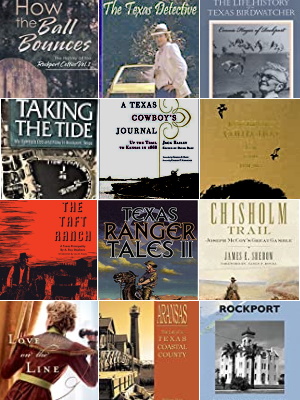 This site contains affiliate links to products. We may receive a commission for purchases made through these links. For Example: As an Amazon Associate we earn from qualifying purchases.
Texas Ranger Tales II
"Born in Nueces County on January 18, 1851, John "Red" Dunn had driven cattle to Kansas, shoveled coal in the boiler room of a Mississippi River steamboat, worked in the beef packing houses at Rockport, Texas, and raised cattle.. . . Read more Look inside
Rockport: A Childhood by the Sea
Of the many areas on the Texas coast that my father was familiar with, he chose Rockport because of its uniquely beautiful geographic qualities. Our family thrived in that place where my mother worked diligently to provide a wonderful home beside the sea. The neighbors, friends, and classmates made for a place where a happy childhood could be lived in peace and safety. That experience has been a comfort throughout all my life.-John D. Freeman . . . Look inside
Aransas: Life of a Texas Coastal County
Aransas: The Life of a Texas Coastal County is a wonderfully researched history of an exciting part of Texas. This is the story of a little place that has played a surprisingly large role in the history of Texas. From the early explorers, Cabeza de Vaca and LaSalle, this is where much of the early history of Texas was born . . . Read more
30 Years Through the News/Lens:
A History of Aransas County in News Highlights & Photos
A 300-plus page book with more than 160 pictures highlighting the news in Aransas County (Rockport-Fulton), TX from the pages of the Rockport Pilot between 1984-2013 . . . Look inside
The Taft Ranch: A Texas Principality
"In 1869 George Ware Fulton of Fulton, Texas secured from the United States Patent Office Paten Number 92,035 for "Improvement in Apparatus for Slaughtering and Curing Meat". Practical application of Fulton's plan began in 1871 when three Holden brothers -- Daniel Livingston, Elbridge Gerry, and Charles M opened an artificially cooled abattoir in Fulton, Texas, the first of its kind in the nation. They prepared beef not . . . Read more Look inside
Kings of Infinite Space: A Novel
The Kings of Infinite Space is a hilarious and macabre spoof on our everyday lives, and gives true voice to the old adage, "Work is Hell."
FIVE ALL OF LAMAR, TEXAS, is divided into three parts. There are the musicians, slackers, aging hippies, computer entrepreneurs, and academics in the arboreal old city north of the river; the Republican, Texas two-stepping, cowboy . . . Read more Look inside
Love on the Line
"Diane Probst out of Rockport, Texas, gave me special attention during their annual Hummingbird Celebration, where thousands of hummingbirds stop in Rockport each September to fill up on sugar water before their six-hundred-mile overnight" . . . Read more Look inside
When The Storm Comes: Life Changing Lessons Learned
Aransas County was the recipient of a direct hit by Hurricane Harvey. Never in our wildest dreams, would we have thought a storm could intensify to a Category 4 level, give our county less than 20 hours notice, and be a direct hit. It had been nearly 50 years since a storm hit our coast. There are no other words than to say … Harvey had its eye on Rockport and Fulton, Texas. The weather conditions aligned to create a perfect storm. This book gives a compelling interface of a community so quickly hit by a storm and lessons learned in the two years following . . . Look inside
Hurricane Harvey & Rockport, Texas:

Images and Words of Devastation and Recovery

Homes destroyed, roofs gone, walls torn asunder. Mighty oaks wrenched from the soil, huge branches thrown to the ground, trees stripped of leaves. Telephone poles bent in two, signs down everywhere, miles of piles of debris. No power, no water, no sewer.
Hurricane Harvey made landfall as a category 4 hurricane on the evening of August 25. With multiple tornadoes, sustained winds over 130 mph, and gusts to 150mph, Harvey caused catastrophic damage . . . Read more
Taking The Tide
My Family's Ebb and Flow in Rockport Texas
by John Porter Jackson as told to Sue Hastings . . . Read more
The Life History of a Texas Birdwatcher: Connie Hagar of Rockport
In any other context, saying that someone was "for the birds" would hardly be polite. But applied to Connie Hagar, it would be high praise. The diminutive birdwatcher nicknamed Connie was reared as Martha Conger Neblett in early twentieth-century Texas, where she led a genteel life of tea parties and music lessons. But at middle age she became fascinated with birds and resolved to learn everything she could about them. In 1935, she and her husband, Jack, moved to Rockport, on the Coastal Bend of Texas, to be at the center of one of the most abundant areas of bird life in the country . . . Look inside
The Texas Detective
By Skoot Larson from Rockport Texas
Why would a conservative Texas state senator pay a failing small town private eye to find his missing sense of humor? And then, a month later come back to ask the man to find out if his wife is being unfaithful. The senator claims either a cheating wife or no sense of humor could cost him re-election. A former Los Angeles Police detective, Dave Holman, who now runs a one man agency in a small Texas coastal community with little or no crime isn't sure what to think. Holman reluctantly takes the senator's case seeing it as an easy way to raise some much needed cash, only to discover he's stepped into a labyrinth of crime, danger and deceit when he finds the senator's wife is the sister of one of the areas 'old-time-religion' mega church leaders .. . . Read more
Boat Bum: Tristan Vangogh and the Voyage of the Sabrina Ann
The Sabrina Ann drifted into a bank and stayed there till someone came along and towed me to a little place called Cove Harbor just outside of Rockport, Texas. Cove harbor was a fuel dock and not much more. The guy said I could tie up for the night and even let me plug in. I caught a ride into rockport where . . . Read more Look inside
How the Ball Bounces
Imagine growing up in an ethnically diverse, poor neighborhood with little hope for the youth that lived there. Eric DeWolfe doesn't have to imagine having grown up in South Rockport, Texas at a place known affectionately as "Mexican Park". Most of these residents of Rockport were of meager means and some even on public assistance. DeWolfe and his friends had a hard time envisioning a better life. But everything changed when the city built a small basketball court at the park in front of his house. It didn't take long for him to form his own team . . . Read more
A Texas Cowboy's Journal: Up the Trail to Kansas in 1868
In this earliest known day-by-day journal of a cattle drive from Texas to Kansas, Jack Bailey describes what it was like to live and work as a cowboy just after the Civil War.
"Other Texans found they could sell their cattle for the animals' hides, bones, tallow, and horns. Hide and tallow factories were established at Rockport and Fulton, Texas, and the byproducts were shipped by boat to New Orleans and elsewhere . . . Read more Look inside
Rockport Collection Fish Game Fine Art
Rockport Art Association Rockport, Texas cookbook with color prints of original painting from private collections. The Rockport Art Association provides youth & adult art education, to promote & stimulate local & regional artists and to publicly display quality art work . . . Read more
The Chisholm Trail: Joseph McCoy's Great Gamble
The Chisholm Trail follows McCoy's vision and the effects of the Chisholm Trail from post–Civil War Texas and Kansas to the multimillion-dollar beef industry that remade the Great Plains, the American diet, and the national and international beef trade.
"Raising stock cattle became a passion in Texas. T. H. Mathis of Rockport, Texas, in Aransas County, interbred his herd with Durhams and Herefords" . . . Read more Look inside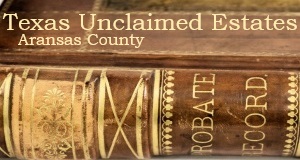 Aransas County Unclaimed Estates
These deceased residents from Rockport and Fulton Texas left a total $75,512 in Unclaimed Money for their heirs. Know the Heirs? Please Share or Tag your Family and Friends in Aransas County to let them know they can collect it from the Texas Comptroller's Office.. . . See the list
What's your Favorite Book about a Texas County, Town, Person or Place? Here's our best reads list County by County






Aransas County Appraisal District
Aransas County TX Experts
Aransas County Treasure
Aransas County Unclaimed Estates
Books about Aransas County