Bobby Keys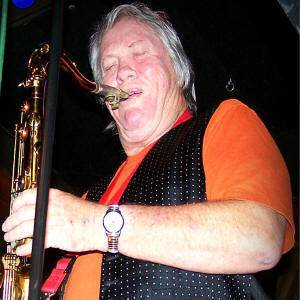 Photo by Sean Birmingham
Bobby Keys was born in Slaton Texas December 18, 1943. When his family moved to New Mexico in 1946, Bobby stayed with his grandparents in Slaton. A self-taught musician, at the age of 15 Keys started touring with Bobby Vee and fellow Texan Buddy Holly.
As a saxophonist Keys played with some of the biggest names in music including The Rolling Stones, Lynyrd Skynyrd, Buddy Holly, Elvis Presley, Keith Richards, Eric Clapton, Delaney & Bonnie, George Harrison, Ringo Starr, Warren Zevon, Joe Cocker, Joe Ely, Sheryl Crow, John Lennon, Leon Russell, Plastic Ono Band, Harry Nilsson, Paul McCartney.
Keys met the Rolling Stones at the San Antonio Teen Fair while sharing a bill with the group as a member of Bobby Vee's band in 1964.
Keys and Mick Jagger also became close in the early 1970s, with Keys serving as best man at Jagger's wedding. Together with Jim Price on trumpet, Keys toured with the Stones from 1970 to 1973. Along with trumpeter Steve Madaio and fellow saxophonist Trevor Lawrence, Keys continued as a touring member for the first half of the 1973 European tour before leaving in Frankfurt, Germany on September 30. According to legend, Keys was abruptly dismissed by an incensed Jagger after filling a bathtub with Dom Perignon champagne (resulting in a debt to the band that significantly exceeded his entire salary for the tour) and drinking most of it. Although Keys did not dispute the veracity of the incident, he subsequently maintained in his memoir that he left the tour of his own volition to curtail his heroin addiction for the sake of his family. As a result of his strained relationship with Jagger, Keys only guested on some shows of the 1975 and 1978 American tours, missing the 1976 European tour completely.
Bobby Keys, the larger-than-life saxophone player who toured with the Rolling Stones for more than 45 years and played on studio classics like "Brown Sugar" and "Live With Me," died from liver cancer at his home in Franklin, Tennessee, on December 2, 2014.