Many Americans have a growing interest in escaping urban sprawl and the hectic pace of big city life for the clean air and wide open spaces of rural counties. But which county offers the simpler life so many Americans long for? Progressive Farmer magazine just ranked their choice for the best rural counties in America.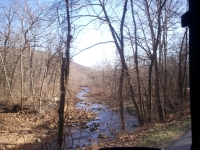 This Rural lake lot in the beautiful Ozark Mountains of Missouri sold for just $2697 in April 2015 on eBay. The owner financed the property for $33 a month. See Current Rural Properties for Sale

Kent County, Maryland led the list in the magazines annual edition of the "Best Places to Live in Rural America" rankings. Each year, the rankings name the top 10 rural counties in the nation, according to several quality-of-life indicators and statistics.

The top 10 rural counties are ranked based on rural quality-of-life indicators such as great schools, access to health care, low crime and affordable farmland. In 2008, the editors of The Progressive Farmer added extra criteria by focusing on counties that have been able to protect farmland, control growth pressure from urban and suburban areas, and strike a good balance between agriculture, manufacturing and modern conveniences. For instance, No. 1 Kent County has doggedly maintained its rural heritage by preserving farmland, says Senior Editor Jamie Cole. "They have determined there that the best use of their land is for farming. The level of commitment to that idea is extraordinary.

The Top 10 List of "Best Places to Live in Rural America"

1. Kent County, Md., was selected as the best place to live in rural America this year. The county of 20,000 residents was chosen in part because of its commitment to preserving the county's rural roots, despite being within driving distance to Washington, D.C., Baltimore and Philadelphia. A testament to this long-term planning is the stately farmhouses-many dating pre-Civil War-that dot the countryside and the average local who can trace his or her ancestry to the Revolutionary War. Many local farmers have sold development rights of their land to the state to keep sprawl at bay.

2. Ellis County, Kan. -- Located between Kansas City and Denver, this county is known for its frontier spirit, with agriculture and oil sustaining its economy. Like many agricultural areas, Ellis County saw hard
times in the 1980s, but has since revitalized the area by forming a coalition to ensure economic vitality.

3. Livingston County, Mo. -- In the heart of this top-ranked county is Chillicothe, an inventive and industrious town known as the "Home of Sliced Bread." This can-do attitude extends past the town's city limits and can be seen through a regional marketing plan that attracted employers and residents to the county through services that make the area more livable as a whole.

4. Obion County, Tenn. -- This sprawling rural county is a place where agriculture and industry go hand in hand, forming a strong economy despite little or no population growth. The county also features great schools,
great farmland and legendary wildlife populations.

5. Columbia County, Penn. -- Located near New York, New Jersey and Philadelphia, Columbia County is certainly facing development pressures. But conservation easements and agricultural security areas are helping
preserve farming for future generations.

6. Wexford County, Mich. -- Set amid rolling meadows and thick forests, this county and its habitants are adaptable, migrating their industry from primarily lumber and small farms to Christmas tree production and tourism. It's this adaptability that has helped Wexford County flourish over the
years.

7. Fayette County, Texas -- Fayette County is prime cattle country, ranking as the top in the state for beef cow numbers and herds. Winters are mild, and blankets of wildflowers cover the fields and hills in the spring.

8. Coffee County, Ala. -- If overcoming challenges is a criterion for our list this year, this top 10 county has certainly done that. In fact, a statue of a woman holding a boll weevil sits squarely downtown as a tribute
to the insect that forced Coffee County to become economically diversified. The town is also recovering and rebuilding from a destructive tornado that hit a year ago, but will keep on thriving, thanks to a tight-knit community.

9. Gilchrist County, Fla. -- Urban development is fast approaching this scenic and wildlife-rich county, which shares a boundary with the county housing the University of Florida. However, Gilchrist County is trying to
protect its rural areas with acre requirements for home sites.

10. La Plata County, Co. -- Gorgeous scenery, abundant wildlife, a booming economy and friendly, welcoming locals would put this county on anyone's top 10 list. It made our list in part due to its alliance for
educating locals on how to buy locally grown food and its work on zoning laws.

This year, the magazine is debuting the "Reader's Choice Award," where any of our nation's 2,000-plus rural counties can solicit the most votes and win this reader-driven distinction, which will be announced in August 2008. Voting on http://www.progressivefarmer.com opens Feb. 1 and runs through May 31. Web visitors can vote once a day and will be able to see real-time results.
Kent County, Maryland
See More Maryland Real Estate
Ellis County, Kansas
See More Kansas Real Estate
Livingston County, Missouri
See More Missouri Real Estate
Obion County, Tennessee
See More Tennessee Real Estate
Columbia County, Pennsylvania
See More Pennsylvania Real Estate
Wexford County, Michigan
See More Michigan Real Estate
Fayette County, Texas
See More Texas Real Estate
Coffee County, Alabama
See More Alabama Real Estate
Gilchrist County, Florida
See More Florida Real Estate
La Plata County, Colorado
See More Colorado Real Estate