Rare Artifacts, Memorabilia, Ancestry and History Records from Belton, Harker Heights, Killeen, Little River-Academy, Morgan's Point Resort, Nolanville, Temple and Troy, Texas
Find unique artifacts, memorabilia, historical and ancestry records in these treasures from Belton Texas. Vintage or brand new, perfect for anyone interested in the history of Belton or grew up here.
Bell County Estates with Unclaimed Money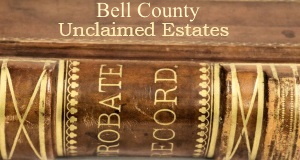 These Deceased Residents of Killeen, Harker Heights, Temple, Nolanville, Belton and Troy Left a total $629,532 in Unclaimed Money for their heirs.
Know the Heirs? Let them know! See the list