Barry Corbin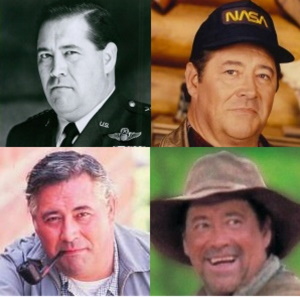 Born in Lamesa, in Dawson County October 16, 1940, Corbin attended O.L. Slaton Jr. High and graduated from Monterey High School in Lubbock Texas. At 21, he joined the United States Marine Corps, served two years, and then returned to graduate from Texas Tech University.
Corbin began his career as an actor in the 1960s, today he is likely to be remembered in the role of the local sheriff, military leader, or some other authority figure, though on occasion, he has effectively portrayed murderous villains. He is well remembered as General Beringer in WarGames, John Travolta's uncle Bob Davis in Urban Cowboy, co-starring with Clint Eastwood in Any Which Way You Can, or Roscoe Brown, July Johnson's bumbling deputy in the acclaimed western Lonesome Dove starring fellow Texan, Tommy Lee Jones.
From 1979 until 1984, he appeared in several episodes of Dallas as Sheriff Fenton Washburn. In 1983, Corbin co-starred in the famed television miniseries The Thorn Birds. Corbin played Mary Carson's stockman Pete, who teaches the Clearys' sons how to shear sheep on their aunt's gigantic sheep station Drogheda, in Australia. In 1983–1984, Corbin played Merit Sawyer in the NBC television series Boone. Corbin's role was that of a stern father to the young actor Tom Byrd, who played Boone Sawyer, an aspiring singer. The program was set in rural Tennessee during the 1950s and was created by Earl Hamner, who had great success earlier with CBS's The Waltons.

From 1990 to 1995, Corbin portrayed former astronaut and local business leader Maurice Minnifield on CBS's Northern Exposure, for which he received an Emmy Award nomination.
In 2009, Corbin was inducted into the Texas Cowboy Hall of Fame in Fort Worth. A recent painting of Corbin has been placed at the museum exhibit. Corbin has appeared at gatherings of the American Cowboy Culture Association, which holds the annual National Cowboy Symposium and Celebration each September in Lubbock.

In September 2011, Corbin was given a Lifetime Achievement Award by the Estes Park Film Festival in Estes Park, Colorado. The Texas Film Hall of Fame inducted Corbin into its membership on March 8, 2012
Corbin currently lives near Fort Worth, Texas.




Books about Lubbock County People and Places
Books about Dawson County People and Places


Lubbock County Treasures (eBay)
What's your Favorite Book about a Texas County, Town, Person or Place? Here's our best reads list County by County