Born in Amarillo, Texas July 28, 1911 to Carrie A. Barnett and John R. Doran. Ann began acting at the at the age of four and appeared in hundreds of silent films under assumed names so her father's family wouldn't find out. Her mother was a silent-film actress whose professional name was Rose Allen.

Ann Doran was beyond prolific, she appeared in more than 500 motion pictures and 1,000 episodes of television shows, including the American Civil War drama Gray Ghost. She was possibly best known as the mother of Jim Stark in Rebel Without a Cause. She was an early member of the Screen Actors Guild and served on the board of the Motion Picture & Television Fund for 30 years.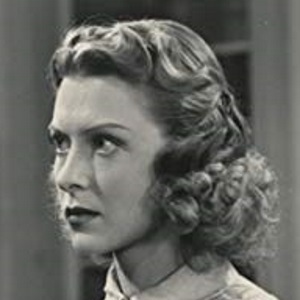 She became a favorite of Columbia director Frank Capra and appears in many of his productions. Most of these appearances were supporting roles, although she did play leads in Columbia's Charley Chase comedies from 1938 to 1940 and in one Charles Starrett western feature, the Sam Nelson-directed Rio Grande. In 1938, she starred opposite Charles Starrett in the revenge-centered Western "Rio Grande." She later landed a supporting role in the boy and his dog drama "For the Love of Rusty." Her last appearance on the big screen was in 1986 as Mrs. Chatham in the sports comedy Wildcats.
On television Doran played Charlotte McHenry, the housekeeper on Shirley, Agnes Haskell, Eddie Haskell's mother and in a separate appearance Mrs. Bellamy, in Leave It to Beaver and Mrs. Kingston, the housekeeper, on Longstreet.
Doran guest-starred on many television programs, including three appearances in the role of Bonnie Landis in The Public Defender, starring with fellow Texan Reed Hadley. She appeared in the anthology series Crossroads in the 1956 episode "The White Carnation", along with Elinor Donahue, James Best and J. Carrol Naish. In 1952, she appeared in an episode of The Lone Ranger titled "Hidden Fortune". She last appeared on television in a 1988 episode of Hunter where she played Mrs. Rawling.
Ann Doran died in September 19, 2000 at age 89. She bequeathed $400,000 to the Motion Picture Country House, the retirement home for the movie industry.
On July 28, 2016 Ann's birthday was designated as Ann Doran Day in Amarillo, Texas.
Resources:
Ann Doran Movies and TV (Amazon)
Amarillo History , and Memories
Old Texas Panhandle (History Page)