Public Notice
Texas Comptroller Holding $72,882.32 in Unclaimed Money for These Andrews County Businesses
Highest $6,000.00 Average $470.21 Total $72,882.32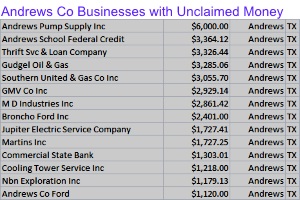 Andrews Pump Supply Inc
Andrews School Federal Credit
Thrift Svc & Loan Company
Gudgel Oil & Gas
Southern United & Gas Co Inc
GMV Co Inc
M D Industries Inc
Broncho Ford Inc
Jupiter Electric Service Company
Martins Inc
Commercial State Bank
Cooling Tower Service Inc
NBN Exploration Inc
Andrews Co Ford
Stanley Ford Andrews
Chase Manhattan Mortgage Corporation
W & W Oil Company
Andrews Fab Shop
Canadian Oil
Bk Energy Inc
Andrews Fab Shop & Rig Welding
First National Bank Of Andrews
Basin Dentistry Andrews Pllc
Morgan And Company
Andrews Svgs & Loan
Movies & More (Andrews)
M-T Petroleum Inc
M T Petroleum Inc
Sierra Well Service
Pimco Roustabout Service
Permian General Hospital
21st Mortgage Corp
Bancplus Mortgage Corp
H 2 Oil
Mustang Trucking Inc
Andrews Coop
Lightfoot Precision Control Inc
J E B Cattle Company Inc
Tracy Production Inc
American Exploration Company
Andrews Answering Service
Andrews Ford Products
West Texas GCSA
Tri Sooner Service Inc
Wells Lease Service Co
Vin Fisher Operating Inc
Mid West Truck Center Inc
Black Hawk Energy Service
Caprock Oil & Gas Inc
John Parish Oil Company Inc
Alco Store 165 Andrews Tx
Labst Inc
Chock S Inc
Andrews Collegiate An Golf Tournament
Roadrunner Construction Inc
Andrews Freight
Texploration Oil & Gas
Orbitron Oil & Gas Corp
Palmer Of Texas
Andrews Builder Supply
E T L Hydrocarbons Inc Pbr
LG Pump Inc
Andrews S Ford
Wells Lease Service
Tide Water Oil Company
Andrews Community Blk History Org
Andrews Senior Center
Jerry M Lynch Inc Dba Andrews Builders S
Montfort Inc
Napa Of Andrews
Circle Z Ranch
Tax Assessor Collector Andrews
Magneto Service
City Of Andrews
Key Energy Service
Andrews Savings & Loan
Quality Retread Inc
City Of Andrews C C Ems
R & T Greasing & Tractor Service
Andrews Answering Svc
Faith Lutheran Church
Tide Water Oil Co
SMFHC Andrews
Commercial State Bank
Andrews County News
Economy Oil
County Hospital D Andrews
Andrews Cleaners
Bank One
Reliable Auto Sales
Vanderbilt Mortgage
Andrews County
Shannick Oil Co
Palmer Mfg & Tank Inc
Carruth Inc
Natl Bk Of Andrews
Stuck Pipe Recovery Inc
Garners Well Service Llc
Jonathan B Andrews
Andrews County Golf Course
Capital One Auto Finance
C W A Anchors Inc
South West Church Of Christ
Andrews Vision Center
Andrews Healthcare Ctr
Lamesa Federal Savings & Loan
Andrews Singles Assn
Andrews County Hospital Distri
Andrews Iron & Supply Andrews
Andrews School Fed Credit Union
Brite-Way Window Service
Carruth Truck Company
Gudgel Oil And Gas
Miller Tire Service
Texas West Drilling
Service Body Shop
Andrews County Tax A C
Southern Union Company
Texas Emergency Staffing Solutions Pa
Andrews Donuts
City Of Refuge Church
First Ntl Bk Of Andrews
Kustom Auto Refinishing
O F & R Oil Company
Vin Fisher Oil Company
Um Auto Parts Inc
Andrews Medical & Surgical
Steve Hurt Real Estate
District Clerk Andrews County Texas
Andrews County Hospital
Dcm Inc
Andrews Tire Service
Caprock Oil & Gas
Future Land Development Inc
West Texas Gas
Kelton Operating Corp Providence Energy Services Inc Dba
Kinney Water Well Service & S
Andrews County Clerk
Total Lube Center Inc
Andrews County Health De
Tom Cattle Company
Citizens Savings & Loan Assoc
M & D Industries Inc
Well 2 Web Inc
Maurice Andrews
Andrews Baseball Association
P & S Company
Andrews County Tax Office
Palmer Barnett Inc
Candy Cotton
West Texas Computer
NBSM Inc
Bens Welding Service
Six Bits Inc
Andrews City News

Note: This is a partial list. Some business not listed. No individuals listed.
Andrews County unclaimed property may be from abandoned assets such as dividends, payroll or cashier's checks, stocks, bonds or mutual fund accounts, utility deposits and other refunds or bank accounts and safe deposit box contents, insurance proceeds mineral interest or royalty payments, court deposits, trust funds or escrow accounts and overpayments on insurance and utilities and other bills. Unclaimed property does not include real estate or vehicles.
Texas has returned more than $3 billion in unclaimed property to its rightful owners. Funds reported will remain with the Texas Comptroller's office indefinitely until returned to their rightful owner.
Find and Claim Yours at Texas Unclaimed Property a Division of the Texas Comptroller

Unclaimed Property Finds (eBay)
Andrews County Resources:

Andrews County Appraisal District Andrews County People Andrews County TX Experts Andrews County Treasure For Sale Andrews County Unclaimed MoneyAndrews County Unclaimed Estates Books about Andrews County Texas