Life in Texas from the 1800's to 1950
Life in Anderson County Tx from 1908 to 1946
Anderson County, Texas from 1908 to 1946 as pictured in archived government photographs, vintage postcards, old school yearbooks and newspapers.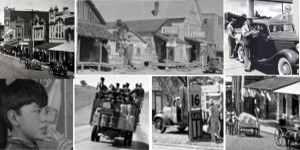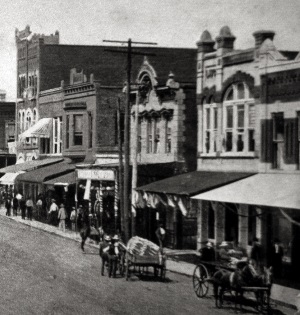 Looking West from Spring Street Palestine Tx 1908
Busy day on Spring Street in Palestine in 1908 as farmers bring crops to market in horse drawn wagons and early trucks and customers fill the street.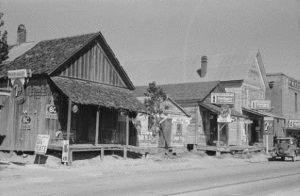 Highway near Neches 1939
Highway passes through unnamed small town near Neches Texas where weary travelers can get gas, oil, soft drinks and lunch.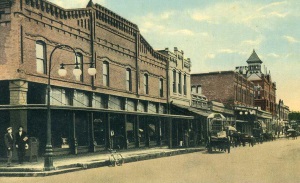 Oak Street Palestine TX 1918
Street scene on Oak Street in Palestine in 1918 featuring horse drawn wagons and well dressed shoppers.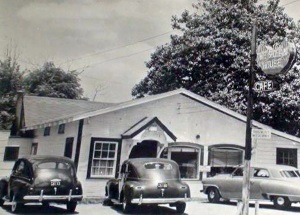 Perry's Steak House Palestine, Texas in 1940's
Cars line up for a good steak at Perry's Steak House in Palestine in 1940's Palestine.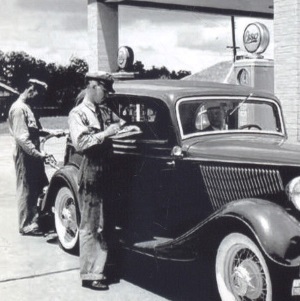 Esso Gas Station Palestine Tx 1930s
In the 1930's filling your car at an Esso Gas Station in Palestine Texas was a full-service experience where two uniformed attendants filled your car with gas, checked your tires, tires, washed your windshield and swept out your floorboard.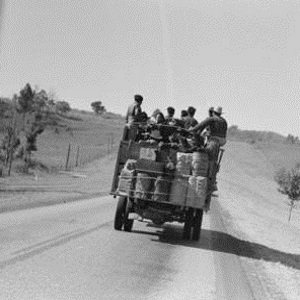 Migrants in truck near Neches Texas in 1939
Mexican migrant workers returning from Mississippi where they had been picking cotton travel by truck to their next field site somewhere near Neches, Texas in 1939.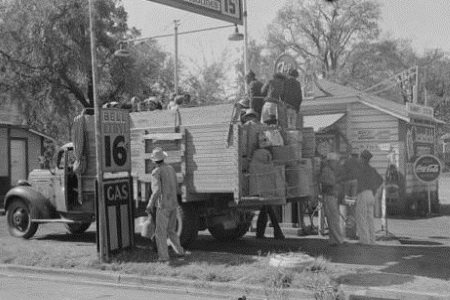 Gas Station near Neches, Texas in 1939
Mexican migrant truck stops for 16 cent a gallon gasoline on their way to a location near Neches, Texas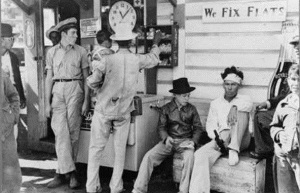 Cold Drinks and Candy in Neches Tx in 1939
Migrant workers on their way to a field in Neches stop to enjoys cold drinks and candy under the watchful eye of the Bell Station attendant. View Larger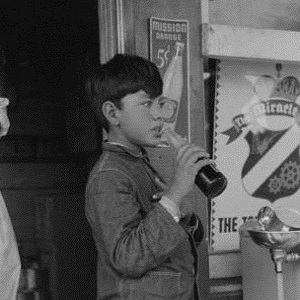 Migrant Boy Enjoys RC Cola at Bell Gas Station Near Neches Texas in 1939
Young migrant boy standing beside public water fountain enjoys a rare treat, a 5 cent RC cola at a gas stop near Neches in 1939.
Books about Anderson County People and Places

A pictorial history of Palestine and Anderson County, Texas
Heritage II: A pictorial history of Palestine and Anderson County, Texas 1855-1993
Pioneer Families of Anderson County [Texas] Prior to 1900
Historic Palestine: An Illustrated History
. . . Get Details on these and more books about Anderson County Texas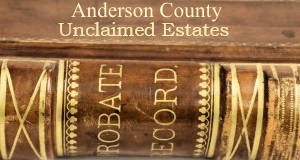 Anderson County Unclaimed Estates
These Deceased Residents of Palestine, Frankston, and Elhhart, Texas Left $66,855 in Unclaimed Money for Their Heirs. Know the Heirs? Check the list and let them know they can collect it from the Texas Comptroller's Office . . . see the list


Important: Tap or click the title (not the photo) for details on the items listed below. See More Anderson County Treasure
Related Articles
What's your Favorite Book about a Texas County, Town, Person or Place? Here's our best reads list County by County






Nearby Counties