Alien Issue Trumps Deep Pockets of Opponents
May-05-07
ILLINOIS -- Proving once again that issues matter more to voters than campaign ads, an election that many considered a de facto referendum on the city's Illegal Alien Immigration Relief Ordinance resulted in proponents of Carpentersville's ordinance handily defeating opponents with deeper pockets.
The race was dominated by the Ordinance, proposed last year by councilmen Judy Sigwalt and Paul Humpfer. The proposed ordinance would let the city fine landlords who rent to illegal immigrants, and deny licenses to business which employ illegals. A vote on the proposal was delayed, in part due to intense local protest and in part due to waiting to see if a similar ordinance withstands legal challenges in Pennsylvania.
Incumbent Trustees Humpfer and Sigwalt and challenger Keith Hinz defeated Sherry Dobson, Trustee Jim Frost and Laura Zambrano for three open seats on the village board in the April 17 election. Sigwalt and Humpfer were up for re-election, and a third candidate, Keith Hinz, a challenger, supported the ordinance with them. Incumbent Jim Frost and newcomers Sherry Dobson and Laura Zambrano oppose the ordinance.
The village's largest employer and Latino civil rights groups financed large parts of one of the most contentious elections in history according to campaign finance disclosure statements filed this week.
As head of the village's largest employer, Otto Engineering President Tom Roeser was a vocal critic of Humpfer and Sigwalt early in the campaign. During the months leading up to the election, he sent two letters to the village's registered voters urging them to vote for Dobson, Frost and Zambrano. Dobson said the nearly $2,700 in contributions reflected the cost of mailing the letters.
Dobson came in fourth place, trailing third-place candidate Hinz by 66 votes, according to unofficial Kane County election results.
Latino civil rights groups and a local Hispanic business owner contributed about $3,000 to Zambrano's campaign committee, according to disclosure statements Zambrano filed with the Illinois State Board of Elections last month. Half of that came from the Chicago-based Mexicanos for Political Progress a week before the election. Zambrano finished fifth in the race, 135 votes behind Hinz, according to unofficial results.
Candidates' committees are required to file campaign financial statements with the state if they raised or spent more than $3,000, itemizing contributions of $500 or more.
The winners of the hotly contested race said the money they raised fell short of that mark.
"We didn't even come close" to $3,000, Humpfer said. "I handled the accounting for all (three winners). We hit about $1,800."
Humpfer said the candidates' campaign committees mostly received small donations, including some from individual members of the Fox Valley Citizens for Legal Immigration. The group is strongly supportive of the proposed illegal immigration ordinance and helped draft language for a so-called "official-English" proposal trustees plan to discuss at Tuesday's meeting.
Humpfer said most of the candidates' expenses amounted to water and snacks for campaign volunteers and about $1,200 for campaign signs. Hinz said he spent an additional $500 in signs independent of Humpfer and Sigwalt.
The candidates also may have seen benefits from third-party mailings. A group calling itself the Citizens Fed Up with Illegal Aliens mailed fliers endorsing Hinz, Humpfer and Sigwalt to about 1,130 residents days before the election, according to group leader Jerry Christopherson.
Supporters of Humpfer and Sigwalt's proposal have said it would give residents the tools to keep illegal aliens out of the village. Critics charge it would infringe upon residents' civil rights and the federal government's jurisdiction and divert village resources from more immediate problems.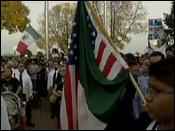 More than 2,000 people gathered to protest the proposal in November. The village board tabled it soon after, but trustees have promised to bring it back after seeing the pending results of a federal lawsuit against a similar ordinance the Hazleton, Pa., city council filed in July.