After Arrest of Elections Coordinator, Clerk Struggles With Early Voting

The first day of early voting is always a busy time for county clerks but in Brazos County Texas it's even more difficult after the arrest of the election coordinator in August.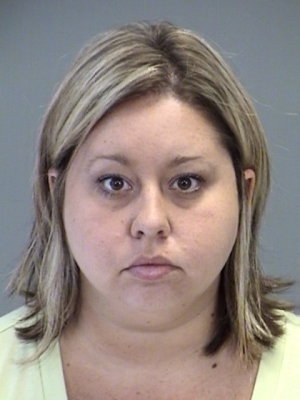 Former Brazos County Elections Coordinator Jaime Hines
This year, Brazos County Clerk Karen McQueen has to work even longer hours as she struggles with with early voting without the employee she has relied on in the past. That's because her former elections coordinator, Jaime Hines was arrested two months ago.

Hines was arrested Aug 14 on charges she stole an estimated $17,500 from the county clerk's office. The charges allege Hines stole the money while acting as a deputy clerk working in the marriage license department. Hines had been an employee of the Brazos County Clerk's office for more than twelve years. At the time of her arrest, she also also served as the Brazos County Elections Coordinator.

Hines turned herself in to Brazos County Sheriff's investigators and was booked into the Brazos County jail. She was later released on $5,000 bail.

In mid July, 2012, McQueen began an internal investigation when it was discovered that cash collected for the issuance of marriage licenses was not included in the cash drawer at the end of the day. Marriage license applications require a $72 fee.

In the internal investigation, McQueen discovered that there were more instances where marriage licenses were issued, no receipts were documented and cash was not deposited in to the cash drawer. On July 30, 2012 she met with Sheriff's Office investigators and reported that cash may have been stolen from the County Clerk's Office. McQueen continued to work with investigators, without revealing the investigation to her staff, by providing the documents they needed for the investigation.

McQueen says the irregularity was first brought to her attention by an employee who said Hines would issue a marriage license without providing a receipt. When she questioned Hines about this, Hines said she had been doing it since 2009 and once she started, "she just couldn't stop".


McQueen has moved Krystal Ocon, former assistant elections coordinator into a position to replace Hines. Ocon is now training to take over as elections coordinator.

The aftermath of the Hines arrest has left the Brazos County Clerk with many challenges as she deals with an audit of the County Clerk's office, early voting and continuing to assist the Sherrif's investigators in the ongoing investigation.

"We have several different things going in at once. Some days it is very overwhelming, and I just go home and fall out. Then some days it's nice and calm," McQueen told reporters on the first day of early voting.


Posted 10-24-12

Get the newsletter - Its Free

Sources:
KBTX County Clerk's Office Adjusting To Demands During Election Season
WTAW Deputy Brazos County Clerk Arrested on Theft Charges