Professional Research, LLC

Residential & commercial services including cell tower searches, mineral searches, lien and court searches, document retrievals, and right of way/ easement searches to include roadways and pipeline.

Contact Lisa Ramsey
Phone 469-223-0344
Email | LinkedIn
Wise County Appraisal District (CAD)

400 East Business 380
Decatur, Texas 76234-3165
Phone: 940-627-3081

Fax: 940-627-5187
Web address: http://www.wisecad.org/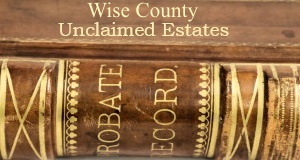 Wise County Unclaimed Estates
These Deceased Residents from Wise County left a total $200,573 in Unclaimed Money for their heirs. Please contact your Family and Friends in Alvord, Aurora, Boyd, Bridgeport, Chico, Decatur, Newark, Paradise, Rhome, Runaway Bay and Springtown . . . Check the list
Wise County property search for real estate taxes, property tax appraisals, unclaimed estates, property tax protest, tax sales, unclaimed property and foreclosures in or near Decatur Texas.
What's your Favorite Book about a Texas County, Town, Person or Place? Here's our best reads list County by County






Unclaimed Property Finds (eBay)

Wise County Property Tax Exemptions and Discounts
The Wise County Appraisal District has information on exemptions and discounts for property tax that may apply to you. One popular exemption could reduce your Wise County property taxes by up to $1500 a year and it's available to all homeowners who you live in their homes. More exemptions are available if you are over 65, disabled, or a veteran. In addition to local property tax exemptions, there are Federal tax rebates for people who live in Wise County and make energy efficient improvements.
Texas Land and Home Auctions
Texas Estate Sales
See More Texas Estate Sales
See Texas Cars & Pickups for Sale