Online Records Linked to Identity Theft, and Worse
By David Bloys / News for Public Officials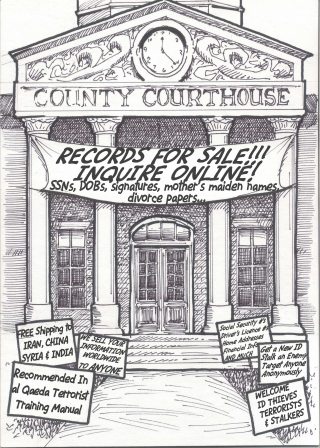 Linked to Stalkers

As early as 1987 criminals were using electronic access to Public Records to facilitate their crimes. Remote access to California's motor vehicle database facilitated the murder of actress Rebecca Schaeffer as she left for work.. Years later, Liam Youens used Public Records available online to stalk and kill twenty year old Amy Boyer.

Two days after her murder, identity thieves assumed her identity and wrote $5,000 in checks in her name. A recent report from the US Attorney General's Office noted that "there may be potentially tens or even hundreds of thousands of victims of recent cyberstalking incidents in the United States."

Linked to Terrorists

In a briefing given in late September 2001, Ronald Dick, assistant director of the FBI and head of the United States National Infrastructure Protection Center (NIPC), told reporters that the hijackers of 9/11 had used the Internet, and "used it well." Terrorist manuals found on laptop computers in Afghanistan instructed would be terrorists they can find 80% of everything they need to know about Americans through the Public Records.

The National Infrastructure Protection Center (NIPC) issued an advisory on January 17, 2002, which cautions municipalities to review the content of their websites to protect against the inadvertent disclosure of critical infrastructure information. The NIPC has received reports that infrastructure-related data is being accessed through the Internet from sites around the world.

A computer disc found in Iraq contained information on U.S. schools downloaded from public sites on the Internet. The disc contained information on school bus routes, maps, and photos for school districts in Georgia, Florida, Michigan, New Jersey, Oregon and California.

Judges in Allegheny County, Pennsylvania must have recognized the link between online Public Records and criminal attack. They cited the murder of a Federal judge's family in their Chicago home when they demanded the county remove their home addresses from the county website.

Linked to Identity Theft

In 2006 CIO Magazine reported, "In 1997, Arizona's Maricopa County (which includes Phoenix) was the first government entity in the nation to post public records online. Maricopa now claims the highest rate of identity theft in the nation, and local IT officials say the two statistics are inextricably linked."

While Maricopa County may have been the first to publish their records online, their citizens are certainly not the first to pay the price for this reckless "kitchen sink" approach to records access. Identity thieves, stalkers and terrorists are feeding on information served to them by local, state, and federal officials via the Internet. The link has been clear to criminals and some government agencies for nearly twenty years.

Hamilton County Clerk of Courts Greg Hartmann understood the link when he told the Cincinnati Post he was removing more than 320,000 public documents from his Web site in an attempt to combat the growing crime of identity theft. "I have seen increasing numbers of identity theft," Hartmann said. "We have had a number of cases where police have told me the bad guys got the information used to steal identities from my Web site. Citizens there have filed a lawsuit against the county for the breach of their security.

In a press release dated July, 2005 titled ID Theft Isn't Just For Grownups, Utah Attorney General Mark Shurtleff, announced the arrest of several thieves using the identities of children as young as five years old. The investigation uncovered an alarming new crime spree involving illegal aliens and identities stolen from victims under the age of 12. Investigators checked Utah state records and found that approximately 1,800 social security numbers, belonging to children under of 13, may have been compromised.


In Florida, where state and local officials were quick to publish online, the result has been rampant deed fraud where signatures of the dead and notary seals from foreign countries are turning up on bogus deeds. It is a simple clip, paste and file operation for the thieves when the documents are offered in electronic form over the Web.

Texas homeowners James and Paula Cook learned the hard way just how easily a criminal could take their home using online county records in 2006. The couple returned from a trip to find the locks had been changed by a "new owner" who bought the property from a criminal who apparently clipped Ms. Cook's signature from an old deed and a notary seal from a newer document found on the Denton County Web site.

Smart Money Magazine made the connection between online counties and criminals when they placed the Fort Bend County Clerk's website at the top their Meet The Stalkers list. Detective David Schultz of the Fort Bend County Sheriff's Office may be coming to the same conclusion. He has been focusing on ID theft crimes in that county for over five years. In an interview with the Fort Bend Herald, he said reports of the crime have skyrocketed during that time.

Whether you realize it or not, the link is clear. We are all being stalked through records published online by local government. This link, if left unbroken, could cost you time, money, freedom -- even your life.