New York Will Help Criminals Evade Federal Deportation Laws
May 19, 2010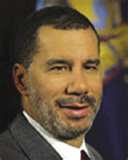 Governor David Paterson announced earlier this month he will grant pardons to illegal aliens who have committed crimes in his state in order to help them avoid federal deportation. The highly unusual move puts the State of New York at odds with the Obama administration, which has focused its removal efforts solely on criminal aliens. Ironically, Paterson announced his new policy during a Law Day speech at the New York Court of Appeals.

Paterson said he was moved to grant pardons to illegal aliens after having pardoned a 29-year-old Chinese immigrant for a series of muggings committed as a teenager. Nevertheless, Paterson insisted that his office was "separating these cases from ones where there are egregious crimes."
With respect to public safety, Paterson said, "To be sure, there are some individuals whose crimes are egregious or who pose a threat to public safety….But there are others in which delineation is far less clear. In those cases, our national immigration laws do not permit for any redress or mitigating circumstances. But in New York, we think differently. In New York, we believe in renewal." Paterson's office anticipates an influx of hundreds of new pardon applications by the end of the year.

To execute his new policy, Governor Paterson is creating a Special Immigration Pardoning Board, consisting of five members, to review individual cases over several weeks, according to an Associated Press report.

Open borders advocates praised Governor Paterson's decision, but immigration enforcement supporters criticized the move. "There are people out there, maybe the governor included, who don't want to deport anybody, even people who have committed crimes," said Jan Ting in a New York Times interview. Ting, a professor at Temple University Law School, and a former assistant immigration commissioner continued, "I understand the impulse, but it's an impulse that leads to open borders.

Mr. Paterson said the new policy was in the works weeks before Arizona enacted a law late last month to give the police there authority to question people about their citizenship status.

Resources:
Patterson Panel to Help Some Immigrants Avoid Deportation (Associated Press)
New Paterson Policy May Reduce Deportations (New York Times)