Northeast Texas Land and Property Auctions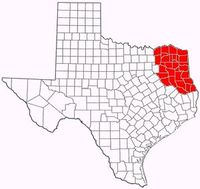 Northeast Texas is a region in the northeast corner Texas that is geographically centered around two metropolitan areas strung along Interstate 20: Tyler in the west and Longview/Marshall to the east. Clarksville, Mount Pleasant, Greenville, Paris and Texarkana in the north and the Nacogdoches/Lufkin area, Jacksonville and Palestine to the south are population centers for the northern and southern areas.
The climate, culture and geography of the region has more in common with Arkansas, Louisiana, and even Mississippi than it does with other regions of Texas.
Northeast Texas Real Estate
Northeast Texas Hunting and Fishing
Northeast Texas Auto
Northeast Texas Estate Sales
Northeast Texas Antiques
Just Listed Northeast Texas Items
Texas Auctions by Type
Texas Auctions by Current Bid
$100 to $5000
$5001 to $20,000
$20,001 to $50,000
$50,001 to $150,000
$150,001 to $300,000
$300,001 to $500,000
$500,001 to $1000,000
$1 Million or more
Texas Property Auctions by Region

Land for Sale by State
Land, Home & Car Auctions by Price

Homes for Sale by State
Home Auctions by Current Price

Hunting Land, Leases and Trips
Foreclosure Auctions by State