Directory of Counties in Texas
Motley County Appraisal District (CAD)
Motley County Appraisal District
County Courthouse
Matador, Texas 79244
Phone: 806-347-2273

Fax: 806-347-2273
The Tax Appraisal District of Motley County is responsible for appraising all real and business personal property within Motley County including Matador, Roaring Springs, Tee Pee City and Whiteflat, Texas
Books about Motley County People and Places


Motley County Estates with Unclaimed Money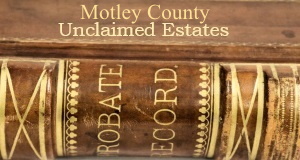 These Deceased Residents of Matador and Roaring Springs Texas Left a total $1,013 in Unclaimed Money for their heirs.
Know the Heirs? Let them know See the full list
Motley County Treasure on eBay

Rare Artifacts, Books, Memorabilia and Historical Documents from Matador, Roaring Springs, Tee Pee City and Whiteflat Texas

Browse Motley County Treasures
Motley County Property Tax Exemptions
The Motley County Appraisal Office in Matador has information about property tax exemptions and discounts that could save you money. The Homestead exemption for example could reduce your property taxes by up to $1500 a year and it's available to almost all Motley County homeowners who live in their home. If you are over 65, disabled, or a veteran, you may qualify for additional exemptions. Contact the Motley County Appraisal Office for more information.
What's your Favorite Book about a Texas County, Town, Person or Place? Here's our best reads list County by County