Real Estate Title
Training

Top books and career training for title abstractors, court searchers, petroleum land agents, title closers, appraisers and investors.
Abstractor Forums
American Real Estate Professionals
Facebook group designed to connect USA based abstractors and other real estate professionals from across America.
Robert Franco's website features news, networking and conversation of interest to abstractors, title vendors and examiners.
Focuses on the rich and often little known history of the counties we serve. If you have a passion for history please visit.
Martin County Appraisal District (CAD)
Stanton Texas
Martin County property search for real estate taxes, property tax appraisals, unclaimed estates, property tax protest, tax sales, unclaimed property and foreclosures in Stanton, Ackerly, Lenora or Tarzan Texas.
Martin County Appraisal District
308 N. St. Peter
Stanton, Texas 79782-1349
Mailing address: Box 1349, Stanton, Texas 79782-1349
Phone: 432-756-2823 Fax: 432-756-2825

Website: http://www.martincad.org
Life in Martin County 1850 - 1950
Books about Martin County People and Places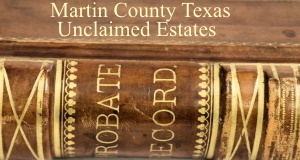 Martin County Unclaimed Estates
These Deceased Residents of Martin County left a total $6,966 in Unclaimed Money for their heirs. Know the Heirs? Please share or tag this to your Family and Friends from Stanton, Ackerly, Lenora and Tarzan Texas. . . . Check the list
What's your Favorite Book about a Texas County, Town, Person or Place? Here's our best reads list County by County






Featured Item from Martin County Texas

Rare Artifacts, Books, Memorabilia and Historical Documents

Important: Tap or click the title (not the photo) for details on the items listed below.
Martin County Property Tax Exemptions and Discounts
The Martin County Appraisal District has information on exemptions and discounts for property tax that may apply to you. One popular exemption could reduce your Martin County property taxes by up to $1500 a year and it's available to all homeowners who you live in their homes. More exemptions are available if you are over 65, disabled, or a veteran. In addition to local property tax exemptions, there are Federal tax rebates for people who live in Martin County and make energy efficient improvements.