News for Public Officials
A Line in the Sand: Confronting the Threat at the Southwest Border
HOUSE COMMITTEE ON HOMELAND SECURITY - Interim Report
Vulnerability to Terrorist Infiltration
The number of aliens other than Mexican ("OTMs") illegally crossing the border has grown at an alarming rate over the past several years. Based on U.S. Border Patrol statistics there were 30,147 OTMs apprehended in FY2003, 44,614 in FY2004, 165,178 in FY2005, and 108,025 in FY2006. Most of them were apprehended along the U.S. Southwest border.
The sheer increase of OTMs coming across the border makes it more difficult for Border Patrol agents to readily identify and process each, thereby increasing the chances that a potential terrorist could slip through the system. Moreover, there is no concrete mechanism for determining how many OTMs evade apprehensions and successfully enter the country illegally.
The U.S. Department of Homeland Security (DHS) pays particular attention to OTMs apprehended by the Border Patrol who originate from thirty-five nations designated as "special interest" countries. According to Border Patrol Chief David Aguilar, special interest countries have been "designated by our intelligence community as countries that could export individuals that could bring harm to our country in the way of terrorism."
Though the majority of overall apprehensions made by the Border Patrol occur in the Tucson sector of Arizona, the Texas border – specifically the McAllen sector – far outpaces the rest of the country in OTM and Special Interest Alien apprehensions. Since September 11, 2001, DHS has reported a 41% increase in arrests along the Texas/Mexico border of Special Interest Aliens.
From FY2001 to March 2005, 88 percent of Special Interest Alien apprehensions for both
the Southwest and Northern borders occurred in Texas. During that same period, 75
percent of Special Interest Alien apprehensions on the Southwest border occurred in the
Laredo, McAllen, and Del Rio Sectors. Since September 11, 2001 to the present
hundreds of illegal aliens from special interest countries (such as Iran, Jordan, Lebanon,
Syria, Egypt, Saudi Arabia, Kuwait, Pakistan, Cuba, Brazil, Ecuador, China, Russia,
Yemen, Albania, Yugoslavia and Afghanistan) were apprehended within the South Texas region alone.
The data indicates that each year hundreds of illegal aliens from countries known to harbor terrorists or promote terrorism are routinely encountered and apprehended attempting to enter the U.S. illegally between Ports of Entry. Just recently, U.S. intelligence officials report that seven Iraqis were found in Brownsville, Texas in June 2006. In August 2006, an Afghani man was found swimming across the Rio Grande River in Hidalgo, Texas; as recently as October 2006, seven Chinese were apprehended in the Rio Grande Valley area of Texas.
Items have been found by law enforcement officials along the banks of the Rio Grande River and inland that indicate possible ties to a terrorist organization or member of military units of Mexico.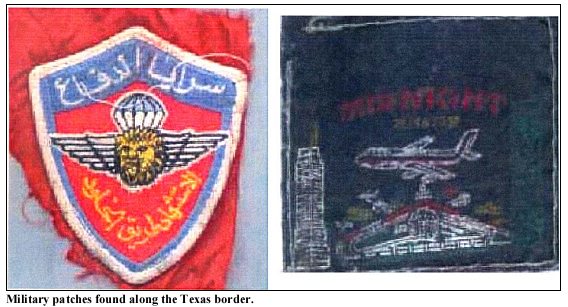 A jacket with patches from countries where al Qa'ida is known to operate was found in Jim Hogg County, Texas by the Border Patrol. The patches on the jacket show an Arabic military badge with one depicting an airplane flying over a building and heading towards a tower, and another showing an image of a lion's head with wings and a parachute emanating from the animal. The bottom of one patch read "martyr," "way to eternal life" or "way to immortality."
On January 28, 2006, Border Patrol Chief David Aguilar was asked by a reporter from KGNS television station in Laredo, Texas, about the outcome of the investigation of the jacket. Chief Aguilar responded that the patches were not from al Qa'ida but from countries in which al Qa'ida was known to operate.
According to ICE testimony, on September 8, 2004, ICE agents arrested Neeran Zaia and Basima Sesi. The human smuggling organization headed by Zaia specialized in smuggling Iraqi, Jordanian, and Syrian Nationals and was responsible for the movement of more than 200 aliens throughout the investigation The investigation was initiated when a confidential informant familiar with the organization reported ongoing smuggling activities by Zaia, who had been previously convicted of alien smuggling. Investigative efforts revealed that the aliens were smuggled from the Middle East to staging areas in Central and South America. Once in these staging areas, the conspirators would arrange to smuggle the aliens from these sites into the U.S. or its territories.
Members of Hezbollah, the Lebanon-based terrorist organization, have already entered to the United States across our Southwest border. On March 1, 2005, Mahmoud Youssef Kourani pleaded guilty to providing material support to Hezbollah. Kourani is an illegal alien who had been smuggled across the U.S.-Mexico border after bribing a Mexican consular official in Beirut for a visa to travel to Mexico. Kourani and a Middle Eastern traveling partner then paid coyotes in Mexico to guide them into the United States. Kourani established residence among the Lebanese expatriate community in Dearborn, Michigan and began soliciting funds for Hezbollah terrorists back home in Lebanon. He is the brother of the Hezbollah chief of military operations in southern Lebanon.
In December 2002, Salim Boughader Mucharrafille, a café owner in Tijuana, Mexico, was arrested for illegally smuggling more than two hundred Lebanese illegally into the United States, including several believed to have terrorist ties to Hezbollah. Just last month Robert L. Boatwright, Assistant Chief Patrol Agent of the El Paso Texas Sector, reported, "We have apprehended people from countries that support terrorism…they were thoroughly debriefed and there was a tremendous amount of information collected from them."
Statements made by high-ranking Mexican officials prior to and following the September 11, 2001 terrorist attacks indicate that one or more Islamic terrorist organizations has sought to establish a presence in Mexico. In May 2001, former Mexican National security adviser and ambassador to the United Nations, Adolfo Aguilar Zinser, reported, that "Spanish and Islamic terrorist groups are using Mexico as a refuge."
Federal Bureau of Investigation Director Robert Mueller has confirmed in testimony "that there are individuals from countries with known al-Qa'ida connections who are changing their Islamic surnames to Hispanic-sounding names and obtaining false Hispanic identities, learning to speak Spanish and pretending to be Hispanic immigrants.
These examples highlight the dangerous intersection between traditional transnational criminal activities, such as human and drug smuggling, and more ominous threats to national security. Sheriff Sigifredo Gonzalez summed it up this way: "I dare to say that at any given time, daytime or nighttime, one can get on a boat and traverse back and forth between Texas and Mexico and not get caught. If smugglers can bring in tons of marijuana and cocaine at one time and can smuggle 20 to 30 persons at one time, one can just imagine how easy it would be to bring in 2 to 3 terrorists or their weapons of mass destruction across the river and not be detected. Chances of apprehension are very slim.
Furthermore, according to senior U.S. military and intelligence officials, Venezuela is emerging as a potential hub of terrorism in the Western Hemisphere, providing assistance to Islamic radicals from the Middle East and other terrorists.
General James Hill, commander of U.S. Southern Command, has warned the United States faces a growing risk from both Middle Eastern terrorists relocating to Latin America and terror groups originating in the region. General Hill said groups such as Hezbollah had established bases in Latin America. These groups are taking advantage of smuggling hotspots, such as the tri-border area of Brazil, Argentina and Paraguay, and Venezuela's Margarita Island, to channel funds to terrorist groups around the world.
Venezuela is providing support—including identity documents—that could prove useful to radical Islamic groups, say some U.S. officials. The Venezuelan government has issued thousands of cedulas, the equivalent of Social Security cards, to people from places such as Cuba, Columbia, and Middle Eastern nations that host foreign terrorist organizations. The U.S. officials believe that the Venezuelan government is issuing the documents to people who should not be getting them and that some of these cedulas could be subsequently used to obtain Venezuelan passports and even American visas, which could allow the holder to elude immigration checks and enter the United States. Recently, several Pakistanis were apprehended at the U.S.-Mexican border with fraudulent Venezuelan documents.
"Hugo Chavez, President of Venezuela, has been clearly talking to Iran about uranium," said a senior administration official quoted by the Washington Times. Chavez has made several trips to Iran and voiced solidarity with the country's hard-line mullahs. He has hosted Iranian officials in Caracas, endorsed Tehran's nuclear ambitions and expressed support for the insurgency in Iraq. The Times reports Venezuela is also talking with Hamas about sending representatives to Venezuela to raise money for the militant group's newly elected Palestinian government as Chavez seeks to build an anti-U.S. axis that also includes Fidel Castro's Cuba. "I am on the offensive," Chavez said on the al Jazeera television network, "because attack is the best form of defense. We are waging an offensive battle…."
Given all that is happening in Chavez's Venezuela, some American officials regret that terrorism is seen chiefly as a Middle East problem and that the United States needs to look looking to protect its southern flank. A U.S. intelligence official expressed concern that "Counterterrorism issues are not being aggressively pursued in this hemisphere." Another intelligence official stated terror suspects held at Guantanamo Bay are not being interrogated about connections to Latin America. The bottom line, when it comes to terrorism so close to U.S. shores, says the official, "We don't even know what we don't know."
Islamic radical groups that support Hamas, Hezbollah and Islamiya Al Gamat are all active in Latin America. These groups generate funds through money laundering, drug trafficking, and arms deals, making millions of dollars every year via their multiple illicit activities. These cells reach back to the Middle East and extend to this hemisphere the sophisticated global support structure of international terrorism. While threats to our nation from international terrorism are well known, lesser known threats spawned by narcoterrorism reach deeply into this country.
Federal law enforcement entities estimate they apprehend approximately 10 to 30 percent of illegal aliens crossing the border. U.S. intelligence officials along the southwest border, on the other hand, are less optimistic. To be sure, it is unclear how many illegal aliens of any nationality evade capture by law enforcement each year and succeed in entering the United States illegally. It is especially difficult to provide the total number of Special Interest Aliens entering the U.S. illegally because they pay larger amounts of money ($15,000 to $60,000 per alien) to employ the more effective Mexican alien smuggling organizations and are less likely to be apprehended.
One thing, however, is known for certain – hundreds of people from countries known to harbor terrorists or promote terrorism are caught trying to enter the United States illegally along the land border, and the massive flow of immigrants and our porous border create various and abundant opportunities for concealment. Given the ever-present threat posed by al-Qa'ida and other terrorist organizations – a threat that has been underscored by the recent events in London and the vulnerability of our borders – the need for immediate action to enforce our borders could not be more apparent.
What's your Favorite Book about a Texas County, Town, Person or Place? Here's our best reads list County by County