News for Public Officials
A Line in the Sand: Confronting the Threat at the Southwest Border
HOUSE COMMITTEE ON HOMELAND SECURITY - Interim Report
The Sophisticated Technology and Advanced Resources of the Drug Cartels
According to El Paso County Sheriff Leo Samaniego, drug cartels operating along the southwestern U.S. border are a "country unto themselves" with intelligence capabilities, weaponry and communications equipment that challenges the Border Patrol and local law enforcement. Sheriff Samaniego advises his deputies to "back off" when they see well armed individuals from cartels and other criminal organizations.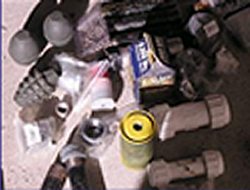 Grenades and IEDs seized in Laredo
Zapata County, Texas Sheriff Sigifredo Gonzalez reports having been told by a number of informants familiar with drug cartel operations that local law enforcement is armed with woefully inadequate weaponry when compared with the automatic assault weapons used by the drug cartels. And in Hidalgo County, Sheriff Luca Trevino reports that in the summer of 2006, two of his deputy sheriffs came under attack as 300 to 400 rounds were fired from automatic weapons originating on the Mexican side of the river.
This new breed of cartel is not only more violent, powerful and well financed, it is also deeply engaged in intelligence collection on both sides of the border. The tactics used by these sophisticated networks include placing spotters with high-powered binoculars and encrypted radios in the mountains to guide smugglers past Border Patrol and other law enforcement agencies operating along the border. A Library of Congress report on Criminal and Terrorist Activity in Mexico describes how smugglers carry on a "technological arms race" with CBP and ICE.
Webb County, Texas Sheriff Rick Flores indicated that he is disturbed by the level of resources the cartels and criminal organizations possess and utilize against local law enforcement noting that the cartels utilize rocket propelled grenades…automatic assault weapons, and "level four" body armor and Kevlar helmets similar to what the U.S. military uses. Some local officials are taking steps to protect their officers from these weapons. The Sheriff for Hidalgo County, Texas Sheriff has prohibited the deputies in his department from patrolling along the banks of the Rio Grande River because of the threat of violence from the cartels.
The criminal organizations are indeed extremely advanced, well-equipped, and highly adaptable to enforcement measures marshaled against them. In January 2006, ICE agents, along with ATF agents and Laredo Police Department officers seized an enormous cache of weapons in Laredo, Texas.
Authorities confiscated two completed improvised explosive devices (IEDs) materials for making thirty-three more, military style grenades, twenty-six grenade triggers, large quantities of AK-47s and AR-15 assault rifles, 1,280 pounds of ammunition, silencers, machine gun assembly kits, 300 primers, bulletproof vests, police scanners, sniper scopes, narcotics and cash. These seizures clearly illustrate the level of violence along the border, especially in Nuevo Laredo and Juarez area.
Drug cartels and the other criminal organizations they leverage and employ continue to develop new techniques that impede detection by law enforcement agencies. Despite the
more than one thousand border patrol agents who work in the Laredo area, despite the dozens of thermal imaging cameras along nearly 200 miles of border, and despite the checkpoints along major highways, local law enforcement officers have indicated that the smugglers know how to slip through by using private property to circumvent the roadblocks. According to Sheriff Flores of Webb County, Texas, "for all the beefed up enforcement on the border, the drug cartels appear stronger and more violent than ever."
In short, the manpower, resources, and technology utilized by U.S. law enforcement
needs to be enhanced to combat the highly organized and sophisticated cartels. These
criminal enterprises have seemingly unlimited money to purchase the most advanced
technology and weaponry available. The cartels are able to break the encryptions on both Border Patrol and sheriffs' deputies' radios. Lookouts for the cartels, using military grade equipment, are positioned at strategic points on the U.S. side of the border to monitor movements of U.S. law enforcement. In response, the cartels then move their cargo accordingly. The cartels use automatic assault weapons, bazookas, grenade launchers and IEDs. In contrast, U.S. Border Patrol agents are issued .40 caliber Beretta semi automatic pistols.