News for Public Officials
A Line in the Sand: Confronting the Threat at the Southwest Border
HOUSE COMMITTEE ON HOMELAND SECURITY - Interim Report
Border Violence Against Law Enforcement and U.S. Citizens
The violence on the Southwest border encountered by U.S. Border Patrol and local law enforcement is increasing at an alarming rate. From 2004 to 2005, violent incidents against Border Patrol agents on the Southwest border have increased 108%. During FY 2006, there have been 746 violent incidents against Border Patrol agents, including 435 incidents of rock assaults, 173 physical assaults, 46 vehicle assaults, and 43 firearm assaults. In January 2006, the Department of Homeland Security sent a confidential memo to Border Patrol agents warning that they could be the targets of assassins hired by alien smugglers.
According to Texas Homeland Security Director Steve McCraw, the ruthlessness and violence of these criminal networks are unprecedented. At one time, members or associates of Mexican drug cartels would drop the drugs or abandon their vehicles when confronted by U.S. law enforcement. Similarly, human smugglers would simply give up when approached or stopped on the highway. This is no longer the case. The drug cartels no longer tolerate compliance. Loads of both drugs and humans are vigorously protected by direct confrontation, high speed chases, and standoffs at the Rio Grande River.
In today's climate, U.S. Border Patrol agents are fired upon from across the river and troopers and sheriff's deputies are subject to attacks with automatic weapons while the cartels retrieve their contraband. In May 2006, the Zapata County Sheriff's Office received information that the cartels immediately across the border plan to threaten or kill as many police officers as possible on the United States' side.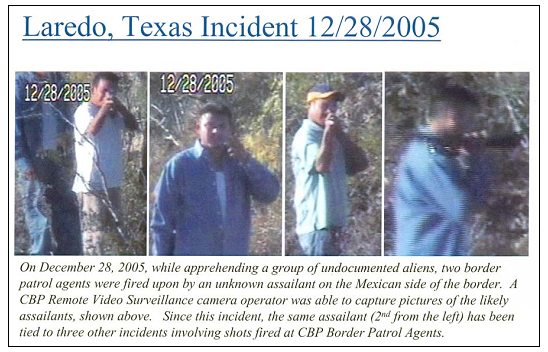 Between May 2004 and July 2006 there have been forty-nine reported abductions of U.S. citizens in the region between the Texas cities of Del Rio and Brownsville. Thirty-four of these abductions occurred in Nuevo Laredo and involved U.S. citizens who had crossed the border. Twenty-three victims were released by their captors, nine victims remain missing, and two are confirmed dead. These numbers likely represent only a fraction of the actual occurrences, as many kidnappings of U.S. citizens go unreported.
Yvette Martinez, 27, and her friend Brenda Cisneros, 23, are among nine Americans who the FBI says have simply disappeared along the border in the last two years. Martinez and Cisneros crossed the border in September 2004 to attend a concert in Nuevo Laredo – and never came back. The FBI revealed in testimony that alleged members of Los Zetas are believed to have kidnapped Martinez and Cisneros. The violent brazenness of these criminal groups knows no limits. In broad daylight, a young man was gunned down in a Laredo parking lot as his pregnant wife looked on. The ambush had all the markings of a cartel assassination. Webb County, Texas Sheriff Rick Flores is concerned with the level of brutality that accompanies the cartels as they move their merchandise across the border. Flores says these cartels show no mercy for women or children.
In response to the violence in Nuevo Laredo, Ambassador Tony Garza has been compelled to take an unprecedented number of actions to address the escalating crisis. On August 1, 2005, Ambassador Garza suspended operations at the U.S. Consulate in Nuevo Laredo for one week in order to assess the security of consulate employees. The closure followed a violent battle involving unusually advanced weaponry between armed criminal factions.
On January 25, 2006, the Ambassador sent a Diplomatic Note to the Mexican Government regarding the January 23, 2006 border incursion in Hudspeth County, Texas. Ambassador Garza requested the Mexican government fully investigate the January 23 incident in which individuals dressed in military uniforms, carrying military-style weapons, and using military vehicles intervened to prevent a drug shipment from being intercepted by U.S. law enforcement operating in the United States.
Ambassador Garza also stated "the violence of late along our border highlights the need for increased enforcement efforts by the United States and serves to bolster the arguments of those who seek the creation of physical barriers along our border. It also makes recent assertions that the United States is somehow exaggerating the problems along our border all the more untenable, and highlights the inability of the Mexican government to police its own communities south of the border."
On January 27, 2006, Ambassador Garza issued a second Diplomatic Note. He again addressed the increasing violence on the Mexican side of the border and the recent attacks against U.S. Border Patrol where agents had been shot or fired upon.
As recently as September 14, 2006, Ambassador Garza issued an advisory to Americans traveling to Mexico describing the increased violence and asking them to exercise caution. "Violence in the U.S.-Mexico border region continues to threaten our very way of life, and as friends and neighbors, Mexicans and Americans must be honest about the near-lawlessness of some parts of our border region….Drug cartels, aided by corrupt officials, reign unchecked in many towns along our common border."
One week later, on September 21, 2006, U.S. officials from several Federal law enforcement agencies met with their Mexican counterparts in Laredo, Texas to discuss the violence along the border. The officials all agreed that an immediate response to violence and increasing criminal activity and ending the culture of impunity is needed, especially in border zones like Nuevo Laredo and Tijuana.
What's your Favorite Book about a Texas County, Town, Person or Place? Here's our best reads list County by County