The Smart Way to Design and Buy Campaign Marketing Materials
Attention-getting campaign marketing materials have traditionally been one of the most expensive and difficult-to-design components of winning an election or succeeding in any marketing campaign. But online digital printers are turning this on its head. Today's smart campaign and business managers can find easy-to-use campaign marketing tools and huge discounts for custom campaign postcards
, campaign email and social media broadcasting
, signage
, posters and brochures
you can easily design yourself - online.
Everything you need to make your campaign a success with these free online campaign design programs!
Just think what your campaign can accomplish with help from the leading online digital producers of marketing materials. You'll save thousands over what your local printer or ad agency might charge and you won't waste your valuable time haggling with designers.
Now you can easily design a business or election campaign that's right for you with these campaign design programs. You can adapt ready made templates or design your own and you are under no obligation to purchase what you design.
Yard Signs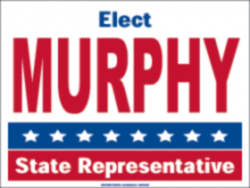 You can easily design and buy custom political signs online in minutes. You can choose from a wide variety of templates from election campaign to proposition support and even funny campaign signs. You'll start by browsing hundreds of signs and then customize it with your own text and photos so it's a perfect fit for your campaign. You can choose from plastic and metal yard signs all the way up to huge political banners. Or you can capture your campaign in political magnetic signs and bumper stickers. Whichever you choose, you can make the most of your campaign budget by designing your signage yourself with this free online sign design program. Design your election winning campaign signs now.
Campaign Election Cards
Take control of your campaign card and get better results. Use Overnight Print's business card design program to create professional, attractive campaign cards online in seconds. Right now you can get Up to 48% off Business / Election cards
you design yourself.

eMail Campaigns and Social Media Broadcasting
If your running for office it's vital to stay in touch with your supporters. You need the ability to communicate your position on breaking events and inform your supporters before they hear about it in the news or worse, from your opponent. Today there is no better way to do this than with email marketing and social networking. But coordinating the two has always been difficult - until now!
Constant Contact provides a robust array of tools to create, send and track your social media campaigns. You can quickly add new supporters and manage your contact lists with Toolkit's easy contact management. The program also makes it possible to easily draft, schedule, and post social media messages about your campaign from the same convenient location. Try It Free For 60 Days!
Make your campaign dollars count with these specials!