Corruption Charges Move Forward Against Former County Recorder
September 26, 2006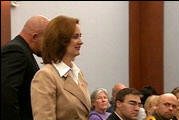 LAS VEGAS -A judge has cleared the way former Clark County Recorder Frances Deane to stand trial on corruption charges.
Nevada Justice of the Peace Karen Bennett-Haron, has ruled there is enough evidence to try Frances Deane, the former Clark County Recorder, on charges of corruption.
Deane was charged with 19 felony counts that include misconduct of a public officer, fraudulent appropriation of property, theft and unlawful commissions, personal profit and compensation of public officers, according to a criminal complaint.
Deane is accused of illegally copying and selling 32 years worth of county real property documents her office managed.
American Document Co. owner Monty Miller and California businessperson Joseph Gekko told police they paid Deane cash for documents that amounted to one terabyte, or about 60 million pages, of information, according to the police report. Both men are cooperating with authorities.
Police believe Deane accepted more than $140,000 in cash, including payments stuffed into teddy bears that were located at her home. She also allegedly forced other county employees to help in her alleged scheme, which raised suspicions in her office, suspicions that were confirmed in March when detectives raided the recorder's office and found evidence that Deane was hoarding sensitive materials behind her locked door.
Gekko told detectives he agreed to pay $100,000 for the documents. On two occasions, Gekko planted $8,000 cash in stuffed lions that were delivered to Deane, said authorities.
According to reports, Deane and Miller met during a 2002 Republican fundraiser as Deane was campaigning for county recorder, a position that pays $91,137 a year.
Miller contributed $10,000 cash to Deane, but the money never appeared on her campaign donation reports. In June 2005, Deane sold Miller compact discs that held the documents, but they found the information stored in the office was far too great to transfer to discs. Miller then purchased a one terabyte drive that could hold the mass of information.
Deane has denied the allegations. Last week, a judge ordered her to vacate her position as county recorder after Deane refused other requests from county officials.


Get the Newsletter - It's FREE