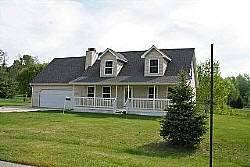 575 Homes To Be Auctioned In Michigan Next Week
July 30, 2008
In a feeble housing market, where foreclosures continue to skyrocket and home prices steadily dip, investors and home buyers can grab some great deals on Michigan real estate next week. With an estimated 2 million more homes expected to enter into default or foreclosure by year's end, many buyers are gravitating to foreclosed real estate auctions to purchase property at even bigger discounts.

Michigan Properties by Current Bid
Hudson & Marshall, one of the country's largest foreclosed real estate auction firms, will auction nearly 600 homes in cities throughout Michigan August 4 -10 for national lenders and asset management companies, who own the homes. Nearly 300 homes will be auctioned in Detroit alone while 25 will be auctioned in Lansing.
"Buyers who were pushed to the sidelines of the real estate market several years ago because of escalating home prices, now have a chance to jump in the market," said Dave Webb, principal Hudson & Marshall. "Foreclosed property auctions like Hudson & Marshall's make it even easier for first time homebuyers and investors to purchase homes at a discount because our sellers are anxious to get these non-performing loans off their books," added Webb.

Auction locations for the massive week-long bank liquidation include:
| | | | | |
| --- | --- | --- | --- | --- |
| Battle Creek (7) | Canton (6) | Dearborn Heights (7) | Dearborn (6) | Flint (10) |
| Detroit (299) | Grand Rapids (7) | Hazel Park (10) | Holly (7) | Inkster (7), |
| Jackson (12) | Kalamazoo (12) | Lansing (25) | Lincoln Park (16) | Livonia (7) |
| Madison Heights (10) | Pontiac (19) | Redford (20) | Romulus (8) | Saginaw (10) |
| Southfield (27) | Taylor (12) | Warren (11) | West Bloomfield (7) | Westland (14) |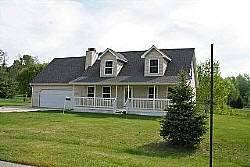 One of 575 homes to be auctioned
Winning bidders will be required to make a cash or personal check down payment of $2500 or 5% of the total contract price. For properties selling for $10,000 or less, purchasors must pay in full on the date of the sale. For more complete details visit http://www.hudsonandmarshall.com.

According to the latest data from RealtyTrac (www.RealtyTrac.com), Michigan ranks seventh among the nation's top 10 states for foreclosure filings foreclosure filings. The foreclosure process starts when a homeowner is 60-90 days past due on a mortgage payment and the lender sends a default notice. If the borrower cannot pay the past due amount, the home enters into foreclosure and is auctioned by the county or sheriff, depending on the state. If it doesn't sell, the home is sold back to the bank and called "foreclosed" or Real Estate Owned (REO) properties.

There are no minimum starting bids and buyers or buyer's agents can register on site the day of the auction. All properties are sold "as is" and buyers should not bid on any property they haven't seen. Prior to the sale, buyers may also place bids online at http://www.hudsonandmarshall.com by clicking "Bid Now" and will usually receive a response from sellers within 24 hours. While this is a reserve auction, where sellers have the right to accept or reject any bid, in past auctions conducted by Hudson & Marshall, over 90% of bids were accepted.