Population: 3,768,123
Seat: Phoenix

Increase (July 2005 - July 2006): 129,642

Maricopa added more residents to its population in the 12 months ending July 1, 2006, than live in the city of Savannah, Georgia.

Its main city, Phoenix, has grown from a modest desert town into the sixth-largest city in the nation.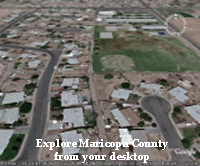 Growth for the county as a whole has been explosive, from less than a million in 1970 to 3.8 million today. The population has increased by about 700,000 since 2000.

Helping to drive growth is a diversified economy; many high-tech and telecoms companies have relocated to the area in the past few decades. And the climate attracts many seasonal visitors, adding to a strong tourism industry.
Crime Rate
The state of Arizona had the third highest crime rate among the 50 states across the country, according to Morgan Quitno Press, an independent researcher in Lawrence, Kansas, which publishes the rankings annually.
In 1997, Maricopa County became the first government entity in the nation to post records online. Maricopa now claims the highest rate of identity theft in the nation, and local IT officials say the two statistics are inextricably linked. See Online Records Linked to Identity Theft, and Worse
In April 2007 the Arizona Secretary of State's Office pulled the plug on Internet documents containing the Social Security numbers of thousands of Arizonans